Any musician knows the importance of having a creative home, whether it's a corner of your room or a studio of your own. When HAIM sisters Este, Danielle, and Alana decided to create a new space for writing songs and fleshing out ideas, they brought their taste for vintage gear and vibes to the fore.
In partnership with Etsy and Reverb, HAIM outfitted their new home studio with some of the finest equipment, furniture, and handmade goods they could find. Custom-made Italian congas? Vintage Altec speakers? Sling chairs, throw pillows, and plush rugs underfoot? On Etsy and Reverb, HAIM found all these items and more.
You can see all of the highlights over at The Etsy Edit—which offers a behind-the-scenes look at the transformation of HAIM's space.
Here at Reverb, we couldn't pass up the opportunity to interview HAIM at length. We talked not only about the gear they recently found on Reverb, but also some of their favorite instruments—guitars, drum machines, and microphones—that have been integral to their music-making process.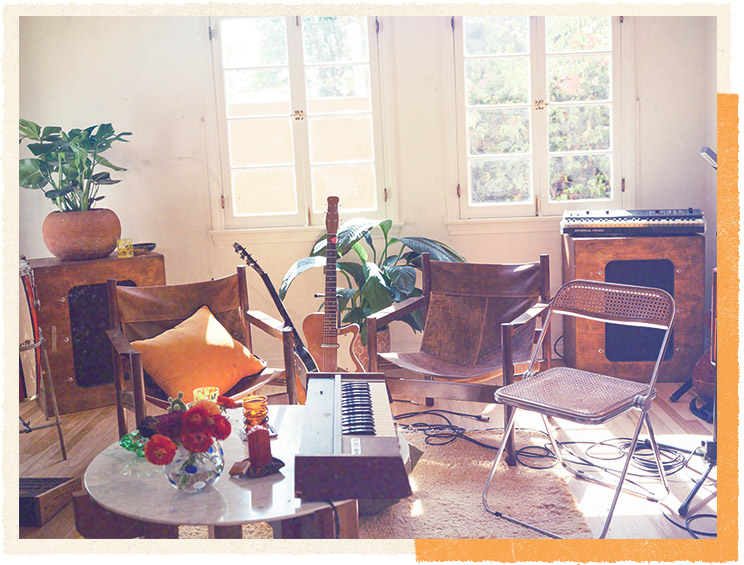 The Altec-Lansing 604Es flank the room, with Korg MicroKORG, Silvertone U-1, and other instruments.
"We wrote a lot of our first album in our childhood living room, graduated to a windowless box, so now I think we're flip-flopping," Danielle says of the new space. "We're going back to the living-room feel. But the magic might be in the room that we're sitting in," Alana says.
The new centerpieces of the room are a pair of storied Altec-Lansing 604E Monitors they found on Reverb. "Our dream was to get great, great, great studio speakers," Danielle says. Paired with a vintage Marantz Model 7 Preamp and Model 8 Amplifier—two classic stereo components they also found on Reverb—the system is "almost like a hi-fi PA."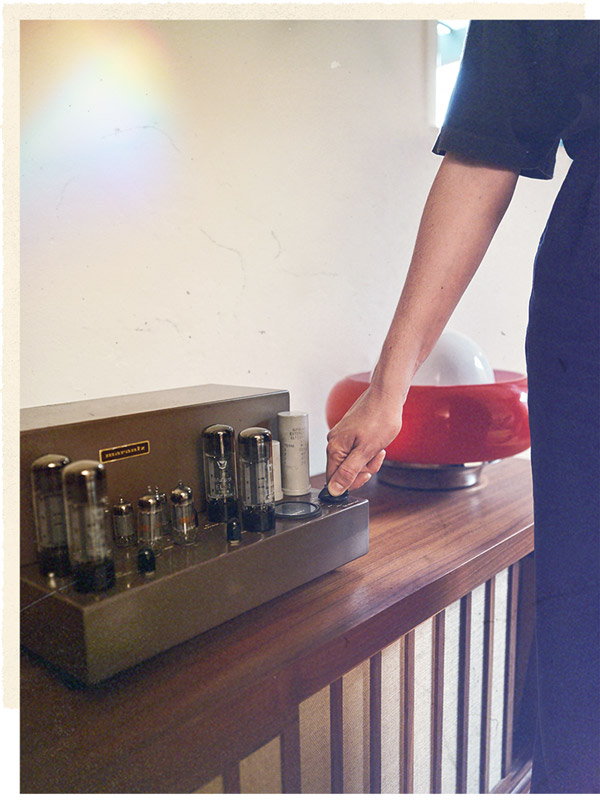 Alana turns a knob on the Marantz Model 8 amplifier.
"They're really fun to play along with, and I think we just wanted to have really great-sounding speakers if we wanted to listen to music to get inspired, or if we wanted to actually listen to our own music through them. We feel super lucky that we are now in possession of them," Danielle says.
Elsewhere in the studio, they also have a more modern recording and playback system: including a Universal Apollo interface and desktop Genelec speakers.
One guitar that has been a mainstay of Alana's in recent years is a vintage Danelectro-built Silvertone U-1, which she played on this past year's Grammys stage and their most recent album.
"When I picked it up, it was one of the easiest guitars I had ever played. The second that I plugged it into an amp, it just sounded incredible—right off the bat, with no pedals, no nothing, just clean," Alana says. "We used this guitar, actually, a lot on our record Women in Music Pt. III. This was the go-to guitar. I feel like every time we tried to play a line on a different guitar, this one always sounded the best."
Because the sisters' dad is a drummer, they were all raised to play drums first. So it's no surprise that—whether playing a kit or programming a drum machine—rhythm is a top priority for the band.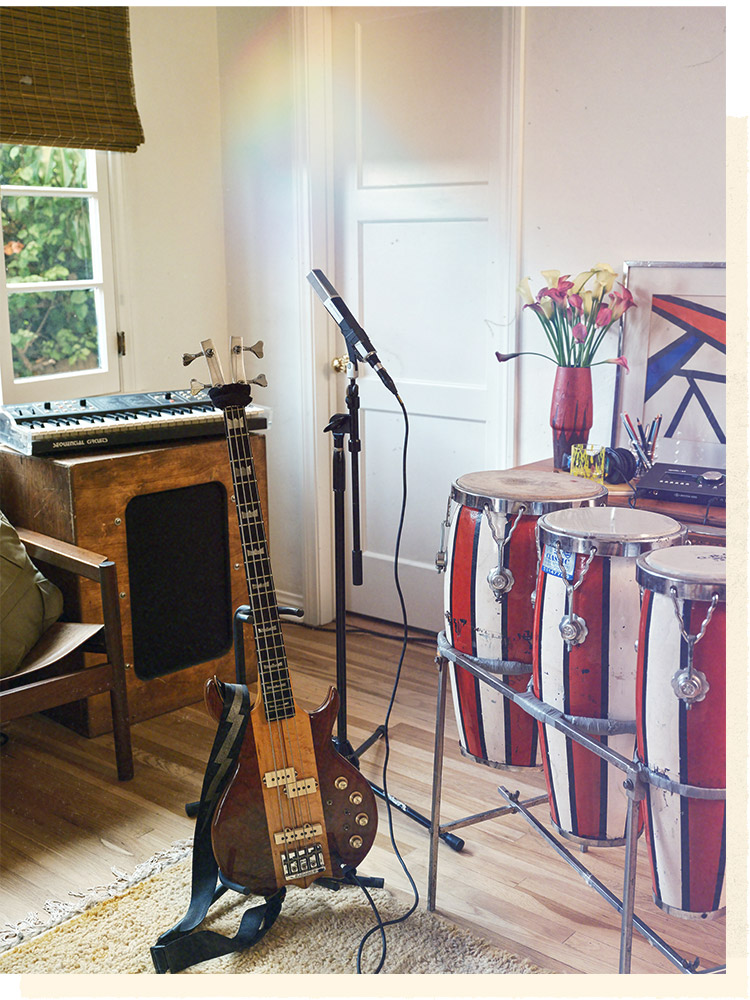 Este's Kramer DMZ 6000, Sennheiser MD441U, and the set of Italian congas. Sequential Circuits Six-Trak on top of an Altec in the background.
"We've never been snobby or anything when it comes to drum machines. We don't have that bumper sticker that says, 'Drum machines have no soul.' [Laughs.] That is not us," Danielle says.
Recently, Danielle's been using a LinnDrum throughout her creative process, from jamming and songwriting through live performances. "Prince is one of our favorite artists, and he leaned heavily on the LM-1. We've always loved the sound of that specific drum machine, so we got a LinnDrum," Danielle says.
"We've been using those sounds since even our first record came out," Este adds. "I think the LinnDrum just holds a special place in our hearts because of all the history of the sonics and the sounds on it," Danielle says.
For the group's low-end, they've often relied on Este's stable of Fender Precision Basses, including a special 1970s model she lucked into buying from Rilo Kiley's Blake Sennett, years before HAIM was a well-known group.
"As I grew up, I really wanted to find a Precision Bass, specifically one from the '70s, because I like how light they are and the way that they feel," Este says. "I found this bass online and wrote to the person that owned it, and it happened to be one of my favorite musicians. He was this guitarist from the band Rilo Kiley. It's a typical LA story."
After a week-long test period, that Precision has been a go-to ever since. But the day we spoke to the group, Este had another cool bass with her: an original aluminum-neck Kramer DMZ 6000, created in those first years after Gary Kramer's split from Travis Bean.
With each sister contributing vocals while playing instruments, they've gravitated toward the Sennheiser MD441U. A dynamic mic known for offering condenser-like tone, the 441 is great for rejecting various sounds around it.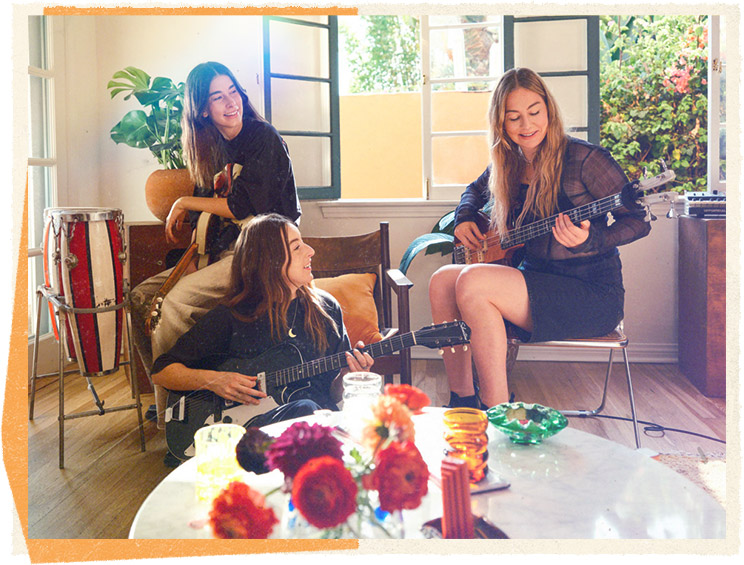 L-to-R Danielle, Alana, Este.
"The first time we used the Sennheisers was when we were doing our little short film, Valentine, since we were all playing and sitting together, we needed some isolation, and those proved to be really great," Danielle says. "When I'm singing and playing drums, I like to get super close on to the mic. It's great for that. And I mean, another classic microphone. Some of our favorites sang on it: Stevie Nicks, for one. Godmother. [Laughs.]"
Rounding out the new-to-them pieces HAIM found on Reverb, the custom-built Italian congas are a sight to see, with bold red, black, and white stripes. While all sorts of percussion instruments can be heard throughout HAIM's records, congas hold a special place.
"One of the first things I remember my dad getting is congas, and I've never had congas for myself," Alana says. "Percussion's just so important to how we make music, and it really does inspire a lot of new parts."
Danielle adds: "There's a lot of congas on our last album too, and bongos. There was a lot of timbales on our first album. Maybe timbales will be the next purchase."
Watch the full video above to hear more about HAIM's home studio, check out The Etsy Edit, and then find your own next new piece of gear right here on Reverb.
HAIM's Etsy Edit
Learn all about how the sisters transformed their home studio.