In the early days of effects, Maestro's Fuzz-Tone, Echoplex, Boomerang Wah, and other units were instrumental to popular music, from The Rolling Stones' "Satisfaction" to Isaac Hayes' "Theme From Shaft." Now, Gibson is bringing back the legendary name, with a whole new line of all-analog effects pedals: the Maestro Original Collection.
Five New Maestro Effects
The Maestro Original Collection is a brand-new series with one foot in the past and one on your present-day pedalboard. Every pedal is made with a similar function in mind: an uncompromising analog tone, but with convenient touches for contemporary tones and playability.
They contain all-analog circuitry and the flashy, retro designs that build off Maestro's vintage three-bugle logo. And when the pedals are engaged, the logo even lights up red, yellow, and blue with an LED light.
Let's take a quick look at all of the pedals and their individual features.
The Fuzz-Tone FZ-M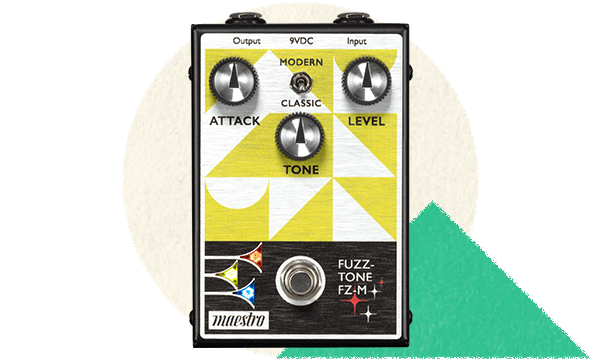 Maestro's first Fuzz-Tone, the FZ-1, was the first mass-produced fuzz pedal ever built. One of two modes on the FZ-1 replicates this original sound, while a second mode offers a more modern sound. Features, according to Gibson, include:
Controls: Attack, Tone, Level
Switches: True Bypass footswitch, Modern/Classic Mode toggle switch
Price: $149 USD
The Ranger Overdrive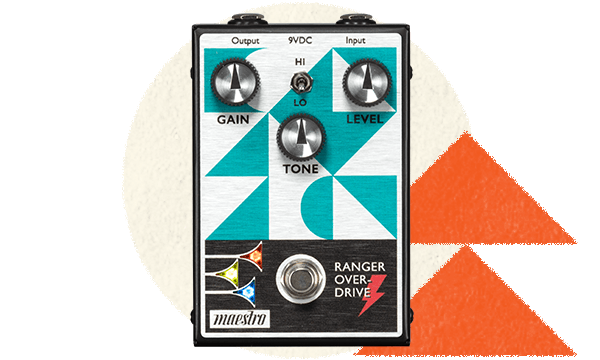 The Ranger also features two modes: A "Lo" setting that adds some sparkle and spank to your clean tone and a grittier "Hi" setting that sounds like a cranked up amp. Features include:
Controls: Gain, Tone, Level
Switches: True Bypass footswitch, Hi/Lo Mode toggle switch
Price: $149
The Invader Distortion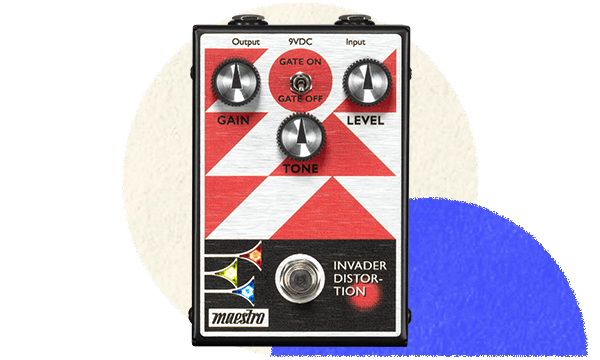 A super-charged, all-analog, high-gain distortion, the Invader offers the rich harmonics found in shredder-friendly amps like Soldano or EVH heads. Features include:
Controls: Gain, Tone, Level; internal noise gate Threshold trim pot
Switches: True Bypass footswitch, Gate On/Gate Off toggle switch
Price: $149
The Comet Chorus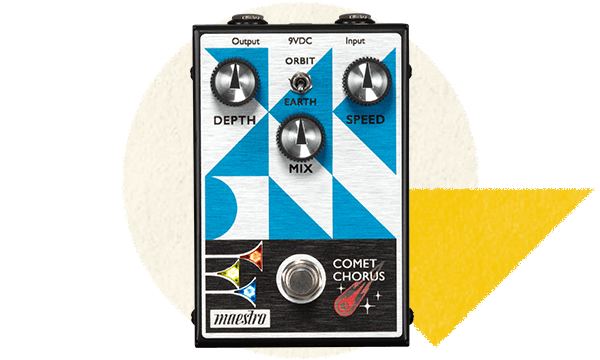 This bucket-brigade device will bring out the type of warm, classic chorus tones that will keep coming back for more. Features include:
Controls: Depth, Mix, Speed; internal Orbit amount trim pot
Switches: True Bypass footswitch, Orbit/Earth Mode toggle switch
Price: $149
The Discoverer Delay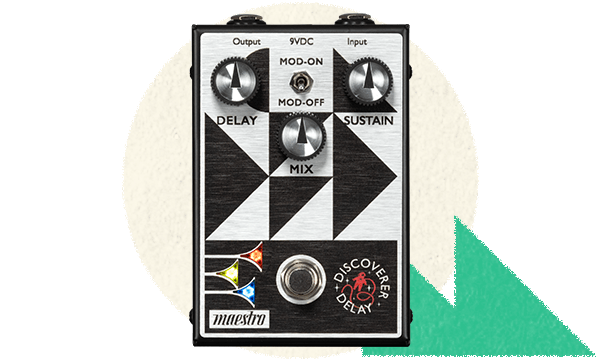 A modern BBD delay, The Discoverer delivers the unmistakable depth of an all-analog device, with built-in, switchable modulation and delay times ranging from 20 ms to 600 ms. Features include:
Controls: Delay, Mix, Sustain; internal Modulation Rate and Width trim pots
Switches: True Bypass footswitch, Mod On/Off Modulation Mode toggle switch
Price: $159
But Where Are the True Maestro Reissues?
When Gibson first started teasing the return of Maestro, many of us thought that a true-to-vintage reissue of the Fuzz-Tone FZ-1 was imminent. And if we were lucky, maybe even the large-format Phase Shifter PS-1 or a Boomerang Wah.
It's admirable that Gibson does not want to merely dwell in the past with these five new Maestro pedals, but the question remains: Are true reissues on the way?
The short answer is: Yes. But when exactly they'll arrive we don't know.
Now that the first round of new Maestros are out in the world, Gibson has said it's working on two future launches. There will be a next batch of the Original Collection—five more pedals to join the ranks of the FZ-M, Comet, Discoverer, and other new effects. But then, the deep vintage fun will begin with the Custom Shop Collection, which is set to include exact recreations of some fan-favorite Maestro effects.
Craig Hockenberry, Gibson's director of engineering and the lead designer of the new Maestro pedals says, "I don't think there's any ceiling in terms of what Maestro can do. Given Maestro's history and legacy, it has certainly earned the right to play anywhere in the effects world. So when it comes to Maestro in 2022, all you have to do is use your imagination. That's where Maestro will go, and that's where Maestro will be."
And with that in mind… we'll be looking out for a FZ-1, a PS-1, and—while we're dreaming—how about a Rhythm King drum machine?
---
"This article is part of a paid partnership with Gibson. From time to time, Reverb partners with trusted brands and manufacturers to highlight some of our favorite products we think our community will love."