It's summer 1957, and 23-year-old Bobby Jones is at the Capitol Tower studio in Hollywood for the first recording session with the band he'd recently joined, Gene Vincent's Blue Caps. Jones had started out as a guitarist back home in South Carolina, but by the time he joined the Blue Caps in the early months of '57, he'd already switched to bass and acquired one of the new Fender Precision bass guitars.
"I was told I was the first guy to play electric bass at the Capitol studio," Jones said when we spoke in 2007. "As we made our way there, the road manager had said well, you won't get to play with the band, they'll have to have a staff musician play the doghouse bass."
The "doghouse" was the big, conventional upright acoustic bass. Fender's electric bass first hit the market back at the close of 1951, but as the '50s unfolded, it was still seen by some as a bit of a novelty. As rock'n'roll emerged, at first the bass parts stayed mostly in the hands of upright players. Jones had replaced Jack Neal in the Blue Caps, and Neal played exclusively upright bass—for example on "Be-Bop-A-Lula," a top ten hit for Vincent in '56.
Gene Vincent & The Blue Caps - Be Bop A Lula
Neal wasn't alone. Marshall Lytle played upright on "Rock Around The Clock" with Bill Haley's Comets, a number one smash in America in '55, as did Bill Black with Elvis Presley—take a listen to Black on "Heartbreak Hotel" from '56—and Joe B. Mauldin on "That'll Be The Day" with Buddy Holly's Crickets in '57.
So it was that Bobby Jones walked through the door at the Capitol Tower with his Precision case in hand, wondering if he'd be a silent onlooker as a session bassist played upright at this Blue Caps session. "We got to the studio," Jones recalled, "and I set up anyway and started playing, and the engineer says he's not picking me up well enough, can't I use a pick? I was playing my Precision with my thumb. So I said well, yes, I guess I can, and I started using a pick. I never did play like the bass players now, with all their fingers. I played with a pick till the day I quit playing."
Thanks to that Capitol engineer allowing Jones to play his Fender bass, we can enjoy his electric bass playing on some classic Gene Vincent cuts. They include "Lotta Lovin'" from that session, which as a 45 A-side made number 13 on Billboard's singles chart later in '57.
Blue Caps drummer, Dickie Harrell, certainly noticed the arrival of Jones as the band's new bassist and of his rounder, fuller electric sound—and, on this particular track, his prominent walking runs under Johnny Meeks's two guitar solos. Harrell later described "Lotta Lovin'" as a completely different sound, recalling that the electric bass added so much to the band's music. Other musicians, too, were gradually coming around to the advantages of the instrument, and change was in the air as the '50s progressed. The question shifted from how to play the new bass guitar to who would play it.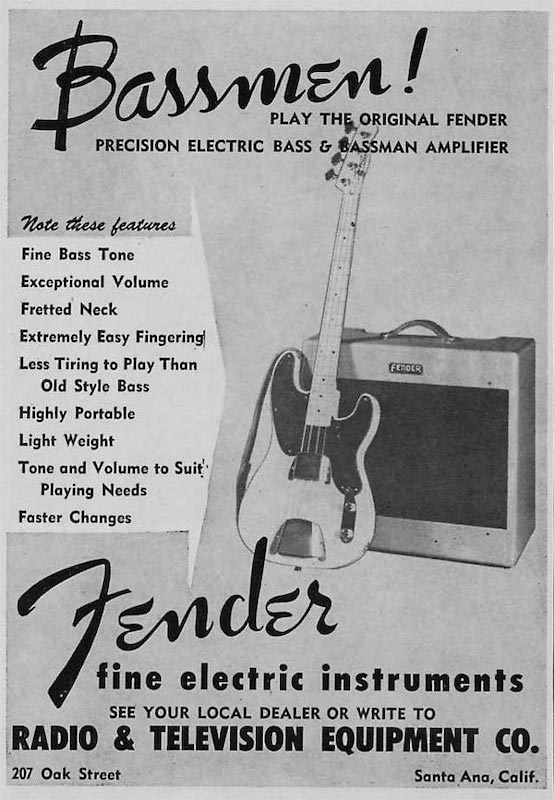 1953 Fender ad.
Fender's sales boss Don Randall told me that the firm's new Precision Bass wasn't only aimed at guitarists who, like Bobby Jones, were switching to bass. "The guitar players picked it up, of course, and many of them played bass and guitar," Randall recalled, "but most of the guys in the traveling bands were playing the big bass. They had to have a moving-van to take everything where they were going! The Fender was a godsend to them. It wasn't so cumbersome as the big acoustic bass."
Fender's catalogue spiel for its new product put it like this: "A finger style of playing is used rather than the old style of slapping and jerking the strings, which was necessary with the older style instrument to obtain sufficient volume. This new instrument when used with the Bassman amplifier produces considerably more volume than a conventional [upright] bass, and with a great deal less effort on the part of the player. Bass players will find that they are less tired after a night of playing the Fender Precision Bass than with the older type."
Rock'n'roll upright players began to make the move. Bill Black got a Fender Precision in '57. There was certainly one in the MGM studio during filming of Elvis's Jailhouse Rock movie, and the title track recorded that April sounds like Black is using his new Fender—which would make it one of the first number-one singles to feature electric bass.
Marshall Lytle left Bill Haley shortly after the success of "Rock Around The Clock," although he'd switched to Fender bass during '55 for stage work, continuing to use the upright for recording. Joe B. Mauldin, too, switched from upright to Precision, making the move in summer '58 for what turned out to be Buddy Holly's last tours. Waylon Jennings would play Fender bass on the final, tragic tour in early '59. Fender basses were turning up increasingly in other live shows, too, for example among the backing bands of Jerry Lee Lewis and B.B. King.
Over in Chicago, guitarist Dave Myers was a member of The Aces—a hot blues band that included harp man Little Walter. While his brother Louis played lead, Dave played a bassy-toned guitar. That might be him somewhere at the bottom of the sweaty distorted howl of Walter's '54 Checker cut "You Better Watch Yourself." It's hard to imagine an acoustic upright surviving in those circumstances.
Elmore James - The 12 Year Old Boy
Myers switched to a Precision in '58 and played it on sessions and gigs with bluesmen such as Otis Rush and Earl Hooker. Another claimant to the title of first electric bass in the blues world is Homesick James, who sounds like he's using a Fender on Elmore James's "The 12 Year Old Boy," recorded in Chicago in '57.
A brief fad emerged around the turn of the decade as engineers, notably in Nashville, were split on whether an upright or electric provided the best recorded bass sound. Elvis's "Stuck On You" in 1960 had Bob Moore on upright to give depth and tone to the bassline, and session guitarist Hank Garland playing the same notes on six-string electric bass to add a percussive edge. Nashville engineers called the technique tic tac bass.
In Europe, Billy Fury's The Sound Of Fury (1960) was the first decent British rock'n'roll album, and it featured Bill Stark on upright and Alan Weighell on bass guitar. Bert Kaempfert, the German easy-listening merchant, enjoyed many hits, starting with the 1960 single "Wunderland Bei Nacht" that had some more clicky two-bass work, with Kuddel Greve on upright and Ladi Geisler on bass guitar.
Fender's commercial innovation with the Precision in 1951—happy 70th birthday!—led other makers to try an electric bass model. There was Kay in '52, Gibson in '53, Danelectro in '56, and Rickenbacker in '57. But Fender's nine-year wait to add a second bass to its lines was significant.
---
Vintage & Modern P-Basses
---
Fender had suffered no such doubts about the market for its solidbody electrics, adding to the original Broadcaster/Telecaster of 1950/'51 with the Stratocaster ('54), Duo-Sonic ('56), Musicmaster ('56), and Jazzmaster ('58). When the Jazz Bass joined the Precision in 1960, it seemed to mark Fender's admission that, at last, the electric bass guitar finally seemed to be settling down to a distinct role—and, therefore, a defined market of players.
Back in 1957 with Gene Vincent's Blue Caps, soon after Bobby Jones's first recording session, Fender provided the band with guitars and basses and amps—"a lease or whatever, for the publicity" is how Jones described it. Somehow, though, in the to-and-fro of the deal, his original '56 Precision ended up staying at Fender.
When he left the band in 1958, Jones bought a new Precision, which he used until he gave up playing during the mid '80s. He donated that bass for display at the Rock & Roll Hall Of Fame, but understandably, he still wished he had his lovely old '56. Those original Fender basses just have a certain something. Which is hardly surprising, because they were right there at the start of it all.
---
About the author: Tony Bacon writes about musical instruments, musicians, and music. His books include Legendary Guitar, 60 Years Of Fender, and The Bass Book (with Barry Moorhouse). Tony lives in Bristol, England. More info at tonybacon.co.uk.
---
Buying Guide: Precision Basses
Learn everything you need to know to choose the right P-Bass for you.
Learn More