Mike Bloomfield (1966). Michael Ochs Archives, Mike Bloomfield (1974). Michael Ochs Archives
Getty Images.
Chris Okey was a month shy of his 19th birthday when he bought Michael Bloomfield's battered 1959 Les Paul Standard guitar, a classic Gibson "Burst" model, from Stan Grozina. Grozina was the owner of The Cave, a famous nightclub on Hornby Street in Vancouver, British Columbia.
Bloomfield and his band had been booked into the club for five nights in mid-November 1974, but the guitarist had quit the gig after only one night. Eager to see the premier of a new PBS television show called Soundstage, Bloomfield had flown back to San Francisco when he'd been unable to find the program on Vancouver TV.
He'd left his band stranded and had abandoned the Burst and the rest of his equipment at the club, but back home he did manage to catch Soundstage. The show was a tribute to Muddy Waters called Blues Summit In Chicago, and Bloomfield was one of its featured participants.
Soundstage - Blues Summit In Chicago, 1974 (re-aired in March 2015 on PBS)
Since that time, Grozina had kept Bloomfield's Les Paul and equipment, intending to hold onto the gear until the guitarist made restitution for money Stan had lost from the cancelled gig. But Bloomfield made no effort to retrieve his storied Gibson, deeming the guitar no great loss. "It was a total wreck," was his only comment. For nearly a year, the Burst sat in The Cave's basement, its fate uncertain.
Then Chris Okey heard about it. He'd come to the club in September 1975 to see Butch Whacks & The Glass Packs, a classic-rock cover band from San Francisco, and backstage after the show the group's guitarist told Okey about the prize in Grozina's basement. Okey knew right away he wanted the Bloomfield Burst.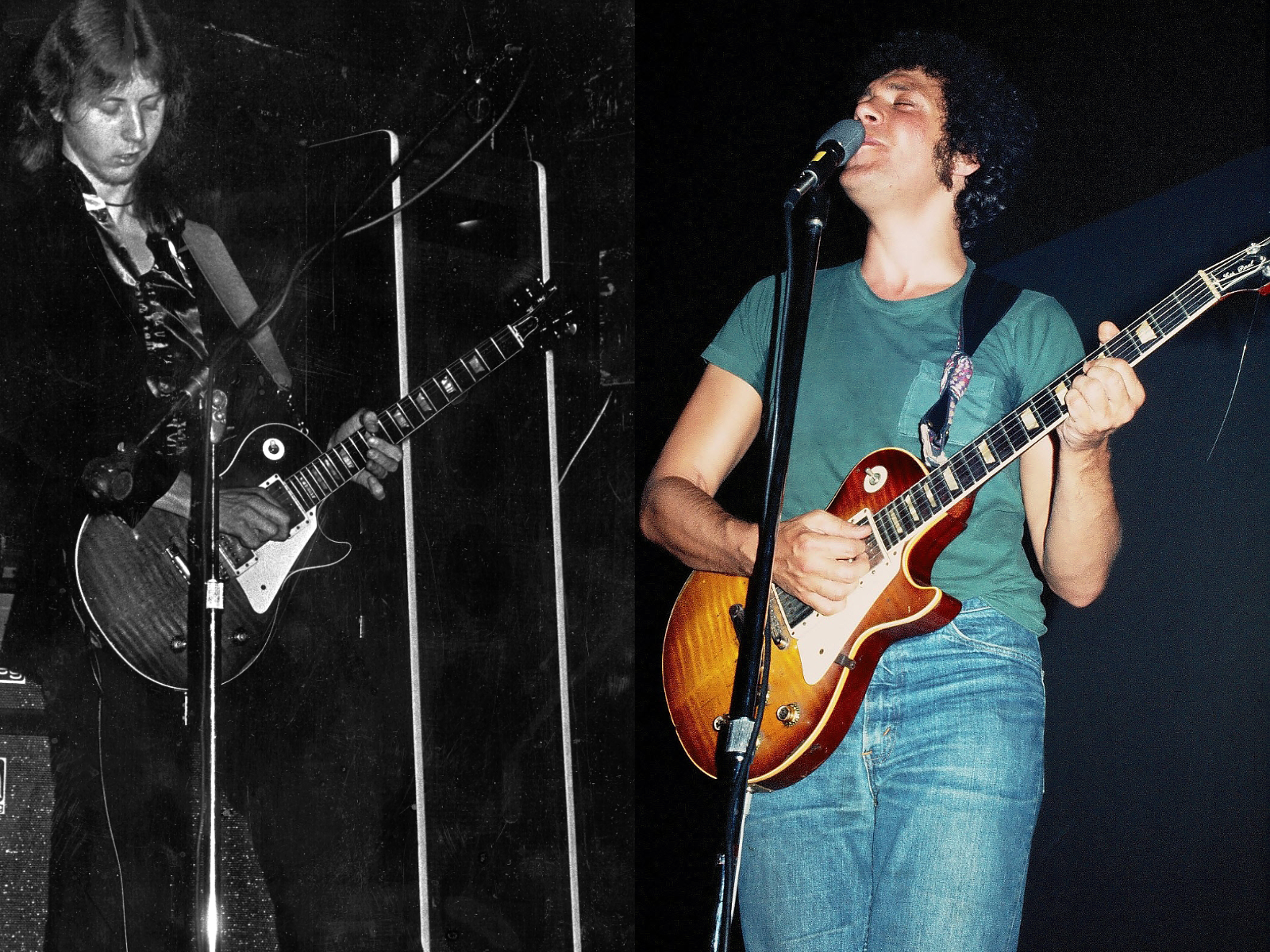 Left: Chris Okey on stage at the Yonge Station Pub with the Bloomfield Sunburst in August 1976. Photo courtesy of Chris Okey. Right: Michael Bloomfield performs with his 1959 Les Paul Standard at the Rivoli Theater in Indianapolis, IN, in June 1973. Steve Rusin photo.
"I was in a panic to put some money together because I thought Stan might suddenly sell the guitar to somebody else," Okey told me. "So I did the deal in just two days." He bought the Les Paul for what seemed like an exorbitant sum—$980.
Okey was a member of a Toronto band called The Whip and, a fine guitarist himself, was well aware of Bloomfield's stature as one of America's great blues-rock players. As a member of The Butterfield Blues Band, Bloomfield had helped introduce Chicago-style blues to a generation and had pioneered psychedelic rock with the group's East-West album of 1966.
Bloomfield's playing on Bob Dylan's seminal Highway 61 Revisited had charted a new course for the folksinger's career, and his brass-rock group, The Electric Flag, had inspired a whole new genre of big-band pop. Bloomfield was a superb blues improviser, and his sound, closely associated with the Les Paul, had inspired guitarists all around the country to seek out the iconic Gibsons. To actually own Bloomfield's original Burst was like a dream come true.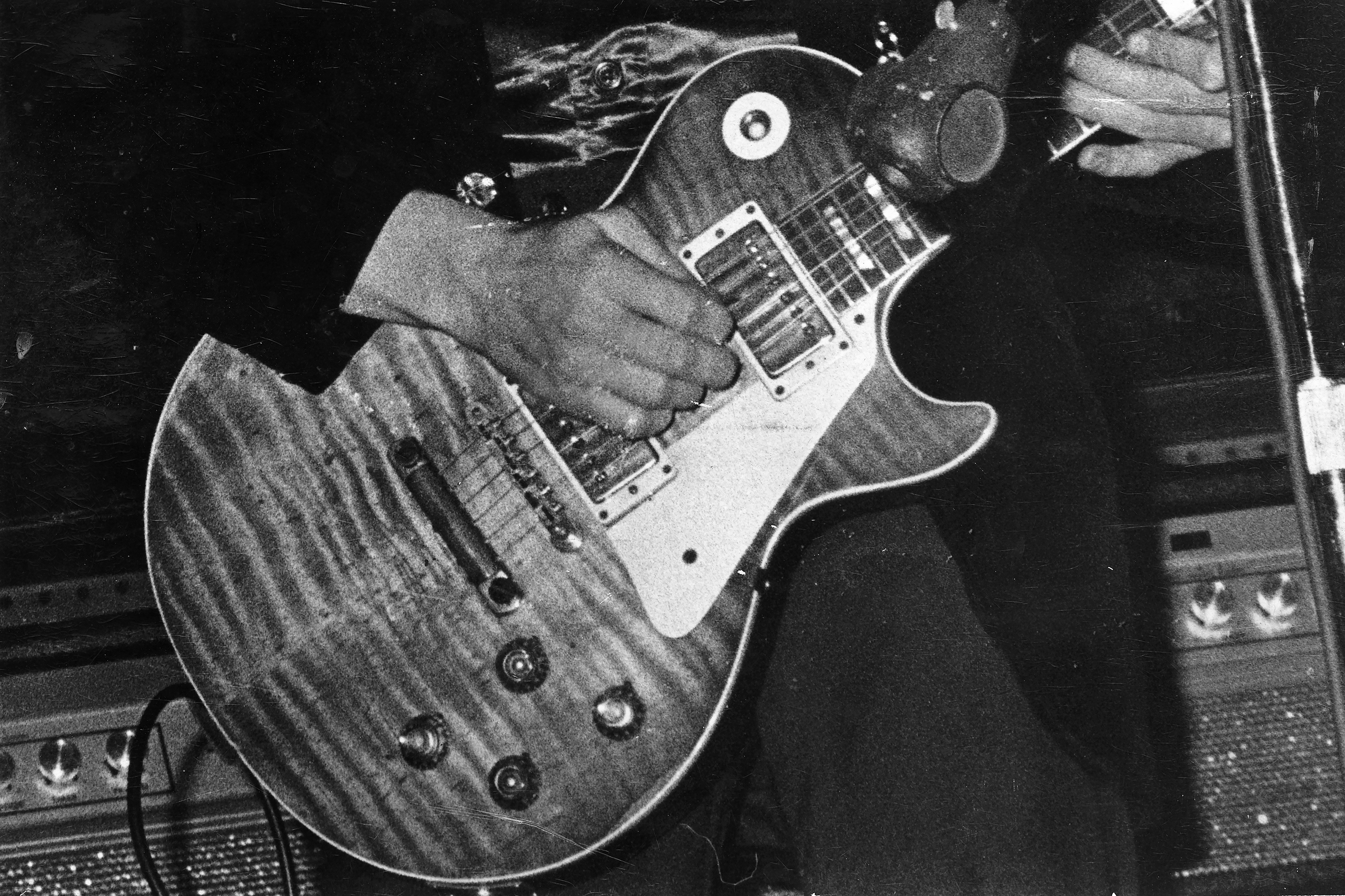 A close-up of the Bloomfield Sunburst as Chris Okey solos. Photo courtesy of Chris Okey.
The guitar itself, though, was more like a nightmare. "It was totally beat to hell and was quite ugly," Okey said. "On the back of the neck, about half the finish was missing in huge chunks. That mark behind the tailpiece was another place where the finish was missing, the wood caked with grime, and the tailpiece was all corroded and rusty."
Bloomfield was notorious for mistreating his instruments, and the Les Paul had suffered much abuse during the seven years he owned it. But when Okey plugged the guitar in, it became a different instrument altogether.
"It played as good as it gets, and sounded as good as it gets," Okey said enthusiastically. "I once got to play Duane Allman's Burst and there was nothing good about it. I wanted to put it down after ten seconds. But the Bloomfield—that was something special!"
Okey took the guitar on the road with The Whip, playing venues in Ontario and British Columbia before returning to Toronto in January 1976. In the spring, he had luthier Mike Kinal refinish the back of the neck, making the guitar easier to play. Kinal also replaced Bloomfield's chrome Grover tuners with nickel-plated ones and swapped the truss-rod cover for a more appropriate blank one.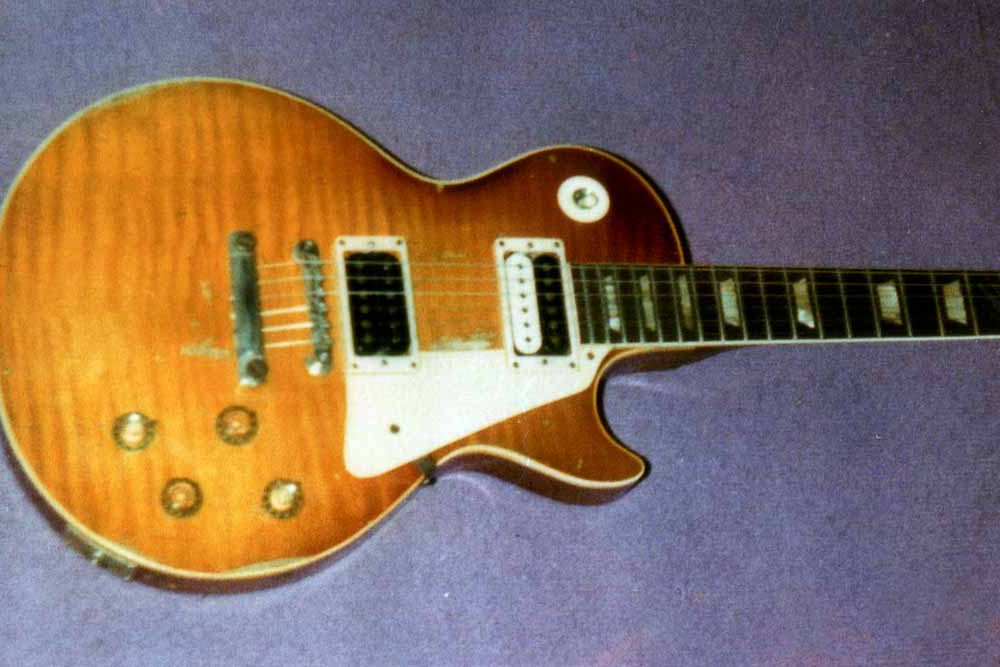 A photo of the Bloomfield Sunburst with the pickup covers removed, showing the "zebra coil" configuration of the neck pickup. The picture was taken at collector Ken Goodwin's house in 1976. Hugh Hardy photo.
When he removed the pickup covers, he discovered that the neck pickup had "zebra coils," meaning one bobbin is black plastic and the other white. That configuration was one some players felt enhanced a guitar's sound, and when it came to Bloomfield's Burst, Okey felt it probably did.
More gigging followed, but in 1976, Okey found himself short of funds and decided to sell the legendary Burst. The buyer was a well-known Toronto collector named Ken Goodwin. Goodwin held on to the instrument for half a decade, frequently offering it for sale for as much as $5,000. Finally, in the early '80s, he found a buyer—a collector from the Chicago area named Colin Petroff, who took the guitar back to Illinois, where apparently it has been ever since.
In 2011, John Picard, known as Mister Zero, the guitarist for the Canadian band The Kings, published a well-researched article about Michael Bloomfield's lost Burst in Vintage Guitar magazine. Chris Okey was one of his sources for the piece, and not long after it was published, I began work on Guitar King, my biography of Michael Bloomfield.
Picard kindly gave me Okey's email address, and in 2014, we began corresponding. He was very helpful with details about the guitar for my book, but one afternoon in June 2016 he sent me an unusual message.
Okey said he'd called the owner of the Burst that morning and had talked to a woman he assumed was the owner's wife. After a short conversation, she'd hung up on him, but he sensed that she knew more than she let on. Later that evening, he sent me another email, one as dramatic as it was terse: "It's him! Don't give his number out and don't tell anybody. I have an offer for him on it."
The "him" was Colin Petroff and the "it" was the Bloomfield Burst. Okey had heard rumors that Petroff was its owner, and that evening he'd finally confirmed it to his satisfaction. He hoped to broker a sale for an interested buyer, someone he described as a "famous guitar collector in Texas."
He had managed to trace the whereabouts of the Burst through a mutual friend, the guitar maker Bob Wojcik, producer of fine Les Paul copies known as BoBBursts. Wojcik had visited Petroff in 2014 and had seen the guitar then. He recognized it because he'd refretted it for Petroff in 1986.
Okey's buyer was offering an extraordinary $1.5 million for the instrument, and Okey was excited about his role as an intermediary. In the past year, he had suffered a number of financial setbacks and had been reduced to living in a motel in Cache Creek, British Columbia. He was also dealing with congestive heart failure, and he hoped the deal might net him a token gratuity, a sum that could help his situation.
George Gruhn on Mike Bloomfield's Guitars
I waited for news of the transaction, but after days turned into weeks and no word came, I assumed Petroff was not interested in selling. In the end, Okey was unable to close the deal, and the Bloomfield Burst remained in a closet in Illinois. Then, on December 13, 2016, I got word that Chris Okey had died.
While Michael Bloomfield's other famous guitar, his 1963 Telecaster, has recently been seen in YouTube videos by guitar expert Dan Erlewine, Bloomfield's 1959 Les Paul Standard remains a mystery. That its fate is generally unknown may be due in part to a question of ownership. It is true that Bloomfield abandoned the guitar at The Cave, but no deal was ever made with club owner Stan Grozina to take the instrument as restitution for the cancelled gig.
The famed guitarist, who died in 1981, never officially relinquished his claim. So did Grozina have a right to sell it? Did the Burst still belong to Bloomfield even though Chris Okey and subsequent buyers had purchased it? I asked representatives of the Bloomfield Estate for their thoughts.
"I think it would be very difficult to enforce any claim," Michael's younger brother, Randy Bloomfield, said. "It has been out of the family's possession for so long."
"If the Estate could verify that the guitar is authentic, I think we might be interested in seeing how it could be returned," Michael's brother, Allen Bloomfield, said. "But with all the time that's passed, if there's a statute of limitations, us not having the serial number—I really don't know. It would be difficult."
For now, the Michael Bloomfield 1959 Les Paul Standard, a Burst that was reproduced from photographic evidence in a limited-edition signature model by Gibson's Custom Shop in 2009, remains hidden from public view. It was Chris Okey's belief that an American collector named Colin Petroff currently has it, but efforts to locate Mr. Petroff for this article were unsuccessful. Until those circumstances change, it's Okey's research that best answers the question: What ever happened to Michael Bloomfield's '59 Les Paul Burst?
---
About the author: David Dann is a music historian, writer, and amateur musician who is the author of Guitar King: Michael Bloomfield's Life In The Blues. He has also produced radio and video documentaries about Michael Bloomfield and served as a consultant to Sony/Legacy for their 2014 Bloomfield boxed set From His Head To His Heart To His Hands. A Facebook page for Guitar King offers additional photos, videos, and other Bloomfield trivia on a regular basis. Dann resides in New York's Catskills.