The most expensive guitars ever sold at auction all have something in common: Famous rock stars famously played the instruments, or at least touched them long enough to grace them with an autograph.
The market for these celebrity instruments has spiked in recent years, with new sales records being made and then quickly broken.
Eric Clapton's most-famous Stratocaster sold for just under $1 million in 2004, clinching the record at the time. Now, it doesn't even crack the top 10.
However, beyond their association with famous guitarists, the actual guitar models themselves have not soared to such stratospheric heights. Some have higher price tags than they used to, but there are many ways to get the gear of famous players without paying collector prices.
Below, we'll take a look at the five absolutely most expensive guitars to have sold (to date), but then show you how to find their non-famous—and much less expensive—counterparts.
---
5. John Lennon's Gibson J-160E
$2.41 Million (Photo via Julien's Auctions)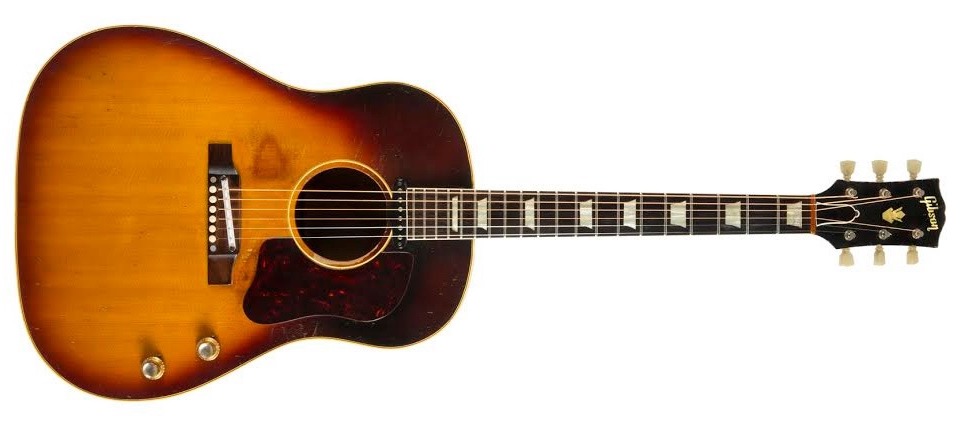 ---
The guitar Lennon used to write "She Loves You," "I Want to Hold Your Hand," and many other early Beatles songs, this Gibson J-160E sold for $2.41 million in 2015, an unprecedented price for a guitar at the time.
Beatles manager Brian Epstein had purchased one J-160E each for Lennon and George Harrison from Liverpool's Rushworth's shop in 1962, on credit, after Abbey Road staff complained about the group's road-tattered and cut-rate gear.
Lennon's ownership didn't last too long, with his J-160E being stolen at a Christmas 1963 concert. It wound up in California, where it was sold to an unsuspecting guitarist for a small amount of money. That new owner didn't know what he had until many decades later. Beatles Gear historian Andy Babiuk helped that owner identify it as Lennon's guitar, a process he wrote about for Reverb News in 2016.
Finding a similar J-160E today: Lennon's J-160E was, all the way around, with no modifications or changes. This makes it easy to snag a similar, historically accurate model. Built between 1955 and 1969, J-160Es like Lennon's currently sell on Reverb from about $1,500 on the low end to $5,500 on the high. They have the same three-ply laminated top, mahogany body and sides, and single-coil neck pickup as Lennon's. (The very first J-160Es, from 1954, were built a little differently.)
Norlin-era models from the '70s tend to go for less, though they were built with substantial differences compared to the '50s and '60s models. In the '90s, Gibson reissued the J-160E, bringing it closer to the '60s construction. And there are also a handful of proper John Lennon signature model variations: the J-160E John Lennon, 70th Anniversary John Lennon J-160E Imagine, and 70th Anniversary Museum.
Gibson also released the very budget-friendly Epiphone EJ-160E, which sells for between $330 and $700 on Reverb, and bears Lennon's signature on the body above the neck. Interestingly, it is outfitted with a mini-humbucker instead of a single-coil pickup, though aesthetically it looks about the same.
---
4. Fender "Reach Out to Asia" Stratocaster
$2.7 million (Photo via Fender Wiki)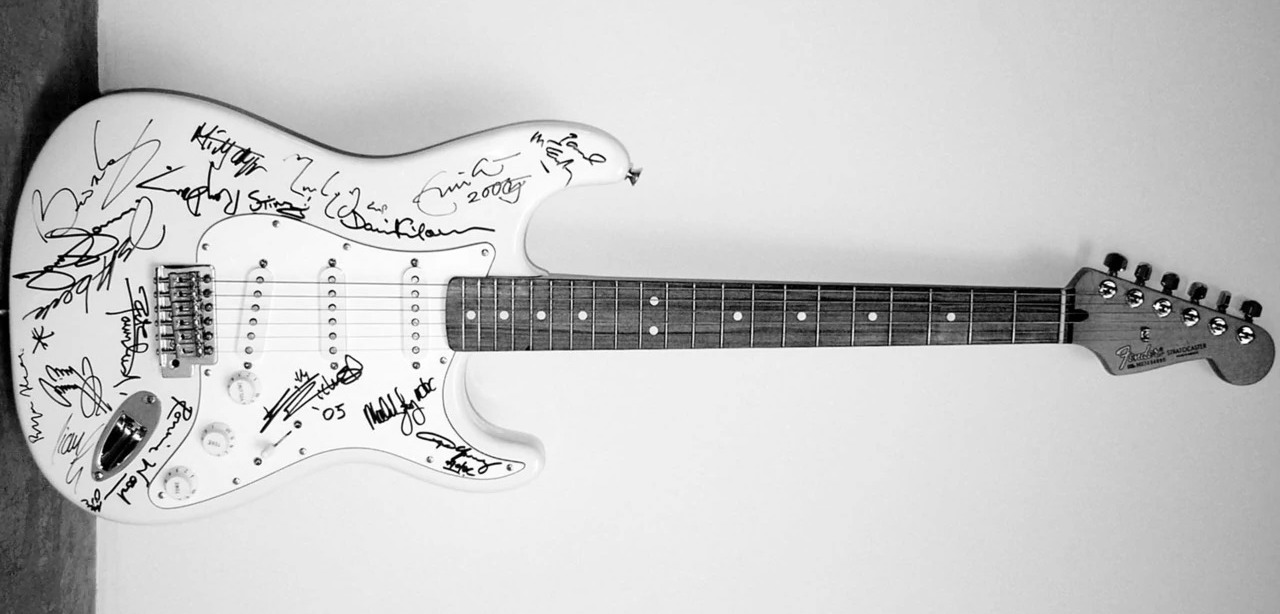 ---
This high-ticket guitar is an anomaly for a couple reasons. First, because it was never famously played by anyone. And second, because it's a made-in-Mexico Standard Stratocaster.
The Reach Out to Asia Strat got its name and its incredibly high sale price thanks to charity, with rock stars and a wealthy bidder coming together to raise money after the devastating 2004 Indian Ocean tsunami.
Organized by Bryan Adams and signed by 19 bands and artists in total—including Keith Richards, Mick Jagger, Jimmy Page, Paul McCartney, and other heavyweights—the guitar and its sale helped fund schools in affected cities across the region.
Finding a similar guitar today: Beyond the autographs on its body, the Reach Out to Asia Strat is similar to all other MIM Fender Standard Stratocasters available at the time, with an Arctic White finish, a rosewood fingerboard, and the Strat's regular three-pickup configuration.
Today, the Standard series has been replaced by Fender's Player Series, still built in the company's Ensenada, Mexico, factory. The Player Stratocaster has been one of the single-most popular guitars on Reverb since 2018, and is very close to the Standard Strats of yesteryear, though the option of a rosewood fingerboard has been replaced by pau ferro. Either way, these Strats will set you back no more than several hundred dollars. (And if you want to make your own replica, you'll just need a couple Sharpies too.)
---
3. David Gilmour's Black Strat
$3.975 million (Photo via Christie's)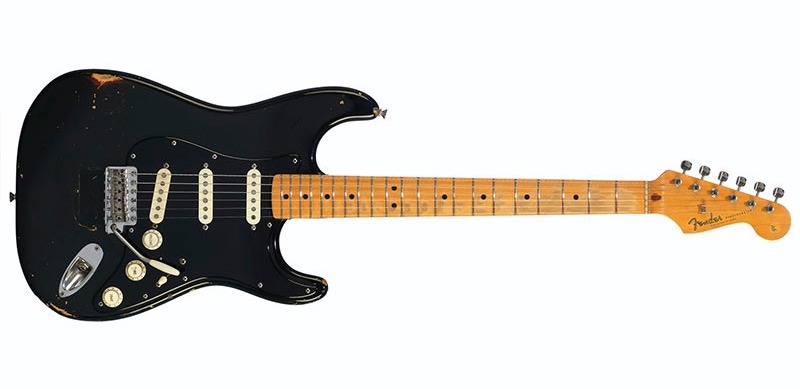 ---
Pink Floyd's David Gilmour parted ways with 120 instruments from his personal collection in a 2019 Christie's auction, one of the largest events in rock auction history. The grand total of the collection brought in $21.5 million for Gilmour's own charity foundation. His most famous guitar—the Black Strat used consistently throughout his career—brought in close to $4 million all by itself.
Until this auction, the Reach Out to Asia Stratocaster had been the most expensive guitar to sell for more than a decade, but Gilmour's Black Strat set a new level that collectors were willing to pay for celebrity instruments. In just a few years, its record price has been surpassed two times.
Gilmour's Black Strat is a refinished 1969 model, which he bought in 1970, after its original sunburst finish had already been sprayed black. Over the years, Gilmour swapped out pickups, switches, bridges, and various necks (some with rosewood fingerboards, some with maple). Additionally, he put it through many other failed experiments, like boring out a hole for an XLR connection, before he decided against the mod and filled the hole back in.
Without Gilmour's use of it, this is a vintage Strat that could never be considered collector-grade on its own. As of its sale in 2019, the guitar's '69 body is one of the only original parts that remains. The neck is a maple 1983 Fender '57 reissue, and the pickups include at least one custom-made Seymour Duncan SSL-1C, in the bridge position. (Gilmour had a full set created by Duncan, but it's unclear if they all made it into this final configuration.)
Finding a similar guitar today: If you want to create your own Black Strat, you could start with an original '69 Strat and refinish it yourself, if you dare, or you could save several thousand dollars by buying a vintage refin or one Fender's Custom Shop '69 Stratocaster reissues.
Then, you'd want to get a Seymour Duncan SSL-5 (the closest production pickup to Gilmour's you can buy), grind down the tremolo arm, and find a maple '57 reissue neck. From there, you should probably scuff up the whole thing further and try a few wayward mods of your own, if you want to approach the Black Strat's god-level relic'ing.
If you're feeling less adventurous, you could buy the Custom Shop David Gilmour Stratocaster Relic, where Fender has done all the mods and relic'ing for you, or the blemish-free Custom Shop David Gilmour Stratocaster NOS. Gilmour himself owns a few of these replicas, and he called them "absolutely perfect" replacements in a Rolling Stone interview about the sale of his Black Strat. "One of those might be my future guitar of choice or even, horror of horror, maybe I'll even change the color," he said.
---
2. Kurt Cobain's Fender Competition Mustang
$4.55 million (Photo via Julien's Auctions)

---
To another generation of players, Kurt Cobain's "Smells Like Teen Spirit" Competition Mustang is just as iconic as Gilmour's Black Strat. However, they've both ended up in the same collection, that of Indianapolis Colts owner Jim Irsay.
In 2022, just a few years after the Gilmour auction, Irsay placed the winning bid on Cobain's most famous Mustang. The Nirvana guitarist played many of them throughout his career, and often called them his favorite guitars (alongside the Fender Jaguar), but this blue, racing stripe-adorned '69 Mustang had a starring role in the group's breakout music video.
Like other Competition Mustangs, its blue finish was called Burgundy at the time of its release. Over time, these Burgundy finishes have faded into widely different hues, with some taking on a more purple look and others turning toward standard blues. Cobain's "Smells Like Teen Spirit" Mustang is often said to have a Lake Placid Blue finish, because of the way its Burgundy blue has aged.
Finding a similar guitar today: Compared to other vintage Fenders, original Competition Mustangs are affordable. Even though some asking prices for Cobain-lookalike models have hit five figures, none have sold for that much on Reverb, with most selling between $2,000 and $4,000.
The Fender Kurt Cobain Mustang was a short-lived made-in-Japan model that you can still find on the used market for less. It had a few different finish options—a Lake Placid Blue one based off of the "Smells Like Teen Spirit" Mustang—along with others in Cobain's collection, like Sonic Blue. It features a Seymour Duncan humbucking bridge pickup, which, while it matches the modifications of some other Cobain guitars, is not accurate to the "Teen Spirit" Mustang.
That said, Fender Japan also made a '69 reissue, the MG-69, which comes with era-appropriate dual single-coils and a variety of finishes.
---
1. Kurt Cobain's Martin D-18E
$6.01 Million (Photo via Julien's Auctions)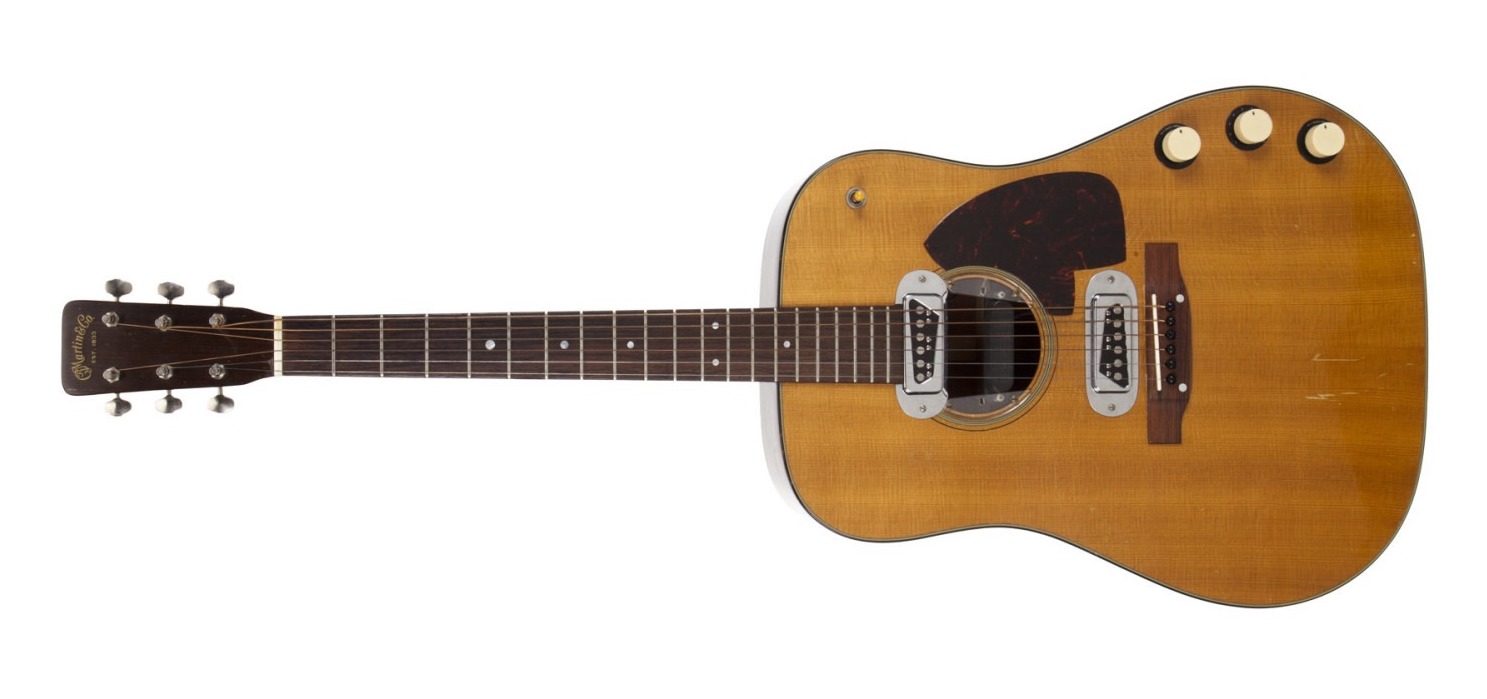 ---
One can imagine that the self-proclaimed "anemic royalty" of grunge would be embarrassed and yet a little flattered to have not one but two guitars top this list.
The 1959 Martin D-18E is, on its own, a pretty rare guitar. At the time, the longstanding acoustic company built it as an attempt to compete with all the electrics taking over popular music. It was only one of 302 to have been produced between '58 and '59, before Martin discontinued the original model.
With two DeArmond single coils, one volume knob, two tone knobs, and a selector switch, the stock D-18E could've had enough electric power for Nirvana's charged MTV Unplugged performance, where this guitar became iconic in Cobain's hands. But look closely at Cobain's and you'll see that he mounted a Bartolini 3AV pickup in the soundhole, and it's this third, aftermarket pickup that he used throughout the Unplugged show.
Finding a similar guitar today: Until the sale of Cobain's guitar in 2020, vintage D-18Es were valuable, but they did not command terribly high prices, with many selling for around $5,000 on Reverb. Since then, final sale prices have risen to the low five figures and asking prices have climbed even higher.
But if you want Cobain's D-18E sound today, you don't really need the version with the DeArmond pickups. As design elements, sure, they make the guitar look unique, but they were not integral to Cobain's use of the guitar.
Instead, you could get any variant of Martin's D-18—like today's Standard Series D-18 (from $1,600 used)—or any number of the D-18Es Martin has produced after ending the original run. None of the newer models feature the DeArmonds, instead using more discreet electronics, but you could get your own Bartolini soundhole pickup or any equivalent acoustic humbucker to approximate Cobain's sound, and you could even affix vintage DeArmond Dynasonics and a few off-white knobs if you want to nail the aesthetic.