Editor's note: Last month, we launched the first installment of a new regular series, Finer Notes, where journalist Keith Nelson Jr shares inside stories from the recording sessions of classic and modern-classic albums.
This month, we have a double-header. In the first half, Nelson speaks with Gary Noble about Amy Winehouse's debut, Frank, and in the next, he talks to Salaam Remi about her enduring hit Back to Black.
Remi was also kind enough to let us publish a photograph from the sessions.
Amy Winehouse's Frank
Sometimes the biggest shifts start with the most humble beginnings.
Three-time Grammy Award–winning engineer Gary Noble met an unassuming 18-year-old Amy Winehouse in 2002 when she arrived at producer Salaam Remi's production studio off of Biscayne and 15th Street in downtown Miami with just her manager. He remembers the precocious singer arriving at the studio with a knapsack on one shoulder and a guitar case on the other. After exchanging introductions, Remi and Noble wanted to hear what she had to offer. The rest is history.
"I thought she was going to pull out a CD or something. Instead, she got up, opened up the guitar case, took the guitar out, sat down, tuned the guitar in front of us, and then started playing the song on the guitar and singing. His and our eyes made contact and it was like, 'Dude, we have to work with her,'" Noble says.
This started a relationship that would result in the making of her debut album, Frank, the world's first full-length introduction to the sorceress of sorrow. Chatting with Reverb, Noble discusses why Pro Tools wasn't good enough during the Frank sessions, Winehouse's curious creative mind, and his last memories of the creative genius.
For the Frank sessions, Noble remembers Winehouse being recorded on Digital Performer using a Neumann U 47 mic going into an Avalon VT-737sp Tube Channel Strip with very light compression and basically no EQ. For mixing Winehouse's smoky and enveloping vocals, Noble used the Neve 33609/N Stereo Compressor and Avalon AD2055 Equalizer before ending off with a bit of LA-2A, which added a bit of smoothness and warmth to the vocals. Noble now uses Pro Tools HD daily to record artists because of its improved automatic delay compensation, but back in the early 2000s, the DAW that would become industry standard was lacking.
---
47-Style Mics on Reverb
---
"At that time, Pro Tools was still TDM [Time Division Multiplexing], and to us, it didn't sound as good as Digital Performer. Plus, you had to buy the Pro Tools/TDM rig, which was like 70 grand, just to be able to use Pro Tools. It's not like now where you can buy Pro Tools software and run it on anything."
Winehouse was the driving force for Frank, Noble was the facilitator of her vision, but Noble remembers Remi setting the tone and direction of Frank's production. It's Remi who brought the Yamaha DM-2000 Digital Console to the sessions in order for them to switch between projects at will, a capability impossible on an analog console. It was Remi who wanted everything to sound live. It's also Remi who possibly imbued Frank with the spirit of the great Frank Sinatra.
Before the Frank sessions, Remi purchased New York City recording studio Soundworks with a U 47 mic in a mic closet leftover from the previous iteration of the studio space, and one possibly used by the great Frank Sinattra. Noble says Remi refurbished the vintage mic to its original factory specs to get it as close as possible to Sinatra's timeless sound.
Frank was, in part, destined to be a classic from its inception. "It enhanced her voice more. Some people may not like it because they said it brought up her midrange," Noble says. "But, to me, that's what made her special. It brought out the natural resonance of her voice. That's what people liked about her."
Noble remembers a typical session involving Remi making a rough drum track on the MPC whenever Winehouse was beginning to write songs, in order to keep the timing of the song in creation. When she was ready, Winehouse would go in the booth and play guitar and sing simultaneously. That was intentional on Remi's part. He wanted the end result of her recording to sound natural—not pieced together one vocal take at a time. All of the music on Frank came from live instrumentation; nothing was quantized, everything was natural.
Amy Winehouse - "Stronger Than Me"
"When we were mixing it, there was no Auto-Tune on her. We wanted it to be her natural essence and she was very conscious of her pitch and was already on point where to enunciate and emote more. She really knew how to work the microphone to the benefit of the song," Noble says. "Even though it was a record, we wanted it to feel live. Salaam was very adamant that it always felt live. It needed to feel like she was performing somewhere when we recorded it and when we mixed the recording. That's how we wanted it to feel."
As far as Winehouse's recording, the Grammy Award–winning singer did no more than three takes for vocals for each song and never punched in. Noble would simply go to the top of the song, press record, and let her perform the song in its entirety. Every time you hear her voice on Frank, it is one stream of consciousness captured in that moment of time, polished later by Remi and Noble. That sort of recording style with an artist as unapologetically open as Winehouse results in lyrics being sung that even industry veterans like Remi and Noble couldn't see coming.
"I would press the talkback button-like, 'Amy, repeat that. What's that line?' And then we'd all look at each other and start cracking up. She was very witty and had ways of saying things where if you were paying attention you'd go, 'Wow! She just said that?'"
Winehouse's lasting legacy is those lyrics; words arranged perfectly to tap into the hearts of millions. Her "Stronger Than Me" song from Frank unabashedly delves into her dissatisfaction with her boyfriend leaving her in control of every aspect of their relationship. Noble remembers how touching that session was to work. "It was a good session. It was a little emotional for her because a lot of those songs are about her ex-boyfriend. I like the fact it was triumphant at the same time as she came from feeling low and was able to lift herself out of it. Music for her was like therapy."
Noble attests Winehouse was more interested in instruments than recording gear, evidenced by how drawn she was to the Wurlitzer electric piano during the making of Frank. "When she was writing the songs, whether starting from scratch or finishing the songs, she would either use an acoustic guitar or a Wurlitzer. She'd be playing, figuring out a song, and come in the room like, 'I'm trying to figure out this part. Which chord you think works better?' She'd play the chord progression, and then with the last chord she'd ask, 'Should I go with that one?'"
One particular recording session that exemplifies the curious nature of Winehouse's creativity sticks out in Noble's mind nearly 20 years later. One day, Winehouse was in the studio's lounge after getting done with recording vocals while Remi and Noble were working on a track she had recorded vocals for soon before. They wanted her to relax her voice, which she did. But, soon they started hearing trumpet notes faintly emanating from outside of the studio.
The sounds were coming from Winehouse trying to learn how to play the trumpet of Bruce Purse, a musician who is credited with playing trumpet on six of Frank's tracks, along with Faith Evans' 1995 debut album, Faith, and other great sessions. Winehouse may have been relaxing her voice from being a conduit for her thoughts, but that didn't mean she quieted her creative mind.
Winehouse transitioned on July 23, 2011, three months shy of the eighth anniversary of Frank's release, taking her voice and views of the human condition from us mortals on Earth. Before Noble would never see her again, let alone work on another song together, his last memory is the same as his first: a woman with unbridled excitement to share her life with the world, one lyric at a time.
"A year before she passed away she showed me her notebooks. She had three notebooks filled with lyrics for songs. I was excited because she was writing again. Every time we spoke about the music she got bright-eyed like when we first started working with her."
The Making of Back to Black
Few people are as intimately connected with the making of the legend that is Amy Winehouse than legendary producer Salaam Remi. After producing timeless records from The Fugees ("Fu-Ge-La"), Nas ("Made You Look" and "I Can") and others, the Grammy Award–winning producer connected with the London-born singer at his Miami production studio in 2003 to help shape her debut to the world. Salaam and Winehouse developed the sort of inseparable bond from those Frank sessions that led to a unique sound and trust. With music as personal as Winehouse's, trust with handling it with care is paramount.
"Being that I produced the majority of the Frank album, and Amy had a certain trust with me, she wasn't really getting a lot of work done in London. So when they asked her, "Well, who do you want to go work with?" She said, "I want to go to Miami with Salaam."
Back to Black actually began before Frank was finished. Remi remembers early songs, which would later become "Just Friends" and "Addicted," were recorded at the end of the Frank sessions during the fall of 2003. Speaking with Reverb, Remi discusses still having the equipment from the Back to Black sessions in his home, Winehouse choosing his living room as her recording space, and the genius of her creative process.
The writing and recording of the bulk of Winehouse and Remi's timeless work together on Back to Black were the results of roughly four two-week trips in Miami over the course of 2005 into early 2006. Remi remembers the initial tracks for Back to Black had a jazzier sound than the final product. That was the result of a pure music lover's heart getting acquainted with the sounds of the past.
"While she was in Miami, we went to a record store, and then she bought a bunch of records. Then she's like, 'This is what I'm listening to now.' There was The Shangri-Las, Paul Anka, and more doo-wop material like The Moonglows and The '5' Royales. She was like, 'This is where I want to go, go with it.'"
Remi's downtown Miami production studio was the home of Winehouse's Frank recording in 2003. When they reconvened in 2005 to begin work on songs that would become part of Back to Black, Winehouse found herself in the middle of the living room of Remi's South Miami house. It was there that she found Back to Black's home.
Amy Winehouse - "Just Friends"
"With the Back To Black album, she stood in the middle of my living room and said, 'I want to record right here. I like the way my voice sounds standing in the middle of the space.' It was a brand new house with a two-story ceiling. I just put a kit in the room, I just bought a piano. I put all the amps in the room and then we recorded in that room and that became sonic of many of the songs you can hear."
He transformed his living room into a creative playground. He had a Yamaha baby grand piano, Ampeg B-15 amp, and Fender-made Music Man amp with Winehouse's melancholic vocals recorded on a Neumann U 47 into an Avalon 737. When you hear [snares] that's from a Premier snare Remi calls "used at that time that became his go-to snare until this day." Every one of the songs he produced on Back to Black used that snare, except "Just Friends," which used piccolo snare to achieve the song's reggae feel.
His living room was also equipped with a Pacific CX Series drum kit, which Remi used to play drums on everything he produced on Back to Black—with the help of Troy Auxilly-Wilson who added drumming on "Tears Dry on The Own" and "Just Friends"—and a C3 Organ with the Leslie speaker cabinet along with bass guitars from Berkeley, California guitar shop Subway Guitars.
The guitars came from Remi's time recording Carlos Santana in 2000, when he purchased a few custom Hofner-style violin bass guitars from Subway Guitar's owner Fatdog that would later be used on Back to Black. Jim Gaines was the engineer during those Santana sessions and taught Remi a trick that would later help shape Winehouse's magnum opus.
"Jim Gaines, the engineer, told me that they put an 87 in between the hi-hat and the snare. So that's what I would do. I would use the U 87 on a snare. And to this day on all my drums, it does that."
As far as recording software, Digidesign Digi 002 rack audio interface in conjunction with a MacBook running Digital Performer. He also used a Neve 1077 Mic Pre/EQ during the Back to Black sessions that could've been yours. "I actually put them on sale on Reverb one time, but I didn't say that I recorded Amy Winehouse on them." Remi is able to recall the equipment used nearly 15 years ago because he's never moved it from his living room since Winehouse stepped foot into work on Back to Black.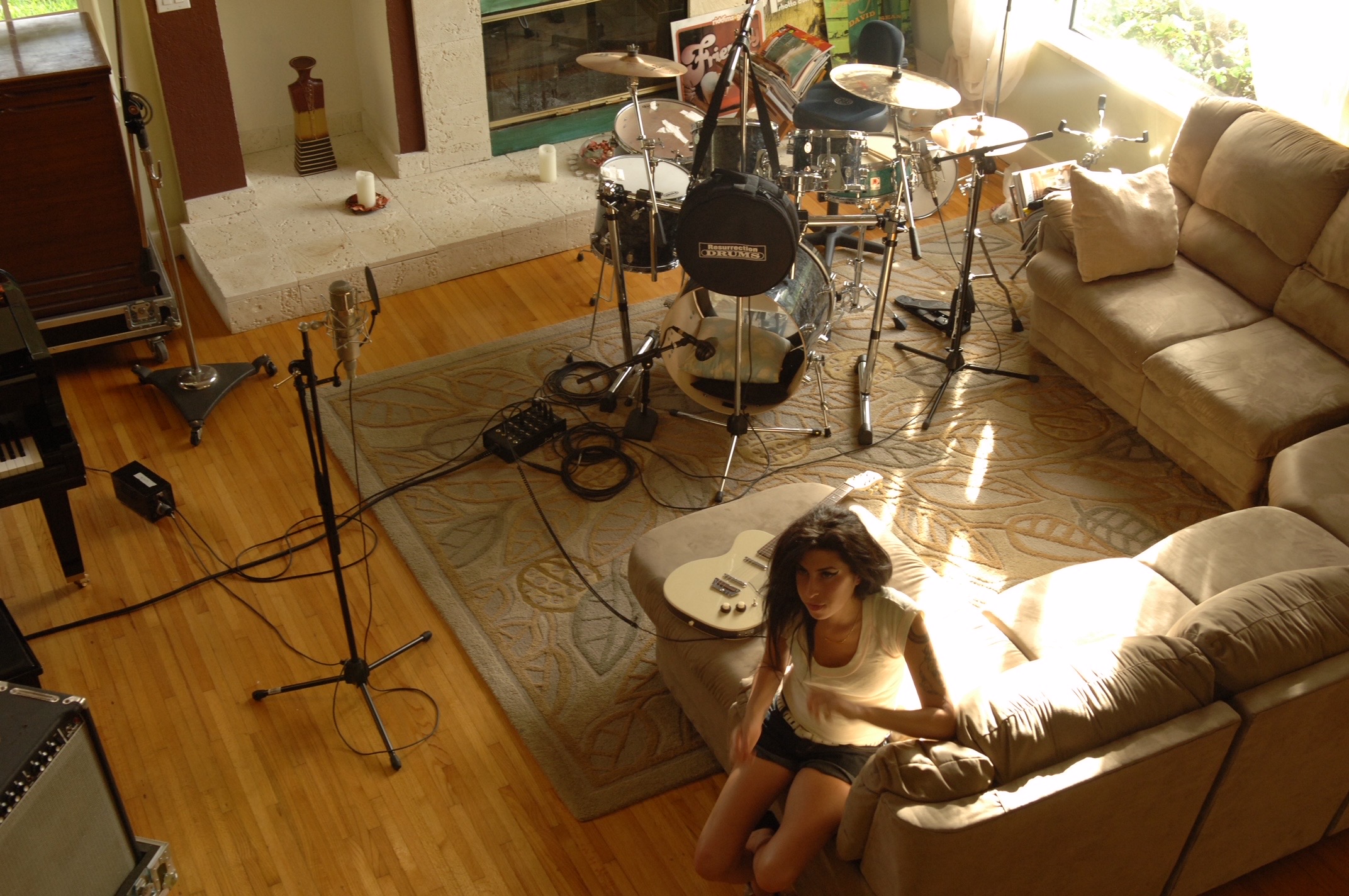 Winehouse sits on Salaam Remi's living room couch during the Black to Black sessions. Photo by Remi and used with permission.
Remi made sure every song he worked on was fully live instrumentation with no computer programming involved. He wanted to capture Winehouse's engrossing voice in its fully natural state. So, the Neumann U 47 was perfect for just that.
"What I always loved about the U47 is that I felt like for people that have big voices, it captured from the center of their chest to both of their shoulders to the top of the head. It didn't just capture what was right at the mic. When I have the 67, it gets closer than the 87, more right on the point, but I felt like it captured all that room around them, which gave you enough room to hear their vocal ability and more space around it, not just their vocal by itself. So when I was recording her vocals into that, you were able to hear her vocal ability and not just that little piece."
As far as Winehouse's writing process, Remi remembers she would always write the songs over rough skeleton tracks. She would write for half the week and cut the vocal in one or two takes from top to bottom. The writing on Back to Black feels like diary entries unlocked from Winehouse's heart and her writing process mirrored that private freedom. "She'd be sitting outside a lot of times writing. Sitting in my garden, sitting on the back porch, cooking. She cleaned up my house one day. She would do all types of other stuff."
Winehouse trusted Remi to bring her creative vision to life after she recorded her vocals and left the songs with him. "She knew that I was always going to do the right thing as far as arranging sort of vocals. So she didn't really go too far with that stuff as far as getting into whatever my decision was. Only she says, 'I don't like strings, I don't want strings.'"
From there, he would record the live instrumentation of each part of each one of his productions in order to be able to manipulate them as he wanted because outside of the skeletal beat. John Adams played organ and Rhodes on "Unholy War" and "Just Friends," and Vincent Henry played guitar on "Just Friends." It was a collaborative effort even when everyone wasn't in the same room.
"Sometimes my musicians playing the horns weren't in Miami. So what I would do is I'd be working on a track and I would send them like hummed references and different things. And at that time, we would use an iDisk. So he would take it and put it on the Apple iDisk. I put an MP3 up and then call him and say, "This is what I'm going to do, and this is what the tempo is." And then they would load it into whatever they were working on And they sent it back to me on the Apple iDisk. So that's how that was going down."
Countless people have had tears ripped from their eyes by Winehouse's immersively depressing tunes, but Remi remembers Winehouse wasn't emotional while they were recording Back to Black because "our recording space was a safe space and no one was around." One song that did elicit a grim emotional reaction from Winehouse was a slow version of "Unholy War" that never made the album. At the time, Remi thought the track was "the best record I had ever made in my entire life." Unfortunately, for Winehouse, it was too much to bear.
"When she listened to it, she said it sounds like I'm dying. And she took it off the album. And I was gutted, I couldn't believe that the best record I'd ever made wasn't on Back to Black. I was gutted, it was almost like it was too real."
---
Finer Notes is a new series that looks into the equipment, techniques, and untold stories that went into shaping classic albums, where engineers and producers discuss how they used the equipment of the time to make a body of work that's timeless.
About the author: Keith Nelson Jr is a seasoned music journalist who followed his innate passion for knowledge to interview some of the most influential figures in the music industry. He's a journalist who connects the dot to see the bigger picture.
Vintage U 47s & Modern Clones
Want the classic Neumann sound on a smaller budget? You're in luck.
Learn More