All photos courtesy John Shults, used with permission.
It was going so well until they got to the guitar case. John Shults of True Vintage Guitar was talking to someone who'd inherited from an uncle an ultra-rare Gibson double-neck. John explained to the guy what it was he had and what he would pay for it. And then, almost as an afterthought, he asked about the case.
"The guy said, 'Oh, I threw it away because it was dirty.' I'm like, well, that's—unfortunate." John paused, and then added: "Which landfill would it be in?" This willingness to consider landfill diving counts as a thorough approach to vintage-guitar dealing. And John is nothing if not thorough. As it turns out, the guy with the Gibson rarity said he'd dumped the dirty old case a month earlier, so there was nothing to be done. "But for a moment I was tempted," John admits. And he did secure the double-neck.
John Shults. Photo by Jake Carnley.
John says his success in finding and selling great instruments is all about having a unique method of sourcing these guitars, and giving personal attention and good customer service to everyone he deals with. As for that "unique method," he's not about to give anything away. But the stories tumble out, about sellers who he empowers to understand what they have, about buyers he connects with vintage guitars they've always dreamed of. And, of course, some good business along the way.
Now 32 years old, John got the vintage guitar bug back when he was 20 and a sophomore at college studying for a business degree. He began to find out as much as he could about the subject. And while he soon realized that if he became a dealer he'd be standing on the shoulders of those who had gone before, he knew he'd have to use the opportunities and resources that today's very different world offers.
"I knew I had to focus on a unique sourcing method that takes advantage of the things that I personally have that other people may not. And instead of looking at what other people are doing, and trying to do that, I had to try to think creatively. For example, how could I get in touch with someone who has, say, a '57 Stratocaster they've owned since the '70s? How would I get in touch with that person?"
Beginning in 2013, he decided to use what was then a relatively new thing called Instagram, and started to search through hashtags for "Les Paul." He came upon a lot of pictures, liking some as he went—and then one stopped him dead. "It had reflector knobs, kind of a busy top, and the walls of the case were very thin, much thinner than a reissue. A headstock close-up looked very worn, and, oh, some of the tuner buttons were crumbled. I'm thinking to myself, Hey, a reissue is not going to have crumbled buttons."
He figured the poster, who said the family were given the guitar when a relative died, didn't understand what they had. And while he certainly didn't have the money to buy such a Burst, surely he could connect them with someone who did? So he tried to get in touch, but was blocked, and the post was quickly deleted.
"That started a long, long wait," John recalls. "Eventually they spoke to me. I told them what they had, and they said it would never be for sale. Two days later it was for sale at Gruhn, and Gruhn found a buyer for it. It was not a wealthy family, so I think they greatly benefited from that guitar. I hope that they did. And it was a huge learning experience for me, because while I did have the skills to find and identify it, I didn't have the skills I needed to deal in that level of guitar."
He reckoned that if he worked hard enough, if he thought creatively enough, he could probably find some more desirable instruments. "I had to get further skills—I needed to know exactly what these guitars are worth and every little aspect of identification. So I got to work on that side of it. It took many years. And I've come a long way. In 2021, for example, I've connected two Bursts with buyers, and I've connected many others with some choice vintage guitars."
Today, John prides himself on the transparency of his sales listings, where the detailed pictures he posts back up his descriptions, and where he offers buyers a 48-hour approval period. "I'm happy to provide these things because I want my buyers to feel confident," he says. "Nearly every waking moment that's not spent with my family is spent doing this. I want both parties to feel that confidence—the seller and the buyer."
He likes to go on safari to round up the enviable beasts he seeks. A recent one involved a pair of '57 Fenders and a 1960 Gibson. The '57 Strat fell into place on a Monday, agreement on price the following day, and John was all set to head out by Wednesday.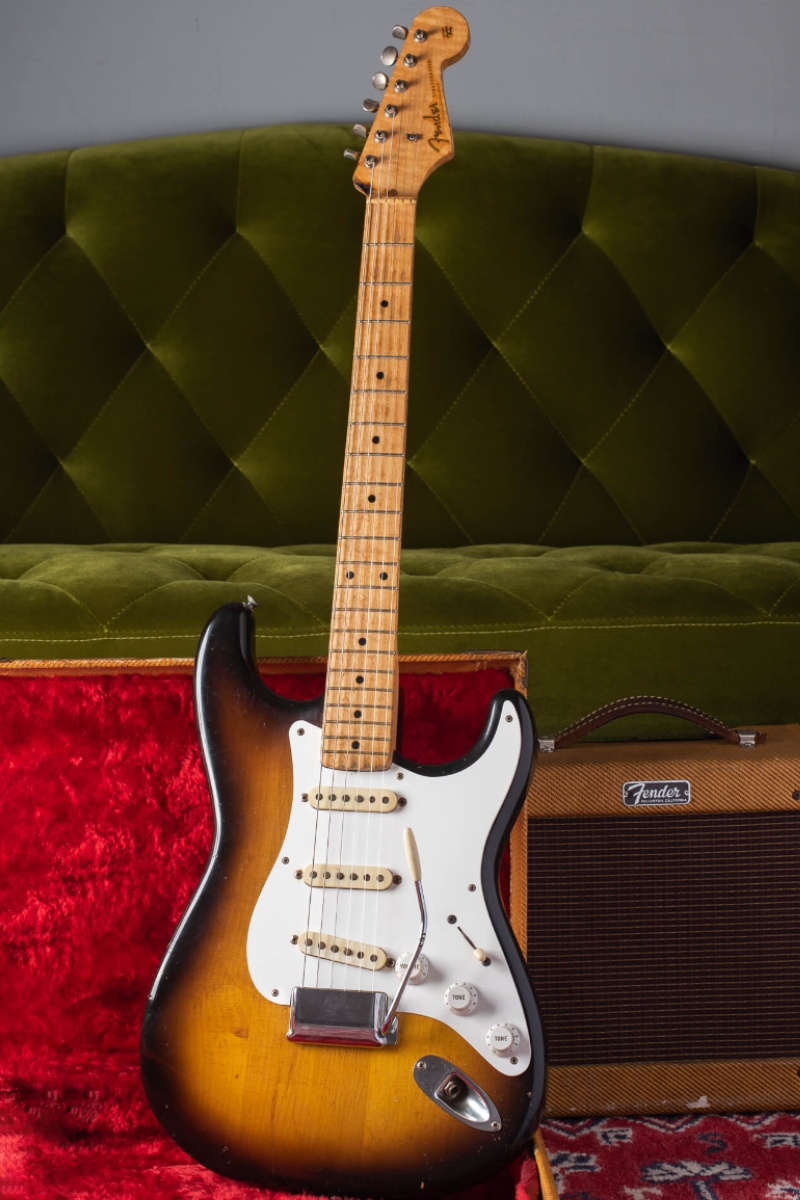 1957 Fender Stratocaster
"On the Tuesday, I'd called a family who had a '57 Telecaster, about two-and-a-half hours away in West Virginia, made an offer, and they accepted. I thought this is amazing—two '57 Fenders! Then I called back a woman in Virginia who'd inherited from her dad a '60 Gibson SG Special, the Les Paul double-cut style, and a very early '60 with the high neck-pickup position. What made this one rare is that it did not have a neck repair. Sounds like a unicorn, right?"
But then a blow to this seemingly perfect safari. The Strat owner called, said he had a family health emergency and couldn't make the meeting. John put his disappointment aside and figured he'd reverse his trip from the planned route, and maybe by Friday the Strat might be back on. So, off he went to Virginia and got the Gibson, sealing the deal in a parking lot, then drove north and bought the '57 Tele.
"Then I booked a hotel room half way to northern Ohio for the Thursday night," John recalls. "I hadn't heard anything more from the Strat owner. Next morning, I drove out to his town and sat in another parking lot. By now it was midday on Friday, and I couldn't reach him. I thought well, I should just have driven home."
Considering the 10-hour drive to come, he passed some time posting pictures on his Instagram of the '57 Tele. And then the guy called back. "I said look, it's OK if you need to take care of your family member, but he said no, it's fine, let's meet. So there we were, in the back room of a bank, taking apart his '57 Stratocaster. And that one was a roll of the dice that ended up being successful. It was such a fantastic trip that resulted in a trio of great guitars."
Back in May, he was in another bank, this time in Clarksville, Tennessee, with a '62 Stratocaster, an amp, and its present owner, whose dad had owned the guitar for decades. It was clear to John that one of the Strat's pickups was dead. Simply telling this to a non-guitar-savvy potential seller might well come on like salesmanship. "They're trying to beat down the price by baffling me with some jargon I don't get," might well be the reaction.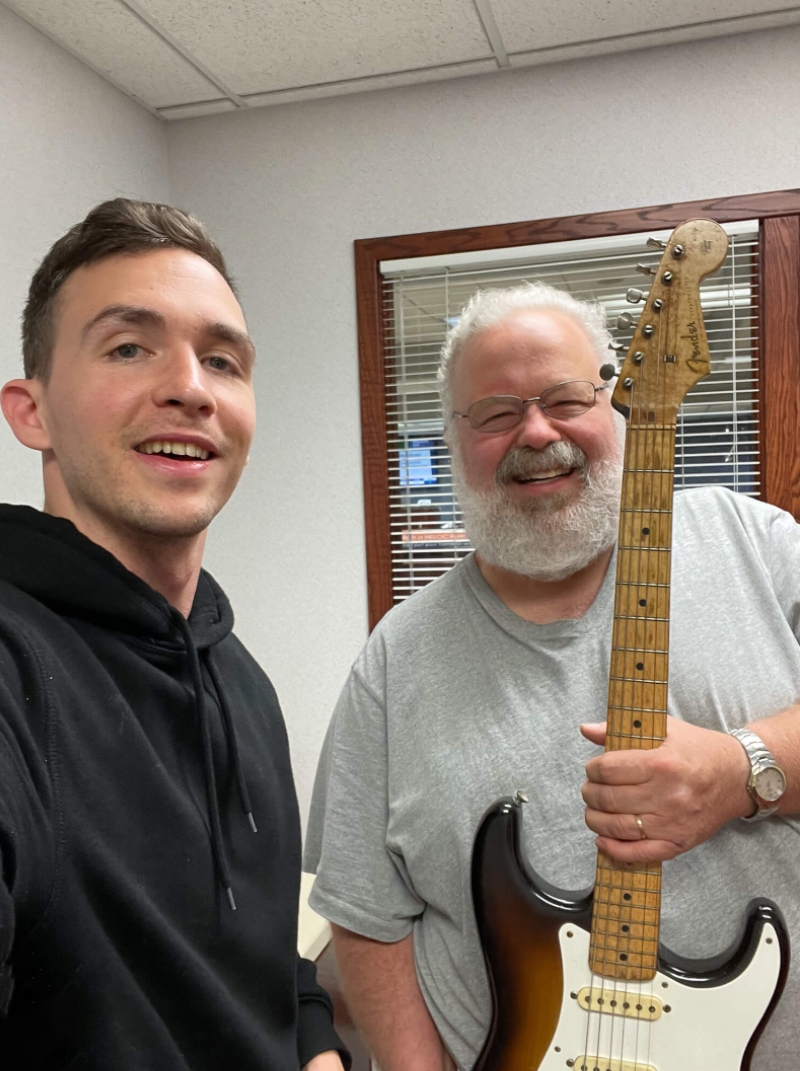 John with the owner of a '57 Stratocaster since the 1970s (and grandson of the original owner).
John takes a different approach. "I try to make sure that the information is known to both parties. So we're not negotiating over what we think, we're negotiating based from the same set of facts, which are either true or not true. In this case, when I noticed the dead pickup, I said I'd like to use my multimeter. I explained that we could measure the resistance of each pickup, and then decide if one's dead or not."
They took off the Strat's strings and the pickguard, and John got to work with the multimeter. "I showed him that this one says 5.7 thousand ohms, this one says 5.8 thousand ohms, and this one says 0.0. So which one do you think is dead? That way it's obvious. It's not just me saying that I think this pickup is dead."
On his way to Clarksville from his base in Alabama, John had got the call from the owner of the Gibson double-neck—the one without the case—who had a go at describing it in non-guitar-savvy language. "I'm thinking, Surely that's not a spruce-top double-neck," he recalls, smiling at the memory. "He says he couldn't send pictures until the next day. So, I stay over, and when I wake up at six the next morning there's pictures for me of a late-'50s EDS-1275 leaning up against a wall. I fell out of my chair! It was unreal."
Gibson nuts will know that a pre-solidbody double-neck is quite a find. Gibson logged about 50 of this custom-order from 1958 to '62, when the solidbody SG double-neck replaced it. And in 1959, the year this one was made, the logs indicate 15 shipped. John, now on his second coffee and most definitely awake, called the owner and agreed a price.
1959 Gibson EDS-1275
"I said I'll come to you now—it was four-and-a-half hours away—and I'll pay whichever method you want, but I won't come now if you'd like to shop around. He said no, no, I want to sell. I said OK, you'll hold it for me now while I get there? He said yes. And so, of course, he then went and shopped it around for four hours."
When John called to say he was ten minutes away, the owner said he had a higher offer. "I said OK, that's fine, let me get there and we'll talk it through. He'd called a couple other dealers and they'd made their offers, so I had to beat that by a couple thousand dollars. Which I was willing to do, because I couldn't imagine another chance to buy something like this."
I mention to John one of my favorite phrases, "Everything is somewhere." This can apply to many activities, including guitar hunting. "Everything is somewhere!" he laughs. "That's right. And this one happened to be in Ohio."
Keep up to date with John's ongoing guitar safari at True Vintage Guitar or on his Instagram channel.
---
About the author: Tony Bacon writes about musical instruments, musicians, and music. His books include Million Dollar Les Paul, The Ultimate Guitar Book (happy 30th birthday UGB!), and Legendary Guitars: An Illustrated Guide. Tony lives in Bristol, England. More info at tonybacon.co.uk.