As the younger generation of players on the London jazz scene have leapt into the international spotlight by blending jazz, hip-hop, and Afrobeat, Mark Kavuma has carved a singular place for himself as the leader of The Banger Factory ensemble. A trumpeter, pianist, composer, and the head of Banger Factory Records, Kavuma seems to act as a conduit between the disparate sections of the London scene, bringing together sounds and players from across generations.
Growing up in Peckham in southeast London, Kavuma was introduced to the trumpet at school, becoming the first musician in his family. The song "Papa Joe," from 2018's Kavuma album, was inspired by the music teacher Joe Morgan who started the young trumpeter on his musical journey. It was Morgan who introduced Kavuma to Kinetika Bloco, a performance group of musicians and dancers that draws on the carnival traditions of Brazil, the Caribbean, Africa, and New Orleans.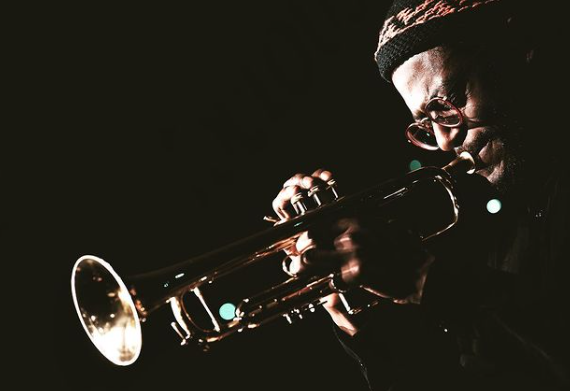 Mark Kavuma
"That was a game changer," says Kavuma. "If I hadn't done that, I don't know if I would have fallen in love with it as much because at school, we were doing classical music, which was cool, but Kinetika, seeing that many kids having such a blast playing was a different experience. It was a party!"
From that point, he devoted himself to honing his craft. "I was telling my parents, 'Yeah, I'm going to be a trumpet player!' For them, they thought it was just a phase because I was into football and stuff, but I was dead serious. That was the only direction, I didn't waver in what I wanted to do from then on."
2018's Kavuma and 2019's The Banger Factory were released on the Ubuntu label, but now the bandleader has established his own Banger Factory Records. In November 2022, the new enterprise officially marked its launch with a performance at London Jazz Festival and the label has already released four albums, Arashi No Ato and Warriors by The Banger Factory ensemble, a duo album by Kavuma and Archie Zaitz, and Legacy by Kinetika Bloco, celebrating the group that first fired Kavuma's imagination.
Did those formative experiences with Kinetika Bloco and their carnival, party atmosphere, inform your approach as a bandleader with The Banger Factory?
100 percent. It was fun. Kinetika, you have people that are really amazing and someone like me who's just started. There wasn't a thing of, 'You have to be at this level to participate.' It was about an experience and sharing music with people of all different levels. How do we engage everybody? Not just the people playing but the audience we're playing to. I got to uni and everyone is really serious onstage, I was like, what's going on? In Kinetika, we were all smiling and laughing onstage. With my own project, we're serious about music, don't get me wrong, but you've got to have fun.
Kokoroko - Colonial Mentality | Sofar London
Without Kinetika, I think I'd probably have a very different approach to entertaining. I think that's really impacted the current London jazz scene, because when I was in Kinetika, I was there with Theon Cross, Femi Koleoso, Sheila [Maurice-Grey]. A lot of the bands doing well on the scene now grew up together in Kinetika or Tomorrow's Warriors. There's that spirit of putting on a show whether it's Kokoroko or Ezra Collective. That's been a culture thing, growing up with this community of musicians and then all of us branching out to do our own thing. Although our things are very different, I think that spirit is there in the different bands.
The sound of the young London jazz groups draws on Afrobeat, hip-hop, and urban dance music. By comparison, your sound seems more rooted in the Hard Bop tradition?
If I'm honest with you, I've never thought about it as 'I'm going to play Hard Bop.' I just write the music I write, and we play it. Hard bop has been mentioned a lot but it's strange because it's not a thing I've set out to consciously do. Don't get me wrong, happy days, but I've never thought this is the stamp I want to have on the scene. What has contributed to that maybe is the mentors I've had.
Who has shaped your approach?
I'd definitely say Mussinghi Brian Edwards. Mussinghi Brian Edwards and Alan Weekes run the jam session at The Haggerston [a pub in East London]. Things have changed since the pandemic, but before that it was the longest running jam night with the same band. Mussinghi's been doing it for 25 years and Alan for 26 years—it's been a staple of the London jazz scene.
The pandemic knocked the wind out of everything, but every Sunday night, that was happening. The Haggerston was a hang and hub for younger musicians, older musicians, anyone who wanted to play and just jam and be in a good environment. There, even though I could barely play, they'd be like, 'Get up! Come and play!' Mussinghi Brian Edwards and Alan Weekes were instrumental in that, and then at a certain point they asked me to join the band. It was a quartet for 19, 20 years—then I joined, and it was a quintet.
"Everything happens to me" by the Mussinghi Brian Edwards Quartet
Then also Gary Crosby, joining Tomorrow's Warriors, that was a different experience. The Haggs would be night-time, whereas Gary would be daytime. There's a guy called Mike Umwento who used to run the late show at Ronnie Scott's, and that was a big thing for me. I feel like it's changed because at that time it seemed to be a hang for a lot of the older musicians. They would go even if they weren't playing.
Now, it seems like if they're not playing, people are not really going out to hang somewhere like Ronnie's, which is a shame. I was fortunate to be there in that period where that was a hang, besides just having a gig. There would always be a lot of music happening, there would be people like Steve Fishwick, Quentin Collins, all these trumpet players that were really encouraging to me, and they were playing in a more straight-ahead style, so that had an impact on me before I started venturing out and doing my own thing.
What was the impetus to start composing your own music?
In a strange way, I feel like I had a knack for composing. I've always felt like I can put things together, more so than playing initially. My first compositions were probably at 15/16, and we'd try those out in Tomorrow's Warriors and try to make it sound nice. A lot of my compositions are based on a person or a place. It's how I identify with people's characters. I didn't do that consciously at the beginning, it was just how I related to music. But as I got more experience, I did it intentionally. 'Okay, this is dedicated to Mussinghi, this is dedicated to Papa Joe, my music teacher,' to try to encapsulate how I experience that person, their vibe, or their character.
Your first two albums came out on Martin Hummel's Ubuntu label. How did that happen?
That was funny because the first album, Kavuma, I had no idea what I was doing. My idea was, we're going to record it, it will be out in a month. I didn't realise mixing, mastering, all these things take time. I was doing a show at The Palace Theatre called The Joint Is Jumpin'. There were some guys over from America including Mike Mwenso— he moved to America and came back to be part of the show. I thought, 'This is perfect, let's record while these guys are here.'
Mark Kavuma and the Banger Factory - 'The Banger Factory'
I knew Kyle Poole from going to New York back and forth. When Mike moved to America, he started running the sessions at Dizzy's, so I'd go to America at least once a year. I built up relationships over three or four years just being around those musicians. We recorded the album in one day. My plan was to self-release.
I didn't really know how I was going to get it out there, but I sent it to Quentin Collins, who was my first jazz trumpet teacher, and he was connected with Ubuntu. He was like, 'How are you going to release it? It's a good album, you should try and do something with it rather than just release it yourself because you'll only get so far.' So that's how I got introduced to Martin Hummel, he loved the album, and then we set about releasing it.
Why did you want to take on the responsibility of running your own label?
There are a few reasons. I feel like I've been fortunate—we're playing together all the time, we're hanging around each other all the time, so we're making music all the time and by the time the first album came out, I was like man, we've got all this other music. I'd moved on from that album and I realised the model was one album a year, and I was like, 'Man, I'm ready for the next one!'
I feel like jazz has been affected by the pop model where you release an album, you might tour it for a year, then you have some time off to write the next album and it all starts again. Why can't we record two or three albums a year? That got me thinking that I need to do this by myself because when I was going to Martin, 'Okay, we've got another one,' it was 'Whoa, slow down'. He's working on X amount of projects, there's only so much time he can give. That set me thinking— if I want to do things the way I see them, I have to do this by myself. We're recording all the time now.
Where do you record?
Kavuma was recorded at Soup Studios, which was in Limehouse before they moved onto the boat. After that, we recorded at The Fish Factory, which is amazing. That's where we recorded The Banger Factory and the first album on Banger Factory Records, Arashi No Ato. Lockdown was amazing because it gave you time to really try to make this happen. The whole world is on standstill, what do I need to do to set up a label? It gave me the time and freedom to do things at a slow pace and work things out.
NQ Jazz: Mark Kavuma - Arashi No Ato
During that time, I got together with a good friend of mine, Theo Erskine, who also plays. He's got a beautiful studio, and through lockdown we started recording all the time. So that's the hub of Banger Factory Records now. I've been fortunate to be exposed to the older generation of the jazz scene and the younger generation at the same time, so having access to that has been amazing. You can be like, 'Why don't we get Matt Fishwick and Deschanel Gordon?'
Deschanel Gordon was BBC's Young Musician Of The Year and Matt Fishwick is a veteran of the jazz scene, but they probably wouldn't be coming together unless it's a one-off at Ronnie Scott's or something. That was the thinking with Banger Factory Records, uniting these two worlds, the young and the old.
The most recent album, Warriors, taps into a classic Blue Note, Rudy Van Gelder sound.
That's been a big model. We're doing all the recordings in one place, so there is definitely a sound which is a blessing. You're comfortable in the space, and it takes the pressure away from 'We've booked a studio and we've got two days to do everything.' I was always very stressed in those situations.
Doing it at Theo's, you haven't got the pressure. It's a lot more relaxed and that affects how the music comes out because you can really concentrate on developing a sound. Our motto is very similar to the Blue Note thing because we were like 'Okay, we have two rehearsals whenever people can make it during the week, and then Friday we record.' It was as simple as that.
The Archie Zaitz & Mark Kavuma album Back To Back shows a different side of you as a musician. How did that piano and organ format come about?
Me and Artie would get together, he's got a Hammond organ. He had this guy who he was teaching piano lessons to and he was like, you can store your Hammond in the garage. But he had a piano in the garage, so it was the Hammond and a grand piano. I used to practice there—we would spend hours in there, me and him, playing just for fun. It got to a stage like, 'We're getting okay at this, we should record something.' We set a date, July I think, and that was the date we're going to record so we've got to get it together. The date came and we had to do it.
Mark Kavuma & Artie Zaitz | Boiler Room: Streaming from Isolation with Night Dreamer & Worldwide FM
It's that process again—by the time you get to releasing something, you're in a different place. We've improved so much. Should we release it because we could do it so much better now? But it's a journey. I've had this thing with a lot of my friends who are scared to put things out because they want it to be perfect. I see people, 'Man, you're amazing, why haven't you got anything out?' 'Well, you know…'
There is never a time when you think everything's perfect. We've recorded the next one already and it's a whole different story. There's a beauty in being able to see the progression and the journey. There's a lot of pressure, I have so many piano friends! I'm like, 'Oh man, what are they going to think? Stick to the trumpet?' But everyone was so encouraging and now I practice piano just as much as trumpet, so it was a big game changer for me in terms of the next step of my development.
It's so easy to compare yourself to the greats when they were at their very peak which feels intimidating.
I see it all the time. I was talking to a friend of mine the other day who's an incredible pianist. I was saying, 'You have to record something. We've got the studio, we'll sort everything out, just get in there and record.' He's like, 'Nah, I'm not ready.' I'm like, 'What do you mean you're not ready? You're playing with everybody! When are you going to be ready?'
You hear Miles' first recordings—he probably wasn't happy putting that out, but it's a journey and people can then trace that journey. You don't just get to Kind Of Blue, there's so much before that. What I've realised is when you put something out, it's a reflection of where you are at that moment in time. It's very honest because then you're like, 'this is what I need to work on,' whereas before it's kind of abstract.
It's difficult with jazz because hopefully you're always progressing either as a player or as a human being, so you're always thinking it could be better. With that first album, if I had thought about it as much as I think about things now it probably still wouldn't be out. I was like, 'We've booked the studio, these guys are coming, great, we'll go in and record.' And there's beauty in that because it's honest.
What's the mission statement for Banger Factory Records?
I've got quite a specific vision for the label. I've realised my unique standpoint within the London jazz scene is my access to both the young and old. I've realised as the London jazz scene has flourished and there has been all this media attention on the young London jazz scene, it has isolated the older jazz scene. It's created this rift. With Banger Factory Records, our thing is bringing these two worlds together, and on the albums, you'll have an older veteran of the scene and someone young.
Mark Kavuma - Into the Darkness Music Video
Initially it wasn't a conscious thing, if I'm honest, but I realised this is a thing we've been able to do with Banger Factory—bring these two worlds together. That's a big focus for me because I see this divide and it's kind of sad. When I was growing up, I'd hang out with the guys at Ronnie's, you'd be vibing and spending time with everyone, but the more acclaim the young scene gets, they don't want to be associated with the older scene. I don't think it's good in the long run. It's all music at the end of the day, but its popularity and what the media is pushing.
Sheila Maurice-Grey has said that she doesn't like the London Jazz Scene label because it has become a sound unto itself and that's limiting artistically. Do you agree?
That's what I'm talking about. The scene is so big, people have so much to give. She's right. When you're saying, 'This is the sound,' it doesn't leave much space for anyone else, which is sad. You're closing all these people off. It means promoters are chasing this sound, so if you're not associated with that sound, all of a sudden, you're no longer relevant.
For the young guys, it's cool because you can adjust, but the older generation, it cuts them off. They're not going to start playing Afrobeat. So while it's been great at reigniting the passion for music with young people, it limits what they can actually get from it. It closes off people's minds to what else is happening, what other players are about, what they have to offer. That's similar to the Hard Bop thing with me. I get it, but it's like, 'He just plays Hard Bop.' Whoa, guys! It's a funny one with labels. There has to be a space for it in terms of people identifying the music, but it can box you in.