When John Entwistle passed away, who would The Who call to play a series of high profile concerts, with little more than a few days notice?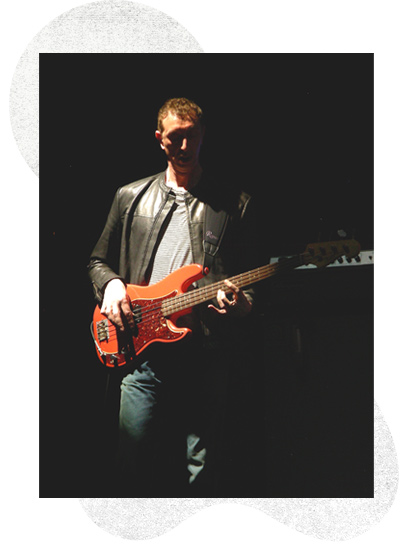 When D'Angelo's follow-up to the classic album Voodoo was hanging in the balance for 14 years, who did he tap to record and solidify the low-end on 2014's Black Messiah?
When Trent Reznor and Nine Inch Nails shot a decadent concert film at the Staples Center in Los Angeles, who did they ask to interpret their cinematic and industrial catalog?
Pino Palladino.
The Welshman, prodigy, and prolific bass player is hard to miss on stage at 6'8"—and even more so on recordings. Often playing a fretless bass, he has the ability to keep his playing loose and tight at the same time. Sliding sharp and flat before finding his intended note, there is a glissando or legato to his style that has become his signature.
Playing a varied but modest stable of basses, he has influenced countless players, but how have the instruments influenced his playing?
After recording with Gary Numan (on 1982's I, Assassin), Pino supported English singer-songwriter Paul Young on his hit "Wherever I Lay My Hat (That's My Home)." On that recording he played a fretless '79 Music Man StingRay, which he had bought after touring with Jools Holland.
Paul Young - "Wherever I Lay My Hat"
The song was a hit and put Palladino on the map as the fretless player. But he has kept a rather humble attitude about his success and popularity, while playing with some of the world's best musicians.
He once remarked, "On some of the early Paul Young stuff it was shocking to me how loud they'd mixed the bass. I was playing all the hooks, so that sound became identified as bringing success, which is bullshit really. It's about the song, the timing, all sorts of factors…"
Similarly, when talking about "Wherever I Lay My Hat" to The Guardian in 2018, he said, "The bass was loud and on its own, and it sounded a bit out of tune to me. I was really uncomfortable. Then all these people started telling me they loved it, so I quickly started saying: 'Yeah it's great, innit? Thanks!"
The affect of Pino's fretless playing cannot be overstated. It originally defined him, and he became one of the most sought-after bassists in the world. On the strength of that first fretless hit, David Gilmour asked him to play in his band, and his opportunities continued to grow from there.
Pino discusses the bass part to "Wherever I Lay My Hat."
Fast-forward to 1998–99 and the Voodoo sessions. Whatever one considers to be Pino's most impactful playing is debatable—and truly a matter of preference, considering the amount to choose from—however, his time with D'Angelo, The Soulquarians, and, later, The Vanguard is indisputably some of his headiest and most creative playing committed to tape. 120 reels of 2" tape to be exact, in the case of Voodoo.
Recorded at Electric Lady Studios and engineered by Russell Elevado, Voodoo was the product of in-studio jams and live band performances.
With tracks produced by D'Angelo, Questlove, DJ Premier, Raphael Saadiq, and J Dilla, each influence added flavor to the album, creating what is considered an early-aughts opus.
The atmosphere around R&B and hip-hop at the time of the release in January 2000 was flashy and decadent. As just a few examples of the big-budget, big-earning albums of the time: Mase's Feel So Good was released in the fall 1997, and Jay-Z's "Big Pimpin'" dropped just after Voodoo in the spring of 2000. The tracks found on D'Angelo's second full-length were a departure, to say the least.
Largely improvisational, deeply rooted in church music, and rich with live musicianship and analog quality, the band and engineers were dead set on sounding human. Imperfections were not only displayed but celebrated. It is music made by and for Earthlings, or, as Elevado has put it, "to keep the rawness."
During a Q&A with Elevado, he noted some of the particulars about Pino's playing that made his performance stand out, but also show how open to suggestion he was. It was recommended he use a Larry Graham signature Moon JJ4 tuned down and, primarily, the basslines were created by D'Angelo. However, with Pino's subtlety and pocket-playing, he kept the groove and added unexpected fills and flourishes in the perfect places.
On the recording, Pino mostly used his '63 Precision Bass, tuned down to D (DGCF). The move was originally inspired because he was using heavy-gauge La Bella flatwounds, which can be rough on bass necks. His playing on "Chicken Grease" and the cover of Roberta Flack's 1974 hit "Feel Like Makin' Love" reflects not only an ease and camaraderie among players, but the sound of Pino reaching a period of elevated playing in the R&B sphere and on fretted bass.
In the liner notes to Light in the Attic's Voodoo vinyl reissue in 2013, Pino was quoted saying, "When my musician friends first heard the album, they were confused. They thought … the timing's kinda weird on it. D'Angelo explained to me the concept of how he wanted the bass to sound before we started playing. I attempted to put the bassline where I thought he wanted it. I would never have thought of putting it so far back behind the beat. But it becomes a different feeling: It stretches in and out of different accents."
---
Basses Like Palladino's
---
Special consideration should also go to Charlie Hunter for his underrated, simultaneous Novax bass/guitar playing on the tracks "Spanish Joint," "The Root," and "Greatdayndamornin' / Booty." Hunter's custom 8-string guitar allows him to play bass and guitar notes at the same time. During his Red Bull Music Academy lecture, Elevado said that even though he recorded the sessions and watched Hunter play, he couldn't believe what he was hearing.
Not one to remain stationary for long, Pino's next move led him to one of the biggest gigs of his career: The Who.
He told The Guardian in 2009, "It's important to be able to reinvent what you do. When the call came to play with The Who I was working with Erykah Badu and D'Angelo, and I had to change my whole style. [Their] manager said: 'John [Entwistle] is dead. Can you do a gig at the Hollywood Bowl in three days' time?' You don't turn down something like that. It was only afterwards that I thought about the consequences. Pete Townshend's direction was, 'Play whatever you want, just as long as you play loud!'"
Moving away from heavy back-phrasing with D'Angelo and Soulquarian groups, he needed to change the way he played, but also the instruments and equipment he'd need for a massive rock show. Pino employed a black Fender Jaguar and a black Moon bass on his first few Who tours, which was reportedly stolen after a show at Leeds. A Fender Super Bassman amp was used during The Who's Quadrophenia tour in 2012–13. Two Ampeg SVT-VR Vintage Reissue heads with two SVT-810AV cabinets brought to life the thunderous playing needed to satisfy stadiums.
"My Generation" with The Who
Palladino's bass solo on "What's Wrong With You" with PSP.
Palladino's jazz-fusion trio PSP, with drummer Simon Phillips and keyboardist Philippe Saisse, is considered his solo project by some and features the '79 StingRay, now sporting Rocco Prestia of Tower of Power's signature. Much to the delight of prog archive moderators everywhere, Pino provides enough groove to make odd meters and time signatures feel comfortable. The melody is often set, but he keenly develops the rhythmic dynamics and pulse.
Concerning his recognizable technique, Pino told Bass Player in 2011, "On the touch side, I've been applying the fingerstyle technique I developed playing hip-hop on my P-Bass—where I pluck the E string with my thumb, the A with my index finger, the D with my middle finger, and the G with my ring finger, all while muting with my palm. In the '80s I was using a more midrange-heavy sound and playing legato in the middle and upper registers. Now I tend toward a deeper tone, while staying down in the business end of the instrument and adding more rhythmic interest."
With upcoming international tours with John Mayer and recording for a new The Who album underway (do yourself a favor and check in with Pete Townshend's vlog about the sessions) there is ample opportunity to see and hear the dexterity and versatility that has become Pino's calling card.
Oops, looks like you forgot something. Please check the fields highlighted in red.