Philly-based producer, Kilamanzego (pronounced kill a man's ego) is one of the most innovative beatmakers working today.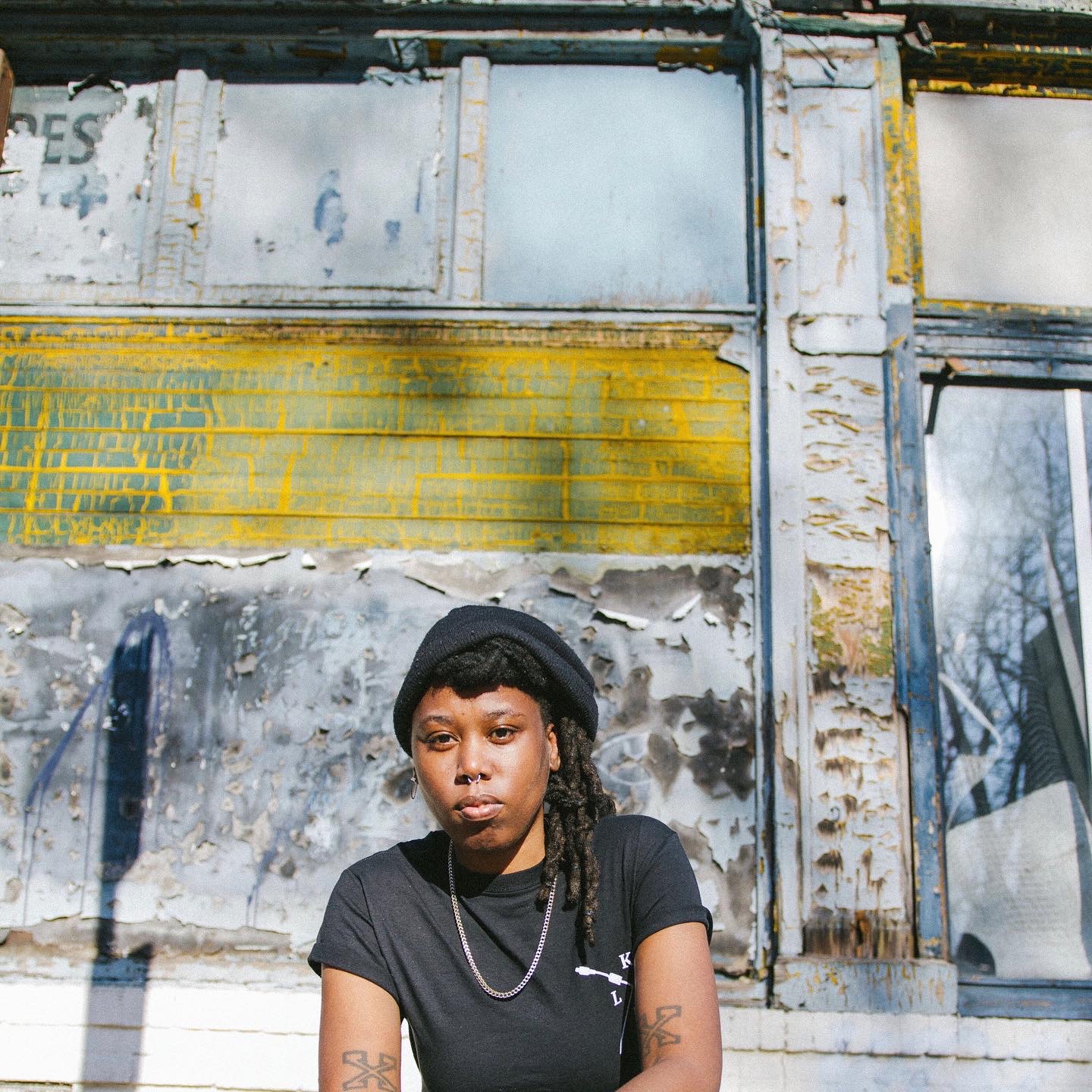 Kilamanzego. Photo by Rashid Zakat, used with permission by the artist.
With her maze-like musical arrangements, three-dimensional mixes, and radical approach to rhythm and sound design, Kilamanzego's tracks defy easy genre classification.
With tracks like the dreamy and melancholy synths on "Black Weirdo" to the somnolent piano melody and head-nodding beat of "Meditate," Kilamanzego's sound is experimental and her sophisticated use of melody, harmony, and rhythm is the mark of a skilled and experienced ear.
A lifelong musician, Kilamanzego explains that her experience playing instruments in her younger years has given her a firm foundation to make the music that she makes today.
"Thanks to my dad I grew up playing all sorts of instruments but let my grades fall behind, because all I could think about when I got home was playing something really fast on my bass guitar or trombone [laughs]," she says. "I definitely think this experience was vital to my understanding of how to make electronic music. Without it, I wouldn't have been able to come up with the basslines that I do, because I'm almost channelling myself playing in my younger days. At the same time, I'm completely self-taught with no formal training, so I'm sure I could be better at scales, forming better melodies in relation to mood, and so on. There's a pro and a con to both, I think. I'm also starting to incorporate real instruments in the music I'm making now, so it's all coming back full circle."
On her debut EP, 2020's These Roots Are On Fire, Kilmanzego explored a style that was at times dark and foreboding and other times playful and bright. The razor-sharp twists and turns—and delightfully surprising glitches and changes of tracks like "Exploration" and the EP's title track—keep the listener's mind and ears guessing. A master of Ableton Live, her DAW of choice, Kilamanzego starts her tracks with manageable, loop-based ideas and expands them out into complex and ever-shifting arrangements.
"I usually start with a 8-bar loop, and I make sure to make every other section slightly different. I'll then layer a melody in my head, which I flatten to audio and duplicate it multiple times, then I'll use Ableton's Harmony-to-Midi on some of those layers to come up with something unique based off of the initial melody," she says. "The key for me is to then chop those parts into little pieces and remove them so that there's more space in the mix. These pieces will end up getting shifted around in the later measures off the grid and at times on it, which may seem random but it's all based on what I'm grooving to in my head."
As complex and unpredictable as Kilamanzego's arrangements are, her sound-designing is equally unique. Although listeners and writers have tried to box her music into genre tags like "Future Bass" or "EDM", Kilamanzego's rich and sometimes bizarre synth sounds set her apart from most producers. When asked about her sound designing process, Kilamanzego reveals that her approach to building unique sounds is as unorthodox as the resulting sounds that she creates.
"I have this habit that I started early on where I don't save presets or chains. In a way I feel like that keeps everything fresh. But it actually came to me because I used to obsess over every single parameter within the chain and how I did every little thing to the point it drove me crazy," she says. "Now it's kind of funny, because I'm at the other extreme of things, where someone will ask me, 'How did you make that?' and I look at them confused and say, 'I really don't know' [laughs]. I'm trying to strike a balance between memorizing my sound-design approaches and being carefree about it. Now I follow the 'if it sounds good, it is good' mantra. As far as my style goes, my ear latches onto unconventional-sounding things. If it's just an arp that's fine, but I may throw some tremolo on it then reverse part of it to make it sound weirder."
She goes on to explain that she has a few choice VSTs that she likes to go to, preferring to take those readily available sounds and using conventional effects to twist them into something wholly her own.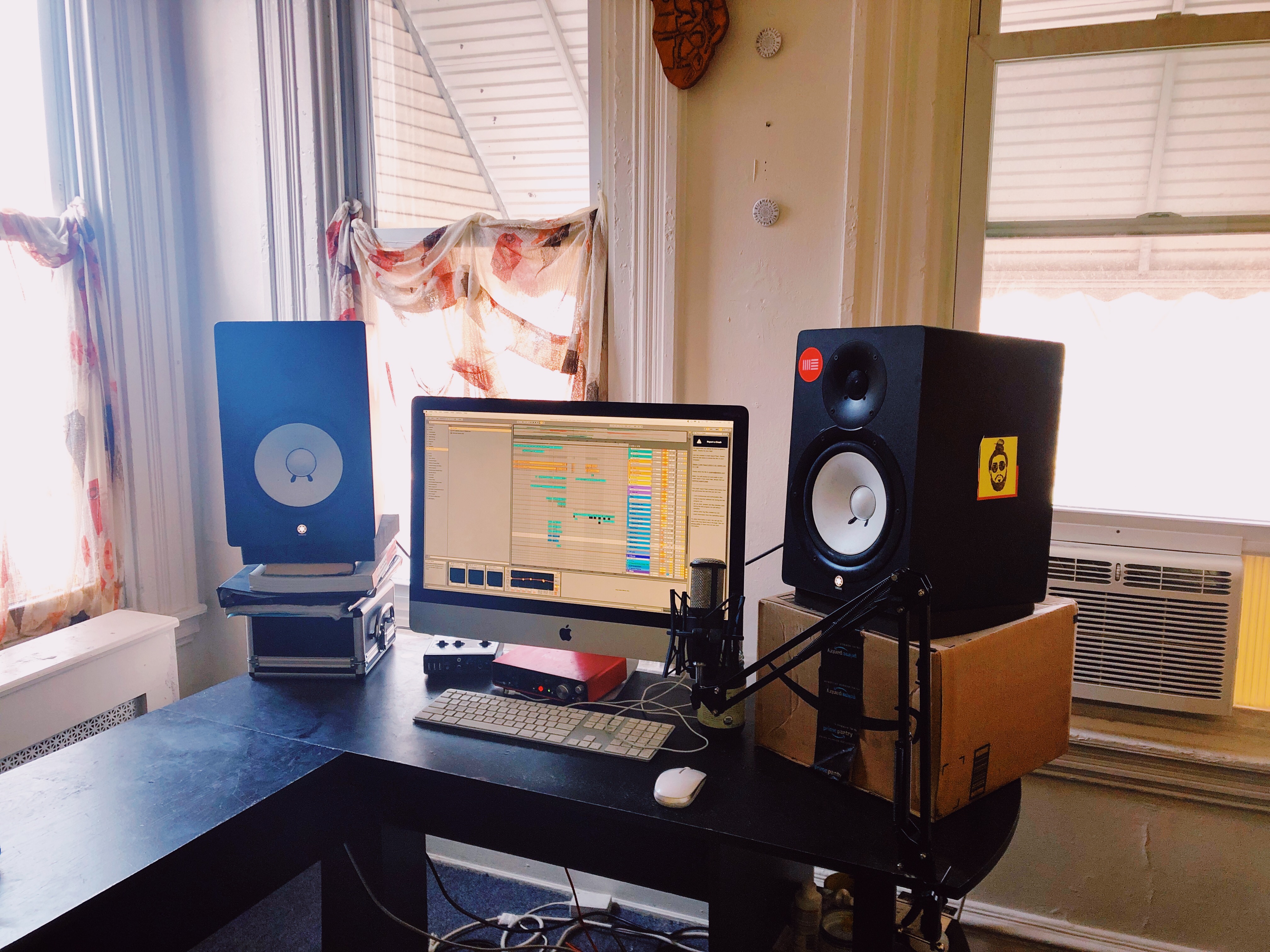 The producer's setup at home.
"Currently I'm using any synths from the Arturia V suite and Lounge Lizard. I'm also a big fan of FM synthesis to create pads and chords. I just turn knobs until something sounds good to my ear. I will say that I love to use chorus and delay on just about everything. Delay to fill up space and chorus for the feedback."
Looking toward the future, Kilamanzego sees her penchant for experimentation bringing her back down a familiar path: live instrumentation. Expressing a desire to incorporate live instruments in her work, both on stage and in the studio, it's exciting to imagine what kind of hybrid can be struck between her futuristic Ableton-crafted beats and the guitar and bass-playing skills that she first developed as a youth.
"I see myself becoming a bit less dependent on DJ-based sets and MIDI controllers and going more into the direction of the multi-instrumentalism I grew up on. My love for bass and guitar has always existed, so I'll be playing these instruments in my songs, which will also change my live performances," she says. "One of my songs that I made last year, which is doing really well, is where I used my vocals for the first time with just an iPhone 8 in hand and my closet crammed full of clothes. I actually have a mic and I don't know why I didn't use it instead, but maybe I liked the rawness [laughs]. I'm gonna switch back and forth between my voice, instruments, and my controller. This is also because I really want to connect with my supporters more and to know who my fans are, which is harder to do when you're bent over a controller the whole time. I just want to experiment more and mindlessly jump around!"