In July 2020, Women's Audio Mission (WAM) held its very first virtual WAMCon.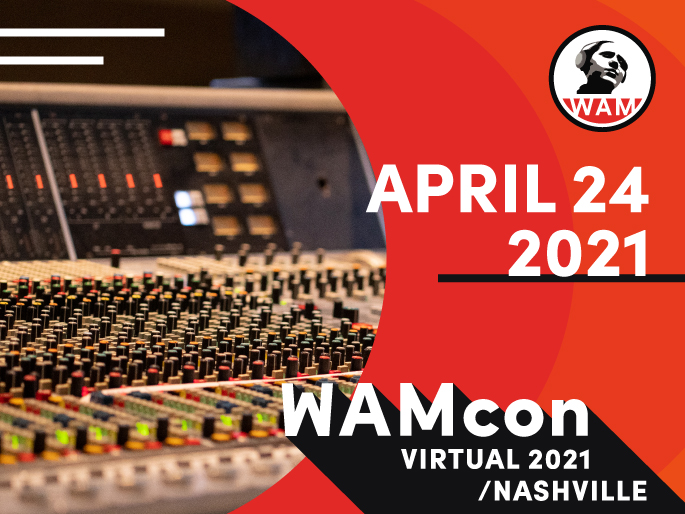 Click
here
to register for WAMCon Virtual 2021 / Nashville.
The organization, which has been advocating for more women and gender non-conforming (GNC) people to join the ranks of professional music producers and audio engineers for 15 years, is now doing it again.
This time, they're focusing in on Music City, in a one-day conference that will convene Nashville professionals—from producers to engineers to artists—to talk shop and share their expertise.
Taking place this Saturday, April 24, WAMCon Virtual 2021 / Nashville will include:
Gena Johnson

, Academy of Country Music audio engineer of the year nominee (Brandi Carlile, Kacey Musgraves, Lady Gaga)

Shani Gandhi

, music producer/engineer/mixer (Kelsea Ballerini, Alison Krauss, Dierks Bentley)

Cam

, Grammy-nominated, double-platinum country music artist

Melissa Mattey

, mix & recording engineer (Cam, Van Hunt) and synthesist & composer (Everyone Moves Away)

Rissi Palmer

, Billboard chart-topping artist/singer-songwriter and host/creator of Color Me Country radio show highlighting Black, Indigenous, and Latinx artists and their influence on the history of country music

Andrea Williams

, journalist, leading voice about race and country music, as well as the history of Black baseball (Vulture/New York Magazine, Mother Jones)

Leslie Richter

, recording engineer/producer (Sheryl Crow, Wynonna Judd, Ben Folds)

Kazuri Arai

, producer/engineer/keyboardist (Nitty Gritty Dirt Band, Alicia Keys, Jack White)
One-day tickets are available for $15 to $25 each, with WAM members and students receiving a discount. Sliding scale tickets are also available between $5 and $15.
Like previous WAMCons, WAMCon Virtual 2021 / Nashville is expected to sell out. So if you're interested, click here to register now. While anyone is allowed to attend, because of the limited spots available, WAM asks that if you are not a woman, non-binary, or gender non-conforming, that you reconsider registering.
To learn more about the work of Women's Audio Mission , which includes education and job-placement programs, visit its website here.