George Harrison's famous 1958 Gibson Les Paul Standard Burst has sold at auction for $312,500. The event, held by Heritage Auctions, concluded today after starting with an opening bid of $250,000.
This particular Les Paul Standard got its "Ransom" nickname back in 1970s, when Harrison's cherry red 1957 Gibson Les Paul Standard (nicknamed "Lucy" and previously gifted to him by Eric Clapton) was stolen in Beverley Hills. Lucy was sold to a music store on Sunset Boulevard in 1973, where a musician named Miguel Ochoa purchased it while visiting California from Mexico.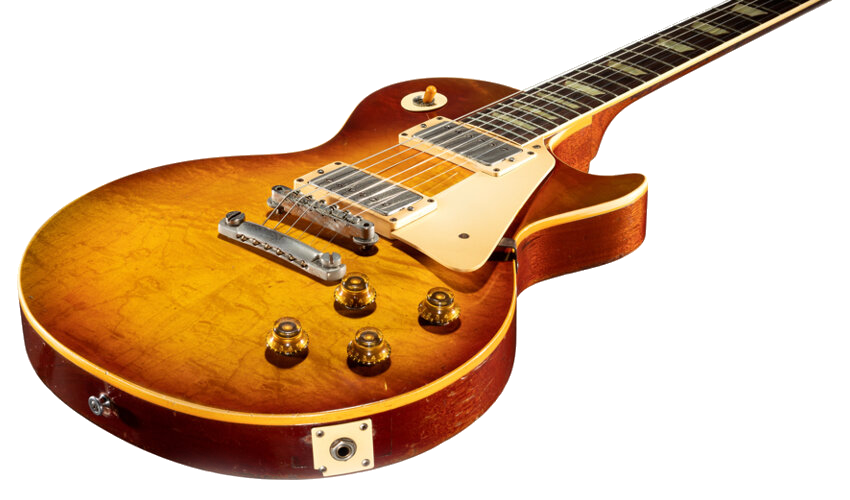 1958 "Ransom" Burst
After some sleuthing, Harrison was able to get in touch with Ochoa to plead for Lucy's rightful return. Harrison offered the original sum Ochoa paid at the music store, but Ochoa turned him down. Next, Harrison offered the winning solution—he would get back Lucy, and in exchange he would give a Fender Precision bass and this 1958 "Ransom" Les Paul Standard, which had been purchased from Norman Harris of Norman's Rare Guitars.
According to Heritage Auctions, Ochoa kept the guitar until 1983, when he sold it to pay for a house. The Ransom Burst was sold to Ochoa's boss, Robert Truman, who owned the very popular Nadine's Music store in Hollywood. Now, it has a new owner once again.
Cosmetically, the guitar is in very good condition and comes with its original hard case and many original parts. The electronics are mostly original, but some pots are from the Sprague black beauty era, while others are original with pot codes dating back to the eighth week of 1958.
Watch Heritage Auction's short history of the Harrison Ransom Burst.
At $312,500, this final sale price is pretty much in line with other Bursts, which—with or without a famous association with a musician—routinely sell for low- and -mid-range six figures. Some of the most famous, like the Greeny Burst owned by Peter Green and Gary Moore, have traded for far more. Greeny's current owner, Metallica's Kirk Hammett, is said to have purchased the guitar for "less than" the $2 million asking price. How much less, no one knows for sure.
That Harrison's Ransom Burst sold for just $312,500 (and we certainly say "just" in comparison), may mean that his association with the instrument just wasn't strong enough to drive the price up further. He did, as the story goes, purchase and trade it only to get his other prized Les Paul back.
You can check out the Ransom Burst's Heritage Auction page here for a better look at this historic guitar.
What have been the most expensive guitars to ever sell at auction? Find them all—and their less-expensive equivalents—here.