After a year of virtual shows, NAMM is again returning to the standard in-person gathering for the summer convention later this month. As with the previous Summer NAMMs, the convention is being held in Nashville, on July 15 and 16, and now that we're mere days away, the gear announcements are rolling in.
First up is Fender, which today announced a variety of exciting new releases that will hit the streets later this summer and into the fall. New offerings include a slew of exciting signature models, a new Tone Master amp series entry, and a few exciting mini acoustics.
Cory Wong Stratocaster
As Cory Wong has grown to become the face of quick-handed rhythm guitar, his blue Stratocaster has stayed by his side. Fender's new signature Cory Wong Stratocaster features a sculpted and scaled-down body for ultimate comfort and a modern "D" neck in Wong's Sapphire Blue finish.

The guitar is equipped with a set of Seymour Duncan Cory Wong Clean Machine pickups to nail his clean, chime-y tone, along with a push/pull tone knob that bypasses the five-way switch and defaults to Position 4.
The guitar would not be complete without a few special accessories: a Cory Wong hair tie (included for muting the tremolo springs and getting just the right rhythm guitar tone), rubber strap locks, and a custom neck plate. The Cory Wong Stratocaster starts shipping in July, but you can preorder it right now for $1,999.99 USD.
J Mascis Telecaster

When most people think of guitar legend J Mascis, we picture him with a Jazzmaster in his hands. But in fact, J wrote some of Dinosaur Jr's most iconic leads in the mid-'90s on his go-to 1958 top-loader Tele.
This new J Mascis Telecaster signature is a faithful recreation of that guitar, outfitted with custom J Mascis Telecaster pickups, a top-loader bridge, and Road Worn maple neck and hardware. It features a mirrored chrome pickguard and is finished in Dazzling Blue Sparkle. You can preorder the J Mascis Tele now for $1,349.99 USD and a ship date in August.
Kurt Cobain Jag-Stang
Quite possibly the most exciting of the new signature models is the Mexican-made Kurt Cobain Jag-Stang, which will be available in October for $1,249.99 USD (in both right- and left-handed configurations). Cobain famously loved offsets, and his two most-played guitars were his Fender Jaguar and Mustang.
Before his passing, he worked with Fender's Custom Shop on a Jag-Stang hybrid. Following his death, the model was built in Japan between 1996 and 2004. Now, as we approach the 30th anniversary of Nevermind, fans once again have a chance to snag the late musician's dream model.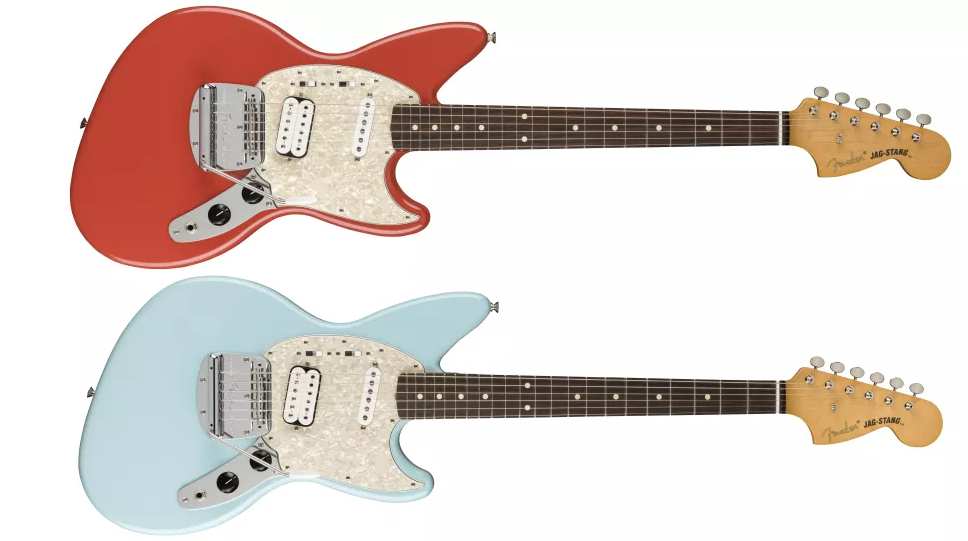 The Jag-Stang follows Cobain's 1993 spec sheet, featuring a Mustang-style 24-inch maple neck with a 7.25-inch radius and rosewood fingerboard married to an alder body that shares characteristics with both the Jag and Stang. A vintage-style single-coil is packed in the neck, with a custom humbucking pickup in the bridge. Preorder your own right here on Reverb.
Screamadelica 30th Anniversary Stratocaster
To celebrate the 30th anniversary of Scottish rock 'n' roll band Primal Scream's 1991 record, Screamadelica, Fender has released a commemorative limited-edition Stratocaster adorned with a colorful graphic of the album's artwork on its body, complete with a matching pickguard and volume/tone knobs.

Despite the guitar's funky design, the feel of the Screamadelica Stratocaster is optimized for playability, with a modern "C" neck, a 9.5-inch radius, pau ferro fingerboard, and medium jumbo frets. The guitar also comes with a deluxe gig bag. A limited quantity of the Screamadelica Strat will be available for $1,049.99 USD in November of this year. Preorder yours now.
Tone Master Super Reverb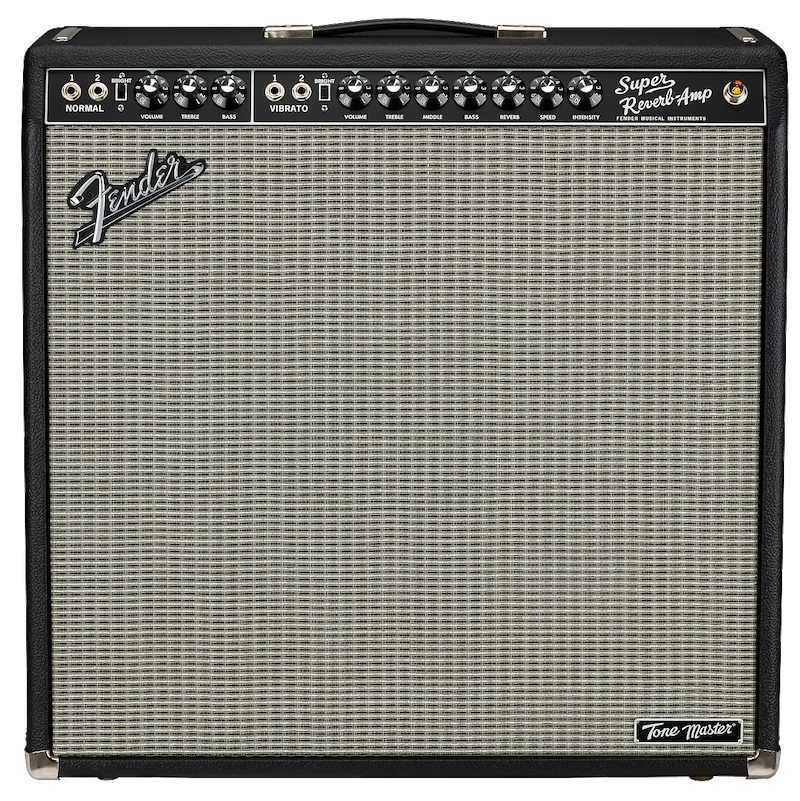 Joining Fender's popular Tone Master modeling amp family is the new Tone Master Super Reverb, coming this August. Like the Tone Master Twin Reverb and Deluxe Reverb, this new Super Reverb promises to be a "perfect replication" of the original tube classic paired with "player-centric features" for the modern guitarist.
Four 10-inch Jensen P10R Alnico speakers are packed into the beefy 4x10 cabinet, with a mid-powered 45W simulated amp. The rear panel is equipped with modern conveniences like an output power selector with five attenuated settings, a balanced XLR line output with IR, cabinet simulations captured with Shure SM57 and Royer R-121 mics, and more.
Perhaps best of all, the new Tone Master Super Reverb is just 36 pounds—easy to get to and from the gig. You can preorder the Tone Master Super Reverb now for $1,099 USD, with an expected shipping date in August.
New Mini Acoustics
Fender is expanding upon its beloved California Series, with the addition of two new California Minis. These guitars will both be available in September for $199.99 USD.
For a classic Fender sound, the guitars are outfitted with a walnut fingerboard and bridge, a Nubone nut and saddle, and a satin finish. For classic Fender looks, the guitars also have a 6-in-line Strat headstock. These smaller-sized guitars are great for beginners, small-handed players, or those looking for a convenient travel guitar—both guitars come with a gig bag.
The California Series Sonoran Mini is available in a spruce or mahogany top, with mahogany back and sides, and at a 23.3-inch scale length. The California Series Redondo Mini is slightly smaller at 22.75 inches, with a spruce top and mahogany back and sides. It'll be available in a Natural or Sunburst finish. Click above to preorder your own right now.