Photo Courtesy of the Artist. Illustration by Reverb.
For Baltimore-based producer, eu-IV (pronounced "you-four"), the practice of making beats rests upon a foundation of spontaneity and a connection to a deep well of Black musical tradition. With his abstract rhythms and ear for pinpointing the emotion in a sample, eu-IV's sound bridges the imaginary gulf between experimentation and soul.
eu-IV began to delve into the craft of beatmaking when his older brother gave him a cracked copy of Fruity Loops. Like many young producers, he spent years honing his skills by himself until he discovered a community of like-minded musicians and listeners on SoundCloud.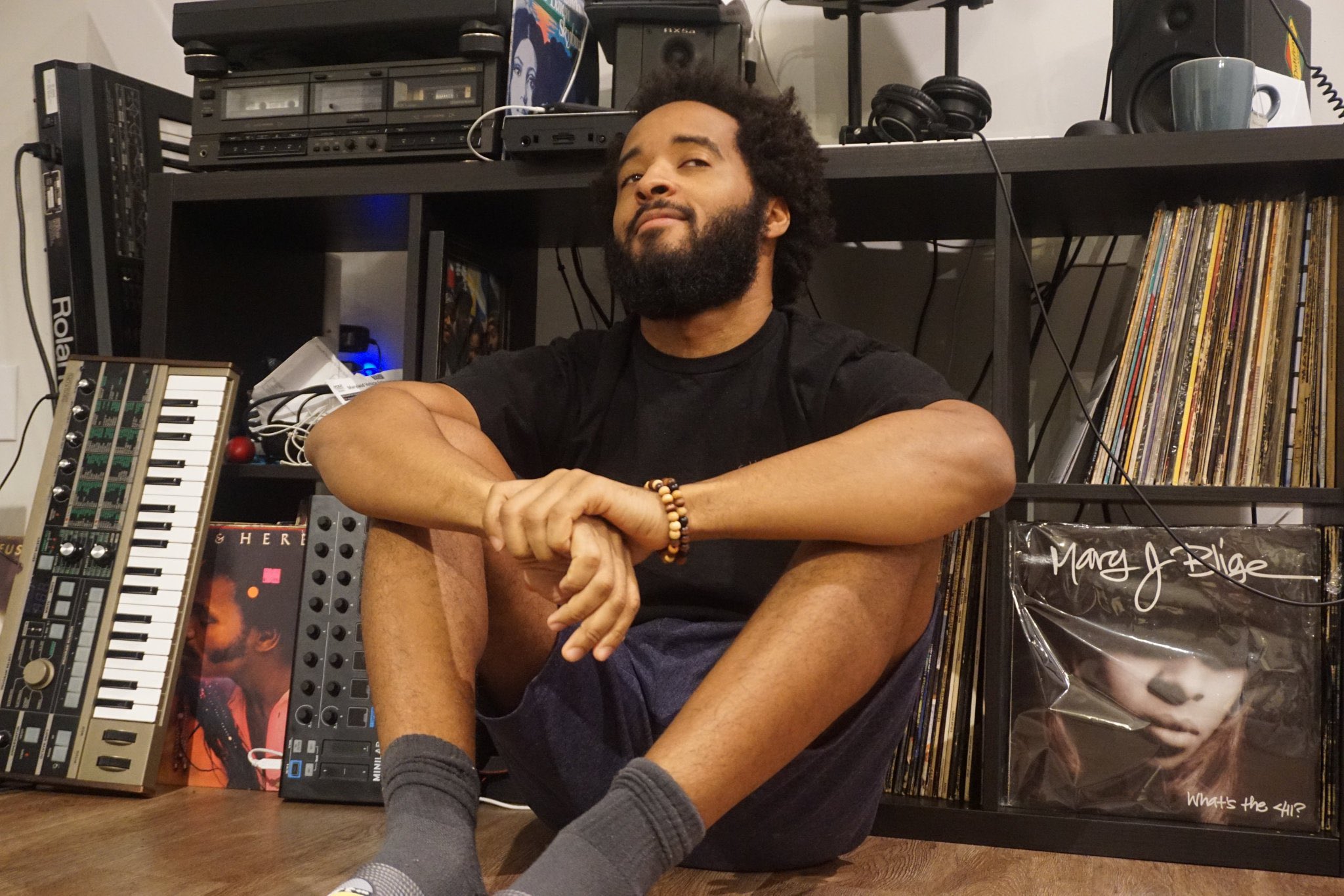 eu-IV surrounded by his records and gear. Photo courtesy of the artist.
Speaking with Reverb, eu-IV explains how SoundCloud acted as a hub for his own creative evolution: "The SoundCloud beat community gave me a place where I felt I belonged. Coming from northeast Baltimore it was hard to get my beats out there due to the lack of resources here. A free unbiased online platform with a bunch of beat heads who were also students was vital for my growth."
Although he initially focused on crafting beats for rappers, eu-IV was inspired by the radical sounds coming out of Los Angeles' instrumental hip-hop movement. This inspiration would change eu-IV's perspective, challenging him to create beats that hold up well without the aid of vocals.
"I was already making hip-hop instrumentals five to six years prior to SoundCloud, but my music started to shift when I discovered Dilla, the LA beat scene, and the SoundCloud scene around 2009, 2010. It became less about getting a rapper to like it and more about how I can get the beat to stand on its own. It helped me find my independence in my creativity."
He goes on to explain how the platform provided a supportive environment and the opportunity to connect with other beatmakers: "When I hear stories of how MySpace was vital to the LA beat scene it reminds me of the SoundCloud era. It was all about uploading beats/remixes you liked, then listening, commenting, and sharing other works from your peers. It was mostly encouraging comments that'll potentially motivate you to make more."
For eu-IV's production process today, he prefers to build his tracks from scratch as opposed to coming in with a predetermined set of musical ideas.
"When I open Ableton [his preferred DAW] I usually start working on drums first then go through my samples/vinyl. Or I'll play some keys/basslines then maybe process it all. I have a routine but that's subject to change depending on how I'm feeling that day. I basically try different things until my ears like it, then build on that."
This spontaneous and open way of creating tracks carries over to eu-IV's approach to sampling. Even a casual listen to eu-IV projects like BMore Dope and BMore Dope 2, fr, Pearl and others will reveal touch and emotional tone to the samples that he uses. Whether the samples are pulled from vinyl or download, eu-IV employs sounds from a wide variety of sources.
When the COVID-19 pandemic forced many record stores to temporarily close, eu-IV like many crate diggers was forced to rely on his existing musical library for source material. In addition to dollar-bin gems, eu-IV has been working with records from a mentor's collection:
"These days due to the pandemic I've been re-sampling stuff I already used in my downloads or from vinyl I got out of the dollar bin. My OG (RIP Glenn) passed a couple years ago and his family gifted us his record collection, so I've been slowly going through those, reconnecting. He was a DJ, so it's a bit of everything in there. I'm not extra picky about what I sample because I want to be able to find my voice in any source and make something worthwhile. Training that way can prepare you for when you strike gold."
Keep up to date with eu-IV here.