Eddie Van Halen. Photo by: Michael Ochs Archives / Stringer,
Getty Images.
Gear photos by Kevin Scanlon and Chris Gill.
Over more than four decades, Eddie Van Halen treated us to a career in music-making and guitar innovation that was nothing short of revolutionary. He passed away last year, but not before leaving an indelible mark on music and the guitar world.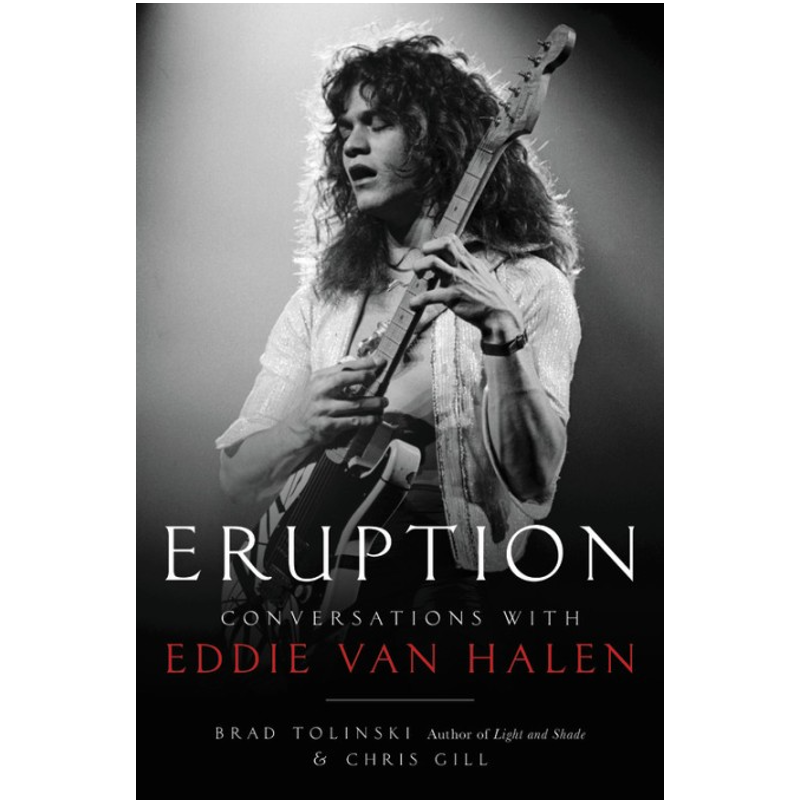 Eruption: Conversations with Eddie Van Halen
Tomorrow, on the anniversary of his passing, Hachette Books will release Eruption: Conversations with Eddie Van Halen by music journalists Brad Tolinski and Chris Gill. The new book is comprised of more than 50 hours of unreleased interviews with the legendary musician—most of them conducted at Van Halen's 5150 Studios—and examines everything from his beginnings as a young Dutch immigrant through to his signature guitar playing techniques and innovative builds.
Throughout the book, readers will also find an excellent collection of "Eddie's Oddities"—guitars that Eddie Van Halen has played throughout the years in various places and for various projects, but that you may not remember him wielding. Below, we've collected a few of our favorites.
You can find plenty more of Eddie's Oddities and other previously unpublished information about the rocker's life and work in Eruption, which is available for preorder here. The book will hit shelves tomorrow, October 5.
---
Custom 1988 Gibson Les Paul Standard
A GIFT FROM LES PAUL TRIBUTE CONCERT
---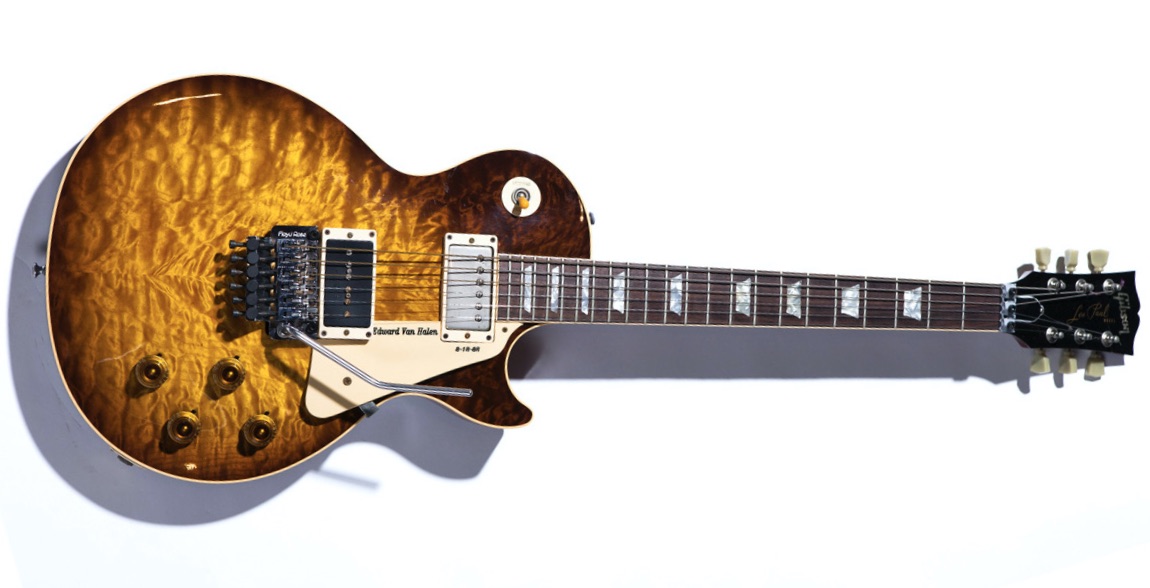 Photo by Kevin Scanlon.
"Les Paul gave this guitar to me in 1988 when I played at his tribute concert at the Brooklyn Academy of Music in New York. It was filmed for Cinemax [Les Paul & Friends: He Changed the Music], and I came out and played 'Cathedral' and 'Hot For Teacher' with Tony Levin on bass and Jan Hammer on keyboards.
"It was a fun gig. Les had a guitar made for everyone who played. David Gilmour, Waylon Jennings, and the Stray Cats guys were there. It was such a beautiful guitar that I didn't have the heart to ask Les why he fucked it up by putting a Floyd on it. But it was the first Les Paul ever built with a Floyd, and I'll always treasure it as a gift.
"The last time I saw him was when we were on tour and playing a show at the Meadowlands in New Jersey [November 3, 2007]. Les came into the tune-up room before the show, and I introduced him to Wolfgang. He said, 'Show me how you do that finger stuff [tapping].' He almost tried it, but then he went, 'Nah, I can't do it.' Wolfgang said, 'It's easy. See I can do it.' That was a special moment—me, my son, and Les in the tune-up room."
---
1962 Gibson SG TV Junior
SLIDE GUITAR PART ON "DIRTY MOVIES" (FAIR WARNING]
---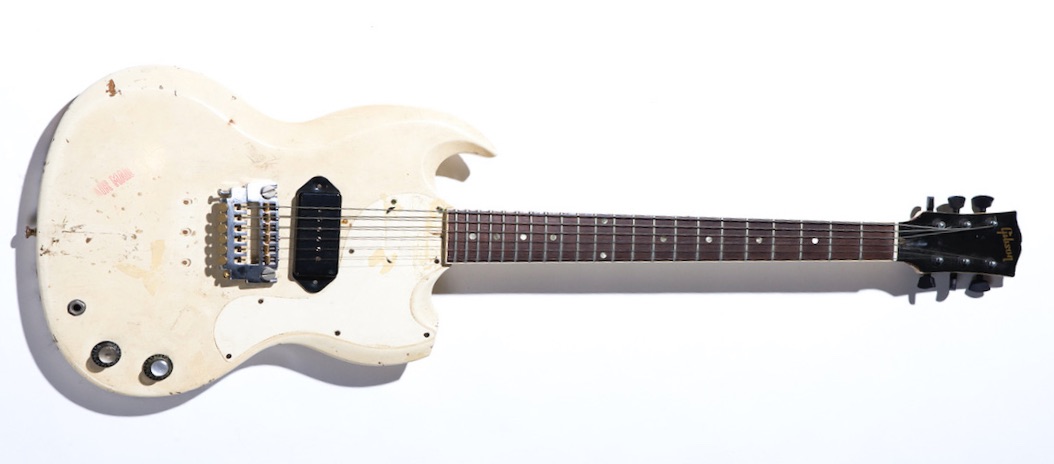 Photo by Kevin Scanlon.
"I used to play this TV Junior in the band's club days, but it was a bitch to keep in tune. The neck is heavier than the body. I didn't play it for very long because it's uncomfortable to play a guitar when you have to support the neck and play at the same time. The neck joint on TV Juniors often break, but this one never cracked or broke, which is surprising considering all of the abuse I put it through.
"I took this guitar to Sunset Sound when we were recording 'Dirty Movies' for Fair Warning. I used it to play the slide part. I kept recording takes over and over, and finally I asked Donn Landee to get me a hacksaw. He asked me what I was going to do, and I told him not to worry about it. I hacked off the horn on the treble side because I couldn't hit the high notes with the slide. Everybody looked at me like I fell out of my tree, but it was by necessity.
"People trip when I do things like that right in front of them. I've destroyed a lot of vintage guitars over the years. Some people might think, 'How could you desecrate the Mona Lisa?' But I don't really care what something looks like or if it's 100 percent stock. I tear things apart to try and make them work and do what I need them to do. I'm more concerned with a guitar's functionality, sound, and playability."
---
1961 Fender Telecaster
"LEARNING TO SEE" (THE BEST OF BOTH WORLDS]
---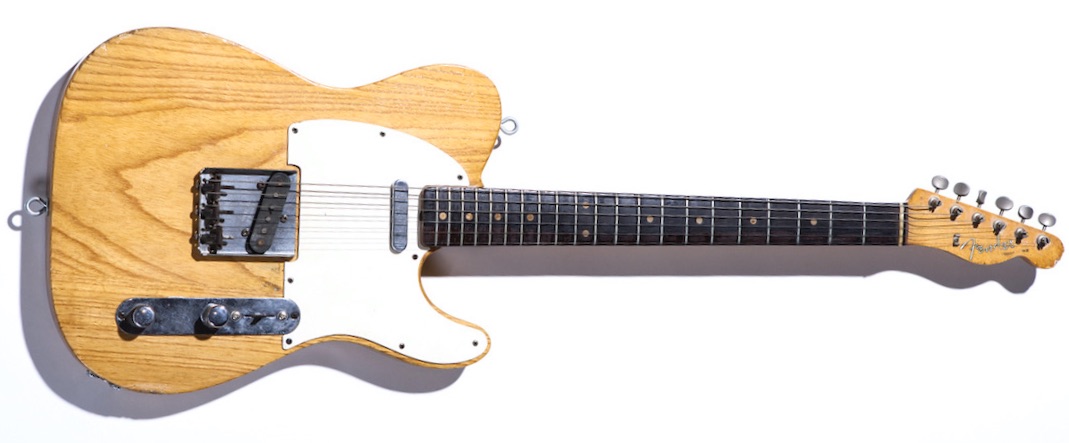 Photo by Kevin Scanlon.
Ed owned a variety of vintage Fender Stratocasters and Telecasters, many of which were used in the studio. Examples include a late-fifties Strat that Ed used to record "Cathedral" on Diver Down and a Telecaster Custom that he played on "Runaround" from For Unlawful Carnal Knowledge. "I decided to go for a different sound on 'Runaround,'" Ed recalled. "I just wanted that twang, and the Tele was perfect."
However, there was one instance when Ed wanted to use a Tele that ended up being less than perfect. "I tried using my '61 Tele when we recorded 'Learning to See' for the Best of Both Worlds greatest hits compilation," he said. "I just wanted to use it for a simple three-chord overdub on the verses. When we were recording that, it was humid and had been raining for two straight weeks. I couldn't keep the guitar in tune. I was so upset that I took the guitar outside in the rain and threw it up in the air as hard as I could. Then I just left it out there in the rain for at least an hour. When I picked it up again, it was still exactly as out of tune as it was before I threw it. That guitar is a brick shit house. It had a big dent in the side from where it hit the concrete, but tuning-wise it didn't budge.
"That blew my mind. It pissed me off so much that I ended up using three Airline guitars instead. I tuned each guitar in separate open tunings to the chords that I needed, and I C-clamped each body to the seat of separate wooden stools. I set the stools in a half circle in front of me so I could just reach over and strum the guitar for the appropriate chord. Everybody thought I was nuts, but it worked. I remember the look on [producer] Glen Ballard's face when he walked into the studio and saw what I was doing. He said, 'Only you would think of doing something like that.' I had to do whatever it took to get the song done."
---
EVH Wolfgang USA
USED ON HIS FINAL LIVE PERFORMANCE
---
For Van Halen's 2015 tour, Ed initially planned on using the Wolfgang USA with a Stealth black finish and ebony fretboard with dot inlays that was his main guitar during Van Halen's entire 2012 tour as well as for the television appearances the band made in early 2015.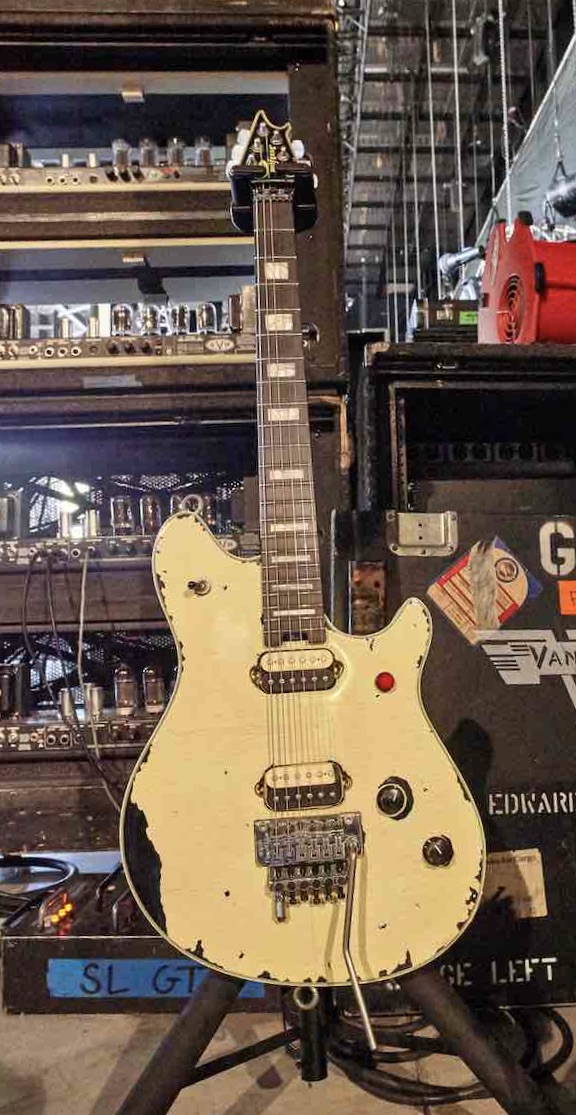 Photo by Chris Gill.
However, shortly after rehearsals for the tour started, Ed took delivery of a Wolfgang USA guitar built by Chip Ellis featuring a heavily relic'd white finish, block fretboard inlays, and a custom kill switch, which Ed used to create stuttering staccato effects during "You Really Got Me" and his solo.
"I wanted a white guitar that was relic'd," Van Halen said. "Chip built that for me and did a wonderful job. I compared it to my trusty old Stealth, and the white guitar sounded better, so it immediately became my main guitar for rehearsals and the tour."
Although Ed loved the white Wolfgang USA, he found the neck a little thicker than he normally likes for his neck profiles. He sanded down the back of the neck until it was slim and comfortable enough for his preferences. "It's still a little fatter than the Stealth's neck, but I'm happy with it, so it stuck," he said.
The white Wolfgang also featured a custom-made BI Tech HPU low-friction volume pot designed to provide smooth, absolutely noise-free performance, which EVH also offered as an accessory that can be installed in any guitar. "We're testing it on this tour," Van Halen said. "It's the only volume pot I've found where I can play 'Cathedral' without any crackle or pop."
This was the very last guitar that Ed ever played onstage when he used it during Van Halen's final live performance on October 4, 2015, at the Hollywood Bowl. The concluding Db chord that Ed played on that guitar for the band's encore performance of "Jump" is still ringing out in the cosmos, as well as in the memories of Van Halen fans who witnessed what has now become a historic moment.