In the 1960s there was the British Invasion. Then came Britpop and Cool Britannia in the 1990s. Now, there's a very different sound coming out of London, led by a group of young jazz musicians with a healthy disregard for convention and the traditional boundaries of genre. These young bandleaders freely blend jazz improvisation with funk, reggae, grime, Afrobeat, or whatever else takes their fancy. Underpinning this bold new wave of London jazz has been the pulse of bassist Daniel Casimir.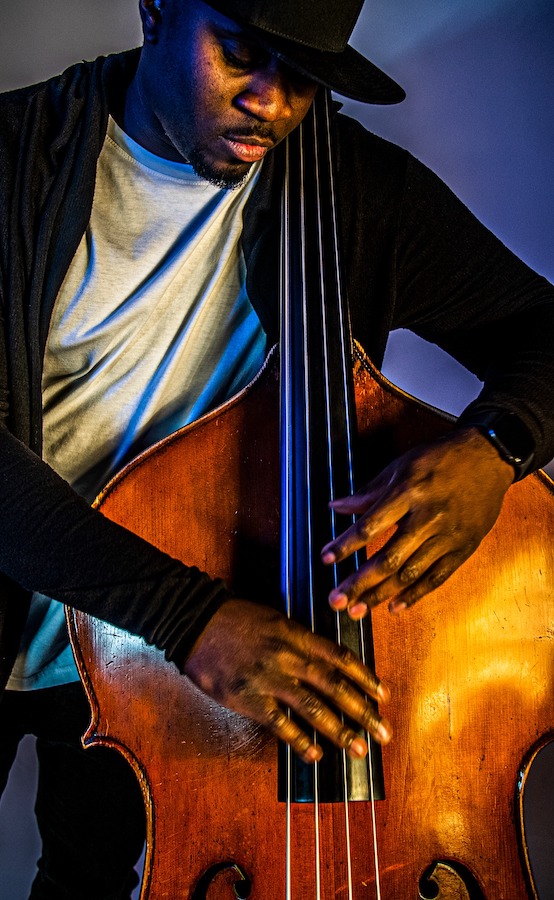 Dnaiel Casimir.
The West Londoner's first instrument was a steel pan drum when he was 12 years old, but he "wanted an instrument I could play at home and the neighbours wouldn't lose their minds about." He switched to bass guitar first and then moved to the upright bass when he attended the Birmingham Conservatoire. Since returning to London after his studies, he's become a mainstay of the upstart jazz scene, recording and performing with the likes of Nubya Garcia, Camilla George, and Binker Golding. But Daniel Casimir is much more than just an in-demand sideman.
Casimir made his debut as a bandleader on the 2017 EP Escapee on the Jazz Re:freshed label. He teamed up with vocalist Tess Hirst for the album These Days in 2019, and this year brought Boxed In, his latest outing that features a jazz quintet—Casimir, Moses Boyd on drums, Al Macsween on keys, Nubya Garcia on tenor sax, and James Copus on trumpet—along with an orchestra and vocalist Ria Moran, showcasing a fresh dimension to Casimir's composing that draws upon classical music.
Earlier this year, Casimir was in the US—first on tour with Garcia for her album Source, and then leading his band at SXSW. "I was there back in 2018 with Nubya Garcia, Zara MacFarlane, and Ashley Henry, and I always wanted to do it with my own band, so it was just a great opportunity to finally see that through," says Casimir. "I think since the pandemic, people really appreciate live music even more so. Everybody was really receptive."
Were your plans for Boxed In disrupted by the pandemic?
100%. I recorded the album back in December 2019 in the hopes of releasing it in 2020. Like everything that year, it got pushed back, but I used the time to develop new tracks with the vocalist Ria Moran and I felt like she completed the album in a way that I'm really happy with. I was happy with the album before she added to it, but I can't imagine her not being on it now.
What's the connection with Ria?
Ria went to Leeds College Of Music and sings with a band called Nubiyan Twist. Funnily enough, when I went to SXSW in 2018, Ria was there with a different band, so she's always been on the scene. We finally connected properly through Boxed In. She's one of those people you can't really pinpoint when exactly I met them, but since Boxed In we've managed to develop a good working relationship.
How does the lyric writing work, did you give her much direction?
For me, I want the vocalist to sound the best they can, and they will only sound as good as they can with the words they've written, so I try not to get too involved in that part. Sometimes I might put down a guide melody, and I just leave it to them to either follow it or completely ignore it. That's been the method I've had with both Tess and Ria actually.
It's like, I've got an idea, let's see what you can make out of it. Quite often what both Tess and Ria add to the track changes the direction that I initially thought of for the music. It could feel softer, or more energetic. It's interesting to see where they take it and just go with the flow.
Daniel Casimir - Boxed In
Boxed In features a jazz quintet with an orchestra. What inspired that approach?
Back in 2012, my last year in Birmingham, we were lucky enough for Chris Potter to pop in, which was such a surreal experience, and we did this album of his called Song For Anyone. That had a woodwind section mixed with a jazz band so that was my first example of the classical-jazz crossover. During my time at college, Brad Mehldau's Highway Rider was and still is one of my favourite albums. Again, it was a classical-jazz crossover, so all of that was bubbling in the background.
Then in 2018 or 2019, I had a chance meeting with Quincy Jones. He spoke to the band I was a part of for a couple of hours and for me, what really was super influential was the way Quincy spoke predominantly about classical music and classical orchestration. If Quincy Jones is talking about classical music for a couple of hours, I should probably check it out. I feel that's been the groundwork for the album. It's also a chance for me to show I can orchestrate and that I'm interested in writing for orchestras as well.
Was that a challenge? It must be different from writing for a quintet?
I guess there's a mutual understanding when you write for jazz musicians. When you write a chord symbol for instance, they know what that means. I feel like writing for an orchestra, I had to be more focused on the exact chord voicings to make sure that everything fits nicely because if it went wrong, it would have gone really wrong. There's no halfway house, it's either going to work or be an absolute shambles, so the level of prep required for Boxed In was quite extensive and different from the album These Days I did with Tess.
A lot of the work for These Days was exploring what could be done in a post-production sense, but for Boxed In, I had to have a clearer idea of needing to leave this amount of space for the string arrangement, and the energy needs to go to a certain place at a certain time. It's somewhere between writing for orchestras and writing for big bands.
Usually in a jazz context, you'll have the melody, the solo, then the melody at the end. It was exploring different ways of how something might start with an orchestra, how the ending might change, or having a different ending completely. It was definitely a challenge and it opened up more possibilities than I was used to.
Where did you record Boxed In?
We recorded at the studios formerly known as Soup, but now it's The Lightship 95, which is actually a boat. I recorded my first EP These Days at the old location for Soup. I'm super close with the engineer there, Giles Barrett. I feel really comfortable working with him, he's such a great person. I'm allowed to ask stupid questions which is so important. My background is not sound engineering, and I can be like, 'Giles, I need it to be clearer,' and he'll be like, 'Cool.' He'll know what I mean.
Daniel Casimir - Safe, Pt. 3 (feat. Moses Boyd, Nubya Garcia, Al MacSween & James Copus)
How are you presenting the music live without an orchestra?
Orchestras are really expensive! The great thing about the way I recorded it, the music had to work as a quintet and the orchestra adds to it. In a live setting, we're missing an orchestra, but it's really nice to show how the music can work as a jazz quintet. I feel it gives people a reason both to check out the live show and to have the album. I like to provide a different live experience to the recording and not having an orchestra there has provided that opportunity.
You've played with Jean Toussaint and Clark Tracey, who are rooted in the bop tradition, but the rhythmic language of the London jazz scene seems more based in funk, hip-hop, and dub. Where are you coming from rhythmically?
I think it's a combination of both. For me as a musician, what has been dubbed "the UK jazz scene" has allowed me to express a musical honesty and authenticity that maybe years before I would have struggled with. I switched over to upright bass in 2008, learning bebop and jazz at Birmingham Conservatoire, and I love the music. I love playing bop and traditional jazz, but I existed before 2008, and I listened to music before 2008, so UK jazz allows me to be like, this is what you studied, but this is what you listened to beforehand, how can they both coexist?
What's your opinion on the London jazz scene label itself? Is it something you identify with? Is it helpful to have all this attention on London?
Definitely career-wise it's been helpful because there is now an audience for our music, which as a musician is the basis of existing. It's great that there is an audience for it and attention but at the same time, I do get the impression that people think there was a massive roundtable meeting, and we were like, 'Guys, we need to create the London jazz scene. This is how it's going to happen and we're going to do these festivals.'
I wish we were more organised to do that, but it just happened, and I don't think any one of us made that happen specifically. One hundred percent, I don't see it as my job to worry about the labels of the music, otherwise I feel I'd be chasing myself. I'd be creating the music that's been called London jazz, then wondering what London jazz is, but it was there before the label. It's a weird cycle. I'm just trying to create music and I leave it to PRs, promoters, radio DJs to find whatever label they want to put onto it.
How does being the bandleader compare to being a sideman?
I do find sometimes when I lead the band, I feel a bit too close to it. I can't necessarily solve problems as easily as I would do if I was a side person who is not so close to it and can take more of an objective view. I feel that of all the great bands I've been into, somebody has put the music forward but there's a sense of democracy about it. This is where the music started, but the music is very much the input of everybody else in the band.
On the album, the grooves that Moses [Boyd, drummer] came up with are quite crucial to the sound of the music as well as knowing the playing of James Copus and Nubya Garcia, and knowing their energies are of very high intensity as soloists, and appreciating Al Macsween—he's got a really nice interest in Indian classical music. So, it's me starting it and seeing what they make out of it and what happens at the end is the product of all those influences.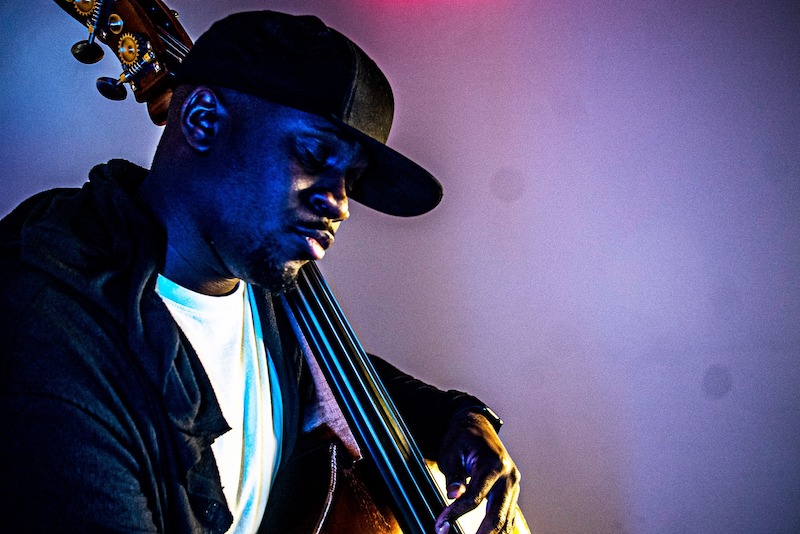 How have you used the time during the pandemic?
I've been writing new music, I've just been trying to build upon the things I found through Boxed In, trying to push that sound further, learning from mistakes and building upon what has worked. Creating Boxed In was a massive learning curve. I do try to take risks, doing the project was a massive risk in and of itself. I'm not trying to say I'm pushing the boundaries as a whole; I'm trying to push my own personal boundaries of what could possibly work, just using the music I've created as a source of research and using other orchestral and big band examples as well.
It's interesting looking at big band music compared to classical orchestration, there are certain rules in classical orchestration that are widely broken in big band music, and seeing where they can meet to create new music.
Nubya Garcia's Source album draws heavily on dub music. Was that material comfortable to play on upright bass?
Playing upright has its challenges on large stages in terms of the body of the instrument feeding back onstage. That's always been an issue but then playing upright compared to electric provides a nice sense of warmth, whereas I feel like the electric provides a degree of clarity compared to upright, but it hasn't got that massive warm sound.
It has helped that a lot of these basslines, in conjunction with what Nubya has written, I've come up with on upright, so they naturally fit on the double bass. I used to play steel pan drums, I used to play the bass version of those, which was bulky and awkward as hell, so I'm used to playing dance basslines on awkward bass instruments.
How do you approach songwriting?
Lately it's been humming something—oh, this sounds nice—and trying to develop it further. I find that I'm happier with the music I compose when I'm researching and when I'm trying to find something out or to put theory into practice. I use composition as a vehicle to explore that, so that's ultimately the way I want to compose. As I keep doing that and as I get more comfortable with different practices, then I can lean upon it in future projects.
Who are the composers you most admire?
I would say Wayne Shorter is a massive influence of mine. His recent album, Emanon, was a massive influence on Boxed In. For orchestration I really like the orchestration of Rachmaninov, the writing of Debussy and Ravel, so I've got quite a few compositional influences.
Daniel Casimir - Into the Truth
What inspires you to write?
My own personal life and the things that are going on currently for me and the world I live around. There are a lot of issues in the world and some of them affect me personally, it's my job to talk about the issues that I can relate to. Not to say I can't give support on issues that don't relate to me, but I want to leave space for issues that affect another person for them to address it, to leave that artistic space for them.
If I'm talking about somebody else's problems, who is addressing what I need to address? Music is a way of addressing things that personally affect me and hopefully people can find some solace in the way I'm addressing them.
It feels like there is a thread that connects the new London jazz players, is the scene creating a space for new voices in jazz?
I think the music and the scenario that the music scene finds itself in marry up. I do think looking at the generation above us that they were more subject to gatekeepers that we were. We can bypass the whole label situation and take the music we want to create directly to the audience.
I feel like that's what happened to someone like Alfa Mist whose album blew up on YouTube. People heard it, people shared it and people liked it. If this was back in the 1980s and he was to create that music, I don't know whether the label bosses might feel it's not American enough, that's not what people want to listen to. It's allowed us a sense of freedom to create whatever music we want to.