Sylvia Syms, Cliff Richard, and Laurence Harvey (1959). Photo by: John Pratt / Hulton Archive,
Getty Images.
By the time The Beatles wowed America in 1964, drummer Ringo Starr had already traded in his English-made Premier drums and was playing an American Ludwig set. Premier was way out front as the top UK maker, but several other local brands provided healthy competition during that halcyon decade when British music stormed the world.
However, most of those old British brands did not weather the dual onslaught of sexy American gear and keenly-priced Asian kits, and by the mid '70s they were pretty much all gone. Do they have historical cachet today? Well, no one would pretend they parallel the mighty lost American brands of Rogers, Slingerland, and Leedy, yet they're still worthy of consideration and appraisal by vintage fans.
Who Are They?
The brands in question include names such as Beverley, Carlton, and Shaftesbury, but one name in particular stands out: Ajax. This was the sharp name for drums made by Boosey & Hawkes (B&H). They never much troubled the US market, but Ajax was viewed by some as rather more hip than Premier, and many of the UK's finest in the '50s and early '60s played Ajax.
B&H is today a venerable music publishing company, custodian of major works by classical giants from Bartók and Britten to Strauss and Stravinsky. But for a long time the firm was a leader in band-instrument manufacture and distribution. Boosey & Company was founded in the 1760s, while Hawkes & Son was a relative Johnny-come-lately, dating merely from 1865. They joined forces in 1930, when Hawkes was already manufacturing drums, having introduced its first Ajax models in 1927.
Finger on the Pulse
Like other pre-war UK manufacturers, Ajax first adopted the innovations of the American pioneers Leedy and Ludwig & Ludwig. After World War II, Ajax steamed ahead and forged its own identity with some super-cool designs.
Ajax's bullet-shaped lugs.
In 1946, stars who championed Ajax included Jack Parnell, Ray Ellington, and Eric Delaney, soon joined by Britain's top jazz, swing, and session legends such as Phil Seamen, Ronnie Verrell, and Allan Ganley. By the '50s, Ajax was the serious launchpad for many new young drummers, including Ringo Starr, Ginger Baker, and Carl Palmer.
Where Premier's post-war flush-bracing lug was startlingly original, Ajax's teardrop or bullet-shaped lugs and chunky die-cast hoops recalled Gretsch, the jazz drummer's darling. In some other respects, Ajax was ahead of its time. Unlike most UK manufacturers, including Premier, Ajax already embraced "international" shell diameters, which meant it was possible to change to standard US Remo heads.
Ajax's 20-inch diameter bass drums had an extra inch of oomph—15 inches deep rather than the universal 14. And they had slot-headed bass drum tension screws rather than "T" tap handles, which were the norm in the '60s. Ajax also tackled early the increasing nightmare of bass-drum creep and feeble spurs thanks to its legendary "front bumper" anchoring contraption, officially the Drum Spur Carrier No.7224.
Rock Star Blastoff
In this context, around the start of the '60s, it was natural that Britain's first major pop-star drummer, Tony Meehan of The Shadows, chose Ajax.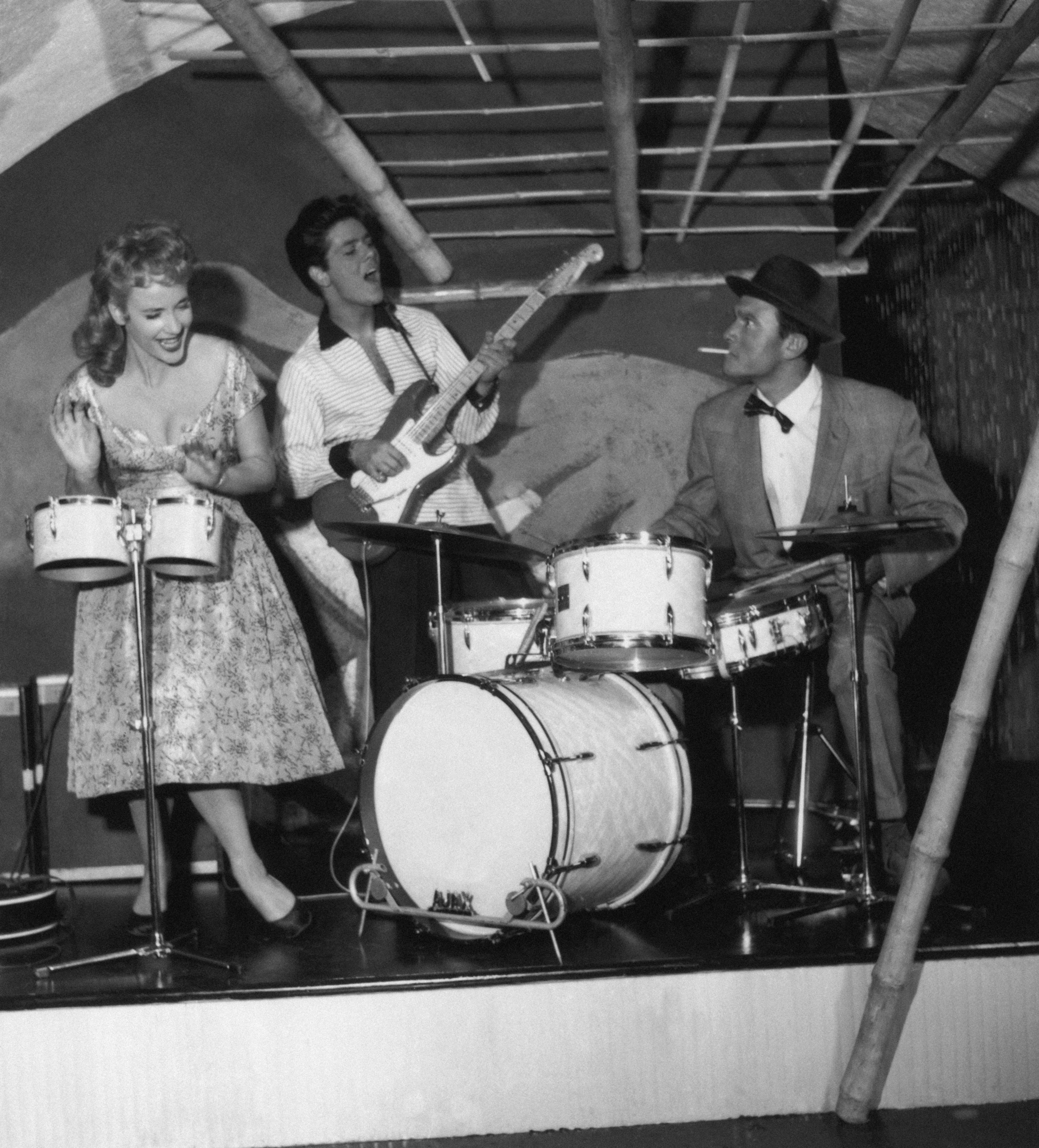 Sylvia Syms, Cliff Richard, and Laurence Harvey, playing Tony Meehan's kit (1959). Photo by: John Pratt / Hulton Archive,
Getty Images.
Meehan was a good looking lad with a clean-cut image and excellent chops, and he played an Ajax kit in tasty Marine (white) Pearl finish, prominently displayed on the group's set-piece promo photos and record covers. Meehan only changed when he managed to nab what was possibly the first post-war Gretsch set seen in the UK.
Ringo's first grown-up kit had been a budget Ajax, thanks to his supportive stepdad, Harry Graves, who signed a promissory note in 1958 to guarantee the monthly payments. It was an Ajax Edgware kit with single-headed toms and bongos, in Black Elegance finish, where "Elegance" referred to the gold threads in its pearl wrap finish.
Boosey & Hawkes launched the Edgware brand in 1957 as its student line of Ajax drums—Edgware bass drums had 12 lugs instead of Ajax's 16. It was named for the location of B&H's Sonorous Works factory in Edgware, ten miles north of Marble Arch along the route of an ancient Roman road out of London.
Choice Snares
Ajax snare drums were particularly fetching. In the '50s, there was the 14x3-inch Snapper with a Ludwig P84-type mini strainer. Deeper drums, such as the 14x5 Pipper and 14x7½ or 14x10 Symphony models, had a parallel-action mechanism with a long, elegant throw-off lever.
The parallel-action was dropped as the '60s wore on, and the simpler P84-style strainer was fitted to the 14x4 and 14x5 drums, by then rather confusingly called Pipperettes. The sharp-ended lugs were elongated, and so they were positioned side-by-side, adding to the distinctive look of these drums. Badges changed around 1957 from a vertical ovaI to a square blue-and-red plaque, followed around 1962 by a silver metalized-plastic Ajax/B&H.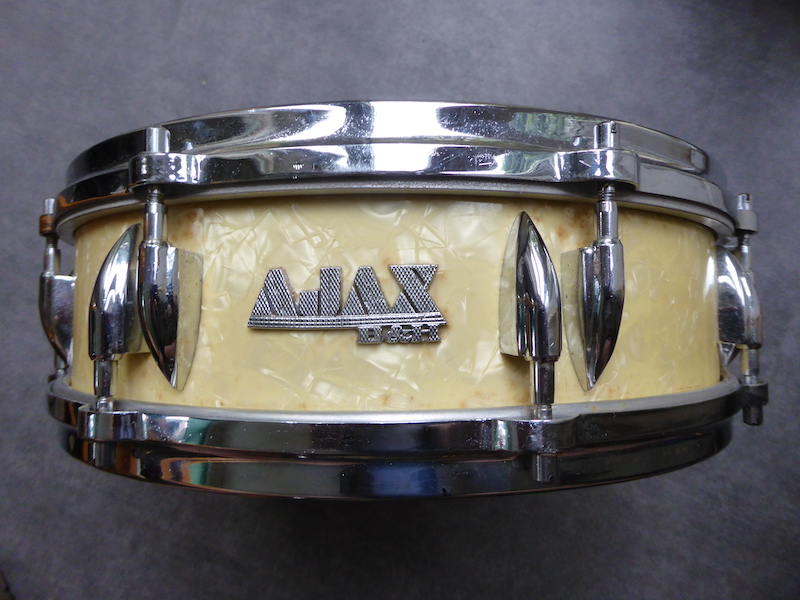 The author's own 1960s 4"x14" Ajax Pipperette.
B&H shell construction evolved over the decades, with some Edgware and Ajax shells displaying discrete manufacturing differences. Ajax shells are typically thin three-ply birch with carefully rounded reinforcing rings of ply or pin-nailed solid wood and well executed scarf joints. The inner ply is laid vertically and lightly sealed, not painted.
Certainly my '60s 14x4 Pipperette is an object of beauty, with a first-class shell. I honestly cannot locate the scarfed join in the lower plywood reinforcing ring, such is the quality of woodcraft. And the chrome plating is immaculate—just as impressive as Premier's. It's a pity the puny strainer lets the side down, though.
Diversion Into English Rogers
Fortunes were made in the '60s but competition was brutal, and one of the darndest episodes in UK drum history contributed to the unfortunate sidelining of the Ajax name. From 1961, B&H made Rogers drums under license. American Rogers were ruinously expensive in the UK, and B&H was invited to mount Rogers fittings onto Edgware shells, at first, and later onto Ajax shells.
Back then, most drummers had little idea how their shells were made or from what woods. B&H kept shtum, and so few people were the wiser. Pretty soon, the Edgware factory was making copies of the world-leading Rogers Swiv-O-Matic tom and cymbal mounts.
Since then, those drums have become known as English Rogers. They are distinguished by their script-logo badges, which are horizontal with an underscore, while the American logos slant upward. Also, the interiors of American Rogers maple shells are usually painted gray.
Hear a vintage '40s Ajax kit in action.
Several top British drummers—Clem Cattini, Pete York, Ronnie Stephenson—promoted English Rogers. But most famous by a mile was Dave Clark of The Dave Clark Five, who were massive in the mid '60s, the first British band to emulate the success of The Beatles in America.
Clark stomped to fame on an unusual five-drum English Rogers set in Sparkling Red Pearl, subsequently marketed in the USA as The Londoner. Clark's actual kit, fully authenticated and restored, was displayed at a vintage drum show in England in 2012. Clark had given it away as a competition prize back in 1966.
End of a Classic
With the focus on English Rogers, the definitive Ajax line inevitably lost ground, and it was eventually reduced to two bargain budget lines with severely limited size choices. We already know about the budget Edgware line, but Stratford was the budget brand marketed by another B&H subsidiary, Besson. The two were identical save for their badges. Edgware Beatmaster and Stratford Shaftesbury were the standard '60s four-drum outfits with 20x12 12-lug bass drums, 12x8 and 16x16 toms, and 14x5 snare.
B&H faced an increasingly tough market. Most British drummers stuck with Premier while lusting after a Ludwig, and the English Rogers experiment petered out. B&H may have had too many interests, with the drum division occupying one rather small corner.
Nevertheless, Ajax had one more stab, exiting in style with the radically different NuSound. The line was launched in 1966 and fronted by the highly respected Bobby Orr and his pal Andy White, forever remembered as the drummer on The Beatles' first proper recording session.
A vintage Ajax NuSound kit from the late '60s, played by Franco Zuccaroli.
NuSound determinedly set its cap at the American fashion for distinctive lugs and triple-flanged hoops. Unfortunately, the lugs suffered the same hairline cracks as the earlier Rogers "bread and butter" lug. The Forte outfit, with 12 and 13-inch mounted toms (a UK first), cut a dash, notably in the snazzy Burgundy Ripple finish. In fact, English Rogers and Ajax kits occasionally surface with killer finishes, especially the rare Blue Streak or Blue Ripple Sparkle.
In retrospect, NuSound might be viewed as a step back from the classic Ajax style of expensive die-moulded hoops and bullet lugs. Such are the vagaries of fashion. It mattered little, as NuSound lasted barely three years, and Ajax ceased to exist by 1970. With harsh irony, Boosey and Hawkes thereafter marketed Beverley drums—built by Premier.
The reputation of Ajax drums may have peaked in the late '50s, when they were a more than credible alternative to Premier. But if you look around, you can still find all the drums I've mentioned. They're underrated, for sure, and unquestionably worthy of your consideration.
---
About the author: Geoff Nicholls is a musician, author, journalist, and lecturer based in London. He played drums on BBC2 TV's award-winning Rockschool in 1984 and 1987 and wrote Byte The Music for BBC Radio 3, which won first prize at the New York Radio Festival in 1994. His books include The Drum Book: A History Of The Rock Drum Kit (2007) and The Drum Handbook (2003), and he is a regular contributor to Rhythm magazine.