There's a lot of talk these days about synthesizer clones—in which a modern manufacturer attempts to replicate an older (or even currently in production) synth to capitalize on demand for the instrument. Behringer is the highest profile company making clones, but it's certainly not the only one. While not as mass market, clones are also fairly common in the worlds of Eurorack and DIY kits.
While synth clones may seem like a modern phenomenon, the practice actually goes way back, almost to the beginning of the sale of commercial synthesizers. These are the classic synth clones—the copy-cat trailblazers, if you will. Some of these have become forgotten by all but the most devoted synth worshippers, while others have become desired instruments in their own right. Let's turn back the synthesizer clock and take a look at some classic synth clones.
---
The Cat Controversy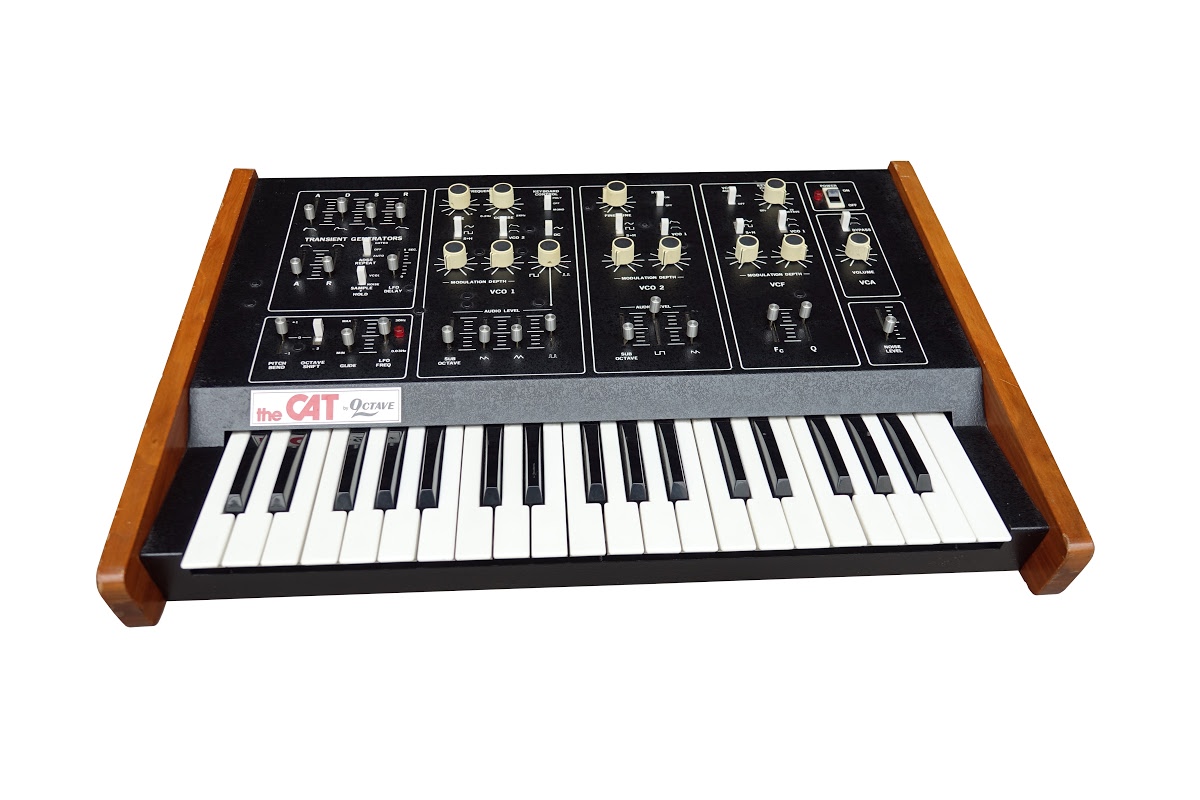 Octave Electronics The Cat
The 1970s was the Wild Wild West of synthesizer development: it was a fantastic new technology that everyone suddenly wanted. To get their instruments out the door, sometimes companies cut corners, and that often meant cribbing from another manufacturer's designs. It wasn't just small companies that did this—big outfits like Moog and ARP were guilty of it too.
Some early ARP synths used a transistor Ladder design in their 4012 filter circuit. While this sounded different enough from Moog's famous Ladder filter, Bob's company owned the patent on it. So Moog went after ARP. However, Moog was also likely guilty of stealing designs, having reportedly used ARP's linear-voltage-to-exponential-current converter. Everything eventually settled down and ARP made the decision to change its filter design to the 4072, which unfortunately cut high frequencies above 11 or 12kHz, but that's a story for another day.
Meanwhile, in 1976, a New York company called Octave Electronics debuted The Cat, a monophonic analog synthesizer with a number of similarities to ARP's Odyssey. Some say any similarities are coincidental. There are only so many ways to design a monosynth, right? ARP disagreed, especially after Octave Electronics upgraded their Cat from monophonic to duophonic (two-note polyphony) like the Odyssey. ARP claimed that Octave stole the resistor-chain from the Odyssey, that section that enables duophonic play.
"When Cat introduced a synth that infringed on our patent," said ARP's Philip Dodds in Vintage Synthesizers by Mark Vail, "We nailed them right to the cross; they were infringing right down the line. They literally copied the design right out of the service manual." In the book, Dodds goes on to say that The Cat was a "knockoff," with an identical front panel design. "The only thing they did was change some of the sliders to knobs."
ARP brought a cease-and-desist against Octave Electronics. Despite Dodds' claims that ARP was successful and Octave went out of business, Octave Electronics continued manufacturing The Cat (and the cut-down version, The Kitten) until 1981, when they changed to Octave-Plateau and finally Voyetra.
Was The Cat a clone of the Odyssey? It seems fair to say that it was not. While there may have been some similarities, such as duophony, they sounded quite different—many now liken The Cat to Moog synths, at least in terms of bass.
---
A String Too Far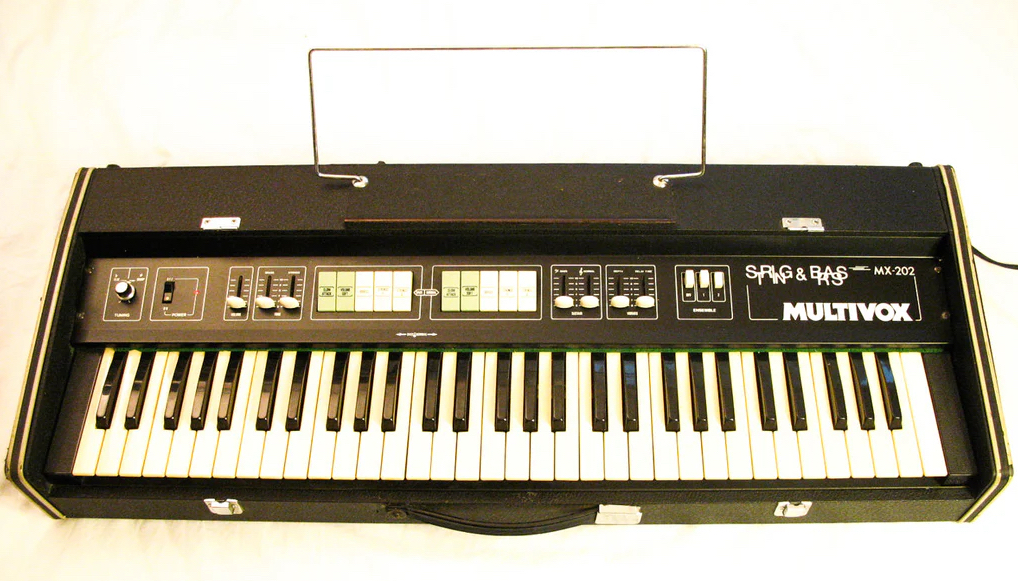 Multivox MX-202
I've talked about the Japanese company Hillwood and its owner, Kazuo Morioka, before. Something of a carnie-like huckster, he parlayed a gift for marketing and a general disregard for patents and copyright into a Japanese musical instrument empire. At one point in the 1970s, Hillwood rivaled Roland and Korg, but that didn't survive: the company was eventually brought down by litigation as a result of Morioka's clone-happy business strategy. One clone he made for the American company Multivox, the MX-202, is especially bold in its mimicry.
In 1976, Roland was busy chugging away at an impressive stable of releases—this was the era of the string machine and they had a hit with its RS-202 Strings, a great-sounding stringer and the first to feature its now famous I/II/off chorus section. It came equipped with three presets—Strings I, Strings II and Brass—not to mention a user-controlled vibrato delay. Being built into a flight case only made it more attractive for gigging musicians.
Not long after, American company Multivox debuted the MX-202. With three presets—you guessed it, Strings I, Strings II and Brass—plus user-delayed vibrato and three chorus settings as well as a flight-case chassis, it was eerily similar to Roland's RS-202. According to Gordon Reid of Sound On Sound, those eerie similarities continued on the inside of the MX-202, with its circuit boards exact copies of Roland's: "Apart from a bit of point-to-point cabling in the Multivox where the Roland uses connectors, you could pull a board out of one of these synths, and stick it in the other." A call to Roland Japan confirmed that there was no sharing of ideas or development deals. Multivox—and by extension, Kazuo Morioka—had baldly copied Roland.
Multivox instruments undeniably have their charm, but if you plan to get one, be sure to have the name of a good tech in your contacts list—they're known to break down. A lot.
---
The German Banana

EEH Syntec Banana
Sometimes looks can be deceiving. Just because a synth resembles another that doesn't mean it's a clone. Case in point: the EEH Syntec Banana. With its blue pin stripes, similar font and flat top, it looks like a cross between an Oberheim OB-Xa and OB-SX. And while it may have a similar synthesis architecture and some of the same Curtis chips, the makers say it wasn't intended to be a clone at all. Just a case of mistaken identity?
West Germany, 1983: Electronic Engineering Hoffman (EEH), which had made the DS500 digital sequencer for Tangerine Dream and Klaus Schulze, were finishing up development on a polyphonic synthesizer. Synthesizerstudio Bonn (SSB) was the world's first synthesizer specialty store, opening in the West German city in 1971. It had also dabbled in custom sequencers, making 32-step Synthoramas for Kraftwerk to control their Minimoogs on Trans-Europe Express. The two teams got together to market and promote the new synthesizer.
The Syntec Banana had an OB-Xa-like voice architecture with two CEM3340 VCOs, a switchable lowpass/highpass filter courtesy of the SSM2044 chip, CEM3360 VCAs and 3310 Env Gens across six voices. Because Oberheims were expensive, EEH and SSB decided to sell their instrument for about a third of the price. Accordingly, they had to cut some corners, with limited patch memory and control parameters quantized at low bit widths. EEH made somewhere between 100 and 300 units, with later models getting MIDI at the factory. A retrofit was also available for earlier models.
So, is the Banana an Oberheim clone? Dirk Matten of SSB says no. In the comments section of a 2006 article on Matrixsynth, he said, "It is not an Oberheim copy and the sound can be compared to Moog. We made it look like the Oberheims because we sold the Oberheim line exclusively in Germany, did all the advertising and marketing without any support, made the name Oberheim big in Germany and planned to offer the Banana to Oberheim as a competitive item for the international market." Tom declined sight unseen.
Production apparently ended around 1985 and the EEH Syntec Banana remains an unusual footnote in the history of synthesizers. Just don't call it a clone.
---
Storm The Studio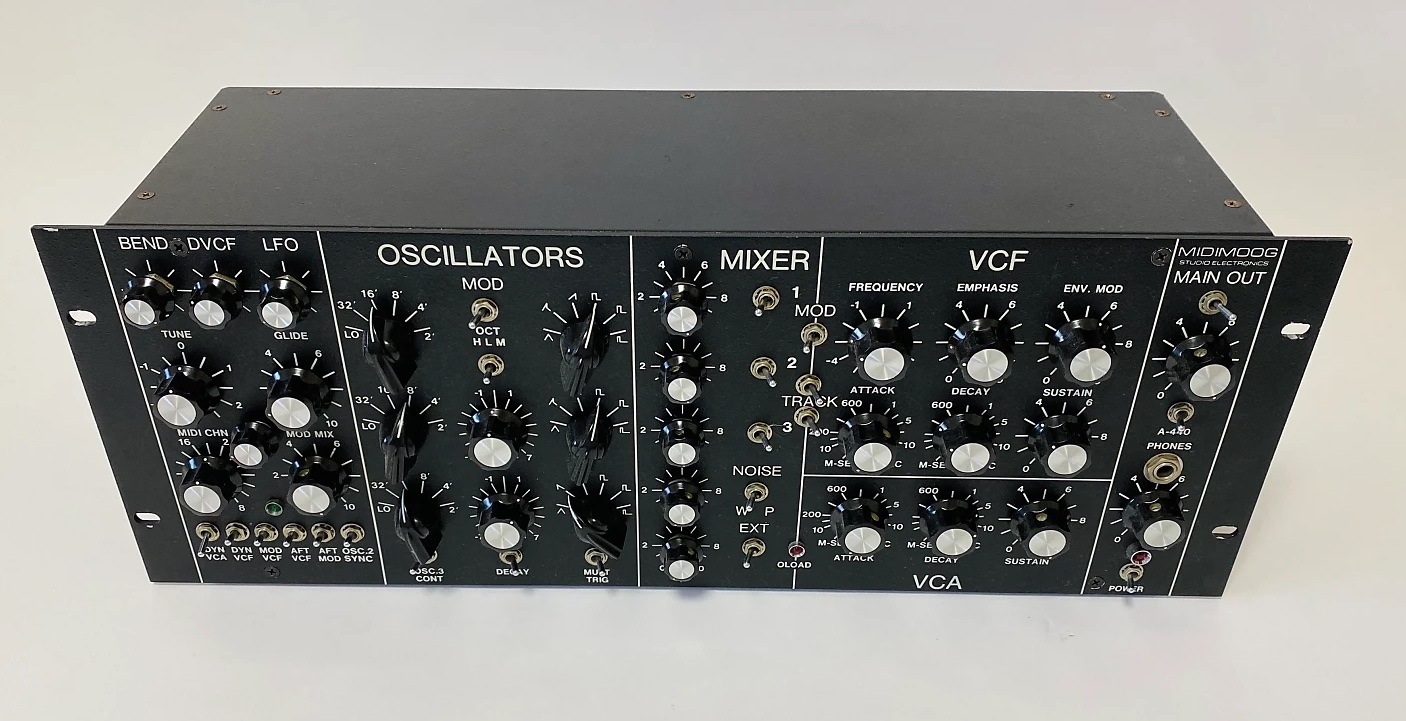 Studio Electronics Midimoog
The late 1980s were a wild time for synthesizers: everyone had rackmount fever. You almost never see new rackmount synths these days, but from 1988 until the late 1990s, every piece of studio equipment—synths, drum machines, effects, you name it—had a rack version, and some were even rack only. Even vintage synths were getting rack-ified.
It seems surprising today, but American synthesizer company Studio Electronics came into its own by chopping Minimoogs. What could be better than a cherry Mini? That would be a Midimoog, a MIDIfied-Minimoog cut down to fit into a 4U rack space. The company also did their own spins on OB-8s and Prophet-5s, but that's a little beyond the scope of this story.
The logical next step for Studio Electronics was to recreate the Minimoog from the ground up—adding MIDI, programmability, as well digitally-controlled tuning—and put it all in a rackmount form factor. This became 1994's SE1 and it was at the vanguard of a renewed worldwide interest in analog synthesis. The company also made it with the blessing of Bob Moog himself, licensing the filters, oscillators and VCA from the good doctor. Bob was even on hand to make sure things stayed true to form.
With such attention to detail, it's no surprise that the SE1 sounds like the real thing. What is surprising, though, is how often the SE1 gets left out of the conversation about the Minimoog and its many recreations, at least in modern times. This is a shame, as it's a case of a clone being done under the watchful eye of the original's father, with everything turning out wonderfully.
---
All In The Acid Bath
Novation Bass Station
With the rising popularity of dance music in the 1990s—which often used vintage gear—young musicians and producers were cottoning on to the power and grace of analog synthesizers. Techno and house heads soon set their sets on one synth in particular: Roland's TB-303 Bass Line. Snaky and chirpy with a squelchy filter and bags of character, it was the perfect sound for a new kind of electronic music. Unfortunately, it was also rare and getting more expensive by the day. Clones to the rescue!
Novation is a massive company now but in 1993 it was still a small outfit with a single product under its belt: the MM10, a keyboard controller designed to work with the Yamaha QY10. Soon after, the company introduced the Bass Station. Billed as a TB-303 emulator but in actuality something quite different, it was a two-oscillator monosynth with a switchable 12dB/24dB lowpass filter borrowed by designer Chris Huggett from his own EDP Wasp.
Novation followed up the Bass Station with the Bass Station Rack in 1994 (I told you, everybody loved rackmount synths) and the also racked Super Bass Station in 1997. Much more than just 303 emulations, the Bass Station synths really should have been pushed for what they were: solid analog monosynths from the mind of one of the most storied synth designers ever.
German company Doepfer is best known now as the creator of the Eurorack format, but in 1994 it was still a small company with just a few releases in its catalog. Enter the MS-404, a 303 emulator created by founder Dieter Doepfer just for fun. A rackmount monophonic analog synth, it had a 24dB/octave lowpass filter, a basic envelope for acid-style shaping, MIDI and (unusually) two LFOs. While not a straight copy of the 303—there's no sequencer and the filter is a Moog-style transistor Ladder filter, not a diode Ladder like in Roland's little silver box—it still got the job done.
In 1997, a small Dutch company called Syntecno released what would come to be called one of the best-sounding 303 clones, the TeeBee. Also a rack synth, this monophonic analog instrument made it a point to keep things 303-style simple: a single oscillator with saw and square waves, tuning, cutoff, resonance, envelope modulation, and decay knobs. Mark II and III versions also added an MS-20-style ring modulator setting for the oscillator. Around the back there were CV and gate jacks, lots of MIDI ports (including two merge jacks), and even sync out. If you're only interested in acid and really love rack mounts, this would be the one to get of the three.