Within minutes of meeting on Zoom, it's clear that El Kempner and Doug Martsch have quite a lot in common. Besides a shared love of Stratocasters and the WNBA, they serve as the anchors and the sole constants of their respective bands.
Since he first emerged as the frontman of Boise's Built To Spill, 53-year-old Martsch has earned his rightful reputation as an elder statesman of Pacific Northwest indie rock. Thirty years on, he continues to maintain that same steady sonic balancing act of loose jamming and airtight arrangements that was laid thick on classics of the canon, such as 1997's Perfect From Now On.
As the leader of Palehound, 29-year-old Kempner has delivered diaristic depth to the sound that Martsch helped develop. Pressing play on their recently-released fourth album, Eye On The Bat, proves they've come a long way from their basement show beginnings in Brooklyn and Boston a decade ago. A breakup album informed by a long journey home from a canceled tour at the onset of the pandemic, the record seamlessly blends confessional songwriting with overdriven power-pop hooks.
Over the course of an hour, El and Doug discussed coming up in their respective music scenes, their singular approaches to songcraft and collaboration, and why imitation is the most flawless form of flattery. Palehound's fourth album, Eye On The Bat, is out now on Polyvinyl Records. Built To Spill's latest album, 2022's When the Wind Forgets Your Name, is available on Sub Pop.
---
"The Clutch" by Palehound, off their latest album Eye On The Bat.
---
To kick things off, how did the two of you first become aware of each other's work?
El Kempner: Well, I've been a really pretty big fan of yours for a while now. I heard your music when I was 17 through a friend of mine during a part of my life where I was really trying to figure out who I was. Your music really helped me through that and continues to. Not to go head first in there, but yeah…
Doug Martsch: Wow, that's really sweet. Well, I never heard of you or your music until Frank at Sub Pop sent over this proposal, and I checked out your music and I thought it was amazing. There's a woman who tour-manages us and she's someone that I trust deeply about music, and she wrote to me right away too and was like, "This is killer, you should definitely talk to them." I'm a newcomer, but I still love it.
El Kempner: Hell yeah. That's so cool.
One thing you both have in common is that you've remained the sole constant member and central force of your respective bands. How have you approached shifts in lineup and collaboration while maintaining a consistent trajectory?
El Kempner: I started this project when I was just making Garageband demos alone and uploading stuff to Bandcamp. I never really thought that it would turn into a band or that it would turn into a project that would have any kind of longevity. So I didn't really form a band off the bat, but once I started wanting to play shows, I was hitting up everyone who was around me. I've moved a bunch and stuff, so it's been really hard to keep a solid lineup—also, some people really don't like to tour, which is something that is hard to find out when you're on tour with people.
It's definitely been a battle to find the right lineup of people where it's like, "I love you as a musician so much, but also can we spend five weeks together in a van?" It's really intense matchmaking actually. But I've recently found a lineup of close pals that feels really good… we'll see how it goes. I get inspired by every group of people that I work with, though. Vibing off of others has helped my creativity along.
Doug Martsch: I have a similar feeling about it all too, I started it with the same idea. I was actually just planning on moving, so I put together the band to make our first record, but knew that they wouldn't be around for the next one. I'd been in a band with a couple of brothers and there was some drama and stuff. I wanted to keep music more fun and not get too close to people or something.
I was a big David Bowie fan, he was a really big deal to me. I really loved the way he made different kinds of records working with different musicians. Over the years, different things happened… for a while it was the same lineup, same rhythm section for about 15 years, and a couple other guitar players for 10 years or more. It seemed like it became a set lineup and then fell apart, and now I've been changing it up for the last few years.
But just like El's saying, it's so hard to find those people that fit everything. The older I get, the harder it seems to find them. Maybe it's because I'm not in the scene as much or know as many people. You want to find people who are such great players, but not too good for my band at least—just nice people to be around that want to do it, that think it's fun to do and it's not a drag to them. The morale is a huge part of touring, but at the same time, there's probably more people out there than I know that fit the bill perfectly. It's just a matter of finding them, I guess.
El Kempner: Yeah. I don't know, touring is such an intense lifestyle that it is this intense balance to try to find with people. I like what you said about being "good but not too good". I've had that before where I ask someone to play, say I'm considering a rhythm guitarist for my band, and I'm like, "Well, that would be offensive for me to ask them to play rhythm guitar in my band." You know what I mean?
That's always this balance where I'm trying to find people who are not going to be offended if I ask them to play a four chord progression, but also who can handle just the complete inconsistency of touring life. It's not even about if you can handle being on the road, but if you can handle the fact that your whole schedule and life revolves around this stop-and-start dynamic that can be difficult for working musicians.
Doug Martsch: Yeah, totally. The back-and-forth of being on the road and determining how long you're going to be home is tricky.
El Kempner: Because everyone needs to find a job that will allow them to take time off, and that's really hard to find, especially something that can be sustainable enough to also uphold the financial insecurity of being a musician.
Doug Martsch: And messes with all the rest of their lives too, with leaving their spouse and their pets and all that stuff.
El Kempner: I had a bandmate who was a teacher who just couldn't keep students consistently because of the touring, and that's why we had to part ways. It's tough!
---
"Rocksteady" by Built to Spill, off their latest album When the Wind Forgets Your Name.
---
Doug formed Built to Spill in Boise in the early 1990s, while El grew up taking the train to NYC from Connecticut and immersing themself in the city's 2010s DIY scene. Compare and contrast those two specific scenes where you got your start and maybe the fundamental difference between the two.
Doug Martsch: Growing up in Idaho in the '90s was actually pretty great for me, it worked out really nicely. DIY hardcore stuff was going on when I was a teenager—people booking their own shows, bands touring and putting out zines and records. I just fell into the punk rock scene. I'd moved from Twin Falls, a really small town, to the biggest place in Idaho. I started playing in bands with some older people that were in a punk rock band, and they knew how to do stuff, and got us into a studio, and booked shows for us.
El Kempner: Were you only doing local shows at that time, or were you ever traveling out of state? Was there a network of neighboring cities outside Boise or was it all pretty concentrated?
Doug Martsch: There was a little bit of a network, yeah. The guys that were in the band I ended up joining, Treepeople, they had a hardcore band before that called State of Confusion. They would tour the West Coast and also put on shows from bands from other places. It was like a network in the sense that there weren't that many people doing it, and they all knew each other. Treepeople played a lot of Boise shows, and then we moved to Seattle together, and then we started playing lots around the Northwest, just picking up shows from different friends and stuff. I think I did maybe just a couple national tours with that band, and it was just old school. I didn't even drive back then. I don't even know how we got to shows or anything just with maps. I lived through it and I still don't know how it happened.
El Kempner: How did you book shows? Did you just call people, get people's numbers from people and just book stuff that way? I was heavily reliant on the internet to book DIY tours.
Doug Martsch: Totally. I actually booked a tour for Treepeople and then I don't know how it would've gone, because I ended up falling in love with the woman who became my wife. We just got divorced a few years ago, but yeah, I just bagged the whole tour and just ran off with her. But yeah, we just called clubs.
I don't know where I got a bunch of the numbers from—maybe magazines like Maximum Rocknroll—but, it was like there were all these different scenes that we fit into. Treepeople fit into the hardcore scene a little bit because C/Z Records had all these connections to people. We fit in with the all-ages crowd, the straight-edge kids, and then we had some friends at a bar. We fit into all these different places. It was a really fun time making music in Seattle. We all just had crappy jobs, whatever we had to do, and then we all were super focused on playing music. We practiced four times a week for a few hours every night, and that's all we wanted to do. What about you? How about New York City?
El Kempner: I was so lucky to have the city close by because there was just this abundance of music that blew my mind. I had a friend, Sadie Dupuis—have you played with Speedy Ortiz?
Doug Martsch: I've definitely seen them a few times. We're actually playing with them today.
El Kempner: Oh, you are? That's so funny. Well, she's a really close friend of mine. She's six years older than me, so we met when I was 17 and she was in her early twenties, and that's a pretty significant difference in age. She had this hardcore trio called Quilty that I was obsessed with, and she was the one who started inviting me to their shows in Brooklyn in the DIY scene. They were associated with this label called Exploding In Sound.
It just completely blew my world open because I grew up in Connecticut where there was no real music community—I would play solo at the teen center and everything else was about sports. So taking the train in and seeing this self-made community too was a big deal. There were all these crazy weird venues that are all sadly gone now, like Big Snow Buffalo Lodge and The Silent Barn. No one was ticketing at the door or checking IDs. I was 17 and I started bartending in my friend's basement venue in Crown Heights.
I identify as non-binary now, but I was a 17-year-old girl at the time and that was really vulnerable. I was welcomed into this scene that was a lot of just really nice dudes who didn't take advantage of me or didn't talk down to me, and I think I got really lucky, honestly, to end up in just a scene that was inspired by the one you were involved in. People trying to maintain the integrity of community while everything gets more spread out and digitized.
Doug Martsch: There's a really great scene in Boise right now too. There always has been since I moved there as a teenager. Some of my favorite bands are from Boise and they're right up there with The Beatles.
El Kempner: I feel like small town scenes really go off because there's no distractions. Even in New York—the music scene is heavy, but there's so much other shit going on that it's hard to centralize it.
Doug Martsch: Boise was weird, because it has a big college, but the college never really had much to do with the music scene at all. Every once in a while someone will be on the council or whatever that'll bring some band to play there, but it was never up to the students. Mostly just locals.
El Kempner: Do you have connections to that community?
Doug Martsch: Yeah, I like to go see music and new bands. I like live music more than I ever have.
El Kempner: Do you have a favorite Boise band you'd recommend?
Doug Martsch: Braided Waves is amazing.
El Kempner: I've heard of them.
Doug Martsch: French Tips…
El Kempner: That's a good name.
Doug Martsch: Great band. We've been touring with them a bit. Seriously, it's crazy how much good stuff is here.
El Kempner: In Boise now, is it mainly club venues or is it house shows or a mix?
Doug Martsch: Yeah, there's probably a house show scene. I've gone to a few of those over the years, but I'm not privy to that scene. This band Papas has a rehearsal space that they have shows at that's really nice—just a fun little room with a shaking floor and it's like a house show, but just a little bit nicer. It's really great. And they have good shows too. Good bands come through there. We played there.
El Kempner: Hell yeah, I miss playing house shows. It's been a second.
Doug Martsch: I bet you could book one anytime you want.
El Kempner: The last time we did it was in February of 2019 in Chicago. It was a one degree day and it was a perfect house show in that it was just disgusting—someone shit on the floor of the bathroom, the cops came, and I had to carry a bass amp up these wooden basement stairs. I'm like, this is it. This is a random Boise question: are you familiar with Gold Forks Hot Springs?
Doug Martsch: No.
El Kempner: Okay, so it's probably an hour outside of Boise. We heard about it from the sound guy at one of the venues we played. It's this amazing, beautiful hot spring in the middle of the woods that you would never be able to find, and it's really nice and really cheap. Anyway, I just was wondering.
Doug Martsch: I'm going to look into it for sure. There's so many places like that near Boise and I just never go anywhere. I'm such a homebody. But I really want to do things like that. I'm going to go to Gold Forks…
---
"Independence Day" by Palehound, from their latest album Eye On The Bat.
---
You both signed your big record deals when you were at an age when artists only just start to scratch the surface of their creative identity—El was 23 when they signed to Polyvinyl and Doug was 25 when Built to Spill signed to Warner Brothers. How have you both maintained a sense of creative control when the approach to writing and recording is still in a state of constant flux and evolution?
El Kempner: I feel like I was really lucky with what label I signed to. Polyvinyl really is an incredible label that has given me full creative control. They never argue and they never try to steer me in any direction, so I luckily didn't have that external force influencing that. But I think the creative control battle that happens with me is internal—there is something that changes when you write a song and you know that you'll have an audience for it. I have to be like, "Am I writing for me? Am I writing for this abstract entity that I think will hear this song?" I've had to do a lot of mental training to just keep that feeling of playing music alive before I got signed, before I had anybody who gave a shit and it was just pure, genuine catharsis. Something I have had to really tell myself every time I write a song now is that nobody ever has to hear it, that it does not have to be released. I struggle with people's opinions and intimidating stuff like that. I started getting press when I was 19, which was honestly really damaging I think in a lot of ways. I look back at that and it makes me feel like no one under the age of 20 should ever get press for anything.
Doug Martsch: I agree.
El Kempner: You know what I mean? I think it's just stunting and scary and leads to an identity crisis, no matter how DIY. It's not like I'm fucking Lady Gaga or anything, but I still feel like I'm the product that I'm selling now, which adds a capitalist lens on it where I have to write music that will also sustain my life. I'm constantly asking myself, "What am I writing for? Why am I writing it?" I don't know if you relate to that at all, Doug.
Doug Martsch: A little bit. I never thought about how difficult that recognition is at a young age and how hard that is to try to feel like you need to do something to meet that. I had a long time—25 sounds pretty young now—but at the time, it felt like a long journey to get to that point. But I definitely felt the same thing too, of signing to Warner Brothers and being like, "Oh, now people are going to hear this music. This isn't just for me and my friends anymore." I never imagined at all making a living off music or even anything close to that, even just to get paid to play or to have someone pay for us to make a record, that all just seemed impossible to me until it happened out of nowhere. That feeling of trying to make a record and trying to figure out who your audience is—for me, it just always evolved as my own taste evolved. Sometimes I was writing for myself, sometimes I was writing for a friend of mine who I felt had the same music taste as me. Sometimes I was writing for David Bowie.
El Kempner: That's cool.
Doug Martsch: Just imagining anyone who would like it. It always comes down to yourself, but there's just so many, there's just such an infinite amount of choices to make when you're making music and you're limited by your abilities. There's just so many things you can do.
El Kempner: I think that was just overwhelming for me at a young age. Not that we're getting written up in the local paper or something, but these larger articles that circulate and reach a greater set of eyes. It wasn't just in my community anymore. That was something that I struggled with the most because I felt so confident within my local community and at shows and in a music scene. A game that my generation has had to play with all this stuff too is that it's not just about the music anymore. It's like, are you funny on the internet? Are you hot on the internet? Are you doing all this stuff? It's a whole other element of it that I fucking hate and it's the bane of my existence and I wish it didn't exist.
On the other hand, I think a lot of the time about how if I had come up in the '90s, I don't think I would've stood a chance of getting signed to a label. First of all, I'm gay, and then I'm fat, that wasn't great back then for getting on major labels. Because of Bandcamp or whatever, so many more people had the opportunity to get their shit out there and get discovered. But because of that, there was also this element of image and competition that felt really strange.
I think things have changed a lot even in the 10 years since I've started doing this. But being a young girl, youth and femininity were both fetishized. Pinning yourself against other women, asking yourself if you're better at guitar than them. Being sexually harassed by strangers on the internet all the time as well… it was a lot to take in when I was 19. It hurt because I just wanted it to be about the music and the connection and the community, and all of a sudden it was this influx that continues to pile on as this shit develops. I don't know.
---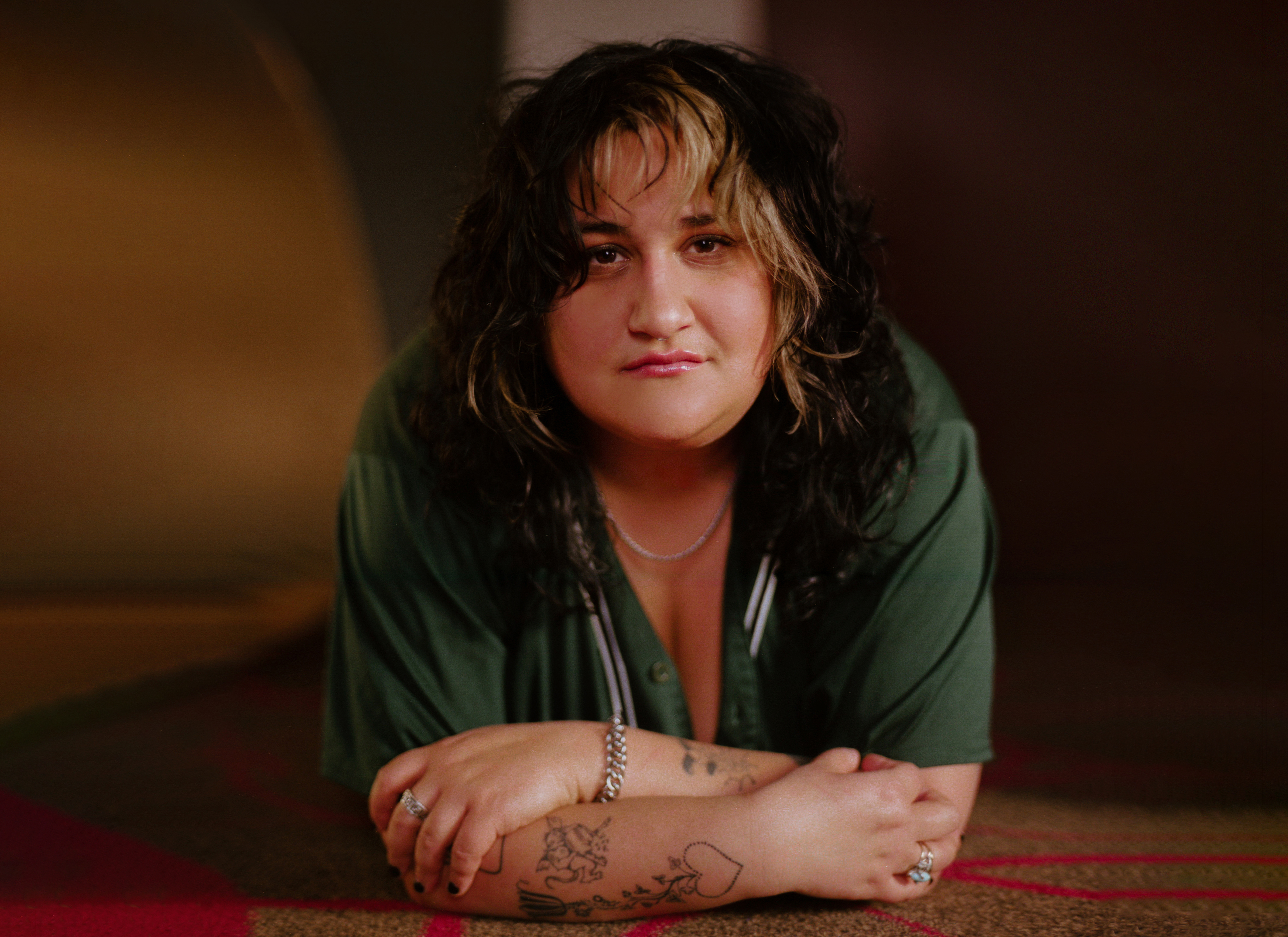 Palehound's El Kempner. Photo by Tonje Thilesen.
---
Doug Martsch: I never had to deal with that, any of that stuff. That sounds like such a nightmare. It was enough of pain in the ass just to tell someone about a show coming up. To me the internet is just… I can't even imagine.
El Kempner: It's okay. I mean, it's just a whole other thing. You can be as good at music or as writing as you want, but there's just this whole other element of influence and celebrity or something that you have to also, I don't know… it's just gross. I hate it. (laughs)
Doug Martsch: It could be so cool and fun and stuff too. I don't know how it could be, but it seems like it could be.
El Kempner: It could be! And it sometimes is. Sometimes it is hilarious and you meet people and you get opportunities or whatever.
Doug Martsch: Totally. For sure. That's definitely happened to me.
When you were talking about writing songs earlier, Doug had mentioned writing fake Bowie songs. It got me thinking: how much of your individual writing styles lean on personal perspective as opposed to an external prompt?
Doug Martsch: I think the latter. I think I'm like David Bowie, more of just someone who takes things that I like about music and puts them back out in the world. I don't feel like I bring anything new to the whole thing. I've just been taking the influences that I like and making records with people I meet. Some people have a real specific vision or do something new with music and that wasn't me.
El Kempner: I hear that. Sometimes I teach songwriting lessons on Zoom and I'm always telling my students that every melody has been written already, that we're not reinventing anything now. We're past that point. People are always like, "What if I'm ripping something off?" I say just do it, because it's we're all doing that and that's what music is—building on top of each other all the time.
It's so funny that you're wearing a Hevetia shirt because that's a perfect example. That song "RyBro" is a lot like one of my songs. I just listened to this format of that song and the transitions. I just wrote something that was obviously not the same chord progression or lyrics or melody or anything, but followed the same structure. I'll do stuff like that sometimes. If I listen to someone who has a really crazy synth thing happening, I'll try to get on my computer and with MIDI, maybe try doing something like that instead. I think it's important to acknowledge that we are all not doing anything new.
Doug Martsch: That's what The Beatles did. That's what everyone does. Everyone just tries to emulate the shit they love and then they find some new places to take it and mix it up with other shit they love.
El Kempner: Every time I try to write a song that attempts to be totally original, I write the worst song ever.
Doug Martsch: There's an internalized capitalism in us where it's if you're going to do something, it better be fresh and new or you might not own it.
El Kempner: Which is scary because people do get sued for it.
Doug Martsch: …but you gotta be making a lot of money to get sued, so that's good.
El Kempner: True. That's the good thing about not making a ton of money. I'm not getting sued. (laughter)
---
"Virginia Reel Around The Fountain" by The Halo Benders, Doug Martsch's collaborative project with Beat Happening's Calvin Johnson.
---
On top of your bands, the two of you have also had histories of duo projects respectively. Doug made three records with Beat Happening's Calvin Johnson as The Halo Benders while El teamed up with their labelmate, Melina Duterte of Jay Som, to form the Bachelor project. I'd love to hear more about the division of labor within these particular duos and the approach to collaboration there.
El Kempner: Melina's an incredible producer, a genius with gear and tones, and she's an amazing multi instrumentalist. So in terms of division of labor, I really wanted to just learn as much from her. That was the best part of collaboration is just learning from someone whose art I totally respect and also I can't replicate. I was like, "What can I bring to the table? What are our strong suits?" She would prefer not to write lyrics and I don't know what a compressor does, just shit like that. But I learned so much from her. I think we really did stay in our own lanes in the process of making that record.
I walked away from that project with a way better understanding of production and a way better understanding of process. For me, I'm always writing a song before I even think about the arrangement or the recording. Melina is starting with the recording. She's writing as she records because she's so talented with that gear. I'm usually really prepared going into a studio—I always have all my songs written—but for the Bachelor record, we didn't have a single song written before we went into the studio, and we just wrote and recorded as we went. I was terrified going into it because our label had given us an advance that we'd spent on this time. We didn't know for sure that we're going to make a record, but then it worked, and that blew my mind. It was such an educational experience.
Doug Martsch: I made that Halo Benders stuff with Calvin at a time where I wanted to just play music and not sing for a while and have someone else be a singer. I'd just met Calvin, a few people had played a few shows with him, and I didn't really know him but I thought it'd be worth a try just to ask him if he'd be into doing something.
He agreed to it, and I knew that he had booked a couple Treepeople shows in the past, but I never really met him and I don't think he really knew us or was into us or anything. But I just finished making the first Built to Spill record, so I sent that to him to see if that would convince him that I was making music that he might be interested in. Once he agreed, I just went and visited him and we hung out and jammed and started getting some songs together. I ended up singing on stuff anyway. I don't know, it was a fun thing to do. He's a really amazing musician and an interesting, funny guy.
El Kempner: Did you guys do shows? Did you tour?
Doug Martsch: We did a West Coast tour, I think just after our first record. And then we got together, we made those records. I don't think we toured again when we made those other records. We got together a few years after the last record was made and wrote some songs and played a couple shows and then just ended up not doing anything. And the songs that we'd written, Calvin and I both put on solo records, and then some of them became Built to Spill songs, the ones that I wrote. We tried to do it again, and it just wasn't rad, and we just fell apart. It was nothing dramatic or anything, it just wasn't rad anymore so we didn't do it.
El Kempner: It just ran its course.
Doug Martsch: I guess so.
El Kempner: I think it's good to stop when you're satisfied or when you're like, "Yep, this is it. We're good."
Doug Martsch: Totally. I had a band like that with this friend of mine from high school, it was called Farm Days.. We did a reunion just for our friends when we were 40 years old or something, and we played these songs we wrote when we were teenagers and we were like, "That was really fun. Those songs are cool. Let's do more." But there was no way we could write a song like that anymore. It just wasn't in our hands and brains to write that music at all.
El Kempner: That's such a frustrating feeling sometimes.
Doug Martsch: Yeah. It was like, "Let's do it. We did it when we were 15. Let's channel that energy or whatever stupidity of a teenager." But we just couldn't do it—we were just too ingrained, our neural connections were too thick.
El Kempner: Brain too developed. Frontal lobe is complete now.
Doug Martsch: Soldered, permanently soldered into place.
El Kempner: The key to making really good music is not having a fully developed frontal lobe.
Doug Martsch: I mean, there's something to that maybe—some kinds of music.
---
"Stay In The Car" by Bachelor, El Kempner's collaborative project with Jay Som's Melina Duterte.
---
It wouldn't be a Reverb interview without a little bit of gear talk. I know both of you play Stratocasters. Talk to me about your individual relationships with your guitars, your effects, your amps.
El Kempner: I use a couple effects, but I really just have always loved just the raw Strat tone coming through on the bridge pickup. I got it in my head that I should maybe play something else, like this boutiquey Harmony Bobkat I have—but the Strat is the guitar that I keep on coming back to because it's just so versatile and it's just got the best clean tone, I think, for what I like to do. Speaking of Bowie, those guitar tones or the tones on Brian Eno's Here Come the Warm Jets. Those just incredible clean tones are the ones that I'm always chasing.
Doug Martsch: Which amps do you use to record?
El Kempner: I have a vintage Fender that's actually living at a recording studio that I had worked at a couple of years ago, and I really need to get it back. But also, I can't tour that amp anymore because it's an old tube amp and it just got fucked around in the back of the van, I can't bring it on tour anymore.
I have a Supro Black Magick Reverb right now that I really like, but frankly, I think I might want to try to go back to a Fender Super—it's the Jimmy Page amp, so it gets that natural distortion. If you push that preamp all the way, you get this unbelievable distortion, but for live shows, I feel like that much gain turns into overtones and my monitor and it makes it really hard to sing. I don't know if you know that, but when something is too distorted and you're not hearing the right tone. And we don't have any in-ears or anything, so it's like I'm hearing it from a monitor in front of me and also from behind me blasting.
Doug Martsch: Hogging up the frequencies where you sing so you can't hear your voice.
El Kempner: Yeah… I can't hear my voice, and I also can't tell if I'm singing in tune sometimes with this amp specifically. I really love it but I feel like I can't play with it live anymore. I feel like I got to go with something that's just a little cleaner. It's just got this inherent grit that I love, but it's not working for me necessarily right now with that. If I was just a lead guitarist in a band and didn't have to sing, that would be the perfect amp. That's why Jimmy probably loves that amp, but for singing, I don't know. It just throws me off. What about you? What are you playing?
Doug Martsch: Well, I've been playing through a Fender Bassman for a long time, just because it gets a little bit of grit. It's loud. I tried using a little amp and I like to have the stage rattling a little bit with what I'm doing. My pedalboard changed over the years, but it's basically been narrowed down to just three Xotic EP Boosters. I also play with the Echoplex, so the Echoplex has a nice tube preamp in it, so that sounds pretty good clean. I put on one EP booster and I have something with a little bit of grit, and I step on two of them at a time and I have some rhythmic distortion. Then I step on all three of them, and that's the closest thing I have to a fuzz.
El Kempner: I have a similar thing going on my board right now too, which is just a couple different boost pedals. I just got a really great boost from that company Origin Effects, are you familiar with them?
Doug Martsch: No.
El Kempner: I just got an amazing boost pedal from them that is just so sick that it totally changed my setup. We played one show with it, and it totally is exactly what I've been looking for in that pedal. And then I have this gain pedal from this Greek company Jam—if I'm going to hit a solo, I hit both of those, but then this other boost is great for just rhythm distortion. I don't do a ton of reverb or delay. I have some choruses occasionally, but I don't do a ton of that stuff.
---
---
Doug Martsch: I have a ton. I have this Echoplex and I put it up on a stand and operate it with my hands. It's pretty fun, but they break a lot. I don't know, sometimes I feel like I might go overboard with it a little bit, because I don't really like to listen to a guitar player just getting swallowed up in delay. I want to hear what's really going on. So sometimes I tend to fall into that world of trying to be so psychedelic that it doesn't even sound like a guitar anymore and it's boring.
El Kempner: I actually have a Strymon El Capistan. I really like that pedal a lot for when I do want a little bit of something.
Doug Martsch: I got one of those, because I was trying to get rid of the Echoplex trying to phase it out of my life, but I couldn't get that thing to work very well, kept doing weird shit on me.
El Kempner: I leave that pedal in one setting that I know will work, but everytime it changes. I looked at the manual and it's a tape delay thing where it's like, setting one is like it's shooting to one tape machine. Setting two is like it's shooting to a further tape machine. I didn't get it.
Doug Martsch: I wanted to use mine with a foot pedal so I could do some of the stuff I was doing with my Echoplex, and it was like I couldn't get it to modulate the aspects that I wanted it to.
El Kempner: That has a mind of its own. I feel like that pedal, I feel like I've set it to the same setting twice and it's done completely different things, and I'm like, "What's happening?"
The last time that El spoke with Reverb in 2017, they said they thought of pedals as cheat codes before they warmed up to using them. I thought that was an interesting framing. Do you still feel that way?
El Kempner: I felt like that because I was so intent at the time. I don't think that I meant that anyone who uses pedals was cheating. For me, I was trying to challenge myself with guitar at the time to try to get effects from the guitar, just a guitar and an amp without a pedal.
Doug Martsch: Totally what I was talking about. Who knows what the fuck's going on with all that shit? I want to connect to what the person's up there doing, so I totally get that.
El Kempner: I don't need a vibrato pedal if I can just bend this cord and this string a lot and vibrate it with my hand. And I don't need a distortion pedal if I can just turn my amp up really loud or hit a boost pedal. I think at the time I was convincing myself that pedals were a cheat so that I would just push myself harder. But then there were certain things that I was like, "Man, pedals are fun." What would happen is that we would record something with a pedal, and then I'd try to recreate it live and be like, "Damn it. Now I need that pedal." That's always where it came from—trying to recreate a recorded thing.
I think with distortion, especially, if I didn't have to sing, I would be a totally different guitar player because I would just be all up on my amp if I could be. Doug, I don't know how familiar you are with Big Thief, but we toured with them. I was talking to their guitar player, Buck Meek, and I was like, "You got the best possible distortion sound I've ever heard. How do you do it?" And he's like, "I'm only turning up my amp. That's it." He does not have a distortion pedal. He's just going back and turning up the natural gain of the amp. I was like, "What? How do I find a pedal that does that?"
Talk about a band that really internalizes their tone and doesn't adhere to too many effects or things like that. They try to work within an economy of means.
El Kempner: I mean, he does have a big board. There's pedals that he'll use for one second of one song, and then that's it, or from what I remember him saying. That's actually why I got the El Capistan is because I was like, what do you recommend? And he was like, this one. So I got it, and I hated the fucking thing.
Doug Martsch: We had Jim Roth play guitar for us for a long time, and he had two giant pedalboards. He really had those things on one song that we'd play every week or so, and he'd have a few seconds he'd use one pedal for.
El Kempner: Yeah.
Doug Martsch: It's cool. It was nice to have the effects that are on the record, he'd recreate them for these moments, it's just cool.
El Kempner: The way that I thought about pedals really changed when I saw Autolux live. I don't know if you're familiar with that band, but their bass player has two stacked pedal boards and sounds like a synth. I was like, "Oh, that's why these records sound so good, is because you are up there actually using pedals in this way that is just turning your instrument into something else. I wanted to experiment with that.
Doug Martsch: Seeing people use it as a crutch so often, but then you hear someone that is just killer and then uses it and you see what an augmentation can be, whatever.
El Kempner: Totally. Artfully and really creatively and weirdly.
---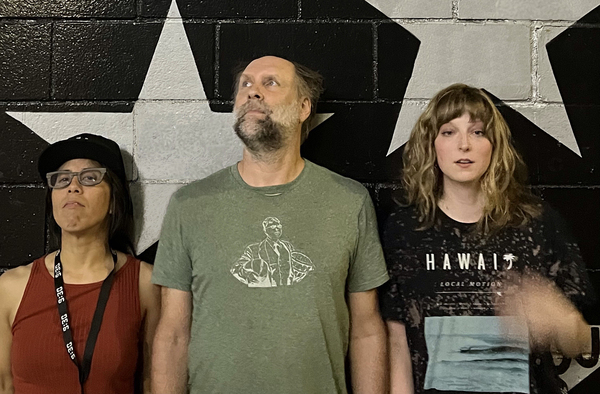 The current lineup of Built To Spill. Photo by Isabella Georgetti.
---
Do we want to end on a little bit of basketball talk? I know you are both fans.
El Kempner: Yeah. Do you have a team? Do you have an NBA team that's like your team?
Doug Martsch: I mean, I'm a Blazers person, but I don't really care that much. I started playing fantasy basketball 10 or 15 years ago.
El Kempner: Really? That's awesome.
Doug Martsch: Yeah. But it kind of took away a lot of my real life fun of basketball. I have a hard time watching games just in a regular way or caring about anyone that's not on my fantasy team.
El Kempner: When you do fantasy basketball—I've never done that—are you putting money into that? Are you betting?
Doug Martsch: No. I was in three leagues for a while, and two of them were for money, then it didn't even matter. No one paid up. And so I'm in one league and it's not for money, just for fun.
El Kempner: That sounds fun.
Doug Martsch: It's okay… but it's just all about stats and that's all it is. And so it's a little annoying. You start to get, it's just you're trying to hope to win. Just luck. I don't know. I watch just random basketball at this point. I watch all the finals and stuff like that, but my favorite WNBA team is the Connecticut Sun.
El Kempner: Oh, yeah. I mean, Connecticut women's basketball in general with the Yukon team, they're unbelievable.
Doug Martsch: True.
El Kempner: I just went to a New York Liberty game a couple of weeks ago where they were playing Phoenix, so Brittney Griner played, which was amazing.
Doug Martsch: Wow. Well, Jonquel Jones is from the Sun.
El Kempner: Really?
Doug Martsch: She's on New York now, right?
El Kempner: Oh, I don't know, because I'm not super familiar. I wish I could. This inspired me going to this game. I was like, "Fuck yeah, I got to get into the WNBA."
Doug Martsch: It's amazing.
El Kempner: They're unbelievable. And you know what fucking sucks, man, is that it's like the show's, the game's at Barclay Center, and I go to Knicks games once a year or something, and a New York Liberty ticket is one sixth of the price of an NBA ticket and it's mostly empty. You're watching these unbelievable athletes. And then I looked up afterwards, I was like, oh man, am I going to go depress myself right now and look at how much they make a year? And Jalen Brunson, who is the star of the Knicks right now, he's the young star. He makes more per game than the star of the Liberty gets per year. And it's just double per game what she gets per year. And it's just like, that fucking bums me out. I love to see the Women's World Cup soccer happening right now and see people care about that. I wish that energy was there for the WNBA.
Tis going to sound like a hot take, but part of me wishes that they would like, and this is going to sound bad at first, but some part of me wishes that they would actually lower the net for WNBA a little bit, because I think that the height difference between WNBA and NBA eliminates the possibility for dunking and alley-oops and shit that people pay to see live basketball for, the trick stuff. I just think they're at a disadvantage in a lot of ways, and they're obviously just as talented. But that all being said, I love New York basketball. I love the Liberty, and I also love the Knicks a lot. And the Knicks have sucked for my whole life, but they just got good, so that's exciting. I don't know, I could talk about it forever.
Are you playing New York anytime soon? Do you have any shows coming up here?
Doug Martsch: No. Yeah, nothing. We just have a little bit of West Coast stuff and shows here and there, but nothing close to New York for a while. What about you guys? You guys heading out on tour? Are you guys coming to Idaho anytime soon?
El Kempner: We're not coming to Idaho. Well, are we? Wait, I don't think we're going to Idaho, I'm looking at my... But yeah, we're going in October, so we've got some time. And until then, I teach guitar when I'm not on tour. I teach guitar and stuff over Zoom, which I love doing, actually.
Doug Martsch: Very nice. That's awesome.
El Kempner: Yeah, I love it. But let me look. No, we're not going to Boise. I wish we were, because I really love playing Boise, we've only played it a couple of times, and each time it's been great. And I love those hot springs. But yeah.
Doug Martsch: Well, yeah, keep in touch. If you see that we're playing in New York, I'd love to put you on the list.