Big Thief. Photo by
Alexa Viscius.
Used with permission from the artist.
The music of Big Thief is lush, lucid, and complete with saturated and delicately crafted overdriven guitar tones.
As the band prepares to release their 20-track album Dragon New Warm Mountain I Believe In You, Reverb checked in with Adrianne Lenker and Buck Meek to get a run-down of the guitarists' current touring rig and to speak about how their gear informs their musical choices.
Big Thief - "Orange" & "Forgotten Eyes" | Pitchfork Music Festival 2021
The Essentials
Both Lenker and Meek use Collings guitars through Magnatone Twilighters. Despite their rigs' similar foundation, the two take entirely different approaches to the guitar and extract different sounds.
GEAR
ADRIANNE LENKER'S TOURING RIG
"I don't really use pedals much," Adrianne told us. "If I have a broken reverb, I'll use the El Capistan delay to give it a little juice. Or once in a while, I'll mess with delay. And then I have a Prince of Tone, which, in a pinch, I'll use. But I actually have taken to not using pedals really if I can avoid it and using just amp overdrives as my effects."
Buck's rig, however, is packed with effects, including: TC Electronic Polytune, Hologram Electronics Infinite Jets, Walrus Audio Julia, JHS Unicorn, JHS Lucky Cat Delay, Death By Audio Reverberation Machine, Ernie Ball VP Jr, Gamechanger Audio Plus, Electro-Harmonix Holy Grail, Analogman Sun Face, Sarno Music Solutions Earth Drive, JHS Colour Box.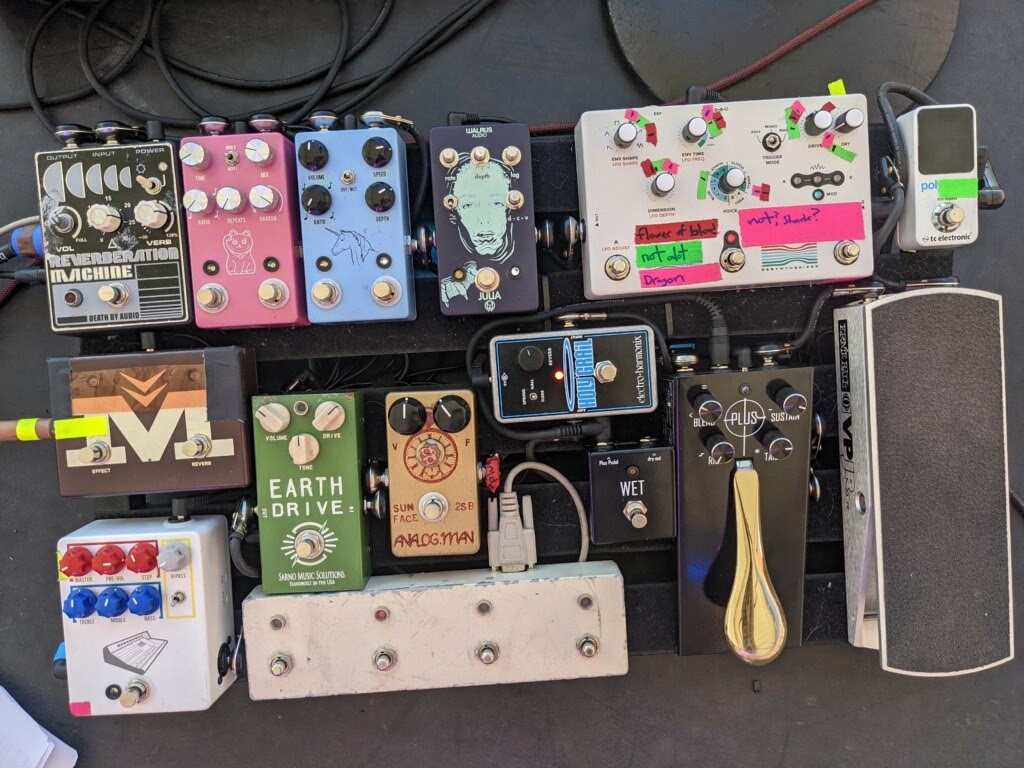 Buck Meek's Pedalboard
Big Thief's Most Custom Piece of Gear
Both Lenker and Meek have an auxiliary robotic box that controls gain-staging on their Magnatone Twilighters via a foot pedal. Meek has been using this with the band for several years, with Lenker getting one more recently. The device came to Meek several years ago when he made a post on the internet looking for someone to build a pedal based on Neil Young's Whizzer. Luckily, Shure engineer Andrew Latham was up to the task.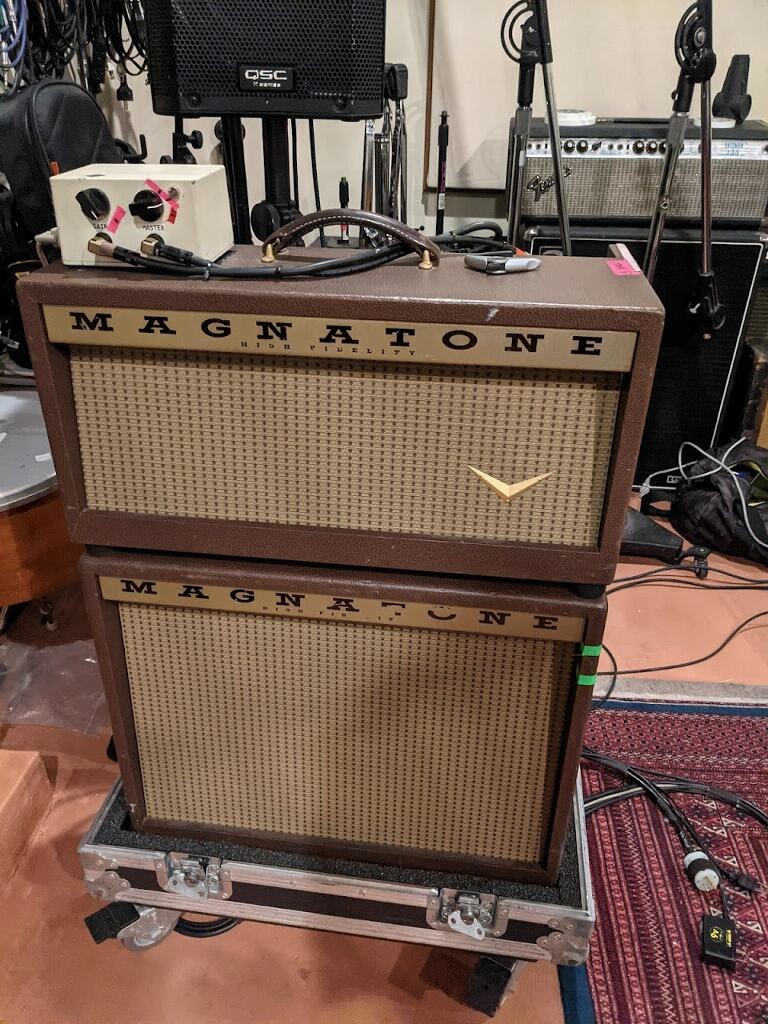 Magnatone Twilighter w/aux box.
Meek explains: "I had this engineer who works for Shure build me this auxiliary robotic box to control the gain-staging of the amp inspired by Neil Young's Whizzer... the engineer built a modernized version of that. It's basically just an auxiliary box with these two robotic pots and then a TRS jack for my amp so I can bypass the volume pot and the master pot of my amp with these robotic pots."
He breaks down the four presets programmed for the device, adding, "I have four presets for the amp gain-staging that I can control with a footswitch on my board. My first preset is a natural clean tone with the master on 10. Then my second is a fully dimed preamp gain with a low master, so it's equal final volume to the first setting but super dirty, which is nice so I can get the fully saturated Magnatone sound at a low volume. The third setting is a boost of that. The final setting is a fully dimed ten and ten. I mostly alternate between the first two for clean and dirtier, but I dime it out with the Whizzer any time I solo.
While Meek creates more tones through an extensive collection of pedals, this tool compliments Lenker's playing style perfectly. Lenker is most interested in manipulating amp volume and tone knobs to create a sound, explaining that "the elements I'm most interested in working with are my hands and my dynamic control in my hands, and overdrives. And the various combinations of knob settings, which to me, there are so many worlds just in that stuff that I kinda feel like if I only focused on this and I don't even get into pedals, there's enough to be refining for years."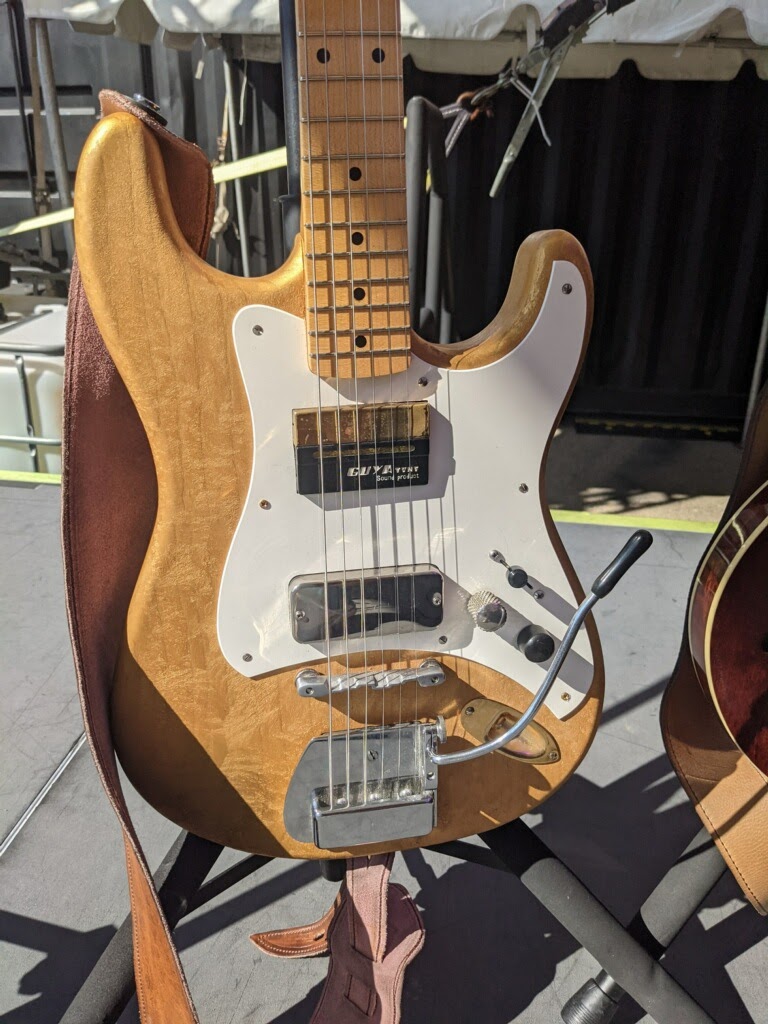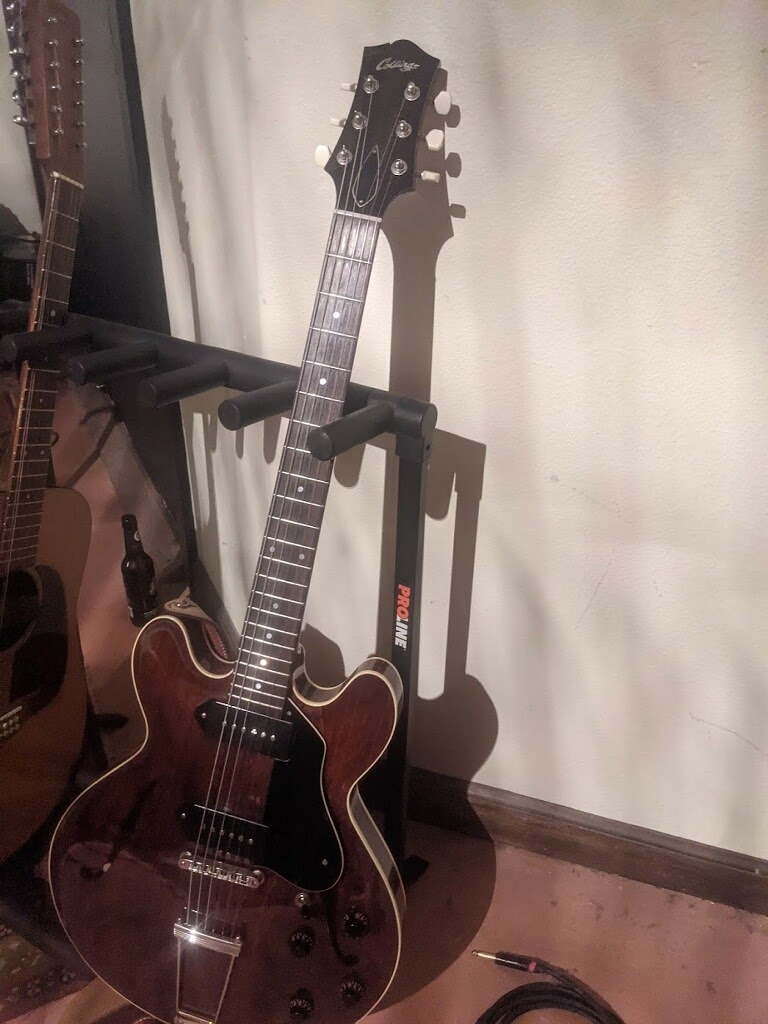 The Strat-style "Flippercaster" on the left was built by Flip Scipio.
She breaks down the settings on her Whizzer: "I have four settings. One of them is super soft. One of them is regular cruising along rock n' roll volume. One of them is digging in a little extra. And one of them is cranked. Sometimes I'll crank the amp AND hit my AB switch and have the Marshall click on so I have two amps maxed out in volume. I really like loud amps. And nothing really can replace or beat that."
The Biggest Surprises About Big Thief's Gear Approach
While most indie-rock guitarists have an insatiable need to add guitars to their collection, both Meek and Lenker are interested in establishing a real relationship with each instrument.
It was stunning to learn that Lenker has written all of her songs on the same Martin acoustic. "I've never been a many-guitars player. I've had the same guitar from when I was 14 until now," she said. "It's my only six-string acoustic, and it's the one guitar I've written all my songs on."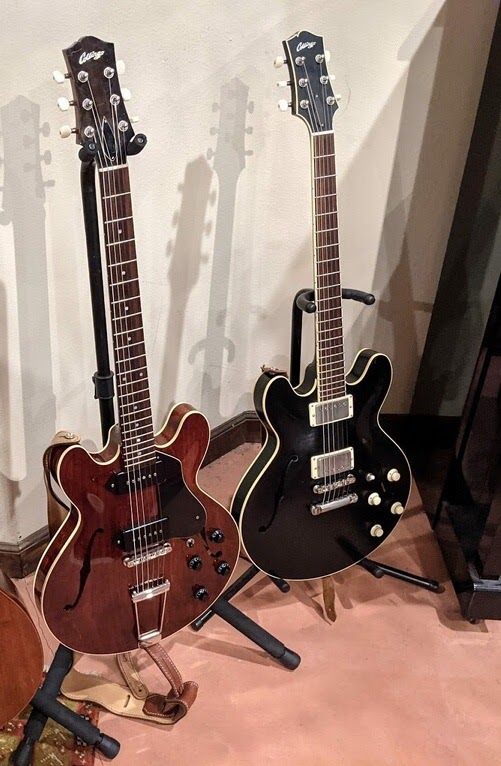 Collings I-30 on the left, I-35 on the right.
Lenker explains how she adapts these songs to an electric-guitar driven band like Big Thief. "I could envision electric (guitar) while I'm writing on acoustic, envision the band playing. But I'm still just writing. Sometimes I'm not imagining anything beyond what's happening, and I'm just feeling the fullness in the acoustic guitar. I'm playing so that it's taking care of all the parts, really—it's like the bass line and overtones and droney stuff and a moving melody all within the guitar. And then there are times, too, where I'm just writing a lot more simply because I'm leaving a lot of empty room in my mind. But either way, I just bring songs to the table, and then we just play on them, mess with them, rip them apart, and put them back together, and everyone makes their parts."
Similarly, Meek adds that he's "pretty slow to move from one guitar to the next. I tend to spend a lot of time trying to get to know one instrument before I open up to another one. And usually, when I do find a new guitar, it's the extension of a friendship or a close relationship with a builder."
Meek dedicates a lot of time to cultivating a specific sound. He shares that he actually "begged" Collings to build the I-30 model because he "started feeling like [he] needed something a little more breathy and a little more lucid for the quieter, more ethereal Big Thief songs." Meek tours with the I-30 prototype.
What We're Taking Away
Despite the band's modest amount of gear, both guitarists use extremely high-end and boutique gear, allowing for a more dynamic performance of their instruments that focuses more on touch and volume than a reliance on in-your-face guitar pedals.
Be sure to catch Big Thief on tour this Spring as they make their way through Europe, the UK, and the US. Check out the band's website for details.
Big Thief - Full Performance (Live on KEXP)