All images courtesy of Musée Korg Design and History except where stated otherwise.
It's not every day that you step inside a Japanese house that's more than 120 years old. It's even more special when that house contains a museum. And not even a museum of old woodblock prints or farm equipment or textiles, as you might expect in the Japanese countryside.
No, this remodeled home contains a museum to Korg, complete with almost 200 instruments and accessories on display. Located in Nakatsugawa, a small town in the mountains of Gifu Prefecture, Musée Korg Design and History is a private museum dedicated to Korg synthesizers, drum machines, and other products.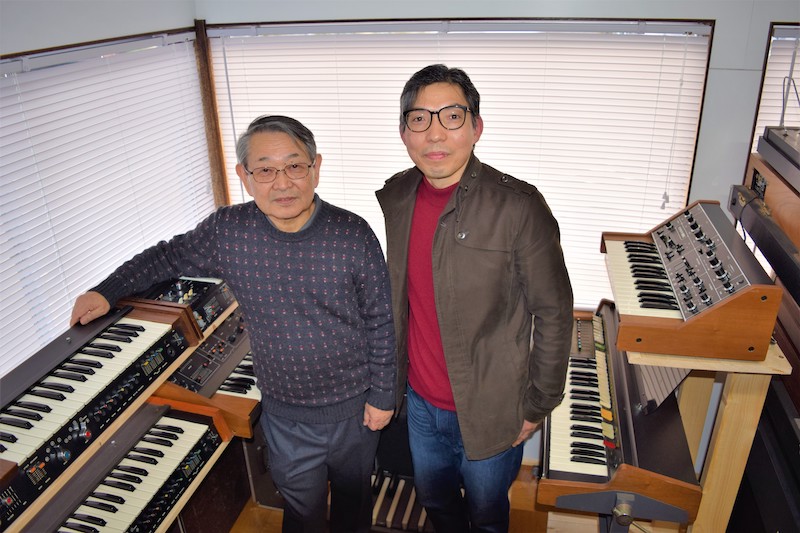 Museum head Hideki Ishikawa with longtime Korg engineer Mieda Fumio at the museum in 2017.
I'm met at the train station by the museum head and curator, Hideki Ishikawa, who drives me to the museum on the other side of a beautiful (and shockingly deep) gorge. As we enter and take off our shoes, I hear the sounds of domestic life. This old house may be the home of Japan's only museum dedicated to Korg, one of the big three Japanese musical instrument companies, but it's also the home of Ishikawa-san and his family. After a quick cup of tea, we're headed up the stairs to the second floor, which is occupied almost entirely by the museum.
The museum—which opened in spring of 2021—focuses on Korg products, clearly, but with a special emphasis on product design as well as the company history. As we make our way through the exhibits—this is very much a museum and not just a collection, with themes, placards, the whole works—Ishikawa-san explains the various instruments, peripherals, and promotional materials on display.
The signage is in Japanese so I'm not able to read everything, but I'm more interested in the instruments anyway. There's certainly a lot to see. It starts with a shelf full of early drum machines. Korg started as a rhythm machine company, Ishikawa-san explains, and that history is represented by three shelves of Mini Pops and related units—all in incredible condition.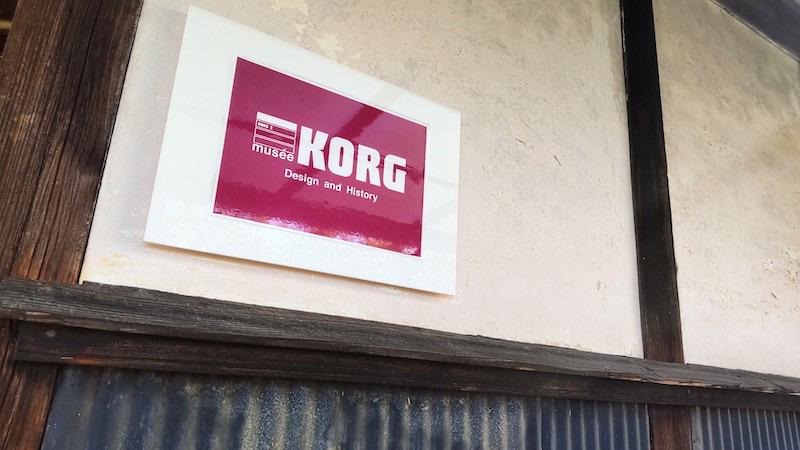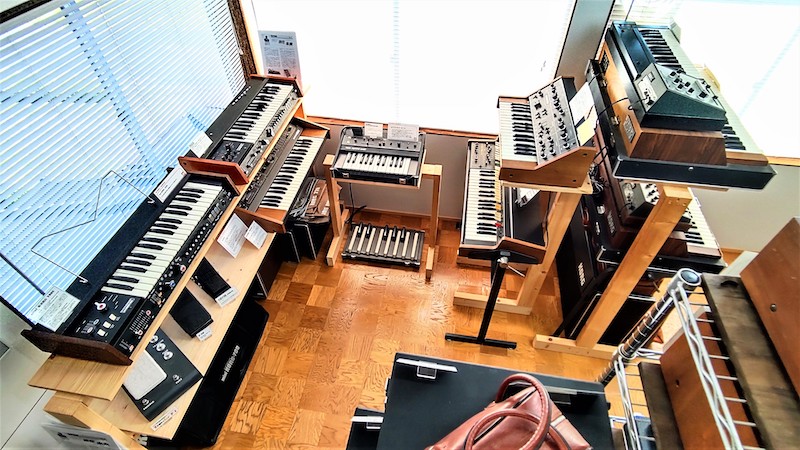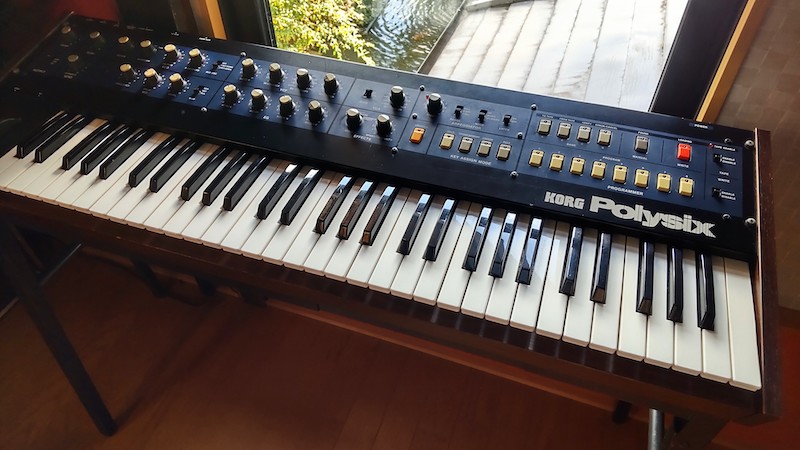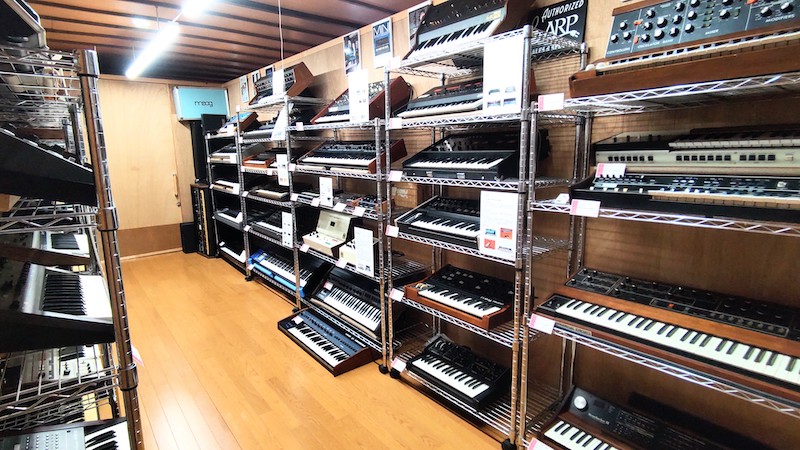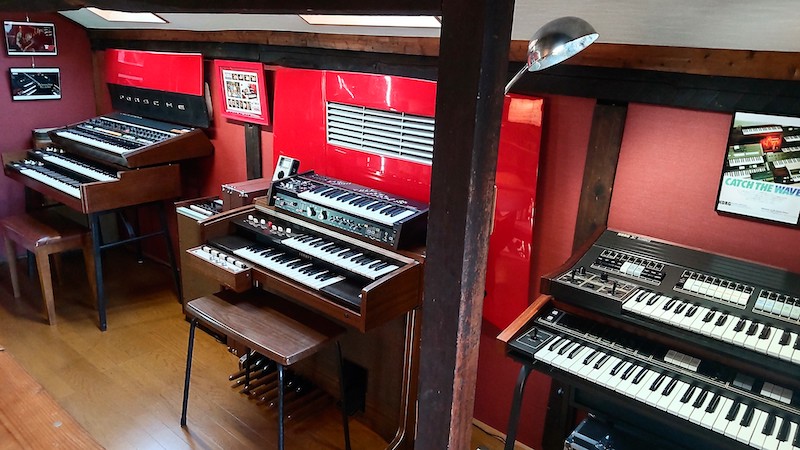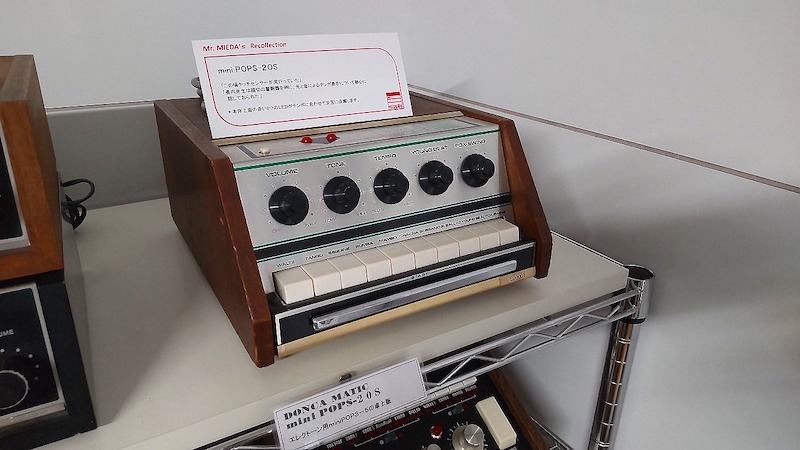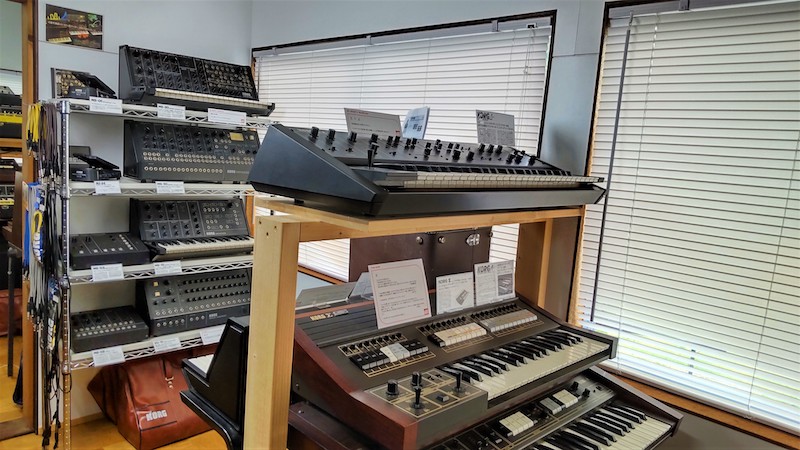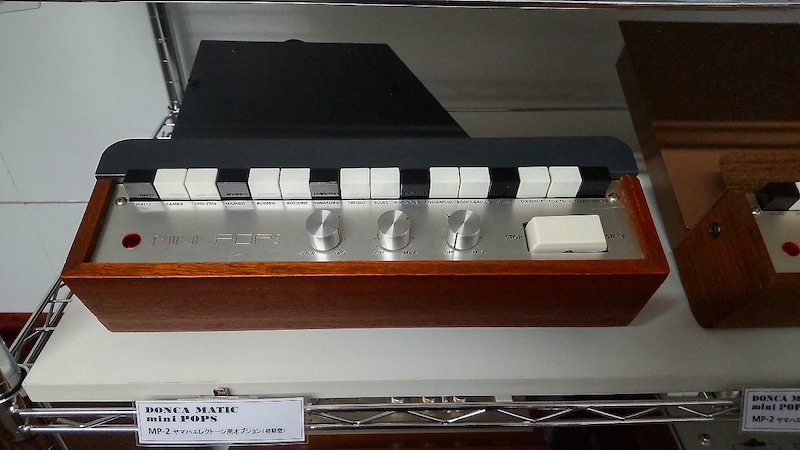 Next up is the Mini Korg 700S, both original and re-release. This was Korg's first proper synth and something of a triumph for designer Fumio Mieda, the company's longtime star engineer. Mieda-san has actually visited the museum numerous times. His personal reminisces about the instruments are posted throughout the museum.
The exhibit continues with other star instruments from the early days of the company. There's a Maxi-Korg 800DV from 1974 in mouth-wateringly beautiful condition, a Synthe-Bass SB-100 with Yamaha foot pedals attached, a Korg 900PS Preset Synthesizer, and (my personal favorite) the 770.
Korg PS-3100. Photo by Adam Douglas.
Stepping ahead, I come face to face with a PS-3100, the first I've seen in person. It's a gorgeous instrument and, with its wood housing and semi-modular front panel, looks like a cross between a classical instrument and an MS-20. Speaking of the MS-20, the next room has the complete MS system, including an MS-10 and 20, MS-50, SQ-10, and the peripherals, MS-01 foot pedal, MS-02 Interface, MS-03 Signal Processor, and MS-04 Control Voltage Modulation Pedal. Wow.
Ishikawa-san feels a special connection to Korg's analog era, so that's the focus of the museum. The instruments and products—including posters, brochures, peripherals, and even instrument cases—are well-represented up through the early '80s, reaching a peak with the Polysix and Mono/Poly. There are a few post-analog instruments, such as the DW-6000, included because of their status as Japanese Good Design Award winners.
Ishikawa-san is a lover of design, he tells me. Although he studied at an art school and worked in design in Tokyo when he was younger, he currently doesn't have the opportunity to use it in his job here in his hometown of Nakatsugawa. The museum is one way for him to stay artistically involved. "I don't have any chance to work with design now," he says, "so I made the museum."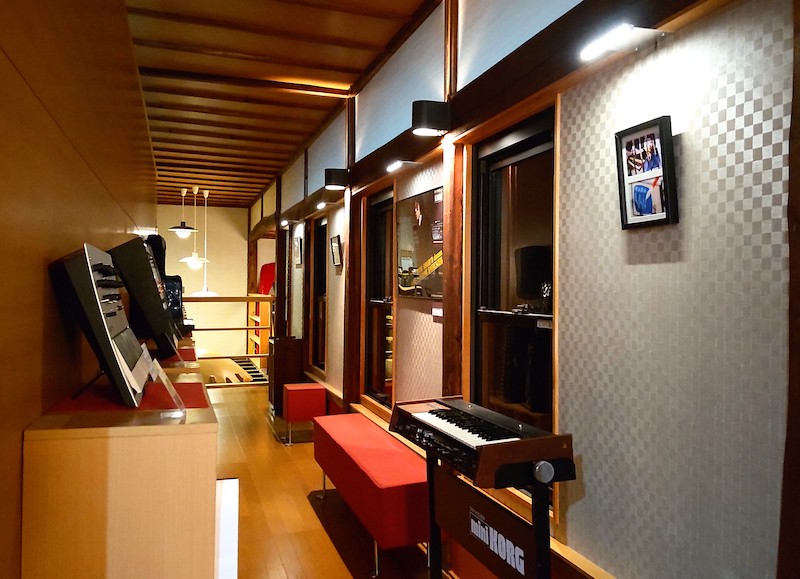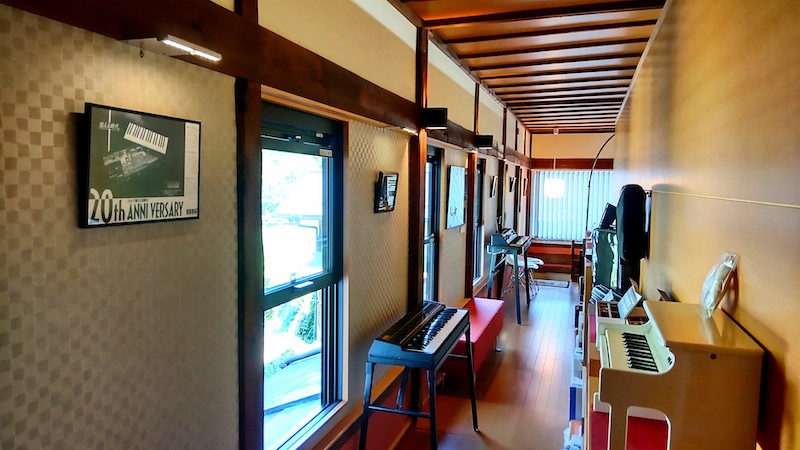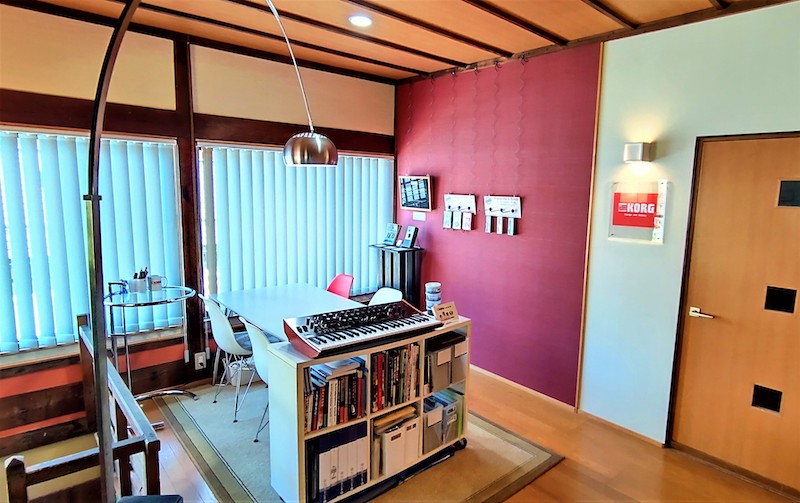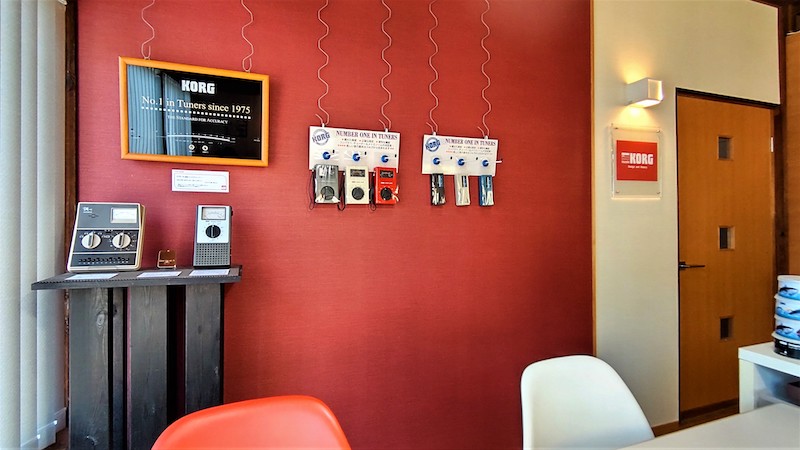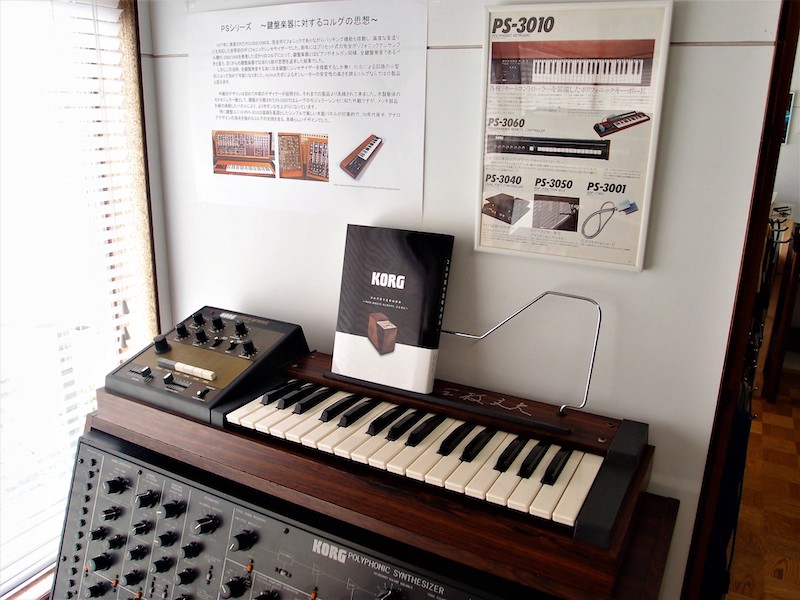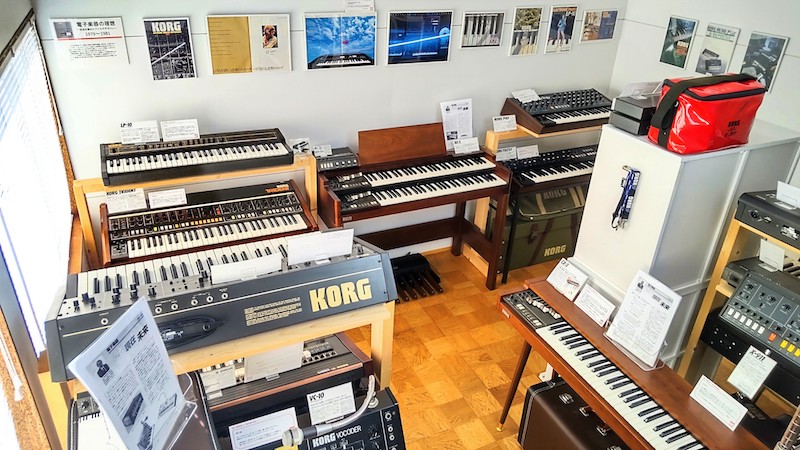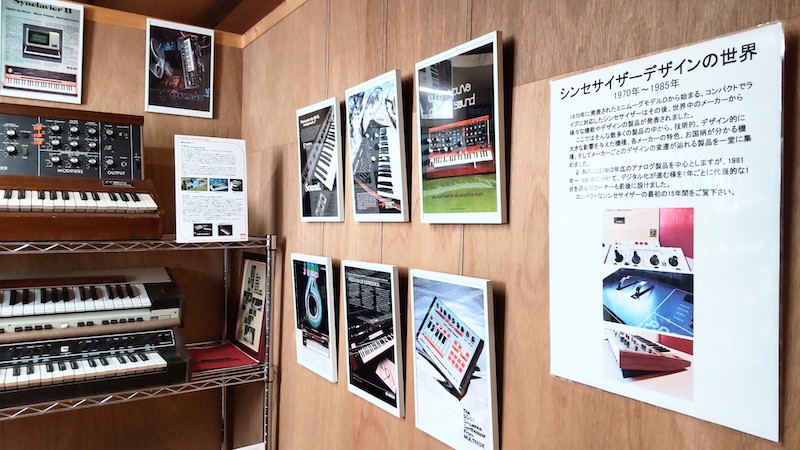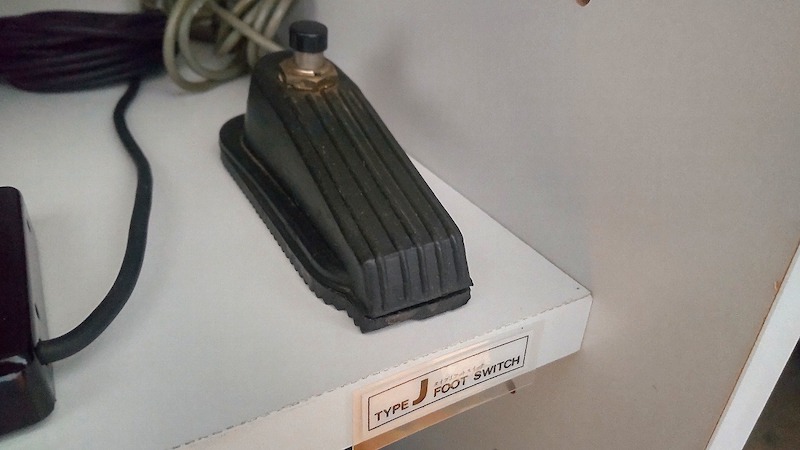 As for why Korg, the connection is a lifelong one. Ishikawa-san fell in love with synthesizers in the 1970s. Records like Jean-Michel Jarre's Equinoxe turned him onto the sound of synths, but it was his brother buying his first, a Korg M-500SP, that changed Ishikawa-san's life. Although the brother initially wanted an MS-10, he would also have had to buy an amp to hear it. With the M-500SP and its built-in speaker, they already had all the amplification he needed. This is reflected in the museum's exhibit, with a number of M-500s on display.
Another personal connection is the Sigma. Ishikawa-san is a big fan of late-'70s Korg synthesizer design, particularly the shape: the slope of the front panel, the end cheeks, even the look of the rear of the instruments. The Sigma, part of Korg's Greek letter-named series of ensemble synths, is a particular favorite. He mentions it numerous times, and there's more than one in the museum. I admit to never having paid particular attention to the shape of the Sigma but after hearing him talk about it, I could see it with fresh eyes. The front panel is fairly striking, made all the more so when highlighted in this way in an exhibit.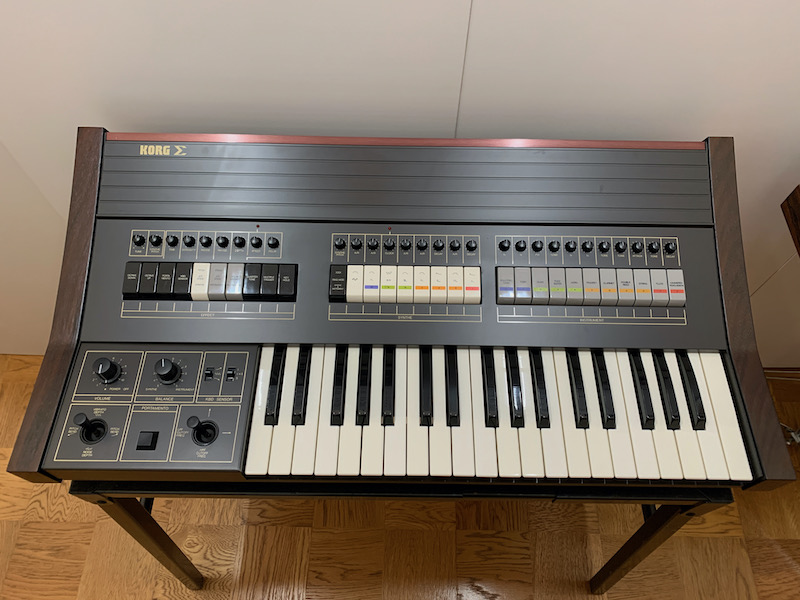 Korg Sigma. Photo by Adam Douglas.
In fact, the Sigma was the first piece that Ishikawa-san bought for the museum. Or rather, it was buying the Sigma in Tokyo in 1995 that sparked the idea of starting a museum in the first place. That plan was first put in motion when he returned to Nakatsugawa from Tokyo in 1999.
There's more than just Korg instruments in the museum, though. There's a second exhibit room that focuses on the design and history of synthesizers from around the world. America is represented by synthesizers from Moog and Oberheim. Europe's former Communist countries get in with a Vermona Synthesizer from East Germany and a Formanta Polivoks from the USSR. There are early Japanese synthesizers as well, including some from Roland and Yamaha, as well as a selection from other companies like Hillwood, Multivox, Ace Tone, and Technics.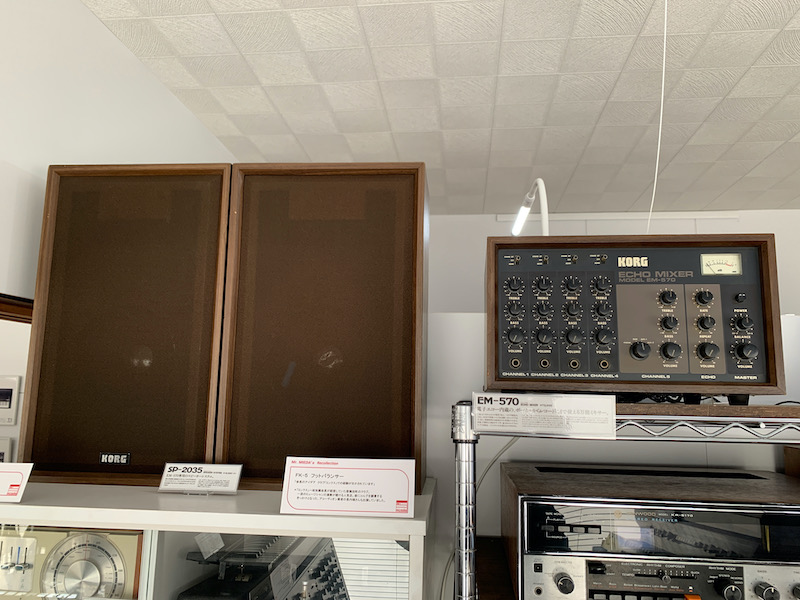 Korg SP-2035 speakers and Korg Echo Mixer. Photo by Adam Douglas.
After the museum tour, we sat down for coffee in the museum's cafe space and listened to records. I asked Ishikawa-san what he'd like people to take away from visiting his museum. "I'd like people to understand Korg's history," he answers, "as well as the attractiveness of the instruments from the analog era." This, I definitely did. I was also surprised by the number of non-keyboard products that Korg has released, such as the sheer number of tuners, foot pedals, and rarer items, like the SP-2035 speakers meant to be coupled with the EM-570 Echo Mixer.
It must be hard to run a museum, though. What's difficult about it? "The space is too small," he laments. "I have more I want to show. I'd like to have three or four times the space." He also mentions maintenance being an ongoing issue.
When asked about the rarest pieces in his museum, he points out the SP-2035 speakers that I noticed. He also mentions the F-20 foot expression pedal that pairs with the 700 and 700S, as well as the Mini Pops MP-2 from 1967 (which is hard to find in Japan) and the MP-20S from 1971, which was only on sale for a limited time.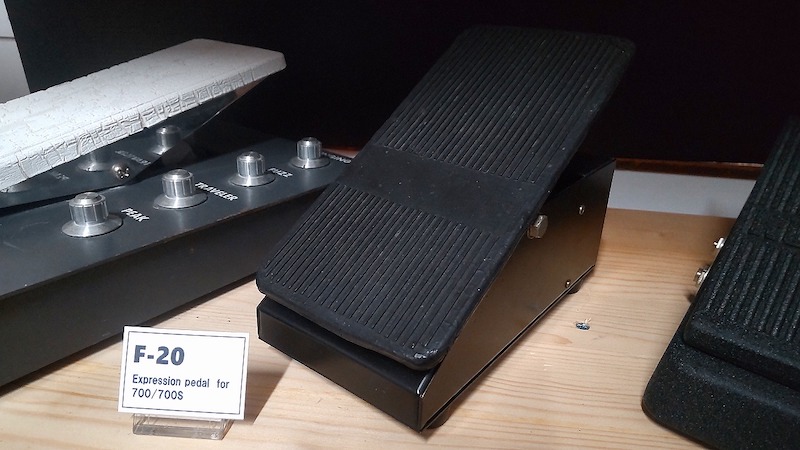 Korg F-20 Expression Pedal.
For all of the incredible pieces in his museum, Ishikawa-san is still looking for a few. He'd love to procure a PS-3200 and PS-3300 to go with his 3100, as well as the KA-180M keyboard amp. The second Doncamatic unit, the DC-11 from 1966, is also on his list.
Musée Korg Design and History is a unique and rather special place. It's not often that you find a private museum of this caliber for any subject, let alone synthesizers and drum machines. It makes sense, though. Both Roland and Yamaha have their own museums in Japan, so why not Korg as well? Musée Korg Design and History is available to visit by appointment only. Please contact Ishikawa-san through the museum's Instagram account @korg_museum.