We'll just say it: There's absolutely no shortage of podcasts out there to listen to. From true crime to stock tips, there's a podcast (or several) to fill nearly every niche.
The same goes for music and music gear podcasts. Type "guitar" into the search bar in your podcast app, and you'll see dozens of options for your listening pleasure. Some are focused on theory and lessons, while others are borderline comedy podcasts. You'll find podcasts brought to you by major publications as well as independently produced podcasts, all side-by-side.
Whether you listen to guitar and gear podcasts to hear takes on the latest pedal, amp, and guitar news, or you tune in to spend your commute with your goofy gear-head buddies, here are a few great gear podcasts to add to your rotation.
60 Cycle Hum
Are Expensive Pedals Gatekeeping?
Partly inspired by My Brother, My Brother and Me comedy podcast, 60 Cycle Hum is one of the earlier guitar-centric podcasts. Hosted by friends and former bandmates Ryan Burke and Steve Rowe, their episodes bounce between discussing the wildest Craigslist gear ads, audience-submitted topics, album reviews, and guests. New episodes drop on Mondays, including the video version of their podcast, which you can watch on YouTube.
The Tone Mob
Hosted by prolific podcaster Blake Wyland out of Portland, Oregon, The Tone Mob is a weekly interview podcast that covers a wide range of interviewees, from Rock n Roll Hall of Fame nominated musicians to up-and-coming boutique pedal builders.
And, while it's not required to be a pizza aficionado, it certainly adds to the listening experience. Plus, Patreon supporters get access to special bonus episodes and more.
The Guitar Nerds
Based out of the UK, The Guitar Nerds are a pink-obsessed group of friends who started podcasting out of the guitar store at which they were all employed. It's a great choice for catching up on the guitar and gear news from the past week while feeling more like you're hanging out with fellow guitar nerd friends.
Like The Tone Mob, if you can't get enough of their content, they offer exclusive bonus episodes to their Patreon supporters.
Mid-Riff

Hosted by acclaimed diversity consultant Hilary B. Jones, Mid-Riff features twice-monthly interviews with a wide array of musicians and music industry professionals with the goal of changing the industry for the better. Previous guests include Datachoir Sounds, Fanny's June Millington, Julie Robbins of EarthQuaker Devices, and Emily Harris from Get Offset (the author of this article).
Get Offset
Get Offset Episode 113
[Ed.: We asked Emily to write about her own podcast too, because it's great and you really should listen.]
Despite the name, Get Offset isn't just about Offset Guitars. Instead, Seattle-based hosts Andrew Rinard and Emily Harris work to offset the status quo of gear culture. The two discuss everything from gear news to advertising practices to musician unions and collective bargaining.
Like The Tone Mob and Mid-Riff, Get Offset features guests from across the industry, including musicians like Rock n Roll Hall of Fame nominated Go-Gos bassist Kathy Valentine and music instrument industry insiders like BIG EAR Pedals.
The Gear Slum
Originally started as a parody of 60 Cycle Hum, The Gear Slum is more loosely defined as a gear podcast than any other publication on this list. Friends Aaron Abubo, Cole Duke, and Phil Eisenhower joke about everything from early '00s nu-metal to Tubescreamers.
A highlight of the show is the regular games they play on air, including one where Cole and Aaron attempt to guess the name of a pedal from the description in a negative Amazon review as read (in character) by Phil.
The Truth About Vintage Amps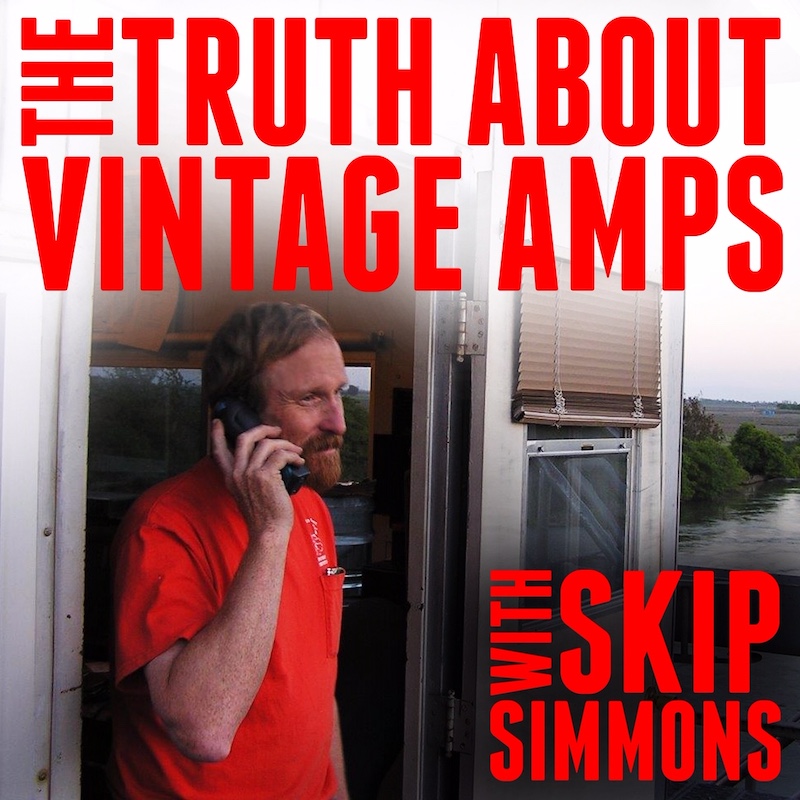 The Truth About Vintage Amps belongs to the family of podcasts produced by The Fretboard Journal and features publisher Jason Verlinde and amp guru Skip Simmons. Once a month, the two join each other on the phone to discuss everything from troubleshooting amplifiers to shopping tips when looking at vintage amps.
Chasing Tone
Chasing Tone 85
With over 300 episodes released since 2014, the Brian Wampler podcast Chasing Tone is one of the original gear podcasts before there were dozens of active 'casts to choose from. Now co-hosted with Blake Wyland of The Tone Mob, Chasing Tone covers a rich mix of gear news, tips for players and pedal aficionados, and other chats that sometimes feature other Wampler employees.
---
Do you have a favorite guitar podcast that didn't make this list? Let us know in the comments!
Oops, looks like you forgot something. Please check the fields highlighted in red.