This week's finds are a few deal-discoveries, all in the realm of synthesizers. We went through virtually all of our synth listings, looking for the finest synths at the best prices, and nicest of all, each listing is open to offers.
Take a peek at what we gathered and act fast because it may already be in someone's cart already.
Erica Synths Pico System III
It's nice to celebrate when modular deals offer access-to-entry for individuals who might otherwise be put off by the cost of the niche hobby, like this desktop version of the Erica Synths Pico System III.
This is technically a semi-modular unit with a unique approach to using memory cards to load patch presets. For the price of many mid-grade modules, you get a complete system that includes two VCOs, a sequencer, a VCA module, mixers, modulation sources, envelope generators, lowpass gates, and BBD delays. This unit sells for $549 new, but Reverb seller A's Gear Emporium has a listing for $475 in mint condition with all the patch cards.
Korg Prologue 8
Prologue 8 is an eight-voice polyphonic analog synth and is quite the big leap ahead in power compared to its younger sibling, the Minilogue. It has two analog VCOs, a digital FM engine as a third VCO. It also has a pretty deep effects section, and a four-octave arpeggiator. A unit like this is usually priced at $1,000 or more, but Reverb seller Joe's Synths And Gear has this bargain listed in excellent condition for only $825.
Teenage Engineering OP-1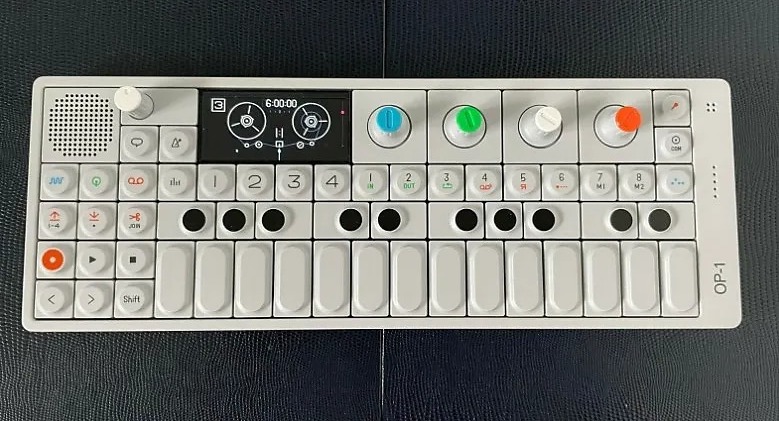 Asking prices for these usually sit around $1,000, but if you keep your eyes out—and keep it in your Feed—you'll be able to find better deals. This listing is rated in good shape and comes with the case and accessories too. The OP-1 is the most popular synthesizers on our site, and don't just take our word for it; month after month, it's at the top of our best-selling synths chart. And rightfully so,it's a battery-powered, all-in-one portable synthesizer with eight sound engines, a four-track reel to reel sequence recorder, drum sampler, effects, and even an FM radio.
Moog Minitaur Analog Bass Synthesizer
The Minitaur is Moog's modern take on their classic Taurus analog bass synthesizer. With a dual oscillator and the classic Moog ladder filter, it's a compact subharmonic synth that blends in perfectly with any live performance or hybrid approach. There's also a free patch editing program available at Moog that you can download and it has patch memory for loading and saving up to 128 patches. This limited edition white version is one of only 250 ever made, making this quite the find. And did we mention, the seller is open to offers!
Roland Juno 106
With all the commotion surrounding the new all digital Juno-X by Roland, it's worth noting that we have a wide range of original Junos for sale. Some are less expensive than others as some have been serviced over the years and others in good enough condition to serve a new user well. One of the best Juno-106 deals right now is this listing. According to the seller it has minor cosmetic damage and a couple of knobs are missing, but that's a relatively simple repair.
Alternatively, Synth Tailor Repair offers a completely refurbished Juno for about $2,300. According to the listing, the VCF and VCA have been completely replaced along with all new faders and knobs. Plus a list of other upgrades, and judging by their ratings, they're a restorative synth shop that's worth taking the gamble on.