Born This Way, Pinterest, the iPhone... 4S—these are just a few of the OP-1's peers, all celebrating 10 years in 2021. Some are aging better than others, but Teenage Engineering's quirky, lovable, and eminently useful synth-sampler is chief among them.
Derided by critics as an expensive toy or the type of music tech only a hipster could love, the OP-1 has instead remained a fixture in modern music-making. It outlived the hype, the backlash, the stalled production, the relaunch and price hike, the re-hype, the re-backlash, and somewhere in the middle there, it even outlasted the use of the word "hipster" as a pejorative, for the most part.
Officially released in April 2011, the OP-1 is Teenage Engineering's debut product. It was an instant success and has continued to be near the top or at the very top of Reverb's annual best-selling synths lists. (In 2016, it was No. 4. Four years later, it was No. 1.) Not bad for a first try.
---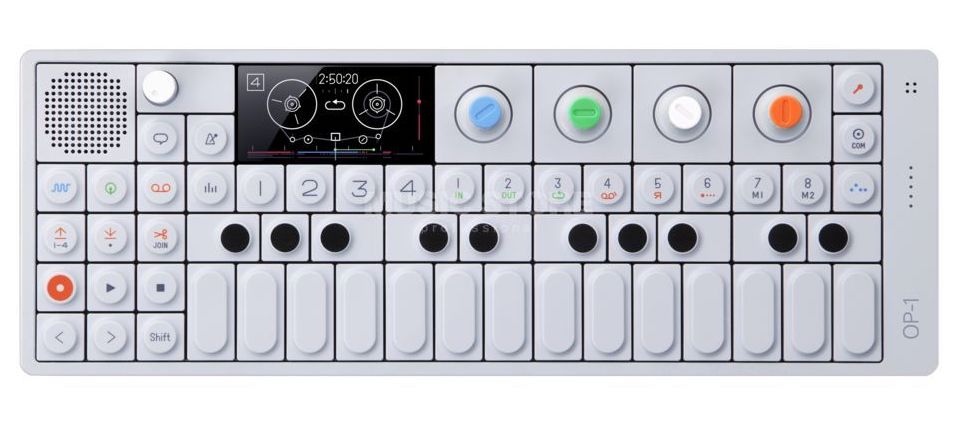 ---
You might hear some fans call the OP-1 a do-it-all instrument because it has multiple synth engines, a sampler, a sequencer, and effects built in. But that doesn't really capture the appeal. Yes, the OP-1 packs those features into a small, portable enclosure, but if that's what you're looking for, there are more powerful do-it-all machines that can fit in a backpack too.
The Akai MPC Live or MPC One series workstations can be found for much lower prices than the OP-1, and their sampling and sequencing capabilities are much more substantial. You could spend just a few hundred dollars total and get a great modern groovebox from Korg, Roland, or Novation. Or you could load up an iPad with VSTs and buy yourself a lot of nice meals with the savings.
So why do people gravitate to the OP-1: Is it just a cool-looking design? An Instagram status symbol? Have the critics been right all along?
Of course not. The appeal of the OP-1 lies not just in its size or its specs. It's a musical device in the truest sense of the word: It's designed to be inspiring, no matter how you use it. It's easy to use right away but sophisticated enough that you can dive deeper into it with time.
And while it has many limitations compared to other synths, samplers, or workstations, the way it combines these functions is like a Swiss Army Knife. Yes, there are lots of individual knives better-suited to different purposes and even more elaborate multi-tools if you're interested in gearing up, but throw a Swiss Army Knife in your bag and you've got most situations covered in a pinch.
The OP-1's limitations are in fact some of its greatest strengths. To take just one example: the built-in 4-track recorder. Like the analog tape machines it's modeled after, the OP-1's 4-track is very limited. You can bounce some tracks down into one to give yourself a bit more room, but no matter how you slice it, this isn't a DAW-like workflow.
But just as those analog 4-tracks are still enduringly popular because they offer a distraction-free, tactile way to get musical thoughts down, the OP-1 too can be a kind of journal and sketch pad for songwriting and compositional inspiration.
This is perhaps where the OP-1 really shines, not solely on its own, but as the travel- and/or couch-friendly wing of your recording setup. You can sample your voice, other instruments, or the built-in radio, flesh out ideas, build the foundation of a beat, and then transfer the audio when you're ready for next-level processing, which is exactly how well-established artists from Tame Impala to Mike Dean have put it to expert use.
In honor of the OP-1's 10th birthday, Teenage Engineering has dropped the price of brand-new models from $1299 USD to $1121 (referencing the years 2011 and 2021). It's unclear how long that price drop will last—so if you're at all interested in buying one yourself, there may not be a better time than now.
Shop new and used Teenage Engineering OP-1s on Reverb.