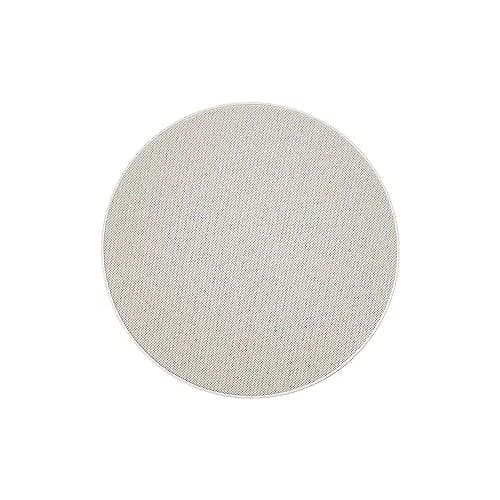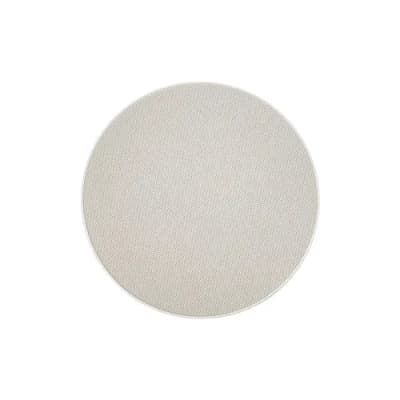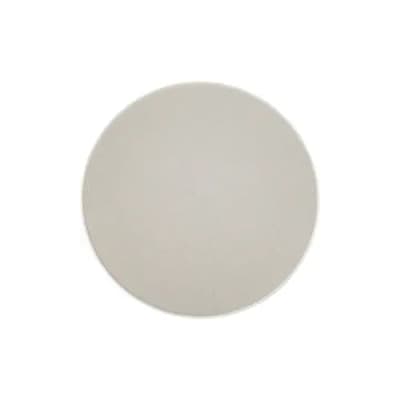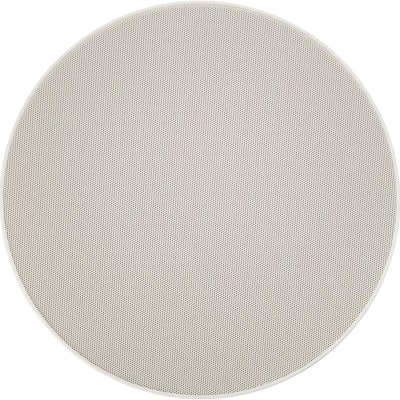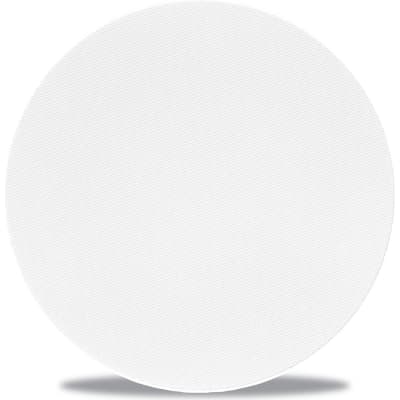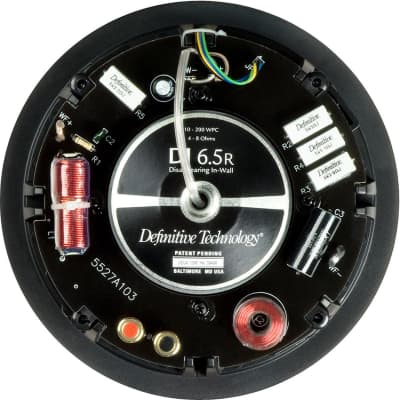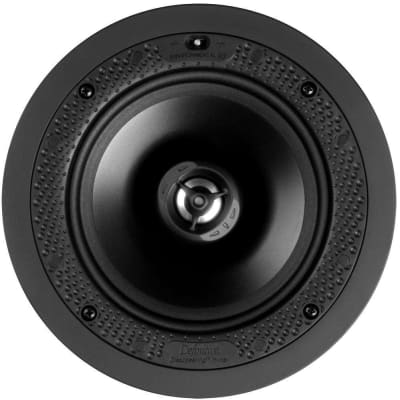 Definitive Technology DI 6.5R
In-ceiling speaker
Experience smooth, dynamic sound without giving up an inch of floor space. Definitive Technology's DI 6.5R speaker installs flush in your ceiling. With its paintable, low-profile grille and hidden flange, it's practically invisible.
The DI 6.5R pairs a pivoting 1" aluminum tweeter with a 6-1/2" driver for precise highs, full-bodied bass, and impressive dynamic range. The pivoting tweeter allows you to aim the sound directly towards your listening area, so you can fine-tune your system's sound.
Product Highlights
- frequency response 26-30,000 Hz (±3dB)
- 1" pivoting Pure Aluminum dome tweeter
- 6-1/2" woofer
- Disappearing™ In-ceiling speaker design, including hidden flange and low-profile grille
- handles up to 200 watts
- sensitivity 90 dB
- impedance: 4-8 ohms
- paintable white matte grille
- cutout dimensions: 7-1/4" diameter
- mounting depth: 3-1/16"
- warranty: 5 years
What's in the box
- 6.5" Round in-ceiling speaker
- White grille (paintable)
- Four mounting screws (installed)
- Cut-out template
- Owner's Manual
- Online Product Registration card
Product Research
Overview
The Definitive Technology Disappearing In-Wall loudspeaker (DI Series) offers high-quality sound from a speaker that is barely visible when installed in a wall or ceiling. The Definitive DI Series incorporates a BDSS driver, pivoting tweeter, and integrated flanges behind an unobtrusive grille to provide audiophile-grade sound quality with an almost invisible appearance. The DI 6.5R is a mere 8-5/16" (21.04cm) in total visible diameter, which is about the same size as competing 5-1/4" in-wall/in-ceiling models.
Features
Disappearing In-Wall Design
The DI 6.5R features Definitive Technology's Disappearing In-Wall Design. The mounting flange thickness of the in-wall/in-ceiling loudspeaker is no more than 2.5mm (0.099") and is completely covered by the grille that stands a mere 3.5mm (approx 0.125") from the wall surface. The grille is "micro-perf", that while presenting an opaque appearance, actually has more open area than typical perforated metal grilles allowing the sound to pass through with less interference and better fidelity. Behind the metal grille is an acoustically transparent proprietary cloth scrim that effectively blacks the dark "shadow" of the black speaker parts from showing through the grille.
Pivoting Aluminum Dome Tweeter with Waveguide
The DI Series in-wall/in-ceiling loudspeaker uses Definitive Technology's proprietary ceramic-coated annealed aluminum 1" dome tweeter. The DI 6.5R tweeter is post mounted, and the tweeter housing is specially smoothed and shaped to use it as an extremely effective low-diffraction waveguide. The aluminum dome tweeter features a pivoting design which allows you to focus the sound toward or away from your listening area depending on the application.
BDSS Drivers
The DI 6.5R uses a 6.5" BDSS driver for wide-bandwidth accurate frequency response, broad dispersion, low distortion, and maximum detail retrieval. The 6.5" BDSS driver cone is supported by specially tuned soft rubber surrounds at both the outer and inner edges. The double surrounds allow the cone to have longer excursion without distortion. As bass output is a function of both a cone's diameter and excursion, the higher excursion BDSS system brings the benefit of higher bass output from smaller drivers. The DI 6.5R's 6.5" BDSS driver has the bass output and dynamic range of a typical 8" driver.
Linkwitz-Riley Crossover Network
The Definitive Technology DI 6.5R's second order (12dB/octave) Linkwitz-Riley crossover offers a smooth frequency and phase transition from driver to tweeter for natural midrange response and excellent off-axis performance. A Zobel network flattens the impedance curve of the speaker making it easier for today's digital amplifiers to drive the speakers. Custom tight-tolerance (+/- 5%) components are used throughout the crossover for superb unit-to-unit performance consistency. Superior metal film capacitors are used in the high-pass section and the Zobel network for extended high frequency response. Oversize inductors (coils) avoid saturation thereby maintaining the wide dynamic range capabilities of the driver.
Environmental EQ
The Environmental EQ switch (on top-frame of speaker) provides a 1dB broad bandwidth tweeter output lift or cut to compensate for highly absorptive or reflective acoustic environments.
AeroRing
The dimpled AeroRing is soft Sanoprene rubber and serves several important functions. First, it damps the basket/flange assembly nearest its thinnest part (the flange) to prevent resonance. Second it prevents the grille from rattling in the unlikely event that it makes contact with the speaker frame. It also provides a smooth transition for the waveform coming off the cone. Similar to the dimples on a golf ball that reduce turbulence to aid in longer flight, the dimples on the AeroRing promote smooth "laminar" air flow over the surface thereby reducing diffraction effects. The DI Series in-wall/in-ceiling loudspeakers sound clear, natural, and disperse their sound over a wide area.
PolyStone Basket
The driver basket, mounting flange, and mounting system of the DI 6.5R is one piece of cast PolyStone; Definitive's exclusive formulation of polymers and minerals that combine the rigidity and strength of metal with the resonance damping properties of plastics. As a result of the one-piece mounting system, the DI 6.5R offers increased strength, a compact size, and maximized cone area. Besides being more space efficient than multi-piece construction, it also contributes to the superior sound quality of the DI Series speakers.
Connections
The DI 6.5R features a pair of heavy-duty, gold-plated, spring-loaded wire terminals that have oversized holes to accept up to 10 gauge wire.
Definitive's GaussGrip System
Definitive's GaussGrip system securely holds the grille of the in-wall/in-ceiling loudspeaker in place with powerful magnets. Simply lay the grille over the speaker and its secure. Taking off the grille is just as easy and fast; no special tools that can chip the grille paint are required. All you need to remove the grille is your fingers.
Paintable Grille
The DI Series in-wall/in-ceiling loudspeaker's white "micro-perf" cloth grille can be spray painted to match the color of your wall or ceiling without any loss of sound quality. Simply remove the grille from the speaker and place it on a drop cloth, newspaper, or plastic sheet and spray paint it with canned spray paint that closely matches the desired finish/color; or with indoor latex paint using an airbrush or spray gun (available at home improvement stores). The paint must be diluted to a 6:1 ratio of latex paint to water. Do not remove the backing cloth (scrim). Apply the paint in a series of thin coats sprayed at 45-60 degrees from the grille surface, allowing each coat to fully cure before applying additional coats. To ensure that the paint distribution is evenly applied, each coat should be applied from 4 different directions (N,S,E, & W) to ensure an even coverage on the grille.
Note: The grille must be spray painted detached from the speaker. Do not paint the grille with a brush or roller.
Mounting Options
Applications
The DI 6.5R can be used as a pair of stereo speakers for your music or as a pair of front and surround speakers in your home theater system.
Mounting
The DI 6.5R can be mounted in-ceiling using the integrated rotating clamps and four mounting screws, or using an optional pre-construction bracket (73565RRIK, sold separately). A cutout template is supplied to help you cut a 7-1/4" diameter hole. You will need to allow at least 1/2" of space around the cutout and have at least 3-1/16" of clearance for mounting depth (using 1/2" thick mounting surface). You should allow at least 7/8" from the edge of the cutout to nearest obstruction inside the mounting surface.
Condition
Brand New (New)

Brand New items are sold by an authorized dealer or original builder and include all original packaging.

learn more

Brand
Model
Categories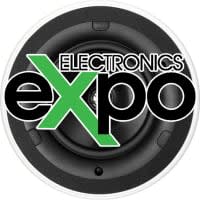 Fairfield, NJ, United States