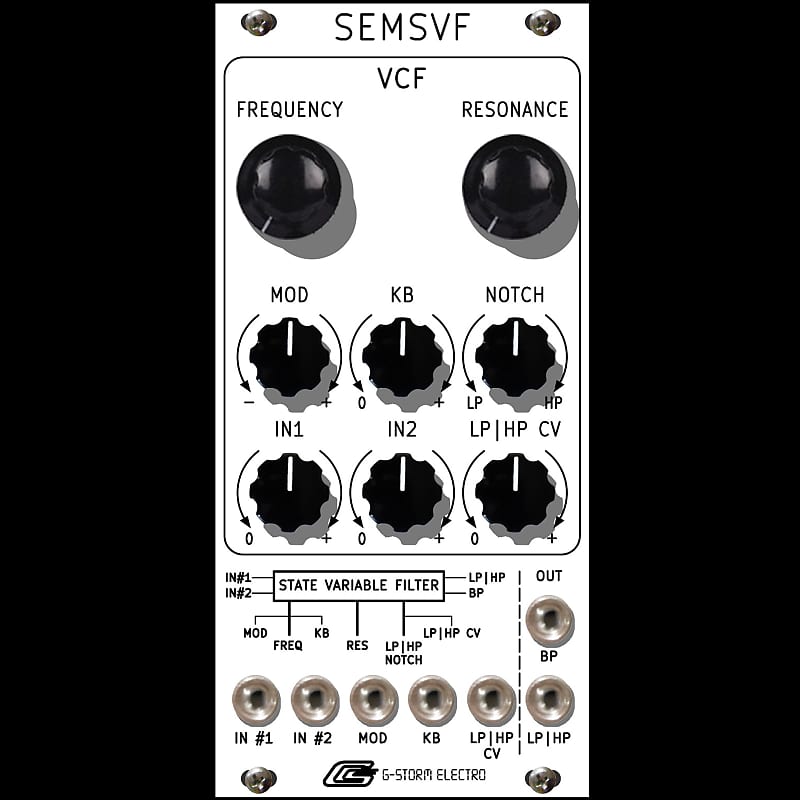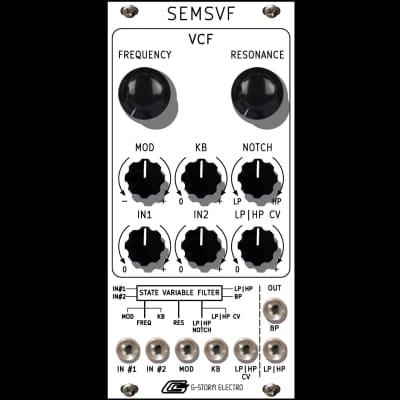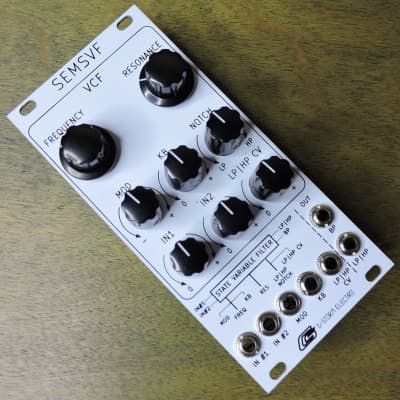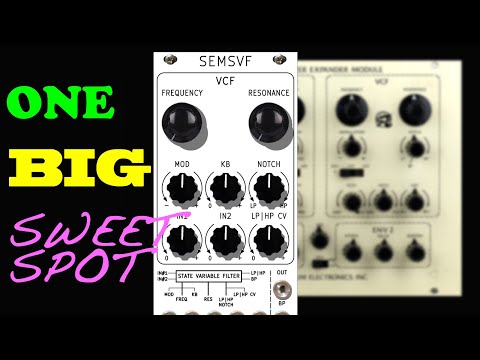 SEMSVF is a Eurorack tribute adaptation of the Oberheim SEM State Variable Filter in 12HP. Each module being meticulously handmade in limited quantities, with a sound to die for and a look paying homage to an icon.
SEMSVF is the king of 3080 OTA filter designs. A characteristic resonance feedback circuit and accept-no-substitutes obsolete NOS FETS at each stage yields an absolute creamy and silky filter response. LP/HP and BP outputs. A pair of signal inputs with mix pots. That frequency MOD input with signal inverting. That LP/HP/Notch mix sweep control that is CV modulated! You're welcome.
FREQUENCY | the initial Cutoff Frequency of the filter
RESONANCE | the depth of the peak frequency resonant feedback.Res will not self-oscillate without an input signal present.
IN#1 & IN#2 | Mix together 2 different audio signals, each w/ their own mix pot.
MOD | Modulate the Cutoff Frequency w/ any polar/bi-polar signal. At 12 o'clock, the pot has no modulation. In the Counter-Clockwise direction it can invert the incoming control signal.
KB | Modulate the Cutoff Frequency w/ a V/oct signal or any other polar/bi-polar mod. Self-oscillation resonance will track v/oct when KB is set to 100%.
NOTCH | Sweep the response from Lowpass, through Notch, to Highpass on the LP|HP Output.
LP|HP CV | Use external modulation to control the mix of the LP|HP|Notch. The LP|HP CV knob amount is summed with the NOTCH knob (initial mix setting) above it.
LP|HP OUT | the audio output jack of the LP|HP|Notch filter tap.
BP OUT | the audio output jack of the BP filter tap.

Includes a 10-pin to 16-pin Eurorack ribbon connector. M2.5 or M3 (Doepfer standard) Phillips-head basic zinc rack screws are only provided on special request. Why do I do this? To cut down on rack screws that are wasted in the universe. What's it gotta be? Thousands? Hundreds of thousands? Unused, unwanted. You know the ones I mean | wrong size, wrong color, cheap junk tin, top slot-stripping, rack-rashers, wrong thread count, wrong length, wrong political party, etc. I use thumb screws in 2 sizes myself. So yeah, if you request some M3's from me, I will probably pull the ones from other companies boxes in my closet. You're welcome :D

12HP Module width
24 mm Module depth
26 mA on +12V
28 mA on -12V
0ma on 5V (not used)
The SEMSVF pairs well with:
GSE 101-VCO v2 3340 Oscillator, Delay like Happy Nerding FX Aid, LFO like XAOC Batumi, Sample-And-Hold like Pittsburgh Modular Toolbox
"Fresh squeezed, all natural and 100% juicy AF." –Rick R.
"i love a good filter sweep with that resonance. so good!" –Dungeonmaster
"i'm convinced!" –Brett L.
"HOOOOOOOOLY SH#T, DUDE!! This filter sound INCREDIBLE!!" –Jay G.
Condition
Brand New (New)

Brand New items are sold by an authorized dealer or original builder and include all original packaging.

learn more

Brand
Model
Categories
Made In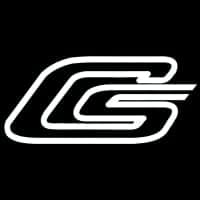 Oklahoma City, OK, United States