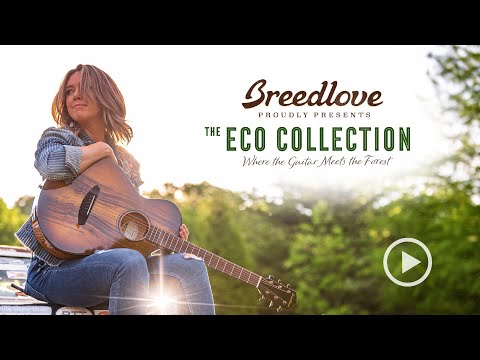 Breedlove Rainforest S Concert CE, Midnight Blue, Support Indie Music Shops, We Ship Fast!
Serial Number: CC220611537
Weight: 4.84 lbs
Here at Capital City Guitars, we see a lot of acoustic guitars. But nothing turns heads quite like the Breedlove ECO Rainforest S Concert CE! The solid African mahogany top receives a unique pore filling treatment before being stained and sealed. The same method is applied to the incredibly resonant mahogany EcoTonewood back and sides. The result is an instrument of phenomenal beauty with a magical tone that dazzles the ears. Sit down with the ECO Rainforest S Concert CE and you'll be rewarded with effortless playability, courtesy of a slim mahogany neck and an ovangkol fingerboard. When rehearsals are wrapped and you're ready to take the stage, plug into the onboard Fishman Presys I electronics for outstanding sound. Whatever style of music you play, you can count on the Breedlove ECO Rainforest S Concert CE's awesome tone to inspire you to play your best.
African mahogany delivers spectacular warmth and sustain
For decades, mahogany-bodied guitars have held a prominent place in music, thanks to the unique sound they produce. The Breedlove ECO Rainforest S boasts an all-mahogany construction and comes equipped with a solid African mahogany top for superior note definition and projection. Mahogany EcoTonewood back and sides contribute a midrange warmth and resonance that's ideal for accompanying singers. The African mahogany body and neck deliver a level of warmth and sustain that's hard to find elsewhere. Sweetwater Sales Engineers frequently recommend the Breedlove ECO Rainforest S CE for singer/songwriters, folk players, and studio applications.
Sustainably harvested tonewoods protect our forests
For years, Breedlove has envisioned a world in which high-quality acoustic guitars can be made without stripping the world of its scarce tonewood resources. Starting in 2021, that vision has become a reality. Breedlove's team of lumber experts works closely with responsible suppliers and local communities to individually select and sustainably harvest top-tier tonewoods. Players who value sustainability will appreciate that the Breedlove ECO Rainforest S Concert CE has made no lasting impact to our planet's health. In fact, Capital City Guitars and Breedlove believe that the ECO Rainforest S Concert CE will spark a paradigm shift among major guitar manufacturers to protect our invaluable forests and ensure that the acoustic guitar will endure for generations to come.
Creating the next generation of acoustic guitars
Building a sustainably sourced yet budget-friendly acoustic guitar isn't without its unique challenges. However, Breedlove has risen to the occasion in a way that few else could. In fact, the designers at Breedlove have changed the very fabric of the modern acoustic guitar with their revolutionary EcoTonewood backs and sides. EcoTonewood isn't some synthetic material to replace tonewoods; it's exactly the opposite. It's a laminate material featuring two stunning outer tonewood plies with a center ply of African mahogany for added resonance that few other laminate guitars can match. But why is this such a big deal?
Most of today's guitar manufacturers use a 3-ply laminate or layer system for their more affordable models. The structure most often has two tonewood outer plies laminated over with an inexpensive softwood core. While this construction method cuts costs and delivers a solid acoustic guitar to the customer, a softwood core can stifle extra resonance and lessen the overall tonality. That's where Breedlove's EcoTonewood is different. By using African mahogany as the inner ply, the guitar can live up to its true potential with a vibrant, full-bodied tone. Stop by Capital City Guitar's and play a Breedlove guitar with EcoTonewood back and sides and experience the results for yourself.
Breedlove: guitars you can feel good about
From the company's beginning in 1990, Breedlove has focused a lot of their efforts on offsetting their impact on the planet without compromising the quality of their instruments. Their radical approach to sustainability led Breedlove to create their Tonewood Certification Program and commit to visiting the locations where their timber is harvested to ensure that their sustainability standards are met. The company has introduced player-centered innovations, including top-loading bridges, fine-tuned voicings, and unique neck profiles. From the Discovery to the Legacy, each and every Breedlove is made with an uncompromising dedication to quality sound, flawless workmanship, and complete environmental sustainability. Buying a Breedlove is much more than purchasing a top-notch acoustic guitar — it's buying a guitar that you can feel good about.
Breedlove ECO Rainforest S Concert CE Acoustic-electric Guitar Features:
Acoustic-electric guitar for performing and recording
Solid mahogany top provides projection and sustain
Mahogany EcoTonewood back and sides deliver a solid tonal foundation
Fishman Presys I electronics create a stage-ready sound
Sustainably sourced tonewoods reduce environmental impact
Pinless bridge makes string changes easier than ever
Unique finish entraps the eye
About Capital City Guitars:
We are a small brick and mortar music store, we take pride in earning the respect of our customers. We specialize in safe secure worldwide shipping. Thanks for looking at our items. We always give things a final inspection and going over before shipping. Need anything? Just ask! Contact us directly on our website or call the shop Tues-Sat 11am-6pm PST🎸 😎Thanks,
Capital City Guitars
(360) 956-7097
108 4th Ave. E
Olympia, WA 98501
Condition
Brand New (New)

Brand New items are sold by an authorized dealer or original builder and include all original packaging.

learn more

Brand
Model
Finish
Categories
Year
Finish Style
Right / Left Handed
Number of Strings
Neck Material
Wood Top Style
Body Shape
Top Material
Back Material
On-board Electronics
Sides Material
Number of Frets
Olympia, WA, United States