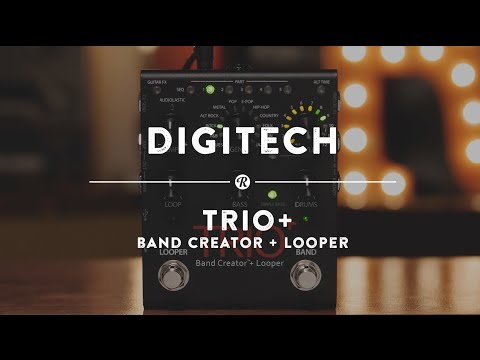 In great condition, works perfectly.

Comes with original box.


The Digitech Trio is one of the best selling pedals we have ever had the pleasure of selling. What it does is listen a chord progression and comes up with a backing track containing bass and drums. This makes it an incredible practice and writing tool as you can focus on what you are playing and how it interacts in a band. Now they have added some new features with the Trio+ including SD storage and a synchronized looper!
Form A Trio
If you have played around with the Digitech Trio you know what to expect from the Trio+. While it is a bit bigger with a fair few new features the core Trio band creator is still there in full force. Just get it in to record mode and record the chords you want the band to follow. So simple to get the sound of a bassist and drummer through your amp with great consistency.
Looper
One of the biggest features that people asked for was the addition of a looper as this would allow them to layer guitar parts on top of the band. That...is exactly what they did. Synchronised to the beat of the drums the looper perfectly works in tandem with the Trio and makes sure that you don't fall out of time with a slightly longer loop on one side than the other.
SD Card Expansion
So this mainly makes use of the looping function. Through an 8GB micro SD card you can store up to 12 tracks with loops to play over. They have even included a memory card in the box so you can get creating and recording these songs for practice or even live performance instantly.
Here's what Digitech say about the Trio+
Like the original TRIO, the TRIO+ listens to what is played and automatically generates bass and drum accompaniments that match the player's rhythmic feel and chord progressions. Users simply plug a guitar into the TRIO+, select the preferred genre, press the footswitch to teach the TRIO+ the chords and rhythm, then press the footswitch again to start playing with a customized
"The TRIO+ is borne entirely out of demands from the market after the TRIO was first introduced. We compiled a list of the top five most requested features and made them the priority for TRIO+ and I'm proud to say that we've incorporated all five into this irresistible new product. The new pedal includes a built-in synced looper, SD Memory Card expansion, and we've added an FX loop that provides improved operation with existing pedals," said Tom Cram, Marketing Manager, DigiTech. "Now, one musician can sound like a full band with one TRIO+ pedal. For solo artists, it adds a whole new dimension to their creativity and performance. This is a great tool for any musician who wants to write, practice or jam out with some excellent, always-ready accompaniment."
The DigiTech TRIO+ provides 12 musical genres to choose from including Rock, Pop, Country, Folk, Metal, Blues, R&B, Hip Hop, Latin, and Jazz. Up to 12 song styles are available for each genre and the player can select between 4/4 and 3/4 time signatures. The TRIO+ can learn up to five different song parts- verse, chorus and bridge, for example-which can then be recalled on the fly as the song plays back. Each part has the capability to be programmed for higher intensity, perfect for adding song dynamics when going into choruses and bridges.
The TRIO+ offers total control over the virtual band's performance. In addition to its Genre and Style selector knobs, the TRIO+'s Bass and Drums controls provide volume adjustment for both instruments and the Tempo knob locks in the groove. A Simple Bass button has been added and, when selected, this will force the TRIO+ to play a simplified bass line.
The Loop control adjusts the level of your recorded loop and overdubs in the mix. An integrated Micro SD card slot allows for up to 12 songs with loops to be stored to an included 8GB Micro SD card that can be connected via the guitar amplifier input and removed, as needed.
The Alt Time button selects an alternate half time or double time setting for each song part. The TRIO+ even provides a selection of built-in effects for your guitar that vary according to the genre selected, letting users play in a power trio, jazz trio or other ensemble at the touch of a button.
The TRIO+ can be connected to a guitar amp or directly into a mixer for use with a PA system. A headphone jack with level control is also included. An optional DigiTech FS3X footswitch can be connected to the TRIO+ for hands-free selection of song parts and styles. The TRIO+ comes with a power supply and its rugged, stage-worthy metal enclosure ensures reliable operation gig after gig.
Listed
3 months ago
Condition
Very Good (Used)

Very Good items may show a few slight marks or scratches but are fully functional and in overall great shape.

learn more

Brand
Model

TRIO Plus Band Creator + Looper

Categories