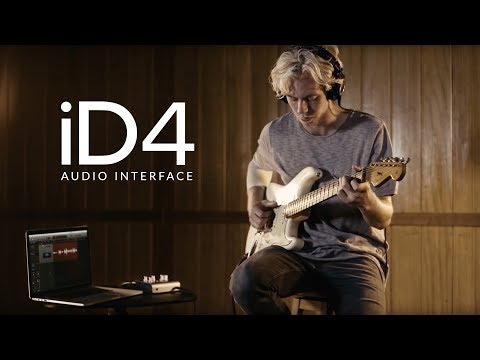 Description:
iD4 delivers the audio performance of a large format console in a portable desktop package enabling you to record your vocals and guitar simultaneously. Providing one renowned Audient console mic pre, class-leading converter technology, dual headphone outputs, console style monitor control, JFET D.I and our virtual scroll wheel technology 'ScrollControl', iD4 is a professional but affordable solution for your home studio or for when you're on the road.
We are the only company that use the same Class-A mic pre design throughout our entire product range, whether you're in the studio with an Audient console or on the road with iD4, you're always guaranteed the same world class Audient sound.
iD4 provides you with high performance AD-DA converters. Quality in the analogue stages of design comes from years of experience as analogue console designers, and when coupled with outstanding converter technology it enables you to hear audio as it's supposed to sound. The importance of converters should never be underestimated. Experience audio the Audient way.
The virtual scroll wheel
With a touch of a button iD4's volume encoder becomes a virtual scroll wheel, enabling you to adjust DAW hosts, plug-in parameters and even scroll through your iTunes library - just like you're adjusting a piece of hardware. Wherever your mouse pointer hovers, the iD knob can scroll to control! And when you're not using ScrollControl, pressing iD4's volume encoder activates DIM, enabling you to quickly reduce the playback volume.
iD4 has a harmonically rich JFET D.I input. Designed to replicate the input stage of a classic valve amplifier, you can plug your guitar, bass, keyboard or drum machine straight in and start recording instantly. Get professional quality recordings from the start and take your track to the next level.
Headphone mixes with clarity
Recording an acoustic guitar and vocal? iD4's Monitor Pan feature enables you to pan both the mic pre input and D.I input from left to right, making it easy for you to create a balanced headphone mix that suits you. Quickly plug in, set up a headphone mix and starting tracking instantly, perfect for singer songwriters & producers on the go and getting the clarity you need when tracking.
Record with confidence
iD4's Monitor Mix feature lets you monitor a blend of both iD4's inputs and your DAW playback, providing near zero latency monitoring while recording. Designed with creativity in mind, Monitor Mix allows you to quickly blend in your DAW playback and start recording along to your multitrack instantly, enabling you to focus on the music and lay down your track effortlessly.
Dual Headphone Outputs
Featuring a dual headphone output, iD4 enables you to collaborate with your friends and other artists. Whether you're recording a guitar and a vocal, or just listening to music together, iD4 lets you plug in two sets of headphones, making it the perfect tool for jamming with your friends and capturing creativity as it happens. The dual headphone output also has both a jack and mini jack output, so no more need to carry around a pesky headphone adaptor!
iOS Compatible
iD4 supports iOS compatibility which means recording on the go is easier than ever. Watch the video to see just how easy it is to set up iD4 with an iOS device. All you need is a Camera Adapter Kit and a Powered USB Hub and you're ready to start recording anywhere.
Built to Last
iD4 has been designed to last, from its all-metal construction, hand finished aluminium knobs and high grade component selection, iD4 will stand up to countless late nights in the studio and days on the road.
Specifications:
2-in/2-out USB Audio Interface
1 x Class-A Audient Console Mic Preamplifier
1 x Discrete JFET Instrument Input
High Performance Converters
iD ScrollControl Mode
Zero Latency Monitoring with Monitor Mix & Pan
Main Speaker Output
Class-AB Headphone Amplifier with Dual Outputs
Monitor Control Functionality
0 Bus Powered
24bit/96khz
All-Metal Enclosure
Windows, macOS and iOS compatible
Over £500 worth of plugins and software with ARC
Microphone Preamplifier:
MIC GAIN: 0 to 58 dB
LINE GAIN: -10 to 48 dB (-10dB hardwired line pad)
PHANTOM POWER: 48V ±4V @ 10mA/Channel
MIC EIN: <-126.0 dBu
CMRR: >75 dB @ 1kHz
MAXIMUM INPUT LEVEL: +12 dBu (0 dBFS digital Maximum)
INPUT IMPEDANCE (Mic): 2.8 kΩ Balanced
INPUT IMPEDANCE (Line): >8kΩ Balanced
FREQUENCY RESPONSE: ±0.1 dB 20Hz to 22kHz @ min. gain
±1.0 dB 20Hz to 22kHz @ max. gain
CROSSTALK: <-91 dBu
THD+N @ 0dBu (1kHz): 0.0015% (-96.5dBu)
SNR: 96 dB un-weighted, 99 dB A-weighted
XLR Combi Female: Pin 2 (Hot), Pin 3 (Cold) & Pin 1 (Shield)
1/4" TRS Jack: Tip (Hot), Ring (Cold) & Sleeve (Shield)
D.I (Channel 1):
I GAIN: -5 to 35 dB
MAXIMUM INPUT LEVEL: +8 dBu (0.6% THD typical)
INPUT IMPEDANCE: >500kΩ Unbalanced
FREQUENCY RESPONSE: ±0.1 dB 20Hz to 22kHz
THD+N @ 0dBu (1kHz): <0.1% all musical 2nd and 3rd harmonics
Typically 0.05% at 0dBu
SNR: 87 dB un-weighted, 90dB A-weighted
1/4" JACK: TIP (Hot) & SLEEVE (Shield)
Analogue To Digital Converter (Adc 1 & 2):
MAXIMUM INPUT LEVEL: +12 dBu (0 dBFS digital maximum)
DIGITAL REFERENCE LEVEL: +12 dBu = 0 dBFS
FREQUENCY RESPONSE: ±0.1 dB 10Hz to Fs/2 (flat to nyquist)
CROSSTALK: -100 dBu @ 1kHz & 10kHz
THD+N @ -1dBFS (1kHz): <0.001% (-100 dB)
THD+N @ -6dBFS (1kHz): <0.0011% (-99.1 dB)
Digital To Analogue Converter (Dac 1&2):
MAXIMUM OUTPUT LEVEL: +12 dBu (0dBFS digital maximum)
DIGITAL REFERENCE LEVEL: +12 dBu = 0 dBFS
VOLTAGE GAIN: +6 dB (optimised for loudness)
OUTPUT IMPEDANCE: <30 Ω Balanced
FREQUENCY RESPONSE: ±1.0 dB 10Hz to Fs/2 (load dependant)
CROSSTALK: -98 dBu @ 1kHz & 10kHz
THD+N @ -1dBFS (1kHz): <0.0012% (-98.4 dB)
MAX LEVEL INTO 30ohms: +3 dBu, 0.008% THD+N, Power: 80mW
MAX LEVEL INTO 60ohms: +6 dBu, 0.005% THD+N, Power: 80mW
MAX LEVEL INTO 600ohms: +12 dBu, 0.0025% THD+N, Power: 31mW
1/4" TRS JACK: TIP (Left), RING (Right) & SLEEVE (Shield)
1/8" MINI JACK: TIP (Left), RING (Right) & SLEEVE (Shield)
USB 2.0 High Speed:
BUS POWER: 500mA @5V System Limit
420mA @5V Maximum (No 48V)
of INPUT CHANNELS: 2 (2 Analogue)
of OUTPUT CHANNELS: 2 (2 Analogue)
Compatibility:
macOS 10.7.5 and later
Windows 7 and later
iOS 6 and later
UPC: 888680890704
Condition
Brand New (New)

Brand New items are sold by an authorized dealer or original builder and include all original packaging.

learn more

Brand
Model

iD4 Desktop USB Audio Interface

Finish
Categories
Computer Connectivity
Sample Rate
Electronics
Compatibility
Format
Bus-Powered
Bit Depth
Simultaneous I/O
Number of Headphone Outputs
Number of MIDI Outputs
Number of MIDI Inputs
Number of Digital Outputs
Number of Digital Inputs
Number of Analog Outputs
Number of Analog Inputs
Number of Channels
Number of Mic Preamps
El Centro, CA, United States