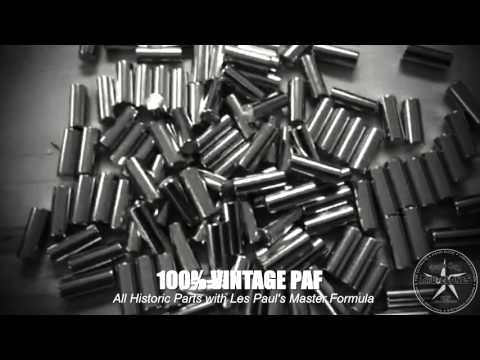 Own one like this?
Make room for new gear in minutes.
Sell Yours
THE TOM DOYLE TIME MACHINE #48 "SUPER PREMIUM" RELIC'D HISTORIC AGED CUSTOM SHOP '59 LES PAUL ~ IN SMOKEY LEMON BURST - AAA FLAMES - "THE ULTIMATE LES PAUL GUITAR EXPERIENCE" --- NEW/MINT RELIC MADE AT THE GIBSON CUSTOM SHOP IN 2018

So eye poppingly amazing... so much vintage vibe and sex appeal. The Mojo & Magic just jumps off this '59 Les Paul Burst. Like it's been played hard and loved for the last 60+ years, and it feels like your old familiar friend. Is this a REAL '59 Les Paul Burst worth Hundreds of Thousands of Dollars? No One Can Tell... No kidding! Weighs in at a ideal weight of 8 lbs. 3 ozs. We aged this one to perfection in our humble opinion. She has been completely upgraded and features our aged Doyle Coils TRU-CLONES PAF Humbuckers, and our '59 Holy Grail Harness, of course.... All new electronics - pots, caps, wires, switch, jack, pickups... EVERYTHING!


TOM DOYLE "TIME MACHINE" RELIC #48 "SUPER PREMIUM" HISTORIC AGED LES PAUL '59 REISSUE 2018 CUSTOM SHOP '59 Reissue in a gorgeous Vintage Smokey Lemon Burst…with absolutely ASTOUNDING AAA Vintage Flames. Featuring our Doyle Coils TRU-CLONES PAF Humbuckers '59 Holy Grail Harness with Real PIO BumbleBee Caps ~ Weighs in at under 8.2 lbs. It's just like a REAL Played '59 Burst… without the half million dollar price tag! Its NEW/MINT Relic'd and has such a rich deep Vintage Vibe… and now you can own her for yourself. We truly want a REAL player to own this beautiful guitar because it sounds, feels, and plays like a REAL BURST… no kidding! It should be owned by someone who will play it every day, not hang it on the wall. If you've dreamed of owning a REAL 1959 Les Paul Standard, then this one can be yours at nowhere near the price! Like everyone else that owns one of our TIME MACHINE Les Paul Aged Creations, you will be simply amazed and gob smacked by what a REAL Les Paul can sound like… it's absolutely game changing!
MADE BY TOM DOYLE… LES PAUL'S PERSONAL GUITAR MAN FOR OVER 45 YEARS
THIS IS YOUR CHANCE TO OWN PART OF THE ACTUAL LES PAUL LEGACY…
Every single part, piece, widget, screw, and molecule has been meticulously aged, relic'd, antiqued, and worn down… EVERYTHING! We do this not just for aesthetic reasons (although it does all look mighty cool), but to make the entire guitar "open up", resonate, vibrate, and sing. No razor blade checking here baby… it's all REAL actual hot/cold weather checking and spider cracking that releases this vintage monster from its "shell". The wood of the guitar comes alive, and our Doyle Coils PAF Humbucker pickups let you hear the very essence of the structure of the guitar itself… that's why old, played down, vintage Les Paul guitars sound so damn amazing, and why this one does too! It's just like a REAL Played '59 Burst… without the half million dollar price tag!
TOM DOYLE "TIME MACHINE" #48 "SUPER PREMIUM" RELIC HISTORIC AGED LES PAUL '59 REISSUE - 2018 Featuring our Doyle Coils TRU-CLONES PAF Humbuckers and Our '59 Holy Grail Harness with PIO Real Bumble Bee Caps... With Vintage Correct Aged Lifton Case
The next time you look at an Aged or Relic'd Les Paul… take a really good look. Have you ever seen or played first-hand what a real late 50's Model Les Paul Standard actually looks like when it's been played for almost 60 years? We have… more times than we could possibly count over the last 5 or 6 decades. When you see a "factory aged" Les Paul, ever notice how generally the only thing that seems to get aged is the top, and perhaps ever so slightly… the nickel hardware? Now compare that to a Real Vintage 1959 Les Paul Burst that has been played its whole life… a keen eye will quickly notice all the outrageous shortcomings of these so called "aged" guitars. TAKE NOTE OF THE REAL VINTAGE AGED FINISH CHECKING ON THE TOP... THIS IS NOT DONE WITH RAZOR BLADES, ETC... THIS IS ACTUAL NATURAL HOT/COLD AGING AND CHECKING.

When Tom Doyle and his team Vintage Age and Relic a Les Paul guitar, the ENTIRE guitar gets complete attention. Think about it for a moment… how could an almost 60 year old guitar have a weather checked top but then have brand new shiny volume and tone knobs with no "greening", perfectly clean finger indicators with no rust? How could the top be so old, but the hardware looks so clean and new? Why are the tuning keys brand new and not discolored, and the nickel housing not patina'd and rusted? How can the pearloid fret markers not be discolored? And for God's sake, how can all the plastics be fresh and clean, and crisp… right from the factory? We could go on and on… So again, take a really good look at these supposedly aged or relic'd (and very expensive) Les Paul guitars! Rather questionable in our humble opinion. Now... look at this!

Again, this is your chance to own part of the actual Les Paul Legacy… This is a one of a kind, hand done, one off, relic'd Custom Shop Historic '59 Les Paul… done by Les Paul's personal guitarman of over 45 years, Mr. Tom Doyle. ---- NO factory work here, no mill process, no assembly lines… each guitar is done individually, by hand. Even the case is an aged and relic'd vintage Lifton Case!

So… how and why do we know all of this? Well… if you haven't heard of Tom Doyle, then please go Google him… we'll wait :)

You see, Tom Doyle was Les Paul's personal guitar builder, repairman, restorer, soundman & engineer, co-inventor, fixer, and all around right hand man for over 45 years. Tom knows more about the Les Paul guitar than any other single human being on the planet… and that's putting it mildly. Tom was side by side with Les, "in the trenches" since the early 60's… working tirelessly and was dedicated to "The Master" his entire life. After Les would destroy a beautiful guitar in the quest for this sound or that, he would summarily bring it to Tom Doyle to fix, repair, restore, and even make it better than it was before Les applied his "handy work". By the late 60's and early 70's, the word got out that Tom Doyle was doing amazing things with Mr. Les Paul… and the guitar legends came running. Guys like Jimmy Page, Rick Derringer, Paul McCartney, Chet Atkins… and all of the "jazz guys" like Bucky Pizzarelli, Al Dimeola soon had Tom building, modding, and/or repairing their guitars too. Then in the 80's Tom was building and working on guitars for the likes of George Benson, Tommy James, Sting, Muddy Waters… and the list goes on and on. Tom became known worldwide as "The Luthier to the Stars". Not bad work, if you can get it!

So… why the history lesson? We want you to know what you are looking at here. Tom and his team have completely stripped this guitar down to its core. Every single part and piece has been painstakingly pored over, aged, relic'd, antiqued, patina'd, and fussed over and rebuilt. Then even more importantly, the entire guitar has been elevated to a whole new level with Tom Doyle's own Doyle Coils TRU-CLONES PAF Humbuckers, our Holy Grail '59 Les Paul Harness w/Real Bumblebee PIO Caps - New pots, caps, wires, switch, jack… the whole 9 yards. Even the Lifton Case has been turned into a vintage and relic'd object of art… no stone left unturned. It's the Complete Package!

In short, this Gibson Les Paul Custom Shop Historic 1959 Reissue is a Masterpiece… Virtually indistinguishable from the Real Deal 1959 Les Paul Standard Burst, and we even dare say that it sounds better! The guitar has all of the mojo, prestige, vintage charm, old-school feel & playability of a Real Burst, and of course that "wow factor" of those famous artist played '59 Bursts you've drooled over all of your life… But without that six figure price tag.

Are there other guys out there aging and relic'ing Les Paul guitar? Sure… but how many of them were Les Paul's personal guitar builder and constant companion for all things music for over 45 years? Tom Doyle is nothing less than a walking-talking encyclopedia of the legacy of our friend and legend, Mr. Les Paul… and the guitar that famously bears his name. This is an opportunity to put your hands on an amazing Historic Aged Les Paul Relic straight from "The Source"… it really doesn't get any better than this!

One of the first things we do is strip the guitar all the way down to nothing but a body and a neck… and we get rid of over 2/3rds of the glossy nitro finish. This lets the guitar "breathe". This is a major component of why old vintage guitars sound so woody and have that live and earthy, sweet tone. While tons of nitrocellulose lacquer gives a Les Paul its "fish bowl" glossy and shiny finish, it does the guitar no favors when it comes to capturing that vintage late 50's tone we're all chasing. Getting rid of a majority of the massive amount of lacquer allows the guitar to vibrate, resonate, and ring in a way only 50 and 60 year old Les Pauls, that have been played and played over decades, can achieve.

Then we painstakingly age, wear, breakdown, and antique every single part, piece, component, nut, bolt, and screw. Everything on the guitar gets aged… just as an almost 60 year old guitar would get aged by time, use, wear, smoke, weather, sweat, bumps, and bruises… and just plain being played and played. That's what these beautiful guitars were made for – to be played!

Next the guitar's finish gets weather checked, just as it would over time. It gets faded, scratched, hit, cracked, popped, and generally molested… just like a gigged and heavily used guitar would be. Not just willy-nilly and indiscriminately… but with great care. We take great pains to recreate the natural wear patterns of actual decades of use by real guitar players in real live player situations… we've studied this at great lengths. After all we've been playing guitar ourselves our whole lives, and building guitars for the "Greats" for over 50 years.

Every little detail is given the utmost attention… nothing left to chance, and we use every part of our knowledge as professional luthiers to achieve a completely realistic '59 Burst. The result is nothing less than spectacular!

Now for the "Pièce De Résistance"… We install our world famous Doyle Coils TRU-CLONES PAF Humbucker pickups, Les Paul's final pickup project! These pickups were the last invention Les was working on to improve the sound of the Les Paul guitar. As if that weren't enough, we rewire the whole guitar with our '59 Holy Grail Harness ~ 550K high audio taper pots, and REAL paper-in-oil vintage correct .022 Bumble Bee capacitors… The Best of The Best!

Walk into any music store, a gig, recording studio, or a friend's house with an old worn vintage Lifton Case (comes with)… snap open the latches, pull out this guitar and mouths will drop… happens every time we show up anywhere with one of these "Time Machine" Relics. Sometimes we have a hard time convincing some people that it's not the Real McCoy. Then when they hear it played through your favorite amp… minds are blown, and heads just shake in disbelief.

SO CLOSE TO A REAL '59 BURST ITS UNCANNY!

The Upgraded 1959 Reissue Spec Updates Overview:

• One piece, single layer Rosewood fingerboards with real celluloid Trapezoid inlays

• Aniline dye on back & sides on burst finishes. This was original and discontinued many years ago. Aniline dye is a vintage wood coloring technique that accentuates wood grain and color.

• Kluson "Deluxe" tuners – the most accurate reproductions to date. These tuning keys feature the correct color, vintage profile and specifications.

• Hide glue on neck to body joint. Many argue that the original hide-glue guitars are tonally superior to the modern aliphatic adhesives. Hide glue turns transparent in the neck joint & also allows for easier removal of the neck.

• New Custom Bucker pickups. These new Custom Bucker Pickups are the most accurate reproduction of the original fifties PAF pickups to date and not available after market.

• Truss Rod Assembly has been redesigned to the vintage truss rods of the 50's & do not have sleeve or "condom" of the previous reissues.

• Slightly darker cream binding to match the original 50's Gibsons.

• New color formula for the back & sides that result in a slightly darker color with more depth & grain presentation.

This Les Paul is a Gorgeous 2018 Gibson Custom Shop 1959 Les Paul with all the specs of a '59... Meticulously hand aged and upgraded by Tom Doyle and his team. This Guitar weighs in at under 8.2 lbs

*******
THIS LIMITED EDITION TOM DOYLE "TIME MACHINE" RELIC '59 HISTORIC REISSUE LES PAUL R9 IS VERY COLLECTABLE AND COMES WITH A SPECIAL CERTIFICATE OF AUTHENTICITY SIGNED BY TOM, A REAL AGED & WORN VINTAGE LIFTON CASE. ALL THE ORIGINAL GIBSON PAPERWORK AND ORIGINAL COA, AS WELL AS ONE OF OUR DOYLE COILS T-SHIRTS WITH DISTRESSED VINTAGE LOGO

JUST LIKE A REAL BURST... BUT WITHOUT THE SIX FIGURE PRICE TAG!
MORE PHOTOS MORE INFO AVAILABLE UPON REQUEST...
INTERNATIONAL BUYERS WELCOME - WE ARE CITES APPROVED AND READY TO SHIP WORLDWIDE!!!!
****
This item is sold As-Described
This item is sold As-Described and cannot be returned unless it arrives in a condition different from how it was described or photographed. Items must be returned in original, as-shipped condition with all original packaging.Learn More.
Listed
16 days ago
Condition
Excellent (Used)

Excellent items are almost entirely free from blemishes and other visual defects and have been played or used with the utmost care.

learn more

Brand
Model
Finish
Categories
Year
Made In
Right / Left Handed
Number of Strings
Body Shape
Offset Body
Body Type