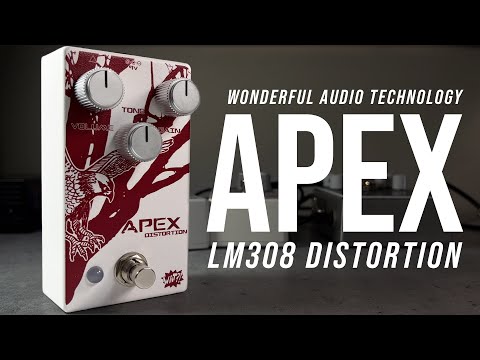 Apex Distortion is a versatile distortion pedal which was originally inspired by a particular LM308 rodent pedal. The goal was to create something new, while still paying homage to the original. This is not a clone. It is a reimagination of a classic. Top of the food chain. The Apex predator.
History
A while back I saw a set YouTube videos from the incredible Demos in the Dark. The series was called "Rat Week" and each day he showcased a rodent based pedal and compared it to an original. But the key here was that not only must the pedal be based on said circuit, it also needed to contain the fabled LM308 operational amplifier. Now, I'm not saying that the LM308 chip is any better or worse than any other chip, I'm just saying it's a cool chip and I wanted to use it. I decided to challenge myself to design a pedal around that chip with a circuit inspired by the said rodent pedal. So… I found some LM308s and got to designing. The pedal went though many revisions, in fact I had a version that I almost released. I really liked it, but I felt after playing it at band practice a few times, I thought I could do more… it needed more toanz for my snobby ears. I wanted to improve some aspects of the original by increasing its versatility, improve the gain range, smooth and thicken the tone, while still maintaining some bite.

Circuit Breakdown
I love boosting the RAT with another drive, bit so I added a JFET front end gain stage. JFETs are great because they react extremely well to the dynamics of your playing… dare I say it?... are very amp-like in their character. Next is the LM308 primary gain stage. I completely changed it's voicing. I wanted a nice low punch with crisp highs and it had to preform well in both low gain and high gain situations. Next is the clipping section. I wanted to a blend of smoothness and crunch so I combined a mixture of diodes and an LED. Up next, the tone stage, which similar to the RAT, functions as a classic low pass filter however it is reversed so to the left is darker, right is brighter. Finally in true classic form a JFET buffer which also adds some color as it saturates.
​I'm really digging the result, I hope you do too.
Controls:

Volume: Control the output volume of the pedal
Tone: Low-pass filter. Turn to the left for darker tone and to the right for a brighter tone
Gain: Controls the amount of distortion. From cleanish boost to full gnarr!!
Internal LED Brightness Trimmer: Adjust the brightness of the LED indicator to taste
Power Requirements:
9-volt Center Negative 2.1mm barrel
Higher voltages will damage the pedal
Current Draw: ~8mA
No batteries
Warranty:
We only use high quality components for reliability and consistency.
But if it breaks, we'll fix it.

All pedals are designed and built by hand, in a garage, in Redlands California.
**For US buyers pedal will ship Priority Mail.
**For International shipping, your pedal will most likely ship First Class Mail, please be aware of possible long transit times.
Condition
Brand New (New)

Brand New items are sold by an authorized dealer or original builder and include all original packaging.

learn more

Brand
Model
Finish
Categories
Year
Made In
Mentone, CA, United States