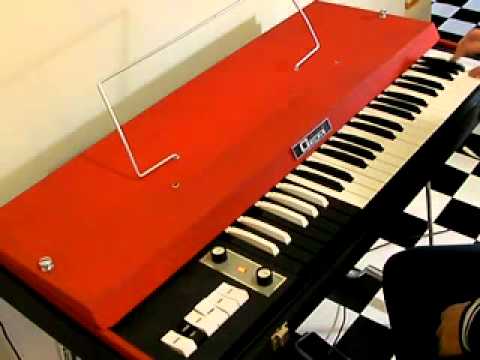 This organ is in fully working condition - I've fixed it up, replaced all of the electrolytic capacitors to new ones, and tuned it.
49 keys/Bass keys(C1-B1)

Tone Tab : HORNS/STRINGS/REEDS/FLUTES
Control knob : BASS VOLUME(Power ON/OFF), VIBRATO SPEED
VIBRATO ON/OFF
BASS CHORDS ON/OFF

Output Jack, Bass Output Jack

110V-240V(Switching type)/30W
Size with legs : 962mm(W)×880mm(H)×506mm(D)
Organ Weight with lid : 18kg
Legs & Pedal Weight with case : 8kg

I will ship it in 2 packs.
Any import duties are the buyers responsibility. Please be aware of any import duties your country/region might have.
一瞬、VOX Jaguarか?と思ってしまうほど外観そっくりなGEM Model-Pオルガンです。よく見ると鍵盤の配色が逆であったりノブ位置が違ったりスタンドが底面取付けタイプだったり異なる部分も多々あります。サイズもJaguarよりコンパクトですね。ただ、内部構造もそっくりなのでOEMもしくはコピー(リスペクト?)モデルなのかもしれません。肝心のサウンドですがJaguarの音色を少しマイルドに、そして音圧をパワーアップした感じでしょうか。レアな一台、ボリュームペダルも付属したフルセットです!
・鍵盤数:49鍵(C1~C5)/ベース鍵盤(黒白反転, C1~B1)
・音色タブ:HORNS/STRINGS/REEDS/FLUTES
・接点方式:単列+ベース部接点(C1~B1)
・コントロールノブ:BASS VOLUME(電源ON/OFF), VIBRATO SPEED
・エフェクトタブ:VIBRATO ON/OFF
・コントロールタブ:BASS CHORDS ON/OFF
※BASS CHORDS:1オクターブ目の黒白反転鍵盤設定タブ。OFFでBASS出力のみ、ONで2オクターブ以降の白黒標準鍵盤と同様のオルガン音が付加されます。
※BASS音は低音優先のモノフォニックです。
・接続端子:標準アウト、BASSアウト
※BASSアウト未接続時は、標準アウトからBASS音も出力されます。
・電源:110V-240V切替式(本機は110Vにセットしてます)/30W
※日本仕様100V電源コンセントでそのままご利用できます。
・本体サイズ(スタンドなし):962mm(W)×155mm(H)×506mm(D)
・本体サイズ(スタンドあり):962mm(W)×880mm(H)×506mm(D)
※本体サイズに譜面台高は含めてません。
・レッグケースサイズ(取っ手含む):844mm(W)×84mm(H)×600mm(D)
・本体重量(蓋含む):約18kg
・レッグ&ペダル重量(ケース含む):約8kg
付属品
●キャリング用カバー(蓋)
●ボリュームペダル
●譜面台
●レッグ(脚)2本、補助スタンド2本
●レッグケース
●電源ケーブル
※プラグがイタリア仕様のため日本仕様への変換プラグをセットしています。
■
コンディション
メンテナンス済完動品です(不良電子部品交換、電源ランプをLEDに交換、配線改良、電解コンデンサ全交換、接点 クリーニング、鍵盤アクション調整、内部クリーニング、チューニング、ボリュームペダルのポッドクリーニング&潤滑剤塗布、断線補修)/ボリュームペダル のアンプ側3ピンXLRタイプ端子を標準モノ端子に交換/ボリュームペダル操作&ベースボリューム操作によるガリありません/外装クリーニング(金属部品 錆取り)/レッグケース補修/本体蓋の取っ手に割れあり/譜面ホルダー欠品です/レッドトップに経年の染みあり/全体的に小さなキズ、カスレあり
O
Listed
5 years ago
Condition
Very Good (Used)

Very Good items may show a few slight marks or scratches but are fully functional and in overall great shape.

learn more

Brand
Model
Finish
Categories
Year
Made In