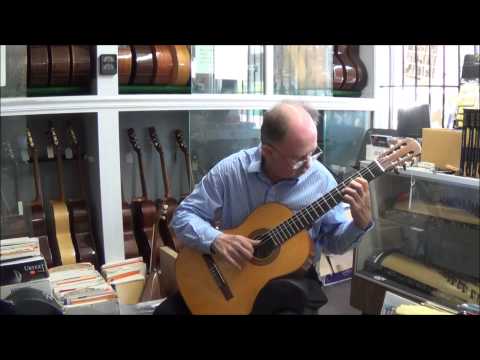 Vintage Juan Estruch
Solid Top Classical Guitar
Some people see these as flamenco guitars I suppose they have great cross-over potential.
I've seen a very similar model claimed to be 1957 on a popular auction site and a few others I've seen in the past.
An Estuch specialist can prob date this by the tuners.
Really lawful patchy varnish finish *needs sanding back.
4/4
Solid spruce top
Mahogany sides *presumably laminate
One piece mahogany back plate
640mm standard scale
Shoulders 23cm
Waist 26cm
Lower bout 35cm
Depth 9cm
length 99cm
nut 52mm
High quality original tuners, with quite small buttons.
All working well with good barrels and hold tune great.
EU/U.S/CAN takes around 5 days via Fedex express so super fast.
New bag included and the guitar will be well packed in a guitar box.
Please see my feedback for classical guitars sold. You are in good hands.
Apologies for appalling pictures. Bad lighting. I'll try and Improve but I'm not very mobile.
As you can see the guitar finish looks awful. Someone previously French polished it and then attacked with an orbital sander looking as the circular patterns on the back when I received.
I sanded the finish back to at least thin , even & dry so you can no longer feel the tacky varnish.
whomever went at this with Sanders has rendered light ridges in the sides. Like small ripple bumps
Other folks selling these claim all solid but unless the back & sides are very thick pieces I'm not so sure. Maybe the back is a solid piece but highly likely the sides. The top is solid Spruce..
Neck is a very solid mahogany and about 1.3" thick..
I was tempted to buy a sander and strip the soundboard back to white spruce but since spinal surgery I can only really set-up guitars and do fret work and can't stand up long and also the neck is too chunky for me (thumb to first finger and feels a touch wider.
I have small hands so she's not the easiest to play for me.
Saying all that the action is very good 3.5mm at 12th which is a miracle with these being approx 55 years old.
The brass frets are very good and I polished them all up nicely no sharp or even frets.
So the nightmare situations and cost of 're fretting or the dreaded neck re-set is not applicable here.
These guitars are very well made and highly regarded and sound great.
They have an almost scarf neck so there is a mahogany back piece which is a signature on this model & hand made preference.
The guitar has no cracks , the top is bookmatched solid spruce so sometimes you will see 0.3mm separation there but it's super secure it's not a crack in the table.
Soundboard is flat
No bridge lifting
Typically bright sound from fully aged spruce. well balanced tone and pronounced trebles.
The guitar has a lot of flamenco qualities actually, I've seen a few of these with tapping plates.
Very percussive & accurate sound
This guitar is not to be overlooked and sounds very good.
Worthwhile and economic cosmetic project or just leave it as it is but that would be a shame.
This is a professional instrument limited only to the player.
Usually priced around $1000 and I've had a few in the past with neck and fretboard problems that needed to go to Luthiers for more expensive work, this is purely a cosmetic project.
Listed
4 months ago
Condition
Fair (Used)

Fair condition gear should function but will show noticeable cosmetic damage or other issues.

learn more

Brand
Model
Finish

Patchy Varnish *Needs Sanding Back

Categories
Year
Made In