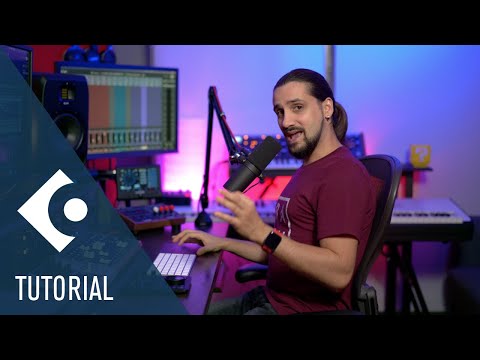 This is a digital download. Your registration code and instructions will be emailed to you within 30 mins or less during normal business hours. There are NO returns on this product, please be sure you have checked your system compatibility before you make your purchase.

Cubase 12 features significant new features and workflow enhancements which make composing, recording, and mixing music even more creatively rewarding. From improved MIDI Remote integration and improved editing tools to enhanced audio-to-MIDI and new effects, Cubase 12 will bring your creative ideas to life better - and faster - than ever.

New in version 12
MIDI Remote integration
MIDI controllers are essential to every music production setup and, in Cubase 12, integrating them has reached a new level. Built around the new concept of MIDI Remote Scripts, Cubase will automatically detect your device and map the controls. If there is no script for your device yet, you can easily create your own with the MIDI Controller Surface Editor. You can then conveniently connect controls and parameters with the Mapping Assistant.
Pro • Artist • Elements
Audio to MIDI chords
Have you forgotten what you just played? Don't worry. Just drag your audio recording to the Chord Track and Cubase will lay out the chord progression for you. And if the detection does not match your scale, the Chord Assistant can suggest the nearest alternatives based on the following chords. The new Create Chord Events from Audio feature in Cubase blurs the borders between audio and MIDI, letting you focus on the music. Just like it should be.
Pro • Artist • Elements
FX Modulator
You can really breathe life into your sounds with the advanced, multi-effect modulation of FX Modulator. From classic ducking effects to exciting rhythmic patterns, it offers brand new ways to get creative. Create custom shaped LFOs and modulate up to six integrated effect modules at once. The LFO can also be triggered via MIDI or use one or more side-chain inputs, letting the LFO follow the incoming signals. And if you don't want to create your own styles, you will find inspiration in many carefully designed presets.
Pro • Artist
Goodbye dongle
For many years, the USB eLicenser has been ever-present for the Cubase community. But no longer…
Pro • Artist • Elements
ARA improvements
ARA Extensions can now be applied at track level, letting you conveniently edit all events within…
Pro • Artist
Advanced crossfade editor
The advanced crossfade editor offers more control, new operations and advanced editing, to help…
Pro
New SuperVision modules
We have added several amazingly useful new modules to SuperVision, including a VU meter, spectrum…
Pro • Artist
AudioWarp improvements
You naturally want to create perfect recordings… but we are all human! The Free Warp tool lets you now edit your audio recordings and correct timings directly in the Project window. You can adjust multiple tracks at once in Group Editing, while the new phase-coherent AudioWarp mode helps you avoid phase issues. We have improved the editing workflow in the Sample Editor with new grid options and zoom modes, and streamlined the user interfaces - all helping you to get closer to perfection.
Pro • Artist
Editing workflow improvements
When deadlines are tight, you need to work fast. We have improved the editing workflows with new functions and key commands to help. The new nudge grid options let you edit independently from the project grid. Additionally, we have added key commands to the Range Selection tool for easier navigation. There are also new key commands to slip event content, adding fades and sizing events with fades. So there are no more excuses for not meeting deadlines (but we won't tell your clients)!
Pro • Artist • Elements
Sample accurate volume automation
Volume automation is now near sample accurate and completely independent from the buffer size.
Pro • Artist • Elements
Import tracks from project improvements
You can now import tempo and signature tracks from other projects and track archives, making for…
Pro
Bluetooth MIDI in Windows
Cubase now supports MIDI over Bluetooth in Windows 10.
Pro • Artist • Elements
Audio export with sidechain support
Audio export of individual channels or stems now allows you to print audio, including taking…
Pro
Dolby Atmos® music creation [coming soon]
Dolby Atmos is taking the music industry by storm and, in Cubase 12, you can now produce immersive…
Pro
Performance improvements
We are constantly working on the overall performance of Cubase and, with Cubase 12, we are proud…
Pro • Artist • Elements
Smooth waveform drawing
Cubase 12 introduces new smooth waveform drawing. It's easier on the eyes and makes it even easier…
Pro • Artist • Elements
Native Apple silicon support
For those using the latest Macintosh computers, Cubase 12 introduces native Apple silicon support.
Pro • Artist • Elements
Simpler Stems
In most DAWs, printing stems is a repetitive and time-consuming task. Cubase Pro 11 makes this job much faster, less prone to errors and way more convenient. Sync your export selection to the selection in your project. Create and restore file format presets. Export the full signal path, including master bus effects, to truly replicate the mix. Cubase Pro 11 even lets you collect your export jobs and export the whole queue in one go while you grab a coffee.
Pro

Sample. Slice. Move. Glide.
The Sampler Track in Cubase 11 has a number of great new features to discover. The new slicing mode chops up your loops so they're ready to play with just a click. There are now two global LFOs available to add motion and a catch to your sounds. You can go for a vintage feel or the highest fidelity with the sample engine's new quality modes. Then there's the new mono legato glide, perfect for riding 808 basslines… and more!
Pro • Artist • Elements
Your Personal Scale Assistant
The Scale Assistant is a superb addition to your songwriting toolkit. You can set your song's scale in the Key Editor and follow its lead, quantize a solo to the scale or play live in perfect tune. You can change the view to only see the notes of the set scale. You can even let the Scale Assistant analyze your MIDI recording and suggest the right scale. Now there are no more excuses for wrong notes!
Pro • Artist • Elements
Perfect Bends
Cubase 11 brings a huge improvement to the Key Editor's functionality. You can now create ramps and curves in the CC and Pitch Bend lanes, just like you are used to with automation. Set your pitch bend steps to semitones and you will always be perfectly in tune. All of your CC edits can also be conveniently copied to another MIDI track, while MIDI notes can now be deleted with a simple, fast double-click.
Pro • Artist • Elements
Amazingly Precise Dynamic EQ
There are many reasons why you should use dynamic equalization to get a better mix and, with Frequency 2, there are now no reasons why you shouldn't. Each of its eight bands can be individually set to dynamic mode, making the filter node dependent on the input signal for amazingly precise dynamic mixing. And, even better, Cubase 11 allows you to set a different side-chain for each band by making use of the multiple side-chain architecture of VST 3.
Pro

Enhanced Synchronization
Staying in sync with tempo changes or markers is crucial when composing any kind of music. Cubase 11 makes your life easier with Global Tracks now able to be displayed in the Key Editor. With no need to leave the Key Editor anymore, this great visual reference will keep your compositions moving along quickly and creatively.
Pro
Enhance EDM with Squasher
Electronic dance music productions need Squasher! This dynamic tool combines up and down compression for up to three bands, making it super flexible in many situations. Use it to help your lead sounds cut through the mix, tame aggressive bass lines or enhance subtle, spacey reverberation. Squasher is amazingly easy to use and it sounds fantastic.
Pro • Artist • Elements
New Score Editor Features and Fonts
The Score Editor was enhanced with lots of great additions and improvements. The new Properties tab lets you instantly access the matching options and settings of your notation and, with the Note Editing Overlay, you can edit notes as conveniently as in the Key Editor. There are more workflow improvements, and the Score Editor now also supports the SMuFL font format, which will bring Dorico's beautiful Bravura and Petaluma fonts to Cubase.
Pro • Artist • Elements

Imager
The multiband Imager is another great tool that will help you to get a better, cleaner mix. You can place audio tracks in the stereo field independently in up to four bands, allowing you to expand or reduce the stereo width of your sound. The individual scope and correlation displays help you to get your panning absolutely perfect.
Pro • Artist • Elements
Visual Editing with SpectraLayers One
SpectraLayers One is a compact version of the acclaimed visual audio editing tool. SpectraLayers One allows you to visualize and clean up your audio with stunning results. But there is even more. Thanks to the state-of-the-art source separation engine, you can separate the vocal part from any kinds of audio tracks. Whether you want to remix your favorite song or create mash-ups, SpectraLayers One helps you to get started.
Pro • Artist
Super SuperVision
SuperVision is a fully customizable, multimeter audio analyzer for professional productions. You can choose out of several different modules for level, spectral, phase and waveform analysis, creating your own custom layout with up to nine module slots to give you a supremely accurate visual picture of your sound.
Pro • Artist

Inspiring New Sample Sets
Be inspired and instantly start producing with six new, exclusive sound and loop sets in Cubase 11. Grammy-winner Beat Butcha contributes a sizzling pack of hip hop heat. Go-to Hollywood sound designer Robert Dudzic brings the Noir pack for cinematic trailers, where every sound tells a story. And Black Octopus Sound — well known for their samples in many current productions — contributes four exclusive sets: Lo-fi hip hop, Dancefloor Tech House, Vocal lines and '80s Synth Wave.
Pro • Artist • Elements
NEW FEATURES
Advanced Audio Export
Save time with new export queues.
Sampler Track 2
New creative features including slicing, LFOs and legato glide.
Scale Assistant
Follow, quantize and play live to a set scale.
Advanced Key Editor
Create perfect pitch bends and more.
Global Tracks
Stay in sync more easily.
Frequency 2
Amazingly precise dynamic EQ for better mixing.
Squasher
Improve leads, tame bass and enhance reverb for EDM.
Score Editor
Workflow improvements and beautiful new fonts.
New Samples
Six fresh, exclusive sound and loop sets.
SuperVision
Super-flexible, customizable metering.
Imager
Multiband stereo placement for perfect panning.
MultiTap Delay Surround Support
Delay in up to 5.1 surround sound.
Windows 10 Variable DPI
More scaling settings.
Cubase Artists/Elements Upgrades
More bang for fewer bucks.
Multiple Side-Chain
Improved input architecture.
Eucon Support
Latest Avid console compatibility.
VST Connect SE 5
Resizable HiDPI-ready interface for remote recording solutions.
Workflow and UI Improvements
Refinements to make your working life easier.
This item is sold As-Described
This item is sold As-Described and cannot be returned unless it arrives in a condition different from how it was described or photographed. Items must be returned in original, as-shipped condition with all original packaging.Learn More.
Condition
Brand New (New)

Brand New items are sold by an authorized dealer or original builder and include all original packaging.

learn more

Brand
Model
Categories
Prescott, AZ, United States