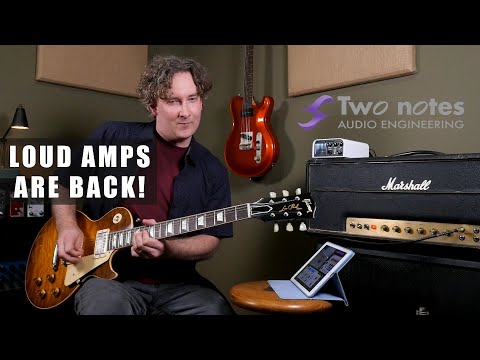 The Torpedo Captor X from Two notes is a compact and portable reactive load box, amp attenuator, mic'ed cab simulator, IR loader, and stereo expander, which gives you unprecedented control over your guitar's tone in-home or on stage. Use the Torpedo Captor X to hit your amp with the optimal load for coaxing out its sweetest tone, then adjust the volume according to your playing situation.
Two note Torpedo CaptorX Power Attenuator/DI/IR Load Box – Features

Compact Reactive Load Box (8 Ohm, 100-watt RMS)
Torpedo DynIR based technology creating Dual-mic'ed Virtual Cabinets
Loaded with 32 DynIR Virtual Cabinets, 128 preset locations
Instantly select your favorite preset direct from the front panel (PRESET – 6 locations on front panel)
Choose from 8 microphones per cabinet and 13 room simulations
Torpedo Remote for effortless control of all parameters e.g. position of mics
XLR DI Outputs (3 routing options: Stereo, Dual Mono, Dry / Wet)
Silent playing with Immersive Headphone Experience
Stereo Reverb including SPACE control on front panel
Twin Tracker virtual guitarist
Enhancer with Body, Brilliance and Thickness controls
Noise gate with learn function
Two notes Wall of Sound plugin included for processing of dry recordings
Audition 400+ Virtual Cabinets via the Torpedo Remote online library - explore/purchase official cabinets from MESA/Boogie, Celestion and more at Two notes dot com
Rugged, metal case: road ready and portable.
USB Torpedo Remote (Windows and macOS) connectivity.
MIDI Torpedo Remote connectivity
Wireless (Phone / Tablet) Torpedo Remote connectivity (Android and iOS).
Micro USB port. Micro USB-B to USB-A cable supplied.
Torpedo Captor X is great for practicing with your true tone without driving your neighbors crazy or matching your volume to the size of a venue, so you don't blow out the audience's ears. It is also packed with creative bells and whistles that expand its functionality. Shape your tone in real time right from your laptop, mobile device, MIDI controller or the USB Torpedo Remote. You'll also be able to tap into Torpedo Captor X's vast collection of virtual cabinets, mic combinations, and rooms for endless creative possibilities.
Tired of lugging around a heavy cab day after day, gig after gig? If so, ditch it, and patch directly into a live mixing console, portable PA, or audio interface and have your custom tones always at the ready. On top of that, the Two notes Torpedo Captor X includes an excellent selection of signal processors to get your guitar tone just right.
Two Note Torpedo CaptorX Power Attenuator/DI/IR Load Box - Specifications

Tube Amp Attenuator: Home (-38dB), Club (-20dB), Stadium (0db)
Dual IR Loader: 512 memory slots for custom IR files
EQ: Semi-parametric in Torpedo Remote, VOICING hardware control.
Dual Mono: Send dedicated signals to FOH and monitors with different EQ & Reverb
Wet / Dry: Send both your Cab Sim and dry amp signal independently to two audio interface channels
Dimensions (mm) : 128 (w) x 175 (d) x 64 (h)
Dimensions (inches.): 5.04 (w) x 6.89 (d) x 2.52 (h)
Weight: 1.3 kg (2.87 lbs.)
Speaker input: 1/4" jack unbalanced (TS)
Speaker output: 1/4" jack unbalanced (TS)
Headphone output: 1/4" jack balanced (TRS)
2 x DI XLR Balanced outputs: (Left, Right)
MIDI input: 1/8" jack to 5 pin MIDI cable adapter supplied.
Mains power adapter: 100-240v AC / Output: 12V DC, 1A supplied.
Condition
Brand New (New)

Brand New items are sold by an authorized dealer or original builder and include all original packaging.

learn more

Brand
Model

Torpedo Captor X 8ohm Stereo Reactive Load Box / Attenuator

Categories
Oakland, NJ, United States