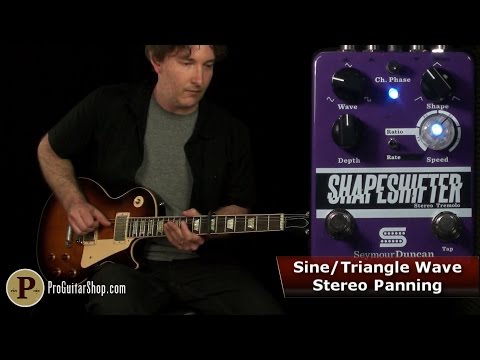 MorMusic - The Guitar Specialists Est 1985
In stock and ready to ship at MorMusic
Seen it cheaper elsewhere? We'll aim to match or beat any like for like price!
Summary
The Shape Shifter is a stereo tremolo designed to deliver the classic textures you love with the capability to render extreme effects such as helicopter chops, piano stabs or backwards swells.
Description
The Shape Shifter is the most versatile tremolo pedal you will find, whether your style is a classic textural vibe or unexpectedly experimental. The Shape knob lets you control how evenly the signal rises and falls; set it in the middle for a traditional, even rise-and-fall effect, or turn it left or right for wild effects that can simulate backwards recording or the attack of an analog synth. When you're running in stereo, the mini Phase knob lets you select whether the pedal is in phase or up to 180 out of phase, taking you from a traditional stereo effect to a swirly phase tone that effectively feels like surround-sound. Use the Speed control or Tap Tempo foot switch to set your modulation speed from 0.5 pulses-per-second to over 15 pulses-per-second, and the Ratio/Rate mini-switch to select whether the Speed knob acts as a straight rate control or as a selector for between 1:1, 2:1, 3:1 or 4:1 speeds relative to the Tap Tempo. The illuminated Speed knob gives you an instant visual indicator of the effect speed, and it's always flashing so you know where you're at before you hit the effect switch. The volume auto adjusts so you avoid the "dip" that sometimes comes with tremolo pedals. And stereo inputs and outputs mean you can get creative with your signal chain.
Like all of our pedals, the Shape Shifter is True Bypass and is designed and assembled at our Santa Barbara, California factory by the same team responsible for our legendary pickups.
Type of Circuitry: Pure analog signal path, Stereo Input/Output, Digital tremolo timing
Input Impedance: 1 Meg Ohm
Output Impedance: 1.2K Ohm
Gain: 2.0dB maximum
Max Tremolo Depth: 30dB
Max Output before Saturation: 2.5V RMS
Noise: < 97dBV
Frequency Response: Wideband; -3dB at 3Hz and 50 kHz
THD: < 0.3% @ 1 kHz, 1VRMS
Depth: Continuously adjustable from 0 to 30dB
Rate: Continuously adjustable from 0.5 to 15 Beats per second
Rate/Ratio Switch: Works in conjunction with the Tap Tempo Footswitch and the Rate control. Allows setting tempo by direct taps or applies a multiplication factor for faster tempos.
Shape (Duty Cycle): Continuously adjustable from 10% to 90%
Wave: Continuously adjustable, sine to triangle to square waves
Phase Control: Continuously adjust phase between left and right output channels from 0 degrees to 180 degrees
Power: 9V battery or 9 - 18 Vdc regulated adapter, center pin negative polarity.
Current Consumption: 13mA operate, 12mA bypass
Bypass: True hard-wire bypass
Dimensions: 3.50" wide X 4.70" deep X 1.60" tall
Weight: 0.9 lbs.
Condition
Brand New (New)

Brand New items are sold by an authorized dealer or original builder and include all original packaging.

learn more

Brand
Model

Shape Shifter Stereo Tremolo

Categories