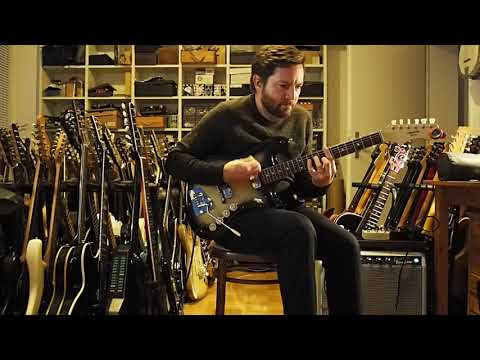 Welcome to another fine guitar from The Old Europe! Please make sure to read the entire description below carefully, and look at all the pictures.
General introduction and background:
Ultra, ultra rare Invicta Estudio guitar. According to my research made by manufacturer Enrique Keller, a German immigrant, who used his network and contacts to subcontract Hofner guitars and assembled and built for that German company in the 1960s. The Invicta though is a genuine design which has no Hofner equivalent - parts of it are hardware that was also used on Hofner guitars though. It is the only one I have ever seen, and surely a collectors item - yet highly enjoyable and playable as well!
Please watch the video!

Measurements, weight and other specs:
- Scale: 618 mm
- Nut: ~43,5 mm
- Weight: 2,8 kg
- Pickups: two airy single coils, ~5,4 kOhm output, controlled by 2x Volume, 2x Tone, 3 way rotary switch.
- Body: multiply body, mostly hollow, covered by a large plastic pickguard that carries most of the hardware.
- Neck: Unknown neck material, narrow and low vintage frets, likely rosewood fingerboard.
Condition:
- Body: Great condition with a few scratches, dings and dongs. Most noticable is a bigger lacquer dong on the lower bout.
- Neck: straight neck, adjustable with the rear-accessed trussrod, the frets are in good condition (7/10) with some little crevasses but no buzz or fretting out - yet, of course, they are low and thin vintage frets, so you have to accept a slightly higher string action than on a modern shredder guitar to make this ring.

- Electronics: fully functional. Volume and Tone potis have been cleaned. The tone pots run reversely than what you are used to.
- Hardware: fully functional, the pickups are quite microphonic which adds to the charme of the guitar, yet limits it from high gain uses.
- Originality: all original.
Sound and Playability:
- Playability and string action: The guitar plays easily with a string action of currently set to 1,8 mm. The frets are low, narrow vintage frets, so you might want to consider that if you are used to broad, high modern frets. I think it works best for chimey, lofty rhythm guitar, and due to its nimble weight is ideal for the ladies among us who like to chop away those indie guitar rhythms! (looking at you, Wet Leg ;-) )
- Intonation: about right, the bridge has adjustable roller saddles.
- Sound: very chimey, trebly, gorgeous airy singlecoil sounds. Please watch the video
Repairs, Service:
- Complete cleaning of body, parts and fretboard
- Frets polished and fretboard oiled
- Full check of the electronics, the wiring is all ok.
- New 10 gauge Framus strings put on
- Set up as good as possible
- Ready to be played (just tune it up)
Auxiliary stuff:
- No case included. Will be shipped in wrap and sturdy cardboard box.
Please also have a look at my other offers and follow my shop!
PACKAGING: All guitars are shipped out in a sturdy cardboard box with lots of filler material. Please note that for the protection of the environment, I am reusing used packaging material whenever I can.
SHIPPING: Please check the shipping quotes in this offer. I ship with insurance, worldwide. Usually I am able to ship the item on the same day or next day of received payment. Please allow 1-2 days from pick up for delivery in Germany, and 1-2 weeks within the EU. US, Canadian and over overseas buyers: Shipping prices are of Fedex, which is expensive, but very reliable and delivers in ~3 days. Tracking is provided immediately when shipped out within the system. Please refrain from giving a review before you have received the guitar.
AFTER DELIVERY: After receiving the item, please inspect the package for obvious damages and make photos if there are any. After unpacking, check the item immediately for damages or other undocumented flaws. I accept a 14 days return and will pay for shipping if the item is in a different condition than described upon arrival. Please note that I will only take the item back entirely, but not grant any reduction of price and generally only accept returns if the item was unaltered after arrival.
CITES protection: all of the items I sell have been legally imported to the EU before January 1st 2017 and are registered with the authorities in Hamburg, Germany (if applicable).
DATA protection: German financial regulations demand that I keep your address on file in an invoice. The only information that I store is what this platform provides me. Please understand that I cannot delete that information from my files. You may ask what kind of info I have stored from you any time.
Listed
7 months ago
Condition
Good (Used)

Good condition items function properly but may exhibit some wear and tear.

learn more

Brand
Model
Categories
Made In
Right / Left Handed
Body Type