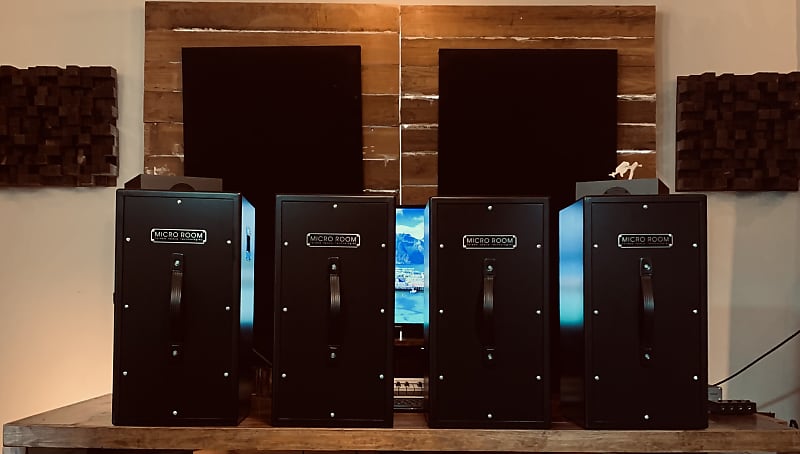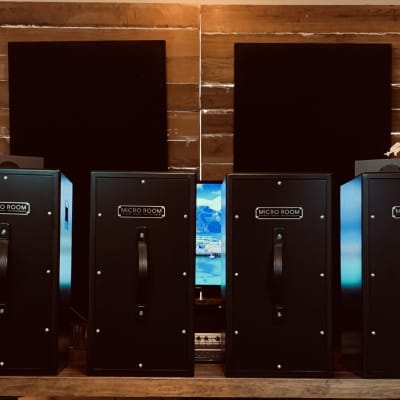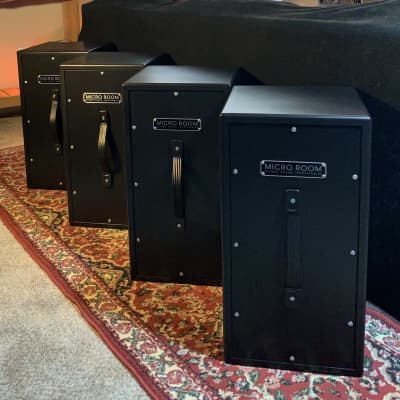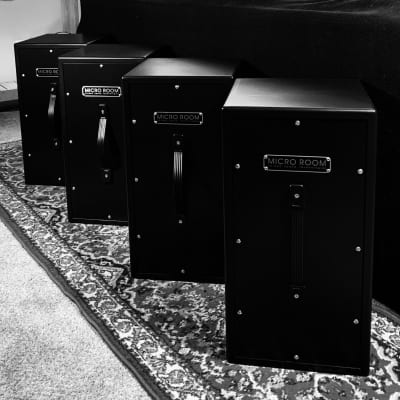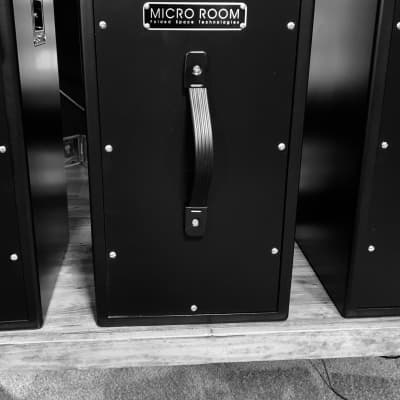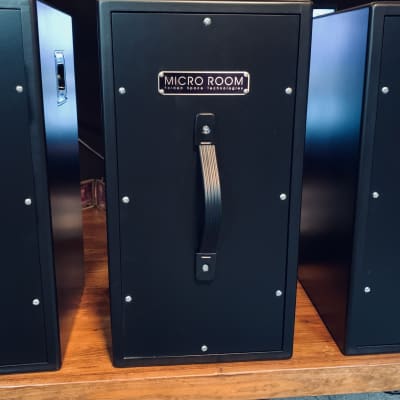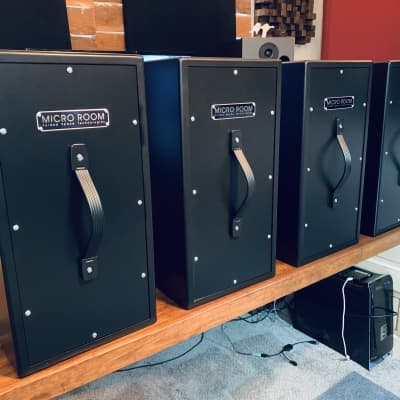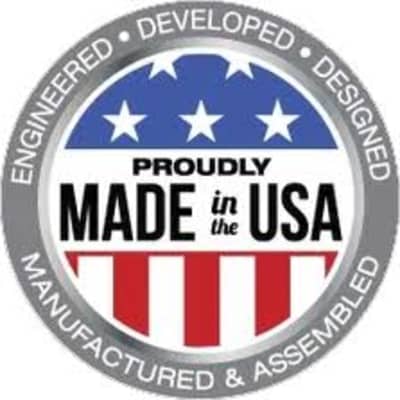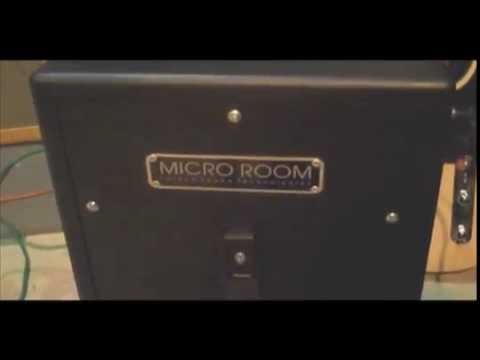 Use your amp at home, on stage or in the studio without the Volume issues created by open speakers. Up to 40db quieter with REAL Speaker sound ( cuz it uses a real speaker )
8 ohms / 50 Watts / 11.5"x11.5"x23" 33lb
Micro Room - Silent Speaker Enclosure / Isolated Speaker Cabinet includes: Speaker, Gooseneck with clip, Internal mic cable and Acoustic treatment all wired up and ready for you to install your mic and go.
In the studio: Listen via your Monitors or headphones while recording. Quiet enough to record electric guitar, acoustic instruments and vocals live in the same room.
Late night tracking at home: Allows others to sleep while you play on.
Digital Domain: Re-Amp Sims, effects and direct recordings to get some air motion in your sound.
On stage: Send the sound of your preferred rig with your settings to the console for perfect front of house and monitor mixes.
Harmonica FEEDBACK? Micro room will isolate the sound of your harp amp, stop the feedback and send your great sound to the console.
USER QUOTES
Mark Neill- The more I use the Micro Room the more uses I find .. this does NOT sound like a speaker in a box …I could not believe how great it sounds on bass as well....its huge!!
Philip Galitzine – Vintage Church Santa Monica (Brenton Brown) Roger! I am blown away. I used the cab at two services yesterday and it performed incredibly. Totally silent and made my job a lot easier. The guitarists were also stunned - they were like "how does a small speaker DO that?" :-D FYI I had just a plain old 57 centered on it and it worked great. I can't say enough good things. I want to order more!!
Stephen Talkovich (s.talkovich guitars) - ROGER...WOW!!!
RANDOM -"Excellent isolation cabinet. This is by far the best solution to practicing guitar quietly through headphones. Pairing this with a good mixer works wonders."
There is more to making a Silent Speaker Enclosure
than just putting a speaker & microphone in a sealed box.
Selecting the right speaker and tuning the enclosure to work properly with that speaker is a must if you want an open natural sound.
Micro Room uses a specially selected speaker in a specifically tuned enclosure.
Micro Room is the culmination of over 20 years of exploration (called R&D by some) I think I've met the challenges of finding the right speaker cabinet combination.
-a few random speaker facts-
1-Speakers that sound good firing into a room's 'open air' won't sound the same when in a sealed enclosure. One might even say they usually sound pretty bad.
2-The larger the speaker the more directional and beamy it becomes making mic placement more critical.
3-The larger the speaker the more distance it takes for the sound to become 'coherent'.
4- A larger speaker (like a 12") in a sealed environment requires a very large cabinet to have enough air volume to work properly.
5-Larger speakers are typically much louder than smaller speakers making a 'silent speaker cab' much less silent …kind of defeats the purpose eh?
6-large enclosures, increase the cost of building and shipping the cabinet. (ok that's not a speaker factoid but it is related the subject)
7-A small speaker in a properly tuned cabinet will have good frequency extension in the upper and lower frequencies. Think of a typical small near-field monitor, the low frequency is sufficient to reproduce bass, guitar, keys, drums etc.
The speaker in the Micro Room is a very good sounding 6" Jensen guitar speaker (V6C) selected for its sound and several additional properties that allow it to function naturally in a sealed enclosure.
The enclosure is designed for this speaker. The 'tuning' eliminates unwanted artifacts and allows the speaker to operate more like it is in open air.
So….does the Micro Room sound like your speaker??
Depends on what YOUR speaker is…but if you connected your amp to 5 different speakers or cabinets they all would sound 'different'. The Micro Room will fall into the middle of the pack in terms of frequency extension and dynamic response.
the microphone you add and its position in the Micro Room are the key ways to shape your sound.
My fave microphone (at the moment) is the CAD TSM411. I find them quite even and they take EQ very well. (I know its a 'tom' mic but the high freq roll off, broad presence lift, small size and price work for me)
Sennhieser e609 has extended frequency range and a bit of mid scoop.
Audix i5 will be slightly less extended than the e609 and less scooped
SM57 will have a more even mid and a little less frequency extension.
SM58 sounds a lot like the SM57 but has a very slight extension in the low end and a bit less 'peak' in the top.
I have tried many other mics including vintage Altec omni and cardioid mics, EV Ndyn cardioid and omni, Shure and Neumann SDCs. They all have their strong points but only you can decide which one you want to use.
With the mic positioned close to the cone the 'center to edge' positioning effects the sound a lot. As the mic is moved back/away from the speaker the center to edge position still effects the sound but becomes less 'critical'
SPECS and DETAILS:
11.5"x11.5"x22" (painted black) Constructed from high mass MDF for maximum sound proofing. All joints are screwed and glued for maximum stability.
Speaker input accepts up to 50 watt amplifiers 8 ohms
Mounted internal goose neck, mic clip, mic cable and acoustic treatment. All ready for you to install your mic and go.
THINKING INSIDE THE BOX
Units ship UPS in the lower 48.
contact me with any questions
We felt that this product that Roger Brainard of 'Folded Space Technologies' ( )developed should be back on the market. Roger and I worked closely together to make sure exact parameters and specs were met. We have his 100% endorsement on this product! NOTHING HAS CHANGED WITH THIS PRODUCT!
**Due to supply and shipping costs the pricing has been adjusted to meet those conditions!**

Thank you for considering this product....believe you are going to LOVE it!!!

Condition
Brand New (New)

Brand New items are sold by an authorized dealer or original builder and include all original packaging.

learn more

Brand
Model
Categories
Made In