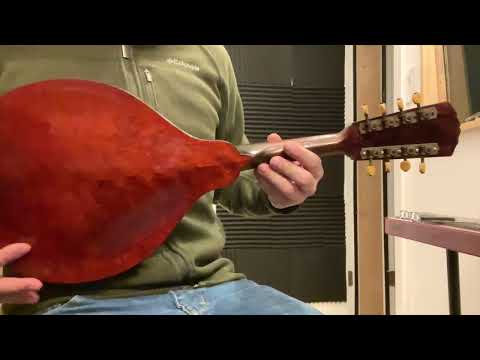 - PLEASE SEE ATTACHED VIDEO BELOW BY CLICKING THE "WATCH A VIDEO" TAB BELOW (or click to the end of the images to see the embedded video) - discounted for holiday season only!

Totally unique, gorgeous two-tone survivor Gibson mandolin in amazing shape. You will not find a cleaner, stronger, or more beautiful Gibson Model A2 Mandolin on the internet. This holy grail mandolin features the original factory burgundy red Pantone stain (SM5032) on top and back with a totally unique brown side stain (never seen before) two-tone color scheme, providing a unique personality, tone and charm. We received this A2 with a catastrophically peeling ugly matt brown nitro finish that was flaking up pretty badly (as shown) so we decided to bring it back to the original color that matches the serial # by sanding it down to the bare wood without loosing any actual thickness of the wood. It's over 100 years old too, which is pretty incredible, especially since it's the most solid instrument you'll ever hold and play. 

As you can see from the screenshot, Garett Park Guitars has been pricing and selling the cleanest A2's around 10k. As far as clean goes, this one takes the cake though.

This incredible mandolin is now ready for a new home and another 102 years of music. You'll be the first one to play it since our luthier finished the restoration. It's essentially new again, other than the obvious natural headstock aged patina which we did not touch, (only to polish up and add the new gold period correct logo). Comes with brand new hard shell case (with tags, never used, as shown), new D'Adarrio strings, new saddle and assorted accessories. Also included is the original wooden saddle and some case candy.

HISTORY:
This instrument just celebrated her 100th birthday in 2021. For her birthday she enjoyed a centennial, bare-wood concourse restoration. Everything from binding repair, new Stew Mac luthier stain and nitro finish clear coat. Flawless fret work, neck work, structural repair and more… you name it. It's all been addressed, finessed back to perfect health, put in a case and marked for sale as brand new, without a scratch. Flawless setup: needs nothing but hands and heart. Looking for the very best vintage Gibson mandolin money can buy under 10k? This should be at the top of that list.

Second half of images are the "before" pics. This 102 year old Gibson model A2, like most of them out there, needed quite a bit of TLC when she arrived. She received it in spades from JML Studios here in NYC. Everything from an impossibly weathered original paper label that was literally just a half inch flake of brown dirt at this point, to peeling binding, peeling paint and a dandruff like flaking top coat finish.

Dripping with warmth and charm, the tone cuts deep and wide. Intimate picking and light strumming is extremely detailed and expressive. The tone is bold, warm, yet bright with incredible sustain. It's a very loud and projective instrument, much more so than the other mando's we have here. It's a sound cannon. Action is perfect and low without buzzing or intonation issue. Original 1921 frets show plenty of life left and a very good amount of height still on them. Something else you may never find again on a 1920's Gibson mandolin. The neck is straight as an arrow, solid as a rock. There are no issues to speak of other than being 100 years old, which you can see from the pictures; it has weathered the storm with grace in all the right places. It's definitely a very special instrument and we're in no hurry to let it go. Here are the details of what we did:

RESTORATION DETAILS:
It was sanded down to the bare wood and completely restored from the ground up using the very best luthier products available. The binding was coming up where the neck meets the body (shown in "before pics") so the old adhesive was removed, sanded, and braced with authentic luthiers Tightbond hyde glue. No expense was spared and we even had a new custom handmade Gibson engraved saddle made (1:1 spec) just for the restoration. The gold plating alone was quite a bit extra (chrome is standard) but we wanted something special and unique to match the uniqueness of the two-tone color scheme. Even the original paper-label serial badge on the inside, which was all but completely disintegrated away, was recreated by veteran mandolin luthier Scott Fox of South Carolina, who specialized in those types of concourse restoration details, and is identical to the original in every way (including original serial #, verified by Gibson). Scott actually serviced this one of 8 Gibson A mandolins at the same time in 1997 (shown in pictures). He then sold all 8 of them in 1998 to the guy I bought this one from in 2021. I hunted Scott down and spoke to him about this mandolin over the phone but he's in his 90's now so he didn't give me much info and could hardly hear me. His name is written in sharpie down on the inside the body at the very bottom so that tells me he had the entire top off at one point although when I spoke to him about it, he doesn't recall. In his day he was apparently the premier luthier in the Carolinas until his retirement a couple decades ago. 

Comes with both aluminum saddle (apparently the aluminum saddle was the original one, according to our research?) for even louder, brighter performances as well as a wooden one for recording and session work. Most people agree the metal saddle sounds better and the wooden one looks better. You'll have both to decide.

We have a few other 100+ year old unique mando's in our shop so check them out as well. 

Any questions please ask. Open to trades of any kind, especially outboard studio rack equipment. Thanks for looking and have a great day. Be safe out there!
Listed
a year ago
Condition
Excellent (Used)

Excellent items are almost entirely free from blemishes and other visual defects and have been played or used with the utmost care.

learn more

Brand
Model
Categories
Year
Made In
Nutley, NJ, United States