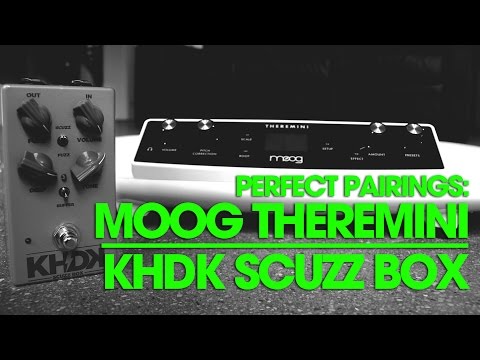 Learn to play the Theremin! The Moog Theremini makes it easy with awesome Animoog synth sounds, a tuner with visual feedback, and built-in pitch correction.
Onboard Practice Tools Make This Moog Theremin Easy to Learn!
No worries if you haven't yet mastered the gestural movements that theremins require -- the Moog Theremini provides built-in pitch correction and real-time tuning tools designed to improve your air-waving and plucking skills. The Theremini is a fresh take on the classic electronic music instrument, offering performance-enhancing features, a powerfully synthy sound engine, a robust preset section, and more to help theremin players of all levels hone their playing technique.
Hands Off My Theremini!
If you can play an air guitar, you can play a Theremini. The core values of this instrument are still the same as a traditional theremin -- moving your hands beside two metal rod antennas allows you to use gestures to control pitch, vibrato, and volume, without actually touching the instrument. But if you do touch the rods, you will receive a debilitating shock of electricity straight to the ends of your hair. Just kidding.
Theremin for Beginners
Move your left hand beside the loop-like left antenna to control amplitude, and move your right hand beside the right antenna -- the one that looks like a vertical pole -- to control pitch. With some practice, your hands will adapt their own fingering guide and you will be able to "feel" the notes in the air. Moog's Theremini gives musicians a different way to express themselves through sound.
Variegated Tones -- Just Like a Moog Synth
The Theremini's powerful sound engine, derived from Moog's Animoog synthesizer, provides a range of professional sounds to play. Its comprehensive preset section includes 32 wave or wavetable-based patches to select or store; you can store a selected scale and root note, set and recall a specified playing range, and specify per-patch settings for the included stereo delay.
The E-Musician's Way to Right a Wrong Note
So do you like it easy or hard? Using assistive pitch quantization, you can adjust the instrument's level of playing difficulty to suit the music at hand. If you are primarily concerned with executing notes perfectly, then quantize pitches to the max, and the Theremini will make sure every note in a selected scale is played perfectly. No wrong notes here. If you desire a less rigid sound and you're ready to dabble in vibrato and other expressive techniques, decrease the amount of quantization and play the instrument like a traditional theremin, with no playing assistance whatsoever.
Learn about pitch, scales, and how your playing relates to each by taking a visual cue from the built-in tuner. Real-time visual feedback shows you how in or out of tune you are, so you know when you're close to hitting it right on.
Play for Yourself or for a Crowd
The Moog Theremini's built-in speaker allows you to perform live on the fly, and a front-panel headphone jack makes it easy to practice quietly. Plugging in ear buds or headphones automatically silences the top-panel speaker.
Control your performances and gestural controls alike with rear-panel line level audio outputs, a pitch CV output with selectable range for controlling other synths, and a mini USB jack for MIDI I/O and connectivity to other gear.
Features:
- Modern take on a classic electronic musical instrument -- the Theremin
- Assistive pitch correction with selectable scales and root note
- Built-in tuner with real-time visual feedback allows you to learn pitch and scales
- 32 wavetable-based presets
- Built-in speaker lets you set up and play anywhere
- Front-panel 1/8" TRS headphone jack for silent practice
- Front-panel knobs for volume, pitch correction, scales, root notes, setup, delay length, and more
- 2 line level audio outputs
- Single Pitch CV output with selectable range
- User-selectable scale and root note (stored per preset)
- User-selectable range: highest note and lowest note (stored per preset)
- Adjustable stereo ping-pong delay
- Mini USB jack for MIDI connectivity
- Kensington lock slot
- Bright LCD screen with white backlight
- Removable pitch antenna with storage compartment on bottom side
- Built-in 3/8" mic stand and camera stand adapter
- Rubberized feet keep the unit in place
Get a hands-free grip on the Moog Theremini!
zZounds is an authorized dealer of Moog Music products.
Condition
Brand New (New)

Brand New items are sold by an authorized dealer or original builder and include all original packaging.

learn more

Brand
Model
Categories
Oakland, NJ, United States