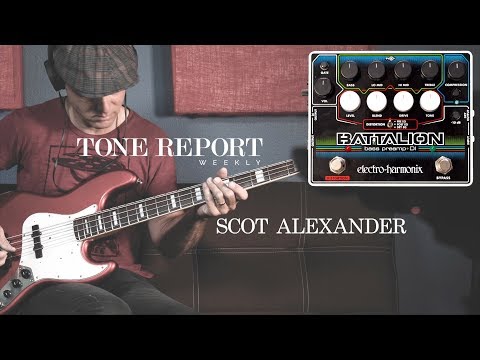 FREE FAST SHIPPING TO ALL USA STATES! WE SHIP MOST ORDERS SAME DAY! [ AND WORLDWIDE SHIPPING AVAILABLE! ] Brand New !!!"Here's your chance to get this item at a great price! Sale Ends Soon! GET IT FAST! "

Electro Harmonix BATTALION Bass Preamp and DI Effects Pedal - New

With the Electro-Harmonix Battalion on your pedalboard, anemic bass tones will be a thing of the past. Sculpt your sound with a 4-band EQ tailored specifically to bass guitar. Forge growling overdriven bass lines with a MOSFET distortion circuit. Place the EQ before or after distortion for an array of interesting tones, or EQ your dry tone and blend to taste. Add thump and sustain to your playing with a built-in compressor, while a noise gate keeps your signal clean. Enjoy easy integration with your rig, by virtue of a range of flexible I/O. Whether you use it as a DI or as a front end for your amp, the Battalion will satisfy your tone cravings.
Sculpt your sound with a four-band EQ
The Battalion's 4-band EQ encompasses the frequencies that are most vital for bass guitarists: Bass affects frequencies below 200Hz, with Lo Mid providing boost/cut at 280Hz. Mid gives you boost/cut at 750Hz, and Treble tackles frequencies above 2kHz.
Add growling overdrive to your bass lines
You can achieve an array of distorted bass sounds with the Battalion, thanks to its MOSFET distortion circuit. This circuit's Level knob sets the output level of your distorted signal, while a Blend knob allows you to control the mix between dry and distorted signals. Crank up the distortion's intensity with the Drive knob and adjust its high end to taste with the Tone knob.
Inject your bass with extra thump and sustain
If you need more thump and sustain, the Battalion's compressor is just the ticket. It also evens out your playing, creating a balanced sound that really shines when employing slapping and other dynamic techniques. The compressor features its own push button, amount control, and LED.
Three signal flow modes yield unique tonal variations
We appreciate the level of flexibility that the Battalion offers. Three signal flow modes unlock a plethora of tonal possibilities. In the Pre EQ mode, the distortion section comes after the compressor and before the EQ. The Post EQ mode places the EQ after the compressor and before the distortion. The Dry EQ mode puts the distortion section after the compressor, but only your dry signal is affected by the EQ.
Free Shipping deliver within 2 to 3 business days or less.
Preamp and DI pedal for bass guitar
4-band EQ with bass guitar-specific frequencies for sculpting your sound
MOSFET distortion circuit for forging growling overdriven tones
Compressor injects your bass with extra thump and sustain
3 signal flow modes unlock a plethora of tonal possibilities
Noise gate keeps your signal clean
Flexible I/O ensures easy integration with your rig
Condition
Brand New (New)

Brand New items are sold by an authorized dealer or original builder and include all original packaging.

learn more

Brand
Model
Categories
Buffalo, NY, United States