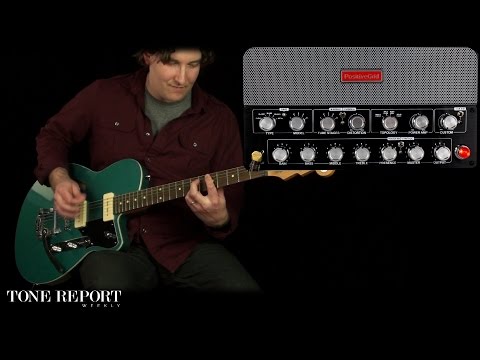 BIAS Head sounds and feels like your favorite classic and boutique tube amplifiers, but offers entirely new flexibility. The advanced component emulation engine captures the warmth, girth and feel of real tube amps, authentically recreating the complex circuit behaviors that make them do what they do. From djent to jazz and everything in between, BIAS Head is deeply rooted in the rich history of tube amplifier design while remaining aimed directly at the future.

INTUITIVE OPERATION:
Harnessing the power of BIAS Head is easy - just select one of the 25 onboard presets, grab a knob and start tweaking. Need more grit on your clean tone? Add another tube stage to the preamp. Want the power amp to feel more aggressive? Change the circuit topology and push the virtual power tubes harder. Prefer a crisper treble response? Flip the power amp presence switch to Modern and hear the top end open up. All of this tweaking is possible directly from the front panel knobs, so it's completely intuitive - no laptop or mobile device required.

POWERFUL SOFTWARE:
If you want to dive headlong into the world of amp customization, BIAS Head comes with our amazing BIAS AMP 2 Pro software suite ($199 value), which allows you to recreate the sound and feel of nearly any existing amplifier. Even better, it gives you the power to create an entirely new amp that is unique to you and the way YOU play. Connect via built-in Bluetooth or USB, and open up a world of component options previously only available with a soldering iron: choose between different preamp and power amp circuits, change the tubes and transformers, add clipping diodes and try out different rectifiers - all completely authentic and all in real time. It's like having a boutique amplifier workshop at your fingertips.

CONNECT TO THE CLOUD:
All BIAS products can connect to the Positive Grid ToneCloud®, a cloud-based community we've created specifically for guitarists and musicians. It's much more than just an online storage tank for sounds - it's a place to discover new ideas and new tones. You can download new amps created by artists and recording studios, backup and share your own creations with other guitarists in the community, and interact with other musicians with similar interests. BIAS AMP 2 software features the ability to Amp Match®, analyzing a source guitar tone and applying the necessary corrective processing to make a custom amp more closely match the original. Even if you don't plan on matching amps yourself, you can still take advantage of the Tone Match feature by downloading custom amps other guitarists have matched from the ToneCloud®.

RULE THE GIG:
Deciding which amp to take to a gig can be problematic - tube amps can be heavy, and they're designed to operate within a specific volume range. Many guitarists find that they need multiple amps to cover all of the sizes of gigs they play, which is expensive. That isn't a problem with BIAS Head, because it sounds and feels authentic no matter where the master volume is set. The built-in 600-watt power amp can handle any gig you throw at it, and at less than 12 pounds you won't have to take separate trips when loading your gear onstage. Add to that super fast patch-switching and a glitchless effects loop, and you have the ultimate gigging amp for every situation.

GOT PEDALS?:
BIAS Head is the most flexible pedal platform in the business. No matter how you connect your pedalboard, you can swap BIAS Head for your old amp in less than a minute. Not only that, BIAS Head's sonic flexibility means that your pedalboard can be more flexible too. Gone are the days of building a board with pedals that only work with the one amp you're currently gigging with - now you can put together a much wider tonal palette.

NOW WITH REVERB:
Professional guitar amplifier heads rarely include reverb, even though it's a vital effect for guitarists. When we were designing BIAS Head, we wanted to squeeze every drop out of our DSP horsepower to provide not only the most authentic amp feel we could, but also to optimize the patch-switching speed for live playing - which meant not including a reverb initially. However, at Positive Grid we are passionate about listening to customers. The top request worldwide has been to include reverb in BIAS Head and Rack, so after many sleepless nights and a few near-overdoses of caffeine, we are now pleased to offer nine different built-in reverbs in BIAS Head and Rack! More than just a simple two-knob reverb, you have controls for reverb type, decay time and mix, as well control of Damping (which simulates absorptive material in the room, reducing high frequencies), Lo and Hi Cut, and Dwell (which operates like a saturation control). The most versatile amp on the planet just got more versatile!
Condition
B-Stock (Used)

B-Stock items are sold by an authorized dealer or original builder, but have been opened, blemished, or used in some manner.

learn more

Brand
Model
Finish
Categories
Year
Made In