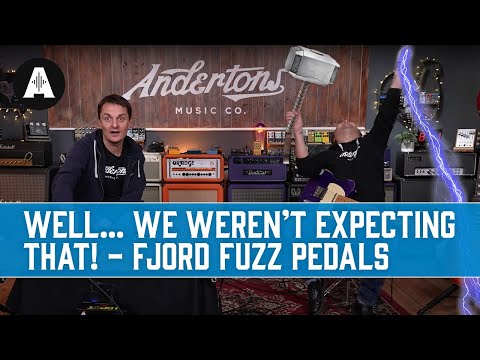 Own one like this?
Make room for new gear in minutes.
Sell Yours
### Current lead time: 1-3 weeks
FENRIS

FENRIS sprung out of my collaborative endeavours with legendary bass boy Bent Sæther.
He wanted the ultimate super-fuzz based fuzz, and through multiple iterations, two pedals emerged, this one being the most beastly and aggressive fuzz I've ever created.

Both pedals use the preamp found at the dry input of the good old Space Echo tape machine and I've added and subtracted a bunch of parts from the original circuit to make this thing its own creation. It still maintains its super-fuzz/standard-fuzz/hyper-fuzz language tonally, but it has become a much more flexible and useful device.
For recording it really comes into its own as a platform for all the weird and wonderful fuzz sounds you could ever need and live, you can make it do the most explosive, wild and thick fuzz sounds you've ever heard.

It has six knobs. Volume and gain do as you expect them to, but the internal gain in the circuit is so massive, you may find yourself actually not cranking this pedal.
The knobs marked with a saturation icon and an upside down heart icon take care of a very flexible notch filter and with them, you can scoop and drag and twist and mangle the signal's EQ curve, from impossibly deep bass, to aggressively nasty treble.
The mushroom knob, lifted from the EMBLA applies a mild, passive gate to the output stage, very useful for whenever you need to cut the noise between your played notes or just destroy your signal. The triangle knob indicates octaving. Put it in the middle for more octaving, put it to either side for less.
Useful specs:
Power with 9VDC, centre tip negative. Same as Boss Pedals. Easy.
Current draw is quite high as I'm using logic based relay switching.
Prior to mid May all FENRISes shipped had a current consumption of a little less than 150mA when engaged. In mid May I moved from Fujitsu Takamisawa relays to Omron relays. These do the exact same job, but draw much less current:
Idle: ~10mA
Engaged: ~70mA
All Fjord Fuzz pedals come with a lifetime warranty. I will always repair or replace your Fjord Fuzz, no matter what you did to ruin it. I will not replace pedals due to cosmetic issues however. Also please beware that the control plates are all unique, some may come very shiny and pretty, others may already have corrosion on them. They are fully removable and you can polish them whenever you want. No refunds will be issued due to corroding copper. Copper corrosion is a natural occurrence and completely unavoidable. It's due to the Earth's atmosphere being made up of some oxygen. Oxygen is very reactive. It's what breaths life into animals and mushrooms across the globe. It's a beautiful thing. Deadly, yet the foundation of existence.
Condition
Brand New (New)

Brand New items are sold by an authorized dealer or original builder and include all original packaging.

learn more

Brand
Model
Finish
Categories
Year
Made In
Pedal Format