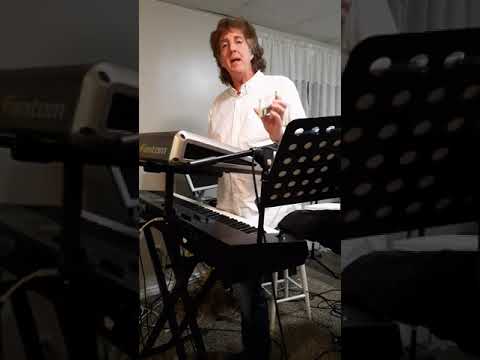 Need to revitalize your Roland Fantom FA76?? This 3.5 Roland formatted disk contains THREE 128 User Patch sound collections that will make your Roland synth come alive!
The Roland Fantom FA76 is a powerful76 note synthesizer that came out in 2002. I purchased a used FA76 last year and have spent the last few COVID restricted months collecting user patch sounds to bring new life into this great keyboard. This floppy disk is the culmination of my work and contains THREE 128 user patch sound collections that I've assembled, tweaked and edited from over 35 various sound collections that I've evaluated. Roland's stock sounds are pretty good, but these collections have some killer custom sounds you will love.
SOUND COLLECTION 1: VINTAGE KEY COLLECTION: The first sound collection is a collection of fat, rich analog sounds that focuses more on 70s/80/90s key sounds so a lot of B3-ish organs patches, e. pianos, bell-like,acoustic pianos, strings, brass and fat synth type sounds.
SOUND COLLECTION 2: SUPER MIX: The second 128patch collection is broader and includes some techno sounds, pulse, good collection of bass sounds, brass, a wide variety of pads, leads and some more organs & e. pianos.
BONUS COLLECTION: 'WORSHIP': I'm including a third 128 sound collection. This third, bonus collection is mostly pianos, electric pianos, piano pads, piano/string layers, strings, organs, pads, bells and soft horns. I play on a worship team at church and this collection is made up of patches that are useful for styles that benefit from more traditional and very usable tones. (Note that there are some duplicate patches in this bonus collection that I copied from the other two collections above that fit great with this collection however many patches are new, unique patches.)
I made a quick video on youtube to showcase some of the sounds on these collections to give you an idea of the quality note that you have to cut and pasted the youtube link into your browser to play it....
Guys, I've wasted money and time buying sounds that to me, just don't cut it. Or sometimes I find you get maybe a handful of good sounds and a ton of junk. That's why I put together my own, custom collections. I've been playing Roland keyboards since the early 80's so very familiar with these synths. COVID had me cooped up at home-hence my messing around making these great sound collections. You won't find anything as good as this or certainly not at this low price. Frankly I did it for fun and just felt I wanted to share it with other Fantom FA76 owners..
If you have any questions, please just send me a message and I'll try and give you more info.


Flat rate shipping to anywhere in the continental US states. Message me for shipping rates to other locations outside the USA. thanks....
Condition
Brand New (New)

Brand New items are sold by an authorized dealer or original builder and include all original packaging.

learn more

Brand
Model
Made In
west jordan, UT, United States