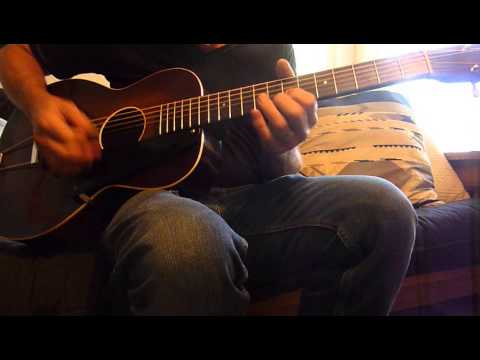 ________________________________________________________
*** VINTAGE & TRADITIONAL GUITARS *** - NOTE: VTG WILL BE CLOSED FOR THE WEEK FROM SUNDAY, SEPTEMBER 26.....LISTINGS WILL REAPPEAR AFTER OCTOBER 1 ***
________________________________________________________
AVAILABLE & READY TO GO! - ACOUSTIC BLUES VINTAGE OVAL/ROUNDHOLE ARCHTOP - KAY MARVELTONE CHICAGO, USA C.1940 SPRUCE & MAPLE SUNBURST JUMBO 26" SCALE GUITAR - A Very Rare & All Original Acoustic Guitar, Excellent Restored Condition, Fingerboard Re-levelled & Re-fretted, Original Kluson Single-line Tuners, Newtone Heritage Strings.

______________________________________________________
Stock Number: VTG1584.
*** A Returning Favourite Guitar, I Initially Restored & Sold a Couple of Years Ago! Entirely new set of current photos now uploaded!
*** This is a rare, 17.25" (43.8mm. body width) jumbo, roundhole archtop, with longer 26"/660mm. scale, most definitely built by Kay in either the late 1930s or early 1940s. In truth it should be named an oval-soundhole archtop...something like a cross between a petite-bouche & grand bouche in Maccaferri/Selmer/Gypsy Jazz style guitars.

*** All original with a nice Spruce top, augmented ladder-style bracing, true Sunburst finish, Maple back & sides, original Kluson Single-line enclosed 3-on-a-plate machines, Rosewood floating & adjustable bridge of typical Kay design, nut appears original bone, original metal tailpiece. Fingerboard is Ebonised Maple....see "Condition" notes on re-levelling & re-colouring.

** Comfortable, quite full volume, "C" profile neck, a little slimmer in fingerboard/nut width than contemporary Harmony guitars, with their standard 1.75" nut width, and again a little narrower than the modern standard 43mm., measuring approx. 42mm., which is a bit of a puzzle as it converts to the rather odd imperial inch fraction of 1 & 21/32"? Radiused fingerboard may have around 12" radius.
*** As far as I can tell, this guitar is all original, and I maintained this originality in the restoration process, except of course for new frets, and a couple of additional screw mountings needed to secure the pickguard. The overall condition is really quite exceptionally good for an approx. 80 year old guitar. Inevitably there is cosmetic wear and ageing, including various scratches & knocks, but only a little in the way of loss of finish/colour, including small patch of capo wear on the neck. The original raised pickguard is intact, but has become slightly curved, and I have added a couple of further fixing screws/spacers, in order to both avoid it rattling on the body & to better align & secure it so as not to obstruct playing.

*** Original floating adjustable Rosewood Bridge is intact and operational; the original metal tailpiece likewise, with just moderate surface disclouration commensurate with age. As have the original 3-on-a-plate enclosed Kluson Single-line Patent Applied tuners, which work fine, and although the buttons (possibly not the originals?) show some mis-shaping & one has a small split, they are otherwise intact & operational. I have fitted new, larger type, vintage bootlace type ferrules, to fit the larger shafts on the Klusons & aid their operation.

*** I re-levelling the fingerboard....although previously the guitar actually played all the way up the fretboard as it was, but not only were there wear grooves in the open chord positions & flat, low & grooved frets, but the fingerboard did have a little more relief than it should. On completing this the Ebonised Maple fingerboard was re-coloured and then re-fretted, so it should be as near as you can get to playing a new guitar. The original Bone Nut was re-fitted & adjusted.

*** On this return, the guitar has been back in the workshop, thoroughly checked over and re-strung.
*** Following completion of the fingerboard re-levelling & re-fretting, 2 years ago, the set-up & action has not changed, and the guitar plays well with excellent 12th. fret action of around 2.75mm./3mm. on a straight fretboard.

*** Two years ago I replaced the strings with Newtone Master Class 11-50 gauge Phosphor Bronze strings....going down a gauge from the 12 gauge I usually fit, in response to the higher tension of the longer 26" scale.....but now having just received 2 sets, I have fitted Newtone Heritage 12-51, also Phosphor Bronze, the lower than standard tension of which will do the same.

*** The is no case included, but I do have an old, but useable Hiscox GJ/Jumbo size hardshell case....please enquire if this would be useful.
*** I haven't yet found a clip of any type of Marveltone guitar on YouTube yet, but I will widen the search for demos of similar roundhole archtop guitars from that era, so I have embedded & linked 3 clips of '30s Roundhole Archtops, also from Chicago makers. Firstly the ever reliable source of James Ralston, the USA pro-guitarist & vintage guitar restorer with the embedded clip here...."1930's May-Bell Round Hole Archtop. 14 Fret/Solid Mahogany. Restored." On my Vintage & Traditional Guitars website you will find links to a further demo by James Ralston, and a further nice clip from Lothar Dornieden for the second additional link.

In addition to these, further information is available from Jake Wildwood's splendid "Country Guitar Doctor" blog, where in the "Museum" section is a page detailing the identical model guitar that he worked on, but under a "Lyra" brand name , which confirms all the identical construction features of this guitar.....the link to this is available on my Vintage & Traditional website details, together with link details also to Jake's YouTube contribution entitled "1930s Kay-made round-hole archtop guitar" - Jake Wildwood........in which he comments "Real long 26" scale (which it shares with this Marveltone!), very punchy, very loud for its 00-ish size. This could easily kick-out gypsy-jazz."

*** Very Extensive Description Details on the Vintage & Traditional Guitars Website.....please ensure that you check the full description carefully. Additional photos also available on request.

--------------------------------------------------------------------------------------------------------------------
Important Notes:

European Postage: I had taken the decision, not to remove European postage options from my listings, but now in view of all the uncertainty regarding the EU's application of the new rules, I am listing guitars on a UK delivery basis only. All VTG guitars are available for sale within the UK, but following the withdrawal from the European Union, the very regular shipments I have made for my guitars for many years, throughout western Europe, from Finland down to Portugal, and every country in between, regrettably are no longer available.

However, buyers from Europe are welcome to purchase, providing they make their own courier collection & delivery arrangements, paying their own shipping costs and transit insurance costs, together with the Import Duties or VAT applicable to their own countries.

Subject to this I will do my very best to assist, but such arrangements would be on the strict understanding that once the guitar leaves here it is entirely the responsibility of the buyer, and I will accept no further liability. Additional information is included in the "Important Notes" section within my Vintage & Traditional Guitars website. Thank you.

UK Postage Costs: After about 10 years of maintaining Parcelforce Express 24 UK postage charge at £15.00, which I have been increasingly often subsidising the cost, Parcelforce have now introduced a surcharge for all packages over 1 metre in length, so I'm sorry that I am now obliged to increase UK postage charge to £20.00, still at cost.

________________________________________________________If you have any enquiries please email me & I will reply as soon as possible. Details of all guitars available can be seen at the Vintage & Traditional Guitars website. Please don't hesitate to get in touch if I can help. Best Wishes, Bob.
---------------------------------------------------------------------------

SALES ENQUIRIES - VTG IS OPEN FOR ONLINE/TELEPHONE SALES ENQUIRIES MOST DAYS. IF NOT IMMEDIATELY AVAILABLE, WILL REPLY TO ANY MESSAGES A.S.A.P.


--------------------------------------------------------------------------------------------------------------------
Listed
2 years ago
Condition
Very Good (Used)

Very Good items may show a few slight marks or scratches but are fully functional and in overall great shape.

learn more

Brand
Model
Finish
Categories
Year
Made In