Anyone can sell on Reverb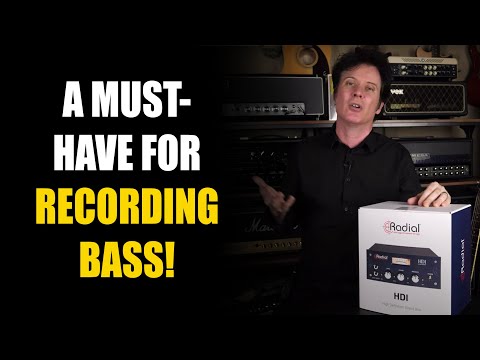 About This Listing
The Radial Engineering HDI is a direct box designed to give you the colorful tone you want as quickly as possible. Use it on passive or active electric basses, electric guitars, or any mono instrument you wish to inject directly into the mixing console or house PA.

The HDI offers some of the connections you'd typically find on a DI box, such as a 1/4" to XLR I/O path with a 1/4" thru jack for outputting unaffected sound to an onstage amplifier. However, these have been expanded: you'll note the 3.5mm input for synths and auxiliary signals, a 1/4" processed output, and dedicated XLR outputs for mic and line signals.

Notably, the unit shines in the color options it provides. You'll find a Color control that offers subtle harmonic distortion not dissimilar to tube amplifiers; you can drive this control with the Level knob. Also, an Opto circuit with a fixed 6:1 ratio musically smoothes your levels. A high-pass filter can cut some of the lows out of your colored sound, eliminating mud from the harmonic distortion and leaving the unprocessed signal unaltered. Finally, a presence knob adds midrange grit to your signal. An IEC power cord is included.
Hi-Z Control The Hi-Z switch adjusts the input impedance at the 1/4" inputs for different tonal options when using instruments with passive pickups or piezo transducers. The lower position is 200 Kilohms and the higher position is 2 Megohms. Opto Compressor This 3-position switch controls an internal opto compressor circuit, providing smooth and natural dynamic control when the Color knob is set to the clean channel (7 to 12 o'clock range). The Opto LED will illuminate to indicate when gain reduction is being applied. Color Knob This control blends between an ultraclean DI channel (when turned fully counter-clockwise) and a unique distortion channel that adds transformer saturation and amp-like distortion as this control is turned clockwise. The Color control is also dependent on the Level control, which in this case can be viewed as a 'drive' control. There is an interesting and often useful range of colors depending on how high the Level control is turned up. Even with the Level control set quite low, the Color circuit still brings in some magic, albeit subtler. High-Pass Filter A 3-position switch rolls off low frequencies to compensate for additional low-end content when applying distortion via the Color control. Note that this switch only affects signal that has been processed through the distortion channel of the Color control; the HPF does not affect the clean side of the HDI. Presence Control This adds emphasis to the high and high-mid frequencies. Fully counter-clockwise is flat; turn this control clockwise for an increasingly brighter sound.
;