Anyone can sell on Reverb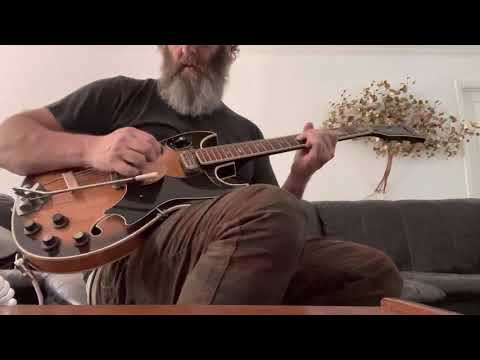 About This Listing
This guitar is amazing made me play in a completely different way. Sounds fantastic I'm going to put the listing notes from the amazing person I got it from. Unfortunately I have to move her on.

Previous listing. (I'll probably link to his video demo too. Because he just made it sing!):

This guitar was in a state when it arrived via trade. I knew it had potential, though, because how could it not have potential? Just look at this battered old Italian sports guit-car and its espresso-steamer-wand vibrato grip! Ok, enough stereotyping. Next.

Crucianellis are a little bit of a "cult classic" instrument and they fought with their countrymen at EKO for all sorts of export-brand contracts -- Vox being the one we all know and sometimes love. Like EKO builds, they're well-built but quirky as heck. I find that both brands really did their instruments a disservice by mucking-around too much with the wiring harnesses and destroying tone via extra "tone-shaping" junk in the circuit.

This guitar -- which is early-'60s per its features -- handles a lot like an ES-330 or Casino save that the neck is a little bit more like a '50s Gibson (medium C-shape to the rear) and the body is narrower on the lower bout and a fair bit lighter-weight. The "cut" of the arched top is very different, though, and very European in shape. It reminds me of Framus, EKO, Hofner, and other designs where the body really dips-down as it reaches the neck pocket and the pickups are meant to be quite high over the top by design. The batwing-style pickguard helps for pinky-placement with that, though.

The whammy has a ridiculously-long arm coupled to a spring/hinge system for the tailpiece like you might see on same-era Teisco products. Once the strings stretch-out, it stays in tune rather well for the small trills and Bigsby-like warble it was intended for. It's got a really light/loose touch which reminds me of a good, "old" Jazzmaster feel in some ways. I like it a lot.

Tone is aggressive, biting, and growly through the two single-coil pickups. They're clean and clear and distort beautifully in the way DeArmonds tend to. Played clean they're very surfy and they're pretty microphonic so they grab some of the "body sense" as well. I find that always gives old guitars a less-sterile sound, though it's not great if you want to walk up to your amp with the volume dimed and not get feedback.

Post-work, the guitar plays spot-on with low, quick action.

Repairs included: fret level/dress, relocation of bridge studs, clean-up of the wiring harness (removal of tone-sucking caps/resistors), new tuners for the headstock, fitting of a number of soundposts to shore-up the top (these often sink over time -- these have made it stable), some seam repairs to the side/back, cleaning, and setup.

Made by: Crucianelli
Model: Elite
Made in: Italy

Body wood: ply spruce top/back, ply maple sides
Bridge: adjustable steel
Fretboard: rosewood
Neck wood: 3-piece maple
Pickups: 2x Crucianelli single-coils
Tone: clean, clear, biting, aggressive, surfy

Action height at 12th fret: 1/16" overall (low/fast)
String gauges: 46w-10 lights, unwound G
Neck shape: medium/slim C-shape
Board radius: ~12"
Truss rod: adjustable
Neck relief: straight
Fret style: medium

Scale length: 24 5/8"
Nut width: 1 11/16"
Body length: 17 3/4"
Body width: 14 3/8"
Body depth: 1 5/8"
Weight: 5 lb 14 oz

Condition notes: the finish is a thick poly. It's cracked all over the body but is relatively good on the neck. The body shows long finish cracks and some of them have even raised the first layer of ply on the top/back here and there. Patches of the finish have flaked-off near the "horns" and here and there, though the guitar remains sealed at its first layer of fiinish/color. The top shows signs of sink/collapse here and there (especially at the f-holes), though both tonebar braces are glued-up just fine -- hence why I put soundposts in -- and the top itself is stable, now. The neck had a mild warp where the body meets the neck, so the last 3 or 4 frets are noticeably shallower than the rest due to the level/dress job to get them in line with the other frets. As you can hear in the video, they do not affect performance. The guitar is 100% original except for the nice new Gotoh "aged" Kluson-style tuners which replaced the mixed set of original/non-original tuners that were on it.


Product Specs
Listed
5 months ago
Condition
Good (Used)

Good condition items function properly but may exhibit some wear and tear.

learn more

Brand
Model
Finish
Categories
Year
Made In
;