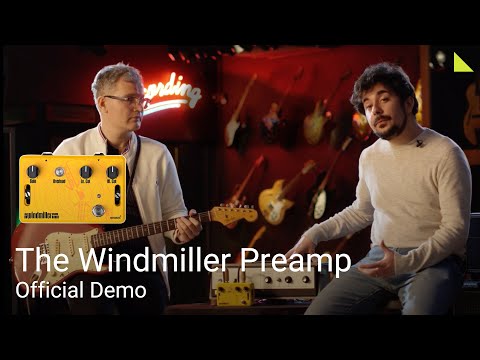 Own one like this?
Make room for new gear in minutes.
Sell Yours
Fast Free Shipping - Free Returns... The Aclam Windmiller Preamp pedal from Barcelona, Spain!
"I use a Grampian reverb unit for distortion. It gives a kind of clear fuzz dirge. I like a slightly broken guitar sound."
- Pete Townshend, Guitar Player interview in 1967

Attain Pete Townshend's legendary tone, and push your amp to its raw power.
The Aclam Windmiller Preamp pedal is an effect that recreates the Grampian 636 Reverberation Unit, S/N: 1138. Pete Townshend famously used the Grampian 636 as his saturation tool.


THE ACLAM WINDMILLER STORY...

It all started on a lazy Sunday, surfing for some old footage of The Who, when Aclam Guitars stumbled on some clips of The Who, playing at the Marquee Club in London in 1967, which eventually became the inspiration for the London map and artwork on top of the Windmiller pedal. Despite the raw energy of those four young men, what really caught their attention was a weird device with a flashing light, sitting on top of Pete Townshend's Marshall amps.

After some research, Aclam found out that between '66 and '67, Pete Townshend had several Grampian 636 Spring Reverb units in his arsenal. He used them as a saturation tool, cranking his Marshall amps to the limit, to get his groundbreaking tone.

Even though it was intended as a studio reverb unit, Pete used the built-in preamp of the 636 to fatten his tone and boost the guitar signal, bypassing the reverb altogether. Since Pete used it for a short period of time, it ended up forgotten, and only the erudite of The Who knew the story of the Grampian 636.

So, Aclam Guitars was really excited to create a pedal version of the 636 preamp, but they had a slight problem… they had never tried one. So, in order to recreate it to the finest detail, Aclam began to search for an original 636 unit, that they could reverse engineer. After many months, they managed to get their hands on an original Grampian 636 unit! It was in a great shape, and sounded amazing!

As soon as they strummed the first chords with the original 636, they found the combination of Grampian, an old Marshall stack, and single coil pickups, to be pure magic. It enhanced the amp's natural saturation with a fatter, sweeter tone. This unique coloring is born out of its primitive technology, and also because of the low input impedance of the Grampian 636. This is quite common on guitar effects of that era, like the Fuzz Face, Dallas Rangemaster, and many other 60's effect units.

However, Aclam felt that the vintage 636 was less impressive when used with other types of amps and pickups, especially humbuckers. Because of that, Aclam challenged themselves to make this preamp sound beautiful, no matter what amp or pickup you use, managing to eventually tweak the circuit to extend its frequency range, and include eq controls while retaining its unique tone. The treble response has been refined by adding a Hi-Cut knob which allows you to add a sweet sparkle to muddy humbuckers, or tame brighter single coils. They also added a Lo-Cut knob to control bass content better, so the player can decide the tightness of the resultant tone.
Another thing Aclam achieved was to refine its background noise. The vintage Grampian 636 has a remarkable hiss, especially when the Aux Channel was used (Townshend's choice). Chapter two of the Windmiller designing process was to eliminate that hiss while maintaining the character and behavior of the original Grampian 636 preamp. After experimenting with a great variety of components and fine-tuning the circuit to make it as quiet as possible, they finally succeeded!

And finally, in order to pay tribute to the last detail, Aclam included the overload indicator lamp found on the Grampian 636. It is sensitive to your playing and responsive to your attack, and looks really cool too!

The Windmiller Preamp is a versatile pedal, which can be used as an 'always on' preamp with a beautiful color, a booster for solo parts, or as a tool to saturate and enhance the amp's natural overdrive.


FEATURES:

Based on the preamp of the Grampian Reverberation Unit Type 636, S/N: 1138
Suitable for guitar, bass, and keys
Improved and quieter circuit including true bypass switching
Hi Cut and Lo Cut tone shaping controls for maximum versatility

CONTROLS:
Gain: Sets the amount of signal boost of the instrument you plug into it. At counterclockwise position, it will increase around 3dB's (depending on the settings of the Lo Cut and Hi Cut knobs), compared to the bypassed signal. As you start to turn the Gain up, it will build up more volume, just like a regular preamp or booster. Please bear in mind this is a "clean" preamp, meaning it doesn't add saturation per se (a little bit of asymmetrical clipping with the Gain fully clockwise) but will clip any following device after it like an overdrive pedal or the amp.

Lo Cut: When using The Windmiller Preamp, a la Townshend style (to saturate your amp), you may find the resultant overdrive is a bit fuzzy. This is not necessarily a bad thing, but we have found it useful to include this Lo Cut control to reduce bass content, and make mid frequencies pop out a bit more. When it is fully counterclockwise, it will reproduce the entire bass frequency spectrum (like the vintage Grampian 636), and as you start turning it clockwise, low frequencies will drop. This control is meant to be a fine tune, so it doesn't have a drastic effect like many eq's found on other pedals or amps.

Hi Cut: The vintage 636 tone is perfect for single coils because it tames its high end, and makes it sound slightly round and mellow, just the perfect amount. But on the other side, we found that humbuckers were a bit unhappy with that. For this reason, we made The Windmiller Preamp brighter than the 636, and included this Hi Cut control so it is more versatile with any kind of guitar and pickup.

Overload Light: We pay tribute to the vintage Grampian 636 by including the Overload indicator light! In this pedal version, it serves as a "signal in" indicator, although the higher the gain and the harder you play, the brighter it will glow as it reacts with the signal dynamics.

Footswitch: Engages the unit, allowing the signal to flow through The Windmiller Preamp circuit. It also lights up the LED above it.


MORE INFO:
Power Supply (sold separately):
This pedal does not use batteries, it uses a 2.1mm plug, 9 Volt DC, Center-Negative power supply, with a minimum output of 100 mA (like most all guitar pedals use). Any power supply higher than 9 Volt DC can damage the pedal.
Warranty:
This product comes with Aclam's 2-year warranty, under normal use, with proper power supply.
Specs:
Dimensions: 5 3/8" x 3 1/2" x 2 1/4" (including knobs)
Weight: .992 lb
Bypass: Relay True Bypass
Current Draw: ≈38 mA
Included in Box: 1 Anti-sliding rubber pad, and 1 Velcro pad

Shipping:
Ships fast! Usually same day, with Free UPS shipping in U.S. with tracking (1 biz day processing, 1-3 biz days transit time usually).
Cool Guitar Shop's added value, when purchased here on Reverb:
Lowest Price Allowed by Aclam in the U.S.

Fast Free Shipping in U.S.
No Risk: Try it on your own rig for 30 days. Don't love it? Return it for a full refund... no hassles, no costs. (We'll send you a prepaid return label link.)
Rock-solid customer service, 365 days a year.
Craving that late 60s, Pete Townshend sound? Get that arm spinning... with the Aclam Windmiller Preamp pedal from Barcelona, Spain!
Condition
Brand New (New)

Brand New items are sold by an authorized dealer or original builder and include all original packaging.

learn more

Brand
Model
Categories
Made In
Pedal Format