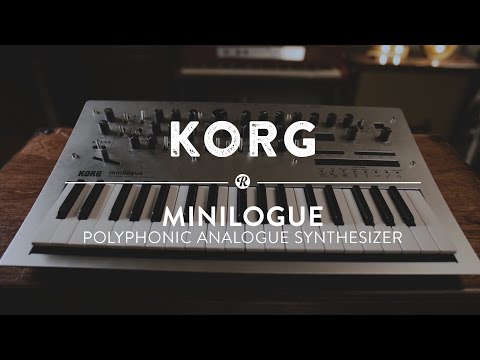 Description française :
KORG - MINILOGUE - Synthé analogique
Le nouveau synthétiseur analogique Minilogue propose une polyphonie et des possibilités de programmation totale à un prix exceptionnel --- C'est exactement l'instrument dont ont besoin les musiciens actuels. Avec le Minilogue, vous pouvez obtenir le son gras et puissant que seul un analogique peut délivrer, et composer à l'infini avec des fonctionnalités telles qu'un séquenceur polyphonique, un delay, de multiples filtres et effets de son ainsi qu'un oscilloscope embarqué. Toutes ces caractéristiques parfaitement bien intégrées font du Minilogue un synthé aussi amusant et facile à utiliser que puissant. C'est le synthétiseur analogique nouvelle génération pour tous types de musiciens.
Un vrai son analogique :
Les circuits du nouveau synthé Minilogue présentent un tout nouveau design, offrant une expérience pas comme les autres. Sans précédent dans cette classe, c'est le premier synthé analogique polyphonique à quatre voix avec une interface aussi bien conçue pour l'accessibilité. Que vous soyez sur scène ou dans votre studio, le Minilogue est le moyen le plus rapide pour explorer et mettre en œuvre une véritable synthèse analogique en toute situation.
La création d'un son puissant, riche et varié sont les véritables caractéristiques d'un synthétiseur analogique. La structure se compose de 2VCO, 1VCF, 2EG, 1VCA et 1LFO. L'oscillateur intégré vous permet de créer des formes d'ondes uniques afin d'affiner vos harmonies et de créer les sons et les compositions les plus époustouflants. Le Minilogue est également équipé d'une large variété de types de modulation, y compris Cross Modulation, Oscillator Sync et Ring Modulation, ainsi que d'un Delay avec filtre passe-haut.
Polyphonie et Presets – Parfait :
Minilogue va au-delà des synthés analogiques de sa gamme de prix en proposant en plus 200 emplacements de presets. Sélectionnez un programme pour un accès instantané à des sons de qualité, allant de basses profondes aux sons atmosphériques. Pas besoin d'avoir une connaissance profonde en synthétiseur, il suffit de choisir un son et de le modifier. Pour ceux qui veulent plonger plus profondément dans le cœur et l'âme du moteur du Minilogue, il contient 200 programmes avec dont 100 sons d'usine modifiables inclus et 100 programmes vides sur lesquels vous pourrez créer votre prochain chef-d'œuvre.
Modes d'assignation de voix :
Les modes d'assignation de voix vous permettent de configurer librement les 4 voix pour les adapter à vos performances. Pour les basses et leads, les voix peuvent être réglées à 4 notes en polyphonie afin de créer de magnifiques accords. Les autres modes couvrent une gamme de sons impressionnante pour des performances inégalées.
Les 8 modes d'assignation de voix
POLY ... fonctionne comme un synthétiseur polyphonique à 4 voix
DUO ... fonctionne comme synthétiseur polyphonique à 2 voix
UNISON ... fonctionne comme un synthétiseur mono à l'unisson
MONO ... fonctionne comme un synthé mono avec sub-oscillateur
CHORD ... produit des accords
DELAY ... propose l'effet de Delay sur les voix 2 à 4
ARP ... un arpégiateur s'enclenche pour les 4 voix
SIDE CHAIN ... quand une note retentit, le volume de la voix précédente est abaissé
Séquenceur 16 pistes :
Faites preuve de créativité avec le séquenceur intuitifs 16 pistes, ses capacités d'enregistrement de séquence de mouvements (automation), et composez sur le tas. Le Minilogue fournit un enregistrement en temps réel avec superposition, et un enregistrement par piste qui vous permet d'enregistrer simplement en précisant consécutivement vos notes.
Oscilloscope pour visualiser le son :
L'écran OLED affiche la forme d'onde que vous sculptez pour votre son en temps réel. Un retour visuel est à la fois éducatif et divertissant, ceci est une première sur un synthétiseur.
Dans un corps de qualité :
Le panneau avant incurvé en aluminium de 2mm, les potentiomètres métalliques recouverts de caoutchouc et le châssis en métal donnent au Minilogue un look exceptionnel faisant ressentir ses puissantes et dynamiques capacités de création sonore.
Synchronisation avec une groove machine :
En plus des connecteurs MIDI standard, le Minilogue fournit un connecteur Sync qui peut être facilement relié aux groove machin de chez Korg. Connectez-le à un volca, une electribe, ou le SQ-1, et réalisez une session améliorée à l'aide d'un séquenceur synchronisé.
Caractéristiques :
Clavier : 37 touches (Slim, sensible à la vélocité)
Génération sonore : synthèse analogique
Polyphonie maximum : 4 voix
Programmes: 200 programmes (100 Presets / 100 Users)
Chaque programme inclut le mode de voix et les paramètres de données de séquences
Jusqu'à huit programmes favoris peuvent être enregistrés
Modes de voix : 8 modes (Poly, Duo, Unison, Mono, Chord, Delay, Arp, Side Chain)
Principaux paramètres de synthèse :
VCO1 : Octave, Wave (Saw, Triangle, Square), Pitch, Shape
VCO2 : Octave, Wave (Saw, Triangle, Square), Pitch, Shape
VCO2 MODULATION: Cross Mod Depth, Pitch EG Int, Sync, Ring
MIXEUR : VCO1, VCO2, Noise
FILTRE : Cutoff, Résonance, EG Int, Filter Type (2-Pole, 4-Pole), Keytrack, Velocity
AMP EG : Attack, Decay, Sustain, Release
EG : Attack, Decay, Sustain, Release
LFO : Wave (Saw, Triangle, Square), EG Mod (Int, Rate, Off), Rate, Int, Target (Pitch, Shape, Cutoff)
DELAY : Hi Pass Cutoff, Time, Feedback, Output Routing (Post Filter, Pre Filter, Bypass)
Séquenceur : Séquenceur polyphonique 16 pistes
Contrôles:
41 commandes accessibles directement sur le panneau pour un accès immédiat aux paramètres
Un curseur permet de contrôler différents paramètres pour chaque programme
Affichage : oscilloscope OLED en temps réel qui fournit un aperçu des modifications de paramètres
Connecteurs:
Casque (6,3 mm jack)
Sortie (6,3 mm jack)
Entrée audio (6,3 mm jack)
Entrée Sync (3,5 mm mini-jack)
Sortie Sync (3,5 mm mini-jack)
Entrée MIDI
Sortie MIDI
USB Type B
Alimentation : Adaptateur secteur (DC9V) KA350
Consommation d'énergie : 10 W
Dimensions (L x P x H): 500 x 300 x 85 mm / 19,69 "x 11,81" x 3.35 "
Poids: 2,8 kg / 6,17 lbs.
Éléments inclus : Adaptateur secteur
English description :
KORG - MINILOGUE - Analoque Synthesizer
The Korg Minilogue Polyphonic Analogue Synthesizer is a stylish, innovative, 37 slim-key fully programmable analogue polyphonic synthesizer featuring 200 program memories, 16 step polyphonic sequencer, rugged construction and various connectivity options.
Minilogue's newly developed analogue synthesizer circuit delivers polyphony and full programmability at a great price --- exactly what today's musician needs. With the minilogue, you can get your hands on the powerful sound that's only possible with real analogue, and find inspiration with features including a polyphonic step and motion sequencer, on board tape-style delay, multiple sound shaping and filter options, and an oscilloscope display. All of these seamlessly integrated features make minilogue as fun and easy to use as it is powerful. It's the next-generation analogue synthesizer for musicians of all types.
The synth circuits for minilogue are all new ground up designs, delivering a synthesizer experience like no other. Unprecedented in this class, it's a four-voice polyphonic true-analogue synth with an interface that's designed for accessibility. Whether you're performing live or producing in the studio, the minilogue is the fastest way for the user to explore and implement real analogue synthesis in any situation. The structure consists of 2VCO, 1VCF, 2EG, 1VCA, and 1LFO. The minilogue's unique wave shape capability lets you fine tune the oscillators' harmonics, creating the most divine sounds and compositions. The minilogue is also equipped with a variety of powerful types of modulation including cross modulation, oscillator sync, and ring modulator, as well as a delay with a high-pass filter. Powerful sound creation and rich variety are the true hallmarks of an analogue synthesizer.
minilogue goes beyond analogue synths in its price range by adding 200 preset locations. Select a program for instant access to great sounds - - ranging from thick basses to deep pads to brilliant polyphonic leads and atmospheric sounds. No need to have deep synthesis knowledge; just choose a sound and tweak - a workflow that is very familiar with musicians today. For those who want to dive deeper into the heart and soul of minilogue's engine, the minilogue hold 200 programs; with 100 editable factory programs included, and 100 locations serving as blank canvases on which to create your next analogue masterpiece. Each preset can also hold a step sequence and delay settings along with the sounds you create.
Selectable voice modes let you freely configure the four voices for performance. The voices can be set to four note polyphony for chords or layered for thick basses and leads. Other modes cover a range of sounds from octave shifted bass explosions to delicately staggered layered triggering.
Get creative with the intuitive 16-step sequencer with motion sequence recording capabilities, and make your sound truly come to life. The minilogue provides real-time recording with overdubbing, and step recording that lets you record simply by consecutively specifying notes, giving you a great way to create phrases and performances.
The OLED display will show the waveform as you sculpt your sound. Visual feedback is both educational and entertaining, and represents a first on a hardware synthesizer.
The uniquely curved, sand-blasted 2mm aluminium front panel, metal shaft potentiometers, solid, chassis-mounted metal shaft potentiometers and rubber-coated knobs give the roadworthy minilogue a standout look and feel to complement its powerful and dynamic sound creation capabilities.
In addition to the standard MIDI connectors, the minilogue provides a sync connector that can be easily connected to Korg's groove machines. Connect this to a volca series unit, an electribe, or the SQ-1, and experience a session with synchronized sequencer playback.
Features :
37 Slim Keys (Velocity Sensitive)
200 Programs
Flexible, powerful four-voice analogue synthesizer
Fully programmable, with 200 program memories (100 sounds included)
Voice Mode lets you flexibly configure the four voices
Automatable 16-step polyphonic note and motion sequencer
Oscilloscope function shows the waveform visually
Rugged and stylish with aluminium top panel, chassis-mounted pots, rubber-coated knobs, and real wood back panel
MIDI, USB MIDI, and Audio Sync for all types of in-studio and live connectivity, including direct sync with SQ1, volca, electribe, and more
Please note that we sell European 220/240v versions, most of which can be switched to 110/120v if needed, either directly via the hardware next to the power supply, or via an external power transformer, don't hesitate to contact us if you have any questions.
Condition
Brand New (New)

Brand New items are sold by an authorized dealer or original builder and include all original packaging.

learn more

Brand
Model

Minilogue 4-Voice Polyphonic Analog Synthesizer

Categories
Number of Keys