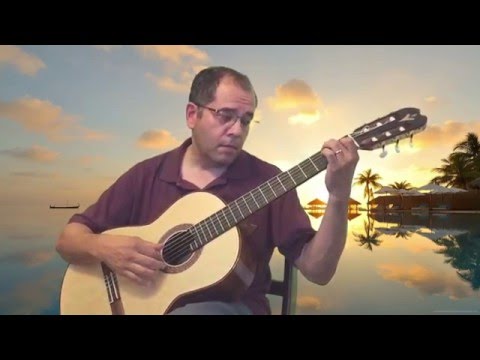 EL VITO MASTER S with cutway
This guitar was custom made by Chinese Master Luthier Mr. Yang Bing. It was made following my specifications.
It is quite light, very loud and very responsive guitar, producing colorful & sweet, moderately bright (yet very clear) treble notes; deep, very resonant, somewhat mettallic but full of overtones bass notes, all very wellbalanced with exceptional note clarity and separation, and with very impressive sustain.
This guitar was designed to have low action. Since it has very slim neck attached to the body at such perfect angle it's action can be set way below standard for classical guitar, currently 2.20mm under E6 and 2.00mm under E1. Second saddle sets the action at 3.00mm E6 and 2.50mm E1. If you play hard and experience some buzzes you'll certainly need higher saddle, because all frets are perfectly levelled.
During my testing of this guitar one of the strings (E1) snapped and caused very light mark in the finish behind the bridge. For that reason I am now offering this guitar as "used" although it is practically brand new guitar.
Specifications:
Top: Very High Grade Solid Australian Spruce/very light coat of polyurethane Clear Flamenco Tap Plate
Back/Sides: Finest Hand Selected Solid Cocobolo Rosewood/ very light coat of polyurethane
Neck: Mahogany with Carbon fiber reinforcement
Fingerboard: Ebony
Scale: 660 mm
Nut width: 52mm
Strings: Savarez Cantiga Premium 510 AJP
Guitar is equipped with brand new Black Gear Buddy Hard Shell Case.
Here is what owners of El Vito guitars say:
Congratulations, you've received feedback on your sale of MAGICAL "EL VITO" CONCERT JS - FINE CLASSICAL GUITAR SPRUCE/SANTOS ROSEWOOD! SOLD 03/17/2022
El vito JS. Excellent guitar, this is certainly the most beautiful sounding classical guitar i have played in a long time! The sound reminds me of that typical ramirez 1a spanish sound and beyond. Lots of overtones and tremendous sustain! I m baffled with the sound quality and i could not put the guitar down. This guitar is a work of art and much attention is given to detail. The neckof the guitar is super smoothand narrow. Thank you victor for sending me a dream guitar!
- Vincent Vanboekhout
LEGENDARY "EL VITO" PROFESSIONAL F - WORLD CLASS - FLAMENCO GRAND CONCERT GUITAR
Buyer: Gabriel V. Sold On Reverb: 02/12/2022
Amazingly sounding guitar, can't wait for it to open up. Sustain is unreal and the guitar is also beautiful!
MAGICAL "EL VITO" CONCERT JS - FINE CLASSICAL GUITAR - SPRUCE/SANTOS ROSEWOOD (#192875455886)
Buyer: stephenripp Sold On: 01/10/2021
What a beautiful guitar!
LEGENDARY "EL VITO" PROFESSIONAL F - LUTHIER MADE FLAMENCO GRAND CONCERT GUITAR (#193695293209)
Buyer: bobbytrailor Sold On: 12/16/2020
LEGENDARY "EL VITO" PROFESSIONAL F - LUTHIER MADE FLAMENCO GRAND CONCERT GUITAR (#193610177089)
Buyer: bobbytrailor Sold On: 12/24/2020
Such a pleasure to spend time with this instrument - I bought two!
Message from: bobbytraylor 12/21/2020
Victor – Guitar arrived safely.
Such a pleasure to be able to spend time with this instrument. Thanks for the recommendation. The eruption of sound from the lows and mids is quite an experience, along with the various harmonics. I pick with national picks now, as my nails kept breaking, and instrument seems to love it.
Also, in D tuning (or even standard tuning) I haven't heard the roar or what you call "raspier" sound from a nylon string before. The instrument is so sensitive, I don't have to blast on the base to get volume. And haven't experienced high notes with such little effort getting all the overtones.
I don't play flamenco guitar, but this instrument is perfect my fingerstyle without hurting my old fingers.
The overall experience is special and amazing to me you can get this level of refinement at this price point. Nothing in Guitar Center could get anywhere near this, and I've played them all.
Keep being incredible. I'll write a review after spending some time. All 3 guitars I have from you, the 2014 Concert JS, 2015 Concert BM and this Professional F are special in their own ways. But I can see. I am going to be a little bit addicted to this F model, as when I perform outside, it just seems to deliver the satisfaction of each note and harmonic to the audience with such effortless ease. Amazing. Action is low and perfect for me.
As you say "This Professional F is just a fantastic guitar from Mr. Yu"
Your fan,
Bob
ULTRA RARE "EL VITO" CSM2-S - TERRIFIC CLASSICAL GUITAR WITH CUTAWAY & PICKUP (#202650700462)
Buyer: larivera Sold On: 11/01/2020
This guitar is my second purchase. It is amazing! Buy with confidence!!
Message from larivera 12/18/2020
Hi Victor,
Thanks for the info. I just have to tell you how much I love my collection of THREE El Vito guitars. They each have their own personality.
There are joy to play!
The two with the spruce tops sound better and better the more I play them. And the one with cedar top has the warm sound that I am used to.
Thanks again,
Lynn
MAGICAL "EL VITO" PROFESSIONAL RLS – LUTHIER MADE CLASSICAL GRAND CONCERT GUITAR (Reverb order 9077893)
Sold On: 07/21/2020
Hey victor,
My son opened up the El Vito yesterday to make sure it arrived okay. He said it was packaged super well and said it is absolutely gorgeous !!!!
I will get to see and play it about mid september when work here is finished !!!
Hope you are doing well. I intend to follow your listings from now on. It is so interesting to read about stuff.
Regards
Mike up North
Message from 09/02/2020
Victor,
I just wanted to take a moment and write you and tell you how extraordinary I think this Cervantes guitar is. I really love the way the action is set up on it. It's very addictive to play…
I hardly know what to say about the El Vito guitar. It has a truly extraordinary sound that is almost kind of mystical. It has bell like tones and sustain that is out of this world. It does not play quite as easily as the other guitar but I believe it also has a dimension of sound that the Cervantes does not…
Quite enjoyable to speak with you the other day and I truly appreciate your time.
Mike up North.
MAGICAL "EL VITO" PROFESSIONAL RLS – LUTHIER MADE CLASSICAL GRAND CONCERT GUITAR (#202680921847)
Sold On: 03/21/2020
Dear Victor,
I am very pleased with my El Vito Professional RLS. I am working on some lessons from Tavi Jinariu for Andante by Sor.
This guitar has a wonderful tone and is easy to play. I have just sold my Cordoba Esteso which was no comparison to your El Vito lattice braced model.
I took these attached photos today and wanted to offer them to you in case you might find any of them that you might like to use on your website, if they might be different than the other photos you list on Reverb. I put three small, lit flashlights within the body and covered the sound hole with one of those round rubber grips that helps you take the lid off jars. With the lights turned down in my office, you could easily see the illuminated outline of the Lattice bracing and the additional wood around the sound hole, through the thin 1.8 mm Spruce top. I can see now why this guitar is lighter and louder.
Feel free to use as my review, how easy your guitar is to play as well as my complete satisfaction with the great sustain and separate tone that each of the strings has. You told me this guitar would speak for itself when I played it and you are completely correct. I am overwhelmed how much this guitar has inspired me to practice more, just to hear the tone alone. I hope you remain well during this quarantine. Good luck to you. Please let me know if I can ever help. Thank you!
Sincerely,
Bob Ailion
Avondale Estates, GA
MAGICAL "EL VITO" PROFESSIONAL RLC – LUTHIER MADE CLASSICAL GRAND CONCERT GUITAR (#193318433147)
Buyer: montyhast28 Sold On: 01/26/2020
Good Product! Easy to work with. I would advise others to buy one.
CUSTOM MADE WONDERFUL "EL VITO" CONCERT RC – SOLID CEDAR/SOLID INDIAN ROSEWOOD (#202805848648)
Buyer: nerspuraa Sold On: 01/02/2020
I received this guitar today. It absolutely is the most beautiful guitar I've ever had...thanks for introducing me to this brand. I had searched for a Ramirez over and over, and wound up with junk.
Then I decided to switch back to Takamines. I've had good luck with those... and then I found your ad on eBay. I can quit searching finally.
Thanks again, RaAnn.
MAGICAL "EL VITO" PROFESSIONAL RLC – LUTHIER MADE CLASSICAL GRAND CONCERT GUITAR (#192918613456)
Buyer: wilmaehre_0 Sold On: 10/16/2019
Best advice from the Seller. Best service. He took really care of all needs! Bravo!
HEAVENLY "EL VITO" PROFESSIONAL JC – LUTHIER MADE CLASSICAL GRAND CONCERT GUITAR (#192887519189)
Buyer: japadogg Sold On: 08/09/2019
Best guitar I've ever played. Excellent communication, packing and delivery.
MAGICAL "EL VITO" PROFESSIONAL MRS – LUTHIER MADE CLASSICAL GRAND CONCERT GUITAR (#192887519190)
Buyer: larivera Sold On: 06/05/2019
An absolutely superb experience! You will not be disappointed. Very patient.
Well, the honeymoon has begun. I really like the guitar. It has a brighter sound and longer sustain than my Takamine.
I saw in one of your comments "My Yukinobu Chai seems quite tired after listening to the new El Vito". I know what it means now.
It has a lively, very energetic sound that I miss when I pick up my other guitar. I have had limited time to play it, but will continue to follow up and let you know how it is going.
Thanks again for your advice. i think you steered me in the right direction.
Yours, Lynn
HEAVENLY "EL VITO" PROFESSIONAL JS – LUTHIER MADE CLASSICAL GRAND CONCERT GUITAR (#202651792034)
Buyer: sacastellan-0 Sold On: 04/29/2019
Victor, I received the guitar and have been playing it. It is as you said, a superior instrument in every sense, especially volume and sustain.
As you have said being spruce it understandably has a raw, subdued quality, but that is getting better rapidly with playing.
Thus I have reached the pinnacle of guitar quality and quite probably will never find any better than what I have.
Many thanks for giving me tremendous gratification and intelligent respect in our dealings!
Sam C.
SIMPLY AMAZING CLASSICAL GUITAR – "EL VITO" CONCERT TS CUTAWAY – SOLID CEDAR/SOLID INDIAN ROSEWOOD (#202621924890)
Buyer: ro1986-2007 Sold On: 03/18/2019
Plays and sounds great. Like the armrest and guitar!
SIMPLY AMAZING CLASSICAL GUITAR – "EL VITO" CONCERT TS CUTAWAY – SOLID CEDAR/SOLID INDIAN ROSEWOOD
Buyer: Joseph M. Sold On: 12/31/2018
WOW. I played many classical nylon string guitars before settling on Victor's El Vito, and it was well worth the effort.
I cannot put this baby down. In addition to a sweet, Claptonesque tone, it is a work of art to behold as well.
The binding, rosette, headstock, and fretboard are stunning, and it plays like a dream. Victor – thanks for a great guitar at a very
fair price, and for a smooth transaction, and great communication. A++++!!!
LUTHIER MADE EL VITO "PROFESSIONAL JC" - SOLID CEDAR/SOLID SANTOS ROSEWOOD (#192711410555)
Buyer: heyiamchris Sold On: 11/03/2018
"The El Vito is absolutely magic. A world-class guitar. Thank you so much Victor!!"
I've given it some time to settle in with my new guitar before sending you this email. Love at first site. The El Vito is exquisite. From the finish to the playability to the amazing tones that this wonderful instrument produces.
Thank you very much Victor. I'm absolutely over the moon with this purchase, and I'm glad you mentioned this El Vito over my original interest in the Japanese makes. A beautiful relationship has been forming and my guitar playing time has doubled, if not tripled, having this guitar in my hands.
I'm looking forward to sharing it's magic with Cam, Jamie, River and others.
Many well wishes Victor, Chris
MINDBLOWING "EL VITO" CONCERT RF-S LUTHIER MADE ALL SOLID WOODS CLASSICAL GUITAR (#202229708228)
Buyer: camandbear Sold On: 2/20/2018
"thanks…"
Thank you so much for your sound advice, care and understanding of our needs and vision. My wife loves the new El Vito ( and so do I ). I'll be back !! It's an absolute pleasure doing business with your Victor.
Blessings to you, Cam xx
AMAZING EL VITO "PROFESSIONAL MRC" - LUTHIER MADE CLASSICAL GRAND CONCERT GUITAR (#202253400903)
Buyer: camandbear Sold On: 3/18/2018
We are well here and my wife is very much enjoying her new El Vito RFS, she's just signed up for classical training guitar lessons. !! I am falling in love with her guitar too ! My Yakinobu Chai seems quite tired after listening to the new El Vito. Ha ha.. I guess its a common illness among guitarists :) I have been tuning in with your guitars and this one " the pro JS " really calls to me. It's a bit out of my price range after purchasing the wifes guitar last week but I am very drawn to this one for some reason. The one with the chip near the tuning peg. Is it wise to purchase a new guitar with a cosmetic flaw in case I have to sell it for some reason ? Also, can it be strung left handed ? Thank you….. Cam…. xx
It has taken me a while to get back to your in regards to the El Vito MRC guitar as I have had a local luthier make a new nut and bridge for my left handed ways. Finally got to play it last night. Wow!! It feels like it has been played for years and has a maturity and warmth to it that just melts my heart. I love the cedar. Thank you so much for your advice, patience and ever present support. Your knowledge and wisdom and heartfelt care for those wanting to connect to a truly beautiful instrument. Wishing you all the best Victor. My friends, wife and myself are all very happy with your service and El Vito quality and magic. …. Peace…….Cam xx
MINDBLOWING "EL VITO" CONCERT RF-C LUTHIER MADE ALL SOLID WOODS CLASSICAL GUITAR!
Buyer: Danny Marshall Sold On: 07/07/2018
It's lucky to find a seller of classical guitars with such a personal dedication to quality, such an enthusiasm for the instrument, such an interest in helping a player plan and complete a satisfying transaction. Although my acquaintance with my new guitar is new, it's not too early to let other buyers from Victor's online shop know that they can rely on—trust—Victor: quick and ample communication, honest opinions, attention to needs, timely and safe shipping.
- Danny Marshall
MINDBLOWING "EL VITO" CONCERT RL-S LUTHIER MADE ALL SOLID... (201888481267)
Buyer: Dave Satre Sold On: 05/15/2017
The RLS came yesterday in great shape, just before the weather turned back rainy and cold. Beginning of the week was "20* F above normal" said the weather person. As soon as the guitar was delivered Wed. noon, it began to drop and now it's "12* below normal!!" Your prompt shipping saved the baby from harm here at the end of the week, Victor –thanks for the loving care of your instruments to make it happen – really makes your customers trust you again and again!!
This guitar is magnificent!! It's nice and loud but still (given the lattice bracing) can be played quietly and has great note separation/definition across the fingerboard!!! If I take good care of it, it should only grow in depth and resonance over the years.
Speaking of the fingerboard, it is the finest I've owned (or played, for that matter) on a classical instrument!!! I don't know if you lowered the action, knowing my preference, but its extraordinary!!!!!!!! As I mentioned, practicing for forty years horizontal picking style —strictly parallel to the top – I had zero problem with buzzing at all, anywhere on the neck, even though the action was set quite low. (Me and Segovia, ya know!!! Sorry – I'm a little excited here. But I express in music – I paint for myself, emotionally, and this instrument is my brush and palette!) Thank you!!! This could be the ultimate "holy grail" I've been looking for across the decades!!
Have good days! Thank you again!!
Dave Satre
MINDBLOWING "EL VITO" CONCERT RL-S LUTHIER MADE ALL SOLID WOODS CLASSICAL GUITAR (#201866385351)
Buyer: adrianisbored Sold On: 04/11/2017
"Unbelievable guitar! Better than everything at guitar center. You need to try one"
New message from: adrianisbored
Hi Victor. I love the guitar, its sound its just incredible.
Adrian.
STUNNING "EL VITO" CONCERT BM - LUTHIER MADE, ALL SOLID WOODS, CLASSICAL GUITAR (#201692616527)
Buyer: diemquyenle Sold On: 11/17/2016
"I bought this guitar for my sister who is a guitarist because she'd been watching it for a while on eBay. She loves how it looks and sounds but she thinks it sounds like the other guitars that she already has. She already owns 6 guitars that she uses to play both classical and flamenco music extensively. She's really looking for a pure classical guitar. I don't really understand it because I don't play guitar. Other than that, this guitar looks stunning and sounds great. I really appreciate the super fast shipping and the courteousness of Victor, I wish it had work for us both ways!"
New message from: diemquyenle
I'm back again. Last time I got this guitar for my little sister but I had to return it because she could not make up her mind and time had run out. But ever since it was returned, she has been going back on eBay to look at it every single day! I know she was too shy to ask for it again, but today she finally said she wants it back. Any chance I can get it again for the same price for my sister? I'm sorry for the lack of communication on my part last purchase. I knew my sister was very picky and I didn't want to get my hopes up because I did not like returning things. But it seems she has bonded with this beautiful guitar!
Please let me know. Thank you Victor.
STUNNING "EL VITO" CONCERT BM - LUTHIER MADE, ALL SOLID WOODS, FLAMENCO GUITAR (#191930446975)
Buyer: bobbytraylor Sold On: 07/26/2016
"Victor continues to amaze – especially with this birdseye model."
New message from: bobbytraylor
I was hesitant to order your Concert BM Maple guitar, as I enjoy your Brazilian Rosewood model so much. I now see why your professional endorser does so many arrangements with it. A bit crisper in the highs, yet still rich, full and "pearly", tons of overtones, without losing much in the lows at all. The low action set up you did is perfect for my picking style. It's a very different and unique sound that I absolutely love. Haven't been able to put the thing down since it arrived. Nick is thin and true as usual – Nice touch on the pearl inlay headstock too – The best, Bob P.S I tried to pick up a cheap $600 guitar at Guitar Center to keep at my summer place, but returned it. I have been spoiled with your level of refinement on these guitars!
Bob
MINDBLOWING "EL VITO" CONCERT RS - LUTHIER MADE ALL SOLID WOODS CLASSICAL GUITAR (#191908343441)
Buyer: jc2005apx Sold On: 07/27/2016
"Everything including communication with seller went so very well."
New message from: jc2005apx
Hello Victor,
The El Vito Concert RS is excellent. It only took 15 minutes to do a preliminary assessment. I have by now set it up according to my personal requirements, and it is just so very good, I am very pleased with the guitar and also your help.
Here's some things about it you will find interesting. Keep in mind that I've been a guitarist since 1964 and a classical guitarist since 1970. During that time I've had numerous not-expensive classicals and two Robert Ruck guitars, a 1976 and a 1980, both of which I (regretfully) sold long ago. So I have a wide base for comparison.
This El Vito RS is the best guitar I've had since I sold the 1980 Ruck... In all my recent very extended research, in my opinion, the only other affordable guitar that could top this one, would be a higher-level El Vito. They are doing very excellent craftsmanship in their building and it shows. The important thing is that this guitar encourages practicing and playing like no other I have ever had since my 1980 Ruck.
Thank you again. If I ever decide to buy another guitar, I now know exactly where to look.
John Crimi
MINDBLOWING "EL VITO" CONCERT RC - LUTHIER MADE ALL SOLID... (201575419756)
Buyer: David Sold On: 05/15/2016
"Great guitar for the money. Excellent balance, projection and sustain. Beautiful trebles and strong bass. Very resonant with overtones. I put a Tone Rite on it to help her open up. Upped my playing time to over two hours a day because of how beautiful it sounds and how easy playing it is. Intonation seems perfect. My guitar instructor was impressed with it. Working on Prelude 1 by Villa Lobos and loving it. Excellent intermediate player guitar, don t be scared off by it being made in China. Wish I could play the higher level, bet it is awesome. Will send a audio recording later."
David
BREATHTAKING "EL VITO" STANDARD C - LUTHIER MADE HIGH GRADE CLASSICAL GUITAR (#191840747497)
Buyer: jane_lega Sold On: 04/16/2016
"Sellers website extremely well done,very fast shipping,guitar arrived as perfect."
New message from: jane_lega
Hello Victor,we just received my new guitar and i'm extremely pleased with it. It's even more than I had hoped for...
Thank you, Gary and Janet Legates
"EL VITO" F2N - TERRIFIC FLAMENCO GUITAR WITH SOLID SPRUCE TOP AND ROSEWOOD B/S (#201523328132)
Buyer: rohmon Sold On: 03/14/2016
"Got the El Vito FN. Best guitar I bought for the money. I'm impressed. Thanks."
El Vito Concert BM
Buyer: Felix Sold On: 03/10/2016
Hey Victor,
In all honesty these guitars are underpriced when compared to a lot of other big name brands or luthier built made to order guitars. I have seen the same guitars with these designs and woods made by luthiers in Germany, England, or Australia going from $6000.00 to $9000.00.
There are a couple things I noticed about this particular guitar. One is the deep bass it has - which I think is unlike a maple backed guitar. This guy - your luthier did not fall into the trap of making a maple guitar which lacks low end. In fact, he somehow created it with very deep bass - the bass is full of power. You hear it in the rhythm and even lead. This by itself was quite amazing. I also love the clarity/transparency across the midrange. For lead it does wonderful because it is punchy. I could go on and on - this guitar sound very different from my rosewood guitars - different great qualities and is fun to explore what it can do.
Felix
MINDBLOWING "EL VITO" CONCERT RC - LUTHIER MADE ALL SOLID WOODS CLASSICAL GUITAR (#201455976969)
Buyer: caeserwillow Sold On: 11/24/2015
"Excellent guitar, bargain price, as always! Many thanks Victor!"
Hi Victor,
Just to give you some proper feedback on the El Vito Concert RC. It really is, as you say, a magnificent guitar for the price, indeed at any price. It easily blows away the equivalent Ramirez or Alhambra you can get at this price point. I can't wait to try your other models if they are better than this!
Regards, Curt
"EL VITO" CONCERT RS
Buyer: holldocke Sold On: 09/22/2015
"So, he picked up the package at the post office today...he opened it and said I should see his smile- like a kid at Christmas!"
STUNNING "EL VITO" CONCERT MRC - LUTHIER MADE, ALL SOLID WOODS, CLASSICAL GUITAR (#201433206953)
Buyer: hum_au2014 Sold On: 09/30/2015
"A beautiful guitar, seller very helpful and patient with my many questions."
Victor..., sounds& feels beautiful!! Muchas gracias! Hume
STUNNING "EL VITO" CONCERT JS - LUTHIER MADE, ALL SOLID WOODS, CLASSICAL GUITAR (#191610703002)
Buyer: jazzyeddy Sold On: 07/20/2015
"Super-fast delivery, gorgeous-looking, sounding guitar! Awesome, very pleased."
Hello Victor,
I thank you again for your excellent service, super-fast delivery and I wanted to comment on my new beautiful 'El Vito' Concert JS, it is an exquisite guitar, I needed some time to let the strings settle in to properly evaluate it, it plays like 'butter', great neck, and has a very nice tone, sustain and volume. It is such a thrill to play it, a delicious experience. Thank you for offering these beautifully hand-made instruments at such a great price. I highly recommend you to others. My best, Ed
(07/25/2015) Message from Phil, already owner of El Vito Concert F and El Vito Concert JC guitars, who decided to purchase El Vito Concert JS guitar.
Words cannot describe how beautiful and sweet sounding this guitar is. The combination of the Engelmann spruce and the jacaranda produces such a heavenly tone! The build quality is absolutely superb. I just dropped the action by a 1/2 mm and it plays like butter. I plan on making years of music with it. Thank you for your great service!
Phil
Here is a letter from Felix Marin (07/20/2015)
Here is a review from a new owner of El Vito Concert JS (sold 06/06/2014)
Hello Victor,
Hey it's been about two weeks since I received the new El Vito Spruce Jacaranda guitar. I wanted to give myself some time to play it before I wrote you back to tell you what I think: I've had a change to play it and even compare it to my other existing guitars. I'm afraid to say this one beats all of them in rich color and sustain. And it's so much fun to play. A little bit about myself: I'm 51 and have been playing since my teens. I also had a few guitar teachers over the years including one who was a concert classical guitarist who was very strict. I have also had a chance to own and sample a number of classical guitars over the years including a couple high end guitars so with that I offer my opinion of this guitar. The trebles are crisp sweet and bell-like without sounding thin. The mids and basses are all very rich and full but never overpowering. The sustain and overtones just go on and on. I don't believe there is any guitar that does it all and each good guitar has its particular strengths. But man this guitar has a bunch of winning points. This is a keeper! It is lightweight and looks even better in person than in the pictures. The action is extremely easy and comfortable. And to think this guitar is new and in my experience, new guitars improve as you play them - I wonder how this guitar can get any better! LOL! Thanks Victor!
Regards, FMJ
LUTHIER MADE STUNNING "EL VITO" CONCERT Js CLASSICAL GUITAR WITH JACARANDA B/S (#201325487642)
Buyer: pjolly1953 Sold On: 05/05/2015
"Quick delivery. Excellent communication.Very happy!"
Dear victork1962,
I wanted to thank you for the very quick delivery of the Concert Js. It arrived within 5 minutes of the exact time you mentioned in your email. It is truly a beautiful instrument, and it is as you described it: easy to play, excellent volume, and gorgeous tone. I especially like the clarity of the individual notes – they sustain well and don't get muffled or covered in a woofy bass sound. Of course, I like the brilliance of spruce and the jacaranda back and sides are 'stunning'. There is a depth, or body to the sound compared to my other guitars. It is difficult to find the words, but it sounds elegant, refined, or regal. Knowing the nature of spruce, it will just get better sounding...
Patrick Jolly
Message from a buyer of El Vito Concert JC guitar sold on 05/05/2015
Words cannot describe how wonderful this guitar is !!! The sound is tonal heaven, and it is unbelievably loud !!! It is so beautifully made !!! This is by far the best sounding guitar that I have ever owned !!! It is a keeper !!! Thanks for the deal !!!
Phil
LUTHIER MADE STUNNING "EL VITO" CONCERT Jc CLASSICAL GUITAR WITH JACARANDA B/S (#191539826754)
Buyer: mitrag-0 Sold On: 03/28/2015
"Very knowledgable, honest and transparent, and forthcoming seller."
I have been playing your Jc guitar for the past two days. First of all, let me give both Youlong Yu and you big kudos for this creation; for its superb playability, tone brightness and warmth, and excellent sustain both in the base notes and overtones (some people may not like this but I do).
My database for the guitars that I have touched and played is very limited (Ramirez R1, R2 and NE; Matsuoka M-100, Francisco Navarro Student Concert and Grand Concert, Yulong Guo Soloist) and does not include any fancy or very high-end guitars. For whatever it is worth: I would certainly put El Vito Jc playability and responsiveness above all these guitars. Comparing the sound of different guitars is a matter of taste (if you knew German, the term "geschmak sache" is the best descriptor). To mine, and without any hesitations, I would put the tone color of El Vito above those of Ramirezes, Matsuoka, Guo and Francisco Navarro Concert series. El Vito Jc is certainly a valuable asset, not only at its current price range, but even competing with guitars out there at 3X this nominal value. I am sure you know that well and you have got the same feedback from many other buyers.
For the past two days, I have played on your guitar Prelude No. 1 from Lobos, Recuerdos de la Alhambra, Caprico Arabe and El Testament de Amelia. Each time I play these on this guitar, I hear and discover tones that are kind of new. The sonorities on the 5th and 4th strings in Prelude no.1 come out so beautiful on this guitar. The sound of this guitar make even someone like me sound good! It simply fills the space. I can't wait to find someone to play this guitar for me and I become the audience.
MG
I want to give you some more good feedback. I had one of my friends who plays classical guitar and is a real guitar enthusiast over with me yesterday. He has a Jon Price lattice braced guitar that he got a few years ago for ~$10K. It is cedar top, has a very nice arched back and is really a nice (both aesthetically and soundwise) instrument. I had not seen his guitar close up until yesterday. We both played both guitars (his Jon Price and my El Vito Jc). Similar to other lattice braced guitars, his guitar certainly felt heavier than El Vito Jc. We both agreed that the sound of El Vito Jc and his Jon Price had a lot of similarity both in tone and in brightness. His guitar sounded a bit louder and richer, and had slightly more clear note separations to my ears. Their sustains felt otherwise very similar to me. I thought you were interested in the comparison. He commented that in his mind El Vito easily competes with guitars that he had come across in the price range $5K-$8K. He was advocating that I should consider replacing the tuners with a more advanced type of tuner that he had got on his guitar. For me, those kind of things are secondary, although they could influence the accuracy of the instrument.
Thanks for the guitar and for making it available to a lot of folks. I will be in touch.
-MG
Feedback from a buyer who on March 28th,2015 ordered El Vito Concert JS
I have been playing guitar for a while and has been playing many guitars at: GSP in San Francisco, stores in Philadelphia, Boston and Seattle. The guitars that you sell and praise completely deserve your description.
El Vito guitar was outstanding, top level craftsmanship, beautiful spruce top and Jacaranda. I can tell you without hesitation that El Vito has the best playability that I have ever seen. Minimal action, zero buzz. Easily a $5000-$8000+ instrument. There is ABSOLUTELY NO FACTORY guitar that can even closely match EL Vito. Giambattista, Alhambra, Asturias and Cervantes don't come close. This is really Kenny Hill Signature / Kohno level guitar.
Thank you very much, if I am ever in GA, I would love to stop by and shake your hand. It's a pleasure to deal with a professional.
DP
Feedback from the owner of El Vito Concert RC guitar, sold on March 15th,2015
Been playing your new creation. Wow, can't put it down!! But on to my thoughts, as I'm sure you are always interested in feedback.
Playability: Top notch. You really have a winner here. Your setup is right on target! At least for now I have absolutely no need to change anything. The string spacing and neck size (thin) has an outstanding feel. I just fell right into it like I'd been playing it for years. The high tension strings I really like. Much easier to be accurate with timing, but also a bit more sensitive to finger placement, so I'll have to clean up my act in that regard. Very, very responsive, and sings with a very light touch. My previous guitar was fairly dead in the high range, so I became accustomed to much more emphasis on the melody notes. I'll have to learn to back that off a bit, but it's a good thing, and makes playing chords feel more balanced physically. No unwanted overtones, probably best described with the phrase "good note separation", with just the right amount of sustain for my taste. But that's getting into my next topic...
Tone: Well, now I know what you meant when you said "they have a sound all their own." It's unique. In comparison to the Matano, I would classify it as the sound of a new instrument, as opposed to one that has aged for 40 years. The Matano had a more mature sound, but to produce that sound it had to be played very aggressively, and that may be the reason for it having been made with a very high action. The El Vito, on the other hand, while having a somewhat less mature sound does not, as you put it, "require you to muscle a tone out of it". The light touch with the right hand is much more forgiving for those of us with less technical experience.
Quality of the build: Top notch! 99.9% flawless. Beautiful instrument! Although by nature I am a perfectionist, I have learned over the years that perfection is an elusive thing. In fact, I don't think it actually exists. What matters is that you at least try to attain perfection in all that you do, and no one (with any intelligence) will ask any more of you, regardless of your skill.
Totally happy!!! You called it, and so it is. A big thank you my friend, this one's a keeper!!!
Joe
LUTHIER MADE "EL VITO" CONCERT FC - ALL SOLID WOODS FLAMENCO GUITAR WITH CUTAWAY (#201309379266)
Buyer: sethd2303 Sold On: 03/16/2015
"Honest & accurate ebayer, great El Vito guitars at great price's,AAA+"
LUTHIER MADE STUNNING "EL VITO" CONCERT Js CLASSICAL GUITAR WITH JACARANDA B/S (#191511228435)
Buyer: mattsuperfly Sold On: 02/19/2015
"One of eBays best, fast shipping, simply awesome customer service A+++"
HAND MADE ALL SOLID WOODS "EL VITO" CAS2-S CLASSICAL GUITAR with HARD CASE (#201270997855)
Buyer: cuatropicker48 Sold On: 1/23/2015
"Outstanding jazz design! Exceptional service!"
LUTHIER MADE "EL VITO" CONCERT F - POWERFUL AND PUNCHY FLAMENCO GUITAR WITH HSC (#191450706018)
Buyer: phil204011 Sold On: 01/13/2015
"Wow! What an incredible guitar! Quick shipping! Thank you Victor!"
I just want to tell you how happy I am with this El Vito guitar! The sound and quality it top notch. It is perfect in every way, including playability. This will be one that I keep for the rest of my life.
Thank you so much!
Phil
LUTHIER MADE STUNNING "EL VITO" CONCERT Jc CLASSICAL GUITAR WITH JACARANDA B/S (#201260867960)
Buyer: 717rooster24 Sold On: 01/12/2015
"AAAA+AbsolutelyRemarkableInstrument IncredibleSoundQualityBestSellerEver."
I want to thank you for making this the absolute best eBay purchase I've ever made. This guitar has a tone and sustain that far exceeds everything I expected or have ever had the pleasure to play. Words cannot describe it...one must hear for themselves to fully appreciate. I never heard or played a $10,000 instrument but its impossible to imagine there could be any improvement. The quality is top-notch right down to the tuners. They are simply gorgeous and actually a joy to turn. Waiting for the strings to stretch is now going to be a pleasure because I get to turn em. The rosette is beautiful. The neck shape and your setup of the string action is incredible. It fingers so much better than my other classical it is like night and day. My playing and practice time will definitely increase. Your communication, knowledge, advice, and packaging for shipment are second to none. This will definitely not be the last purchase I make from you. You will be selling me a Flamenco guitar in the future as soon as I replenish my wallet! My 3 year old Yorkshire Terrior is my most prized possession. This guitar has taken over 2nd place. She cannot be dethroned by any guitar or person! I know you'll understand. The day will come when the right person plays or buys one of these fine instruments. The word will spread through the proper channels and you will be able to charge what these guitars are actually worth. That will be several thousand dollars more. I wish you the best of luck and will grab another before that day arrives.
Thanks again,
Todd
LUTHIER MADE STUNNING "EL VITO" CONCERT Jc CLASSICAL GUITAR WITH JACARANDA B/S (#191450703491)
Buyer: tedhill154c4 Sold On: 12/28/2014
"AAAAA.i strongly recommend victor as an honest knowledgable guitar man."
I have decided to keep the guitar.You are right when you say that it is better than khono.I had a 1980 no.10 some time ago and was not that impressed. I know a very respected guitar dealer here who also thinks that most Spanish guitars are mostly made in a couple of factories in spain and leading names have their labels applied and sell them for what the buyers will pay for a famous name. one has to pay well over $10,000 to get a luthier made guitar from spain these days. i think I will be very happy with the el vito as it improves with playing.Thank you again.you deserve to do well.
Regards Ted
"EL VITO" STANDARD FP - HAND MADE ALL SOLID WOODS FLAMENCO GUITAR w. EBONY PEGS (#191443074630)
Buyer: **ranma-chan** Sold On: 12/31/2014
"This is a great guitar with a spectacular sound. Will do business again."
LUTHIER MADE "EL VITO" CONCERT F - POWERFUL FLAMENCO GUITAR - AT REDUCED PRICE (#191413357674)
Buyer: argylegolf Sold On: 12/13/2014
"I Love This Guitar....Better Than Expected" Plays like Butter."
HAND MADE SOLID TOP "EL VITO" F2N CLASSICAL FLAMENCO GUITAR WITH HARD FOAM CASE (#191307324053)
Buyer: mondoglobe Sold In: December 2014
"it' is a great guitar. sorry for the late feedback, unexpected problem in my pc."
LUTHIER MADE MINDBLOWING "EL VITO" CONCERT Rc CLASSICAL GUITAR WITH HARD CASE (#201164088720)
Buyer: jzsfrk34 Sold In: November 2014
"This guitar has Extremely clear tones.Projects very well.Try and save Thousands!"
LUTHIER MADE MINDBLOWING "EL VITO" CONCERT Rc CLASSICAL GUITAR WITH HARD CASE (#201149198659)
Buyer: gail_va Sold In: November 2014
"Great dealer! Offers wise advice and excellent prices."
The El Vito Concert RC guitar arrived this week in perfect shape. I would say it lives up to your billing entirely--perhaps exceeding anything you led me to expect. This is a stunning instrument. It is in the same class, though only slightly bettered by my old 1972 Kohno #30. Its voice is different--stronger, less mellow, but precise and lovely in its own way. The action is just wonderful. Every classical guitar student should have the chance to work on an instrument that responds to ones touch so readily and accurately. In hindsight, the price of the El Vito seems very reasonable, even amazingly low.
You were right when you said I would not want to think of returning this instrument after I had the chance to work with it. Thanks for pointing me in a right direction.
Good wishes, Robert Weigl (Alexandria, VA)
LUTHIER MADE STUNNING "EL VITO" CONCERT Jc (201145854896)
Sold On: 08/16/2014
I have received the specification by email on 26 Aug. Thank you so much. I have also received my new baby on 27 Aug. It is as what you describe "incredible". The more I look at it the more I love it. The wood is so beautiful. It is a piece of art. This guitar is really singing. The 1E is ringing with metallic sound and so clear and sweet. It has good power and sustain is really incredible. I am so happy with this guitar. It is what I am looking for and you save me thousands $$$$$. You thank me for my trust. I thank you for your kindness and honesty. I wish you well and I am looking forward for you next level "EL VITO" guitar.
Best regards
William
LUTHIER MADE STUNNING "EL VITO" CONCERT Js CLASSICAL GUITAR WITH JACARANDA B/S (#201145852214)
Buyer: bobbytraylor Sold On: 08/19/2014
"For my money, sound close to Smallman, yet 5 times less expensive. A rare find."
Got the Guitar. Wow! I played every single classical in Guitar Center in Boston and walked out totally discouraged. Even the Kremona Coco wood. I have two Martin D-41's and have played all over the Country for years but never owned a good classical guitar. Wow. No substitute for the Brazillian Rosewood, Engleman or Adarondack Spruce and Lattice Bracing. I heard that $22,000 guitar that Smallman or whatever his name is makes and was hoping for something close to that sound. And this guitar has it. Wow. Thos transparent haunting highs with the overtones without losing the base or midrange. Tough to do. I will send you a sound clip on an unaltered recording that you can put on your website. People should hear this guitar. And unlike alot of the videos, this one sound better in person. Enough of the "well it's all subjective". World class gorgeous will always be world class gorgeous. And this has the magic in spades. Amazing.
Bob
LUTHIER MADE MINDBLOWING "EL VITO" CONCERT Rc CLASSICAL GUITAR WITH HARD CASE (#191278639952)
Buyer: wmcg5340 Sold On: 08/19/2014
"honest , a good man and expert guitar seller!!"
MINDBLOWING "EL VITO" CONCERT Rs HAND MADE CLASSICAL GUITAR WITH LATTICE BRACING (#191248508104)
Buyer: jzsfrk34 Sold On: 07/29/2014
"Crisp clear sweet highs.Rich full bass.Responsive and sings for days.Quality A+"
Here is the feedback from a Swiss buyer, who purchased "El Vito" Concert Rs serial#001/2014 for his daughter:
Here is the feedback on the guitar. Katherine tried it out for several days and we could tell when she played the same tune on the new and old one that the sound of her old guitar was quite fuzzy and imprecise. Yesterday she showed it to her guitar teacher and he loved it so much that he took it over for half an hour to give his lesson with it ! Apparently it is in par with his 5000 even his 7000 franc guitar. But not as good as his 14'000 franc guitar. I thought you would be happy to hear that :)
Best, Luiggi
HAND MADE SOLID SPRUCE TOP "EL VITO" C17CE-S CLASSICAL GUITAR WITH CUTAWAY (#191249341082)
Buyer: topbadger Sold On: 08/5/2014
"A terrific guitar for a excellent price. I highly recommend "El Vito" guitars."
HAND MADE ALL SOLID "El VITO" MASTER SERIES F1/2013 CLASSICALl/FLAMENCO GUITAR (#191198109317)
Buyer: torero311 Sold On: 06/26/2014
"Exceptional very trustworthy seller. High quality guitar with Duende. fast ship."
HAND MADE SOLID SPRUCE TOP "EL VITO" C17CE-S CLASSICAL GUITAR WITH CUTAWAY (#201096236185)
Buyer: nole-fan84 Sold On: 05/31/2014
"Great guitar and great service and communication! Highly recommended seller!"
POWERFUL "EL VITO" CSM4-S CLASSICAL GUITAR WITH SMALLMAN BRACING & HARD CASE (#201064876301)
Buyer: sale8532 Sold On: 04/13/2014
"Honest Ebayer! Great guitar. Great communication. Thank you!"
"EL VITO" CAS2-S HAND MADE ALL SOLID WOODS CLASSICAL GUITAR with Hard Case (#201046938666)
Buyer: dawidhudziak Sold On: 03/23/2014
""El Vito" guitar are an outstanding value, and Victor is a joy to deal with. A+"
Vito Ninivaggi owns 2 "fantastic" Cordoba C10 guitars, SP and CD (also made in China). Why has he decided to look for another guitar, purchase "EL Vito" CAS1 model and keep it? Moreover, 2 weeks later he purchased "El Vito" CSM model. What has he discovered in these unknown "El Vito" guitars?
This is what he says about them:
"My best purchase ever on EBay. When Victor tells you guitar will sing, it does."
"EL VITO" CAS1-S HAND MADE ALL SOLID WOOD CLASSICAL GUITAR with Hard Foam Case (#200980886598)
Victor, the guitar arrived today and I had to tell you straight away that it just sings and is everything you said it would be. I will leave feedback on E-Bay, of course. You are a very rare human being in today's world. It was delightful just talking with you. You have put a smile on the heart of an old man. After all these years to finally get a guitar that I could afford with "that" sweet sound.
I will heartily recommend you whenever I get the opportunity.
Vito Ninivaggi
"EL VITO" C17S HAND MADE SOLID SPRUCE TOP CLASSICAL GUITAR with Hard Foam Case (#200980886597)
Buyer: camowen05 Sold On: 11/30/2013
"This seller really knows classical guitars. He helped me select the best guitar."
"EL VITO" F1N HAND MADE ALL SOLID WOOD CLASSICAL FLAMENCO GUITAR with Hard Case (#200975447080)
Buyer: ikfl2002 Sold On: 10/29/2013
"Excellent transaction.Considerate and attentive seller.A+++++"
"EL VITO" A1-ST SOLID SPRUCE TOP ACOUSTIC GUITAR with CUTAWAY (#200973428190)
Buyer: 4040fuds Sold On: 10/30/2013
"This seller is the best , totally honest and it's been my best experience."
"EL VITO" F1 HAND MADE ALL SOLID WOODS CLASSICAL FLAMENCO GUITAR WITH HARD CASE (#200963840898)
Buyer: basjam Sold On: 11/11/2013
"Brilliant, balanced sound, wonderful instrument, excellent workmanship!"
"EL VITO" F1N HAND MADE ALL SOLID WOOD CLASSICAL FLAMENCO GUITAR with Hard Case (#200963842576)
Buyer: basjam Sold On: 11/11/2013
"Fine, rich, strong and balanced sound over all strings, a joy to play!"
Listed
2 years ago
Condition
Mint (Used)

Mint items are in essentially new original condition but have been opened or played.

learn more

Brand
Model
Finish
Categories
Year
Made In
Milton, GA, United States